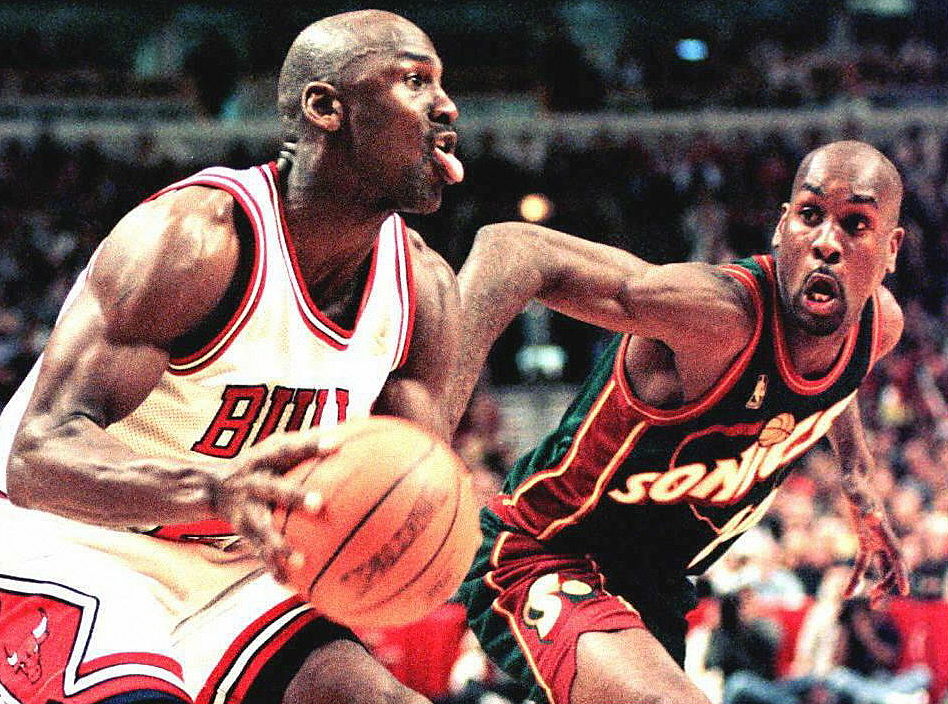 How Gary Payton Says Phil Jackson Responded When He Got Into Michael Jordan's Head
Gary Payton maintains that he got into Michael Jordan's head during the 1996 NBA Finals and says that Phil Jackson just made adjustments.
You don't get a nickname like "The Glove" without being a great defender, which is exactly what Gary Payton was during his NBA career. Payton racked up nine consecutive All-Defensive First Team selections from 1994-2002 and won Defensive Player of the Year in 1995-1996, the same season in which he and the Seattle Supersonics matched up with Michael Jordan and the Chicago Bulls in the NBA Finals.
Part of what made Gary Payton such a great defender is how he could get into the minds of other players. "The Glove" was a notorious trash-talker and constantly tried to take his opponents out of their game, something he truly believes he did with Michael Jordan in that championship series in 1996, which Jordan hilariously laughed off during last night's episode of The Last Dance. But Payton says that when he did get into Michael Jordan's head, Phil Jackson had a simple solution.
Gary Payton did make a difference in the NBA Finals against Michael Jordan
Despite Michael Jordan saying he wasn't worried about Gary Payton in the NBA Finals during The Last Dance, there's no denying that "The Glove" did make a big difference. During the Chicago Bulls' first 15 playoff games in 1996, which includes the first three games of the Finals in which Payton was not the primary defender on him, Michael Jordan averaged 32.1 points and shot 47.6% from the floor.
In those last three Finals games in which "The Glove" was the primary defender, Jordan averaged 23.7 points, shooting just 36.7% from the floor. So Payton was a factor, whether Jordan wants to believe it or not. The Bulls were always going to win that series but it just became a little tougher than initially expected.
Why wasn't Gary Payton guarding Michael Jordan the whole time?
As Gary Payton explained during The Last Dance, the reason he wasn't guarding Michael Jordan for the entirety of the 1996 NBA Finals is that George Karl wanted him to focus more on his offense. While mainly known for his defensive efforts, Payton was a fantastic offensive player as well. He averaged 19.3 points and 7.5 assists during the 1995-1996 season and also played well in the Finals, averaging 18 points and seven assists. But there was also another reason that "The Glove" wasn't guarding MJ the whole time. Payton had torn a calf muscle earlier in the postseason, and Karl knew that his point guard couldn't be as effective as he would have liked on both ends of the floor.
But the injury didn't keep Payton from talking trash on both ends of the floor. If Gary Payton stole the ball from you, he'd let you know about it. If Gary Payton scored on you, he'd let you know about it. Like Michael Jordan, Payton was very methodical in the way he went about things. That didn't stop in the '96 Finals. It's just that Bulls head coach Phil Jackson knew exactly what to do.
"The Glove" says Phil Jackson had a way to get MJ away from him
So let's say that Gary Payton actually did get into the head of Michael Jordan, either on offense or defense as he claims. MJ obviously wasn't the only player for the Chicago Bulls that could score, nor was he the only one that could play defense. While The Last Dance focused mostly on Payton's defense, let's not forget that Chicago was the best defensive team in the NBA that season. With Jordan, Scottie Pippen, and Dennis Rodman, that obviously makes a ton of sense. So if "The Glove" did actually get to Jordan, Payton himself says that Phil Jackson just made a simple adjustment, as he recently told Matt Barnes and Stephen Jackson on an episode of "All the Smoke."
"Going at Jordan was cool with me, I used to try to go at his dome all the time and get him out of it, but they had a coach in Phil Jackson who didn't care about egos.

"Jordan would get out his game a little bit and start talking to me, Phil would always switch the game up and he would put Pippen on me."

Gary Payton
You certainly have to give Gary Payton credit for never backing down from the challenge of taking on Michael Jordan. Maybe he got to Michael and maybe he didn't. But those numbers are telling. It's just that Phil Jackson had more options than did George Karl, which is why the Bulls won that series.