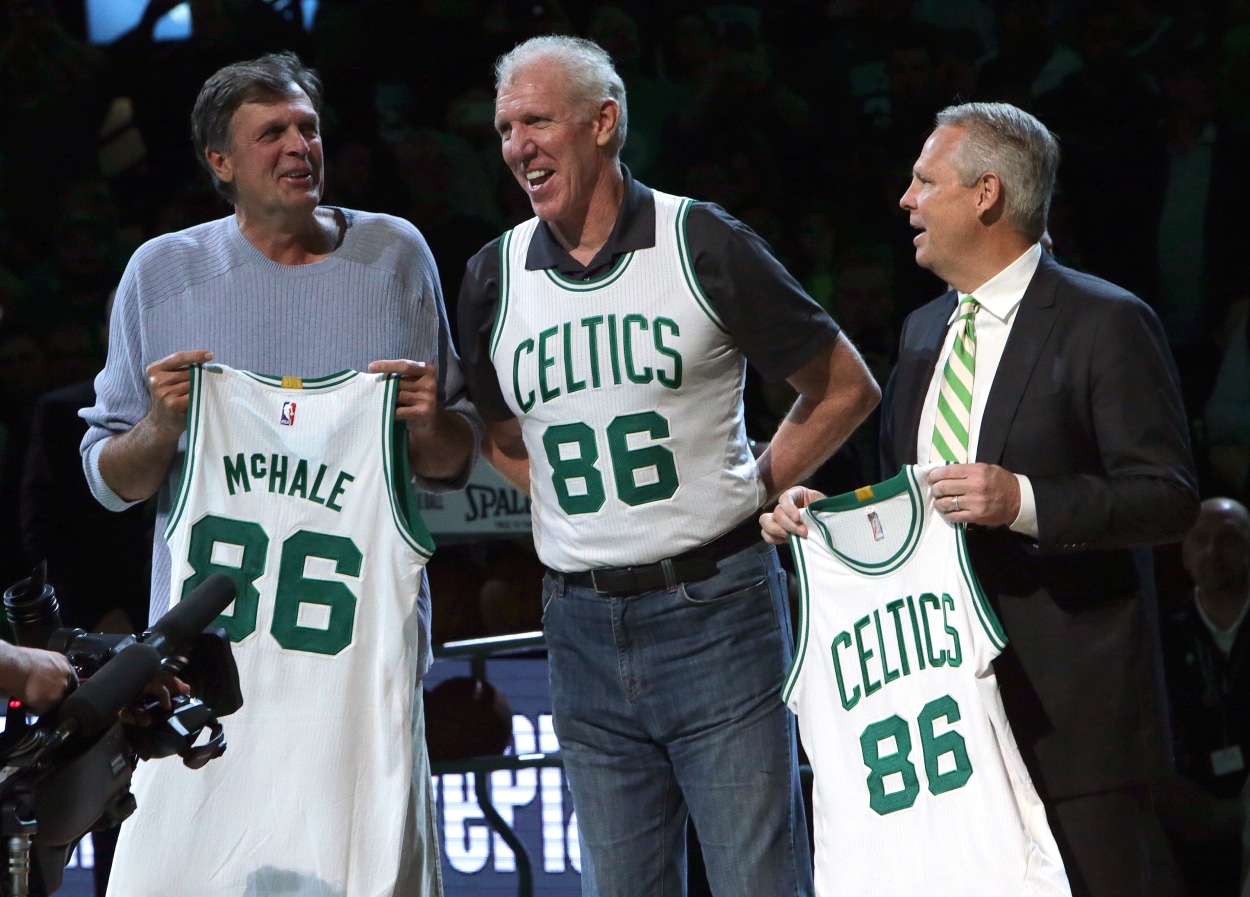 How Good Was Kevin McHale? Charles Barkley Weighed In on the Boston Celtics Legend: I'd Rather Face Larry Bird
Some former NBA player say they were more concerned about Kevin McHale than Larry Bird.
Larry Bird deservedly got much of the credit with the Boston Celtics of the 1980s. A three-time NBA champion and three-time MVP winner, Bird was the face of the franchise. He also had quite a bit of help.
During two of his three NBA titles, Bird played with three other future Hall of Famers — McHale, Robert Parish, and Dennis Johnson. If any of those players were on other teams, their career numbers would have been much better. While all four were outstanding, McHale might have been the best two-way player on the Celtics. Just ask Charles Barkley.
Kevin McHale helped turn the Boston Celtics into an instant contender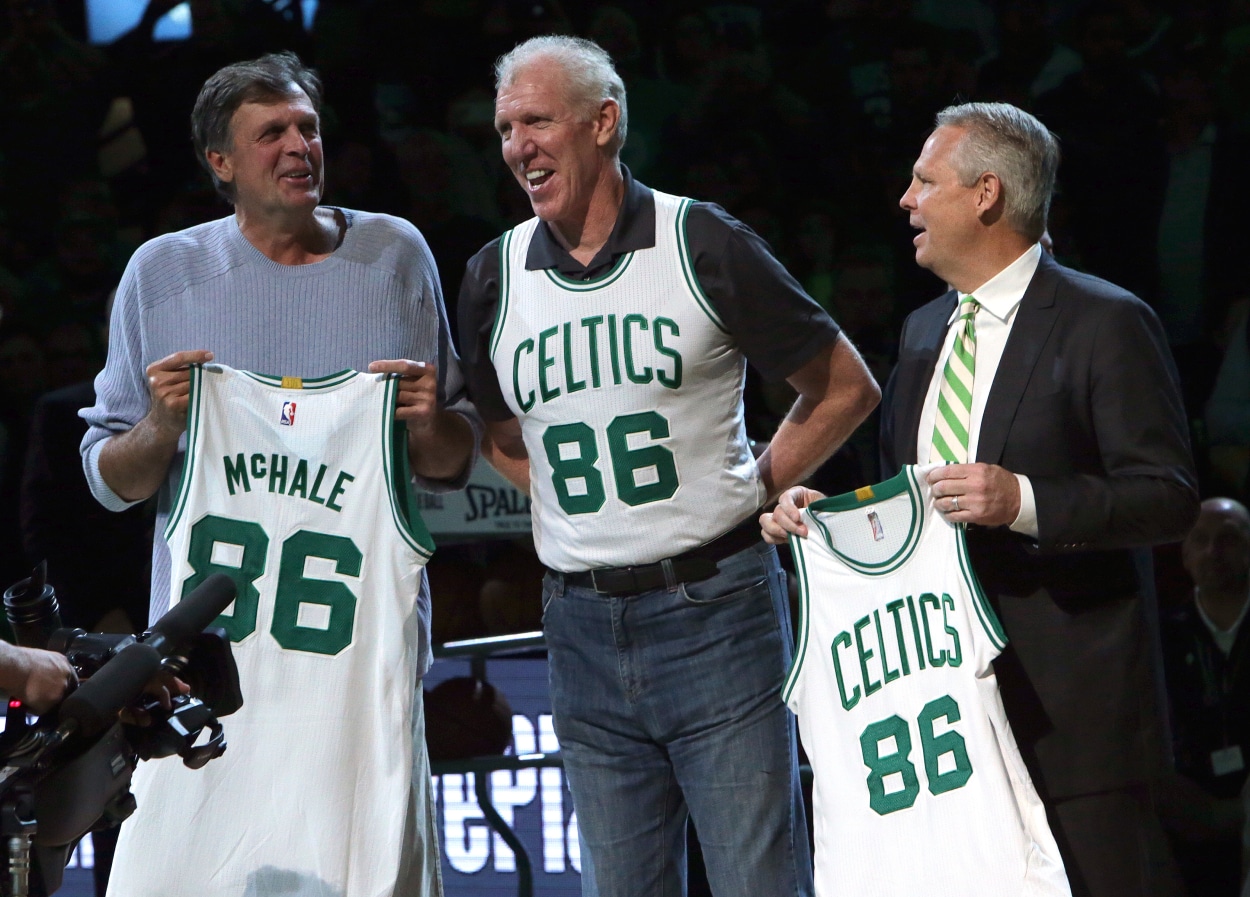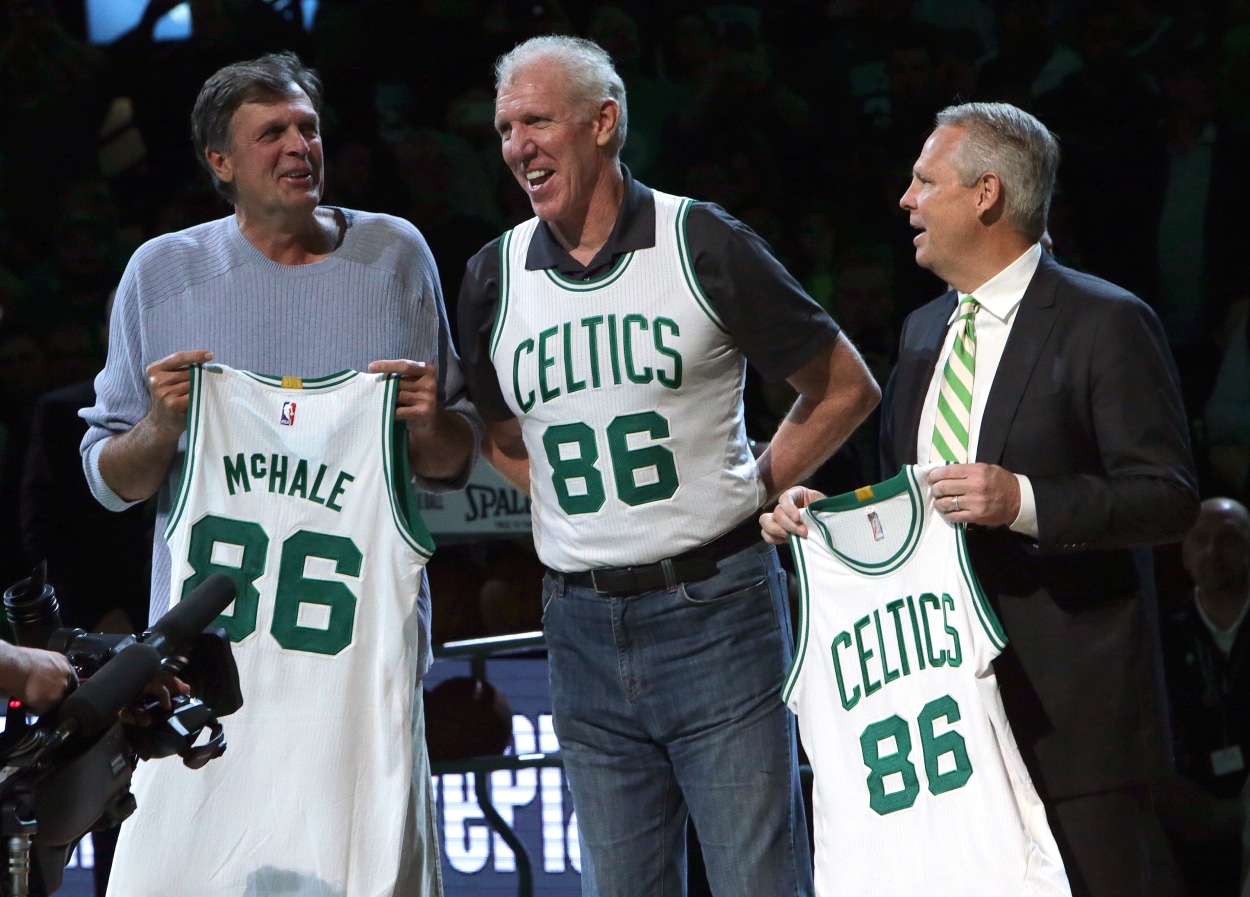 McHale came to Boston after Celtics president Red Auerbach pulled off one of the greatest trades in team history. Prior to the 1980-81 season, Auerbach and the Celtics had the top pick in the 1980 NBA Draft. He sent that pick, along with another first-rounder, to the Golden State Warriors. In exchange, the Celtics received Parish and the third pick in the draft.
With that pick, the Celtics selected McHale. He teamed with Parish and a young Bird. Bird earned Rookie of the Year honors after putting up 21.3 points and 10.4 rebounds in his first NBA season. In their first year with the Celtics, McHale and Parish played key roles in Boston winning the first of its three titles in the decade.
McHale spent the early part of his career coming off the bench. In his rookie year, he averaged 10.0 points in 20.1 minutes.
"I will say one thing, I tell everybody out there, you and M.L. (Carr) did such a good job with me being a rookie," McHale told former teammate Cedric Maxwell on The Cedric Maxwell Podcast in 2020. "You guys helped me so much. It was great being with you guys because you guys kept everything fun, competitive. I was never overwhelmed at all. You guys were all better than me. I was trying to figure out what the hell I was doing. You guys helped me so much. It was amazing."
Although he primarily came off the bench for the next few seasons, McHale played starter minutes. During the 1983-84 season, McHale averaged a then-career-high 18.4 points. He played 31.4 minutes per game and played a key role in guiding the Celtics to a championship against the Los Angeles Lakers. Beginning with that 1983-84 season, Boston went to four straight NBA Finals.
In the 1984-85 season, he began his transition into a full-time starter, starting 31 games. The following season, Boston traded Maxwell to the Los Angeles Clippers for Bill Walton. McHale joined Bird and Parish in the starting lineup, forming arguably the best frontcourt in NBA History. The Celtics won their third and final championship of the decade in 1986.
Charles Barkley said he'd rather face Bird than McHale
McHale was known for his low-post moves on offense. He could score with some of the best big men in the NBA. During the 1986-87 season, he had the best statistical year of his career, averaging 26.1 points and 9.9 rebounds. He led the league in field-goal percentage. Defensively, he caused problems with his wiry frame and long arms.
Just how good was McHale? Several former NBA stars, including Hall of Famer Charles Barkley, shared their thoughts.
"I hated Kevin McHale because he's the best player I ever played against," Barkley said on the Dan Patrick Show in 2019. "He's the one guy who was so much bigger than me with his long arms and hihttps://www.sportscasting.com/charles-barkley-truly-believed-better-than-michael-jordan-then-1993-happened/s great moves. I had a difficult time guarding him. On the other end, he was so long, it was tough for me to get my shot off if I had to face him up.
"Larry Bird didn't want any of this. He's Larry Legend but not on the defensive end. He was great, great, great. It was a challenge to stop him. Nobody's going to stop a great player, but I'd rather play against him than Kevin McHale. Kevin, to this day, other than Tim Duncan, had the best low-post moves of any power forward to ever play the game. It was a lot easier for me to guard Larry Bird."
Doc Rivers, who played for the Atlanta Hawks during some intense playoff games against the Celtics, said McHale was the guy they feared.
It was funny, that Atlanta/Boston little stretch we went on, I knew I could lock down Danny (Ainge), so that wasn't a problem," Rivers said, per a YouTube video by YounGala. "We were fearful of Bird and McHale, but we were really scared of McHale. You knew Bird was going to be Bird, and we felt that Dominique (Wilkins) might outscore him or you can match that.
"McHale was a guy we just couldn't get a handle on, and he knew it."
Former Celtics coach K.C. Jones called McHale "the greatest pivot player in the history of basketball" during McHale's Hall of Fame induction ceremony.
Bird gets most of the credit for those '80s Celtics, but McHale was right there with him.