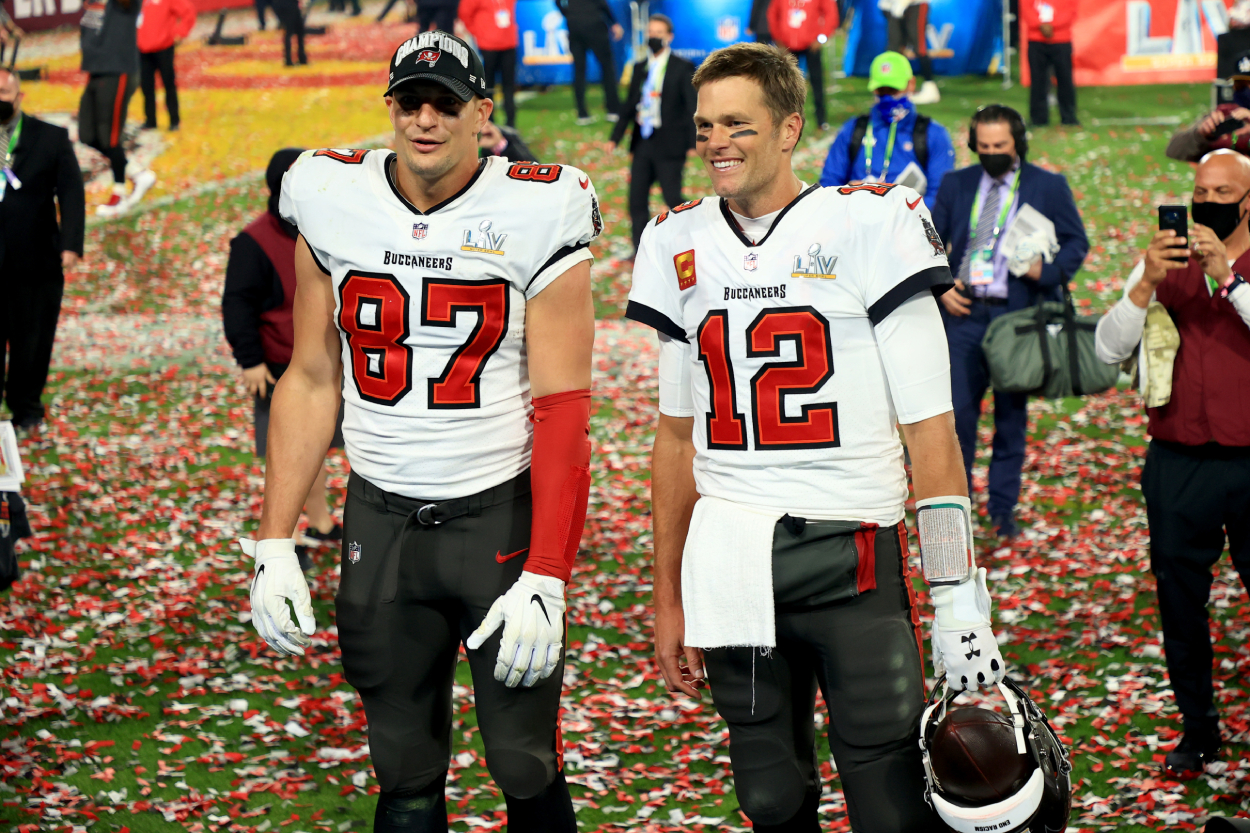 How Often Have Tom Brady and Rob Gronkowski Partied Together?
Tom Brady and Rob Gronkowski reunited again and teamed up for yet another Super Bowl title.
Tom Brady might have had a little too much to drink during the Tampa Bay Buccaneers Super Bowl parade last week. Brady was seen staggering around and even poked fun of himself on Twitter, saying it was "just a little avocado tequila." Brady had won seven Super Bowls, four of them with Rob Gronkowski. Last week, Gronk revealed how often the two have partied it up together.
Brady catches heat for throwing the Super Bowl trophy
Tom Brady collected the seventh Super Bowl ring of his illustrious career when the Tampa Bay Buccaneers upset the Kansas City Chiefs in Super Bowl 55. A few days later, the city held a parade to celebrate the franchise's second-ever Super Bowl title. One woman, however, was not too pleased with what she saw.
Brady tossed the Lombardi Trophy from one boat to another so members of the team in the other boat could hold it up. When Brady threw the trophy to tight end Cameron Brate, it infuriated one Florida woman. Lorraine Grohs, whose father was a master silversmith at Tiffany and Company for 27 years and worked on the first Lombardi Trophy, voiced her displeasure with Brady. She even demanded an apology.
"It just upset me that this trophy was disgraced and disrespected by being thrown as if it was a real football," said Lorraine Grohs to Fox 4 Southwest Florida. "I have a big history of this trophy being made by my father and it's such an honor and I know all the craftsmen that made it when my dad was there also at Tiffany's and it takes a lot of hard work. I personally would like an apology, not just to me and my family and the other silversmiths but to the fans, all the football fans the other team players."
Brady and Gronkowski were reunited this season
After playing nine years together with the New England Patriots, Tom Brady and Rob Gronkowski became teammates in Tampa. Brady tested free agency for the first time in his career after 20 seasons with the Patriots. Tampa scooped him up, signing him to a two-year deal worth $50 million.
Gronkowski retired after nine seasons in the NFL. He sat out the 2019 season but was lured out of retirement by the Buccaneers. Tampa worked out a trade with New England and Brady and Gronk were teammates once again.
The Bucs started slowly but finished with an 11-5 record. They were the fifth seed in the NFC and won three straight road playoff games. Gronkowski and Brady hooked up for seven touchdowns this season. For the first time since 2011, Gronk played in all 16 games.
Gronkowski reveals how often he's partied with Tom Brady
Rob Gronkowski and Tom Brady have teamed up to win four Super Bowls. They did it again this season in their first year with the Tampa Bay Buccaneers. During their Super Bowl parade, they were having a good time together. Brady made headlines by staggering around after apparently having too much to drink.
During an interview on the Late Late Show With James Corden, Gronkowski was asked if he and Brady would often go out and have a good time together. "To tell you the truth, man, we never really hit it like that or gone out like that," Gronk said in a YouTube video posted by NESN. "We've got a pretty significant age difference if you really think about it.
"When I got to the NFL, I was 20 years old. He was 32 years old and married. So if you really think about it, he wasn't really going to be hanging out with a 20-year old that he barely knew and going out on the streets with me and my friends when he's married and 32 years old with a kid. So we never actually had a night like that before. But we had a lot of good times and that's all we need. We just gotta keep winning and that's our celebration. That's a party right there, scoring touchdowns together."