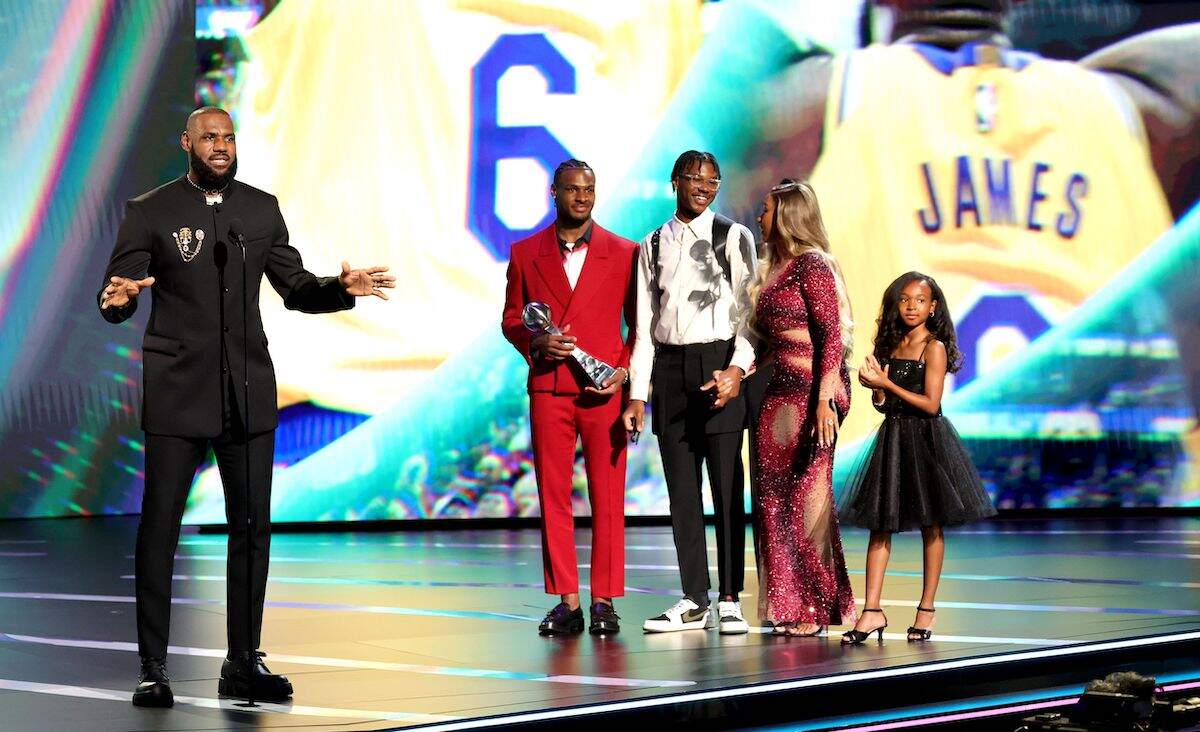 How Tall Is LeBron James?
Many mental and physical abilities, including height, have helped the superstar win four NBA championships. So, how tall is LeBron James?
A lot has changed for LeBron James, including his height since he entered the NBA at 18. He's won four championships, four Finals MVPs, and four league MVPs — and grown an inch while doing so. In fact, LeBron James' height could tell us more about his sons Bryce and Bronny James' futures, too.
How tall Is LeBron James?
Officially, LeBron James is six feet nine inches tall. The power forward weighs 250 pounds and has a 7-foot wingspan. LeBron entered the NBA measuring 6-foot-8 back when he was 18. Now in his late thirties, the future Hall of Famer will go down in history as one of the best, if not the best, basketball players of all time.
Since LeBron entered the NBA straight out of St. Vincent-St. Mary High School in Akron, Ohio, he's made an impact on the league.
He started out hot with the Cleveland Cavaliers, earning himself a Rookie of the Year and averaging 20.9 points per game. Despite his impressive rookie scoring performance, LeBron failed to advance to the playoffs in his first NBA season.
Later, LeBron took his talents to Miami, Florida, where he won his first two championships with the Miami Heat. He formed a star-studded team alongside Dewayne Wade and Chris Bosh.
After Miami, LeBron returned to Cleveland, where he led the Cavaliers to repeated NBA Finals bouts against the Golden State Warriors. Alongside Kyrie Irving and Kevin Love, LeBron eventually led the Cavaliers to the franchise's first NBA championship in 2016.
After Cleveland, LeBron played for the Lakers and once again brought a championship to that team, playing in the infamous bubble. He still plays for the Lakers alongside Anthony Davis, where he remains in fierce playoff contention year after year in the West.
LeBron James' height compared to Bryce James' and Bronny James' height
LeBron's two sons, Bryce and Bronny, are both tall but do not quite reach LeBron James' height yet. Currently, Bryce is 6-foot-6 at 16 years old. The older of the brothers, 18-year-old Bronny, is 6-foot-3. Bronny is currently enrolled and set to play for USC.
Bronny's career is questionable at the moment after he suffered a cardiac arrest during a practice in July 2023 at USC. Recently, the James family said Bronny has a treatable congenital heart defect. Medical professionals anticipate a full recovery and return to basketball.
Bronny was ESPN's No. 19 prospect out of the class of 2023. Considered a top-five point guard, the McDonald's All-American is respected for his impressive shooting abilities and confident handling of the ball.
Bryce, meanwhile, continues to dominate the court in high school. Anticipation has been more subdued with Bryce. He currently sits as a three-star recruit for the class of 2025, according to CBS Sports. Bryce played with his brother Bronny at Sierra Canyon High School for two seasons. He's currently listed as the No. 14 shooting guard in the 2025 class.
LeBron James' wife, dad, and more
LeBron James has been married to Savannah since 2013. His high-school sweethearts, Savannah, and LeBron went to school together while growing up.
LeBron's mother, Gloria, got pregnant with LeBron at 16 years old. Anthony McClelland, LeBron's father, did not maintain a relationship with LeBron when he grew up. McClelland had a criminal record dating back to the '90s. He was in and out of jail before being sentenced to 10 years in prison for drug trafficking in 2006.
LeBron maintains strong bonds with his children as they have grown up to become impressive basketball players. While they may not be the No. 1 recruits entering the NBA out of high school like LeBron, the family has surely made a name for itself in the basketball world.