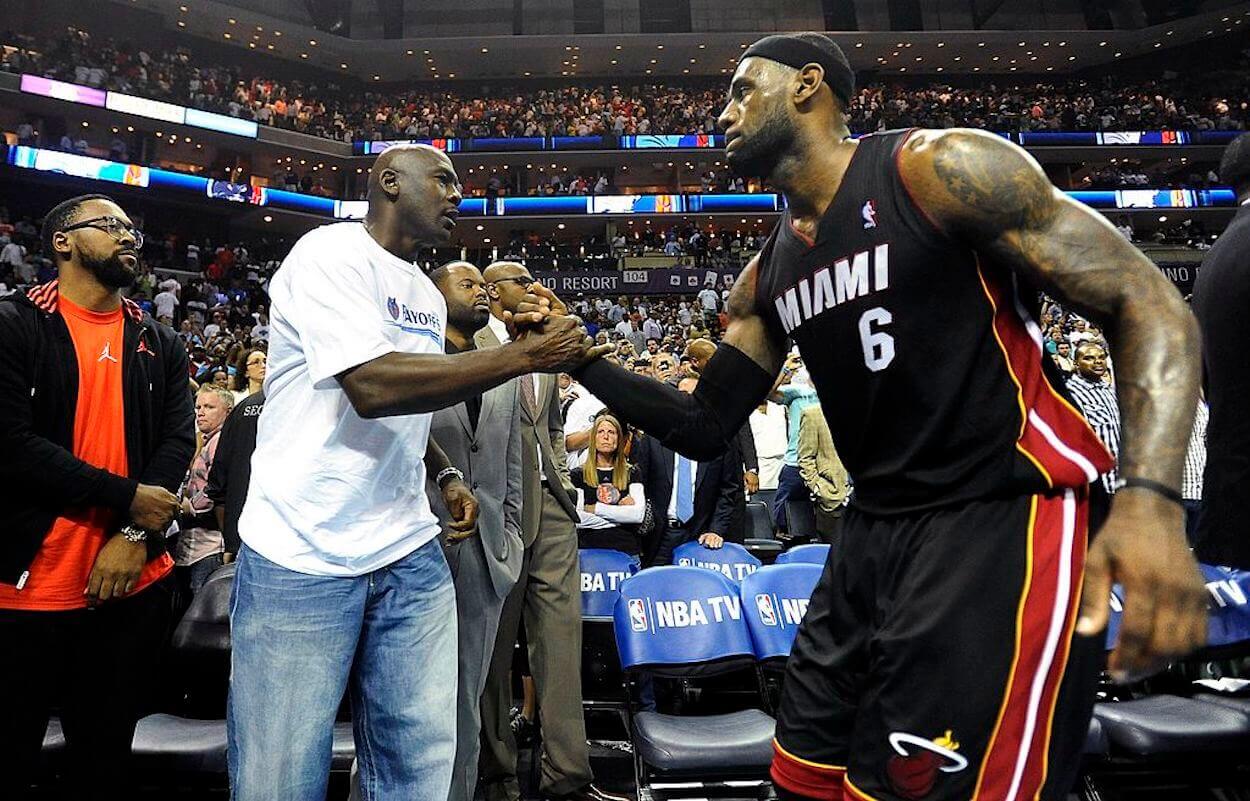 Michael Jordan Didn't Give LeBron James Any Advice When They First Met, but He Left King James With Something Even More Important
When Michael Jordan first met LeBron James, he clearly knew the teenager was special. Want proof of that? Consider MJ's parting gift.
These days, Michael Jordan has something of a complicated legacy. On one hand, the living NBA legend is remembered as an elite talent, capable of doing almost anything he wanted on the hardwood. On the other, though, MJ could be something of a jerk; he was more than willing to talk trash, push teammates to the limit, and take things personally.
And while an encounter with a young LeBron James could have brought out all of Mike's worst instincts — this teenager was, in theory, coming to replace him on the global stage — the former Chicago Bull actually took the opposite course of action. While he didn't dispense any advice the first day they met, he did leave LeBron with something even more meaningful: His phone number.
Curious how that initial interaction between two NBA greats unfolded? Let's hop in the time machine and check it out.
LeBron James first met Michael Jordan in high school and left the gym with MJ's phone number
While it may seem like an eternity ago, there was a time when LeBron James was yet to reach the NBA scene. That reality, however, didn't stop the teenager from building up quite the reputation as a big-time talent and reaping the rewards.
"I thought the first time that he met Michael Jordan really jumped out at me as a fascinating moment," author Jeff Benedict, who penned LeBron's biography, explained on The Dan Patrick Show. "Because, by that time, LeBron had agreed to keep a journal for this up-and-coming magazine called SLAM. And I was reading all these journal entries that LeBron wrote; I thought it was fascinating that he wrote a journal. People don't remember or know that. But he wrote a really great journal entry after meeting Michael Jordan for the first time, and that happened in Chicago in the summer between his sophomore and junior year of high school."
As the story goes, James was in the Windy City for an AUU tournament, and between games, he was invited to Jordan's gym. That set the stage for the teenager to return at the end of the summer, and after getting permission from his mom, LeBron headed back to Chicago to work out with some NBA players.
Despite the physical differences — we're talking about a rising high school junior against grown men — the teenager held his own, creating his own offense. That presumably impressed the opposition, but it wasn't the biggest moment of the trip.
"When LeBron was leaving, that last day of being there, when they're walking out of hoops, Jordan pulls in," Benedict continued. "And that's the moment where LeBron and Michael meet for the first time. And this is really important because Michael invites him back inside. And by this time, Michael has decided that he is going to come back and play, but he hasn't announced it yet. So the public doesn't know it yet, but he knows it. He takes LeBron inside his private gym, and they talk for about 15 minutes. He doesn't give him any advice, but he gives him his cell phone number."
And beyond the obvious bragging rights — few people have Jordan's personal contact information, let alone a teenager — Benedict believes that exchange was incredibly significant for James.
"And this is, to me, it's a pivotal moment for LeBron James because, the next day, LeBron goes to the first day of his junior year of high school," the author added. "And when he shows up, he's got Michael's number in his back pocket. And if you fast forward five months, Grant Wahl of Sports Illustrated is going to walk into LeBron's locker room at the high school, and he's got about 15 seconds to pitch LeBron on the idea of letting him profile him for the magazine. And his pitch is, 'I know you're going to Cleveland tonight with your friend to watch Michael play against the Cavaliers. Can I drive you?'"
James agreed, and that evening, Wahl saw LeBron talking with Jordan after the game; the pair, somewhat surprisingly, spoke like peers. From there, the rest was history.
Despite that bond, LeBron never actually gave Jordan a call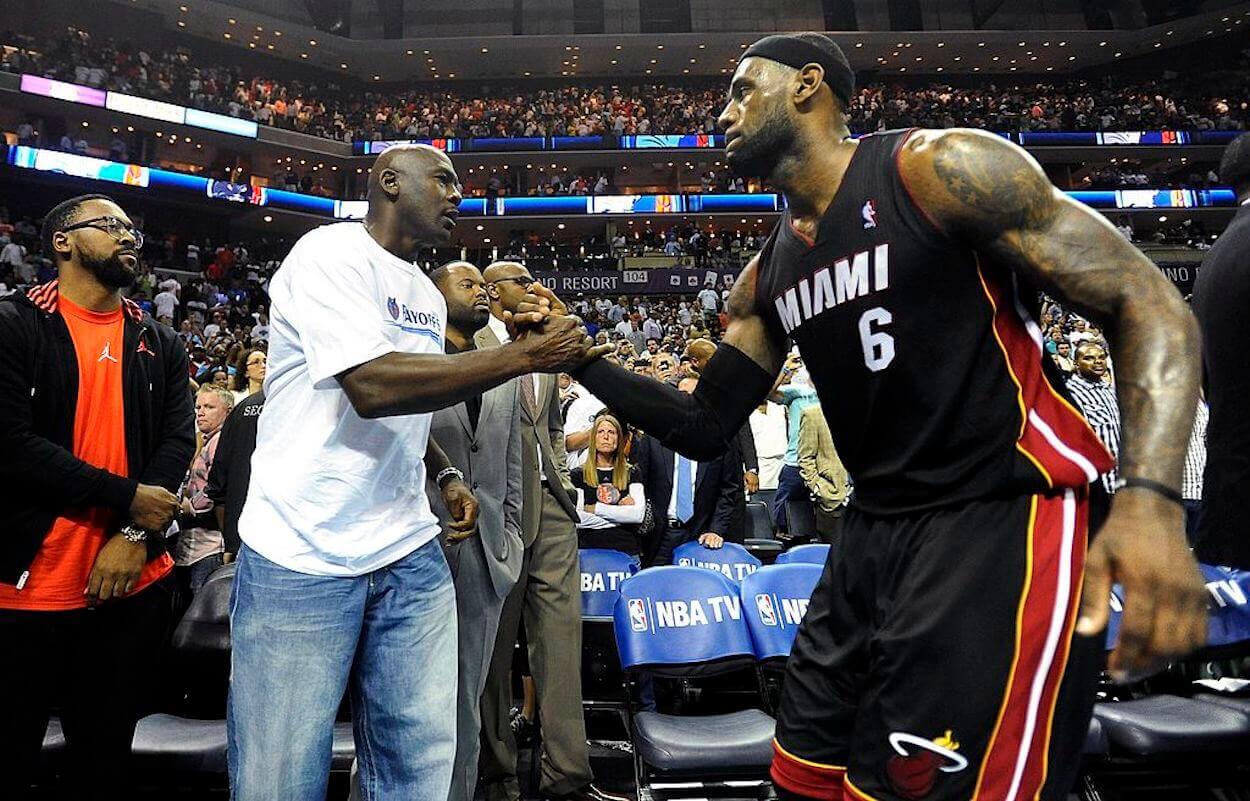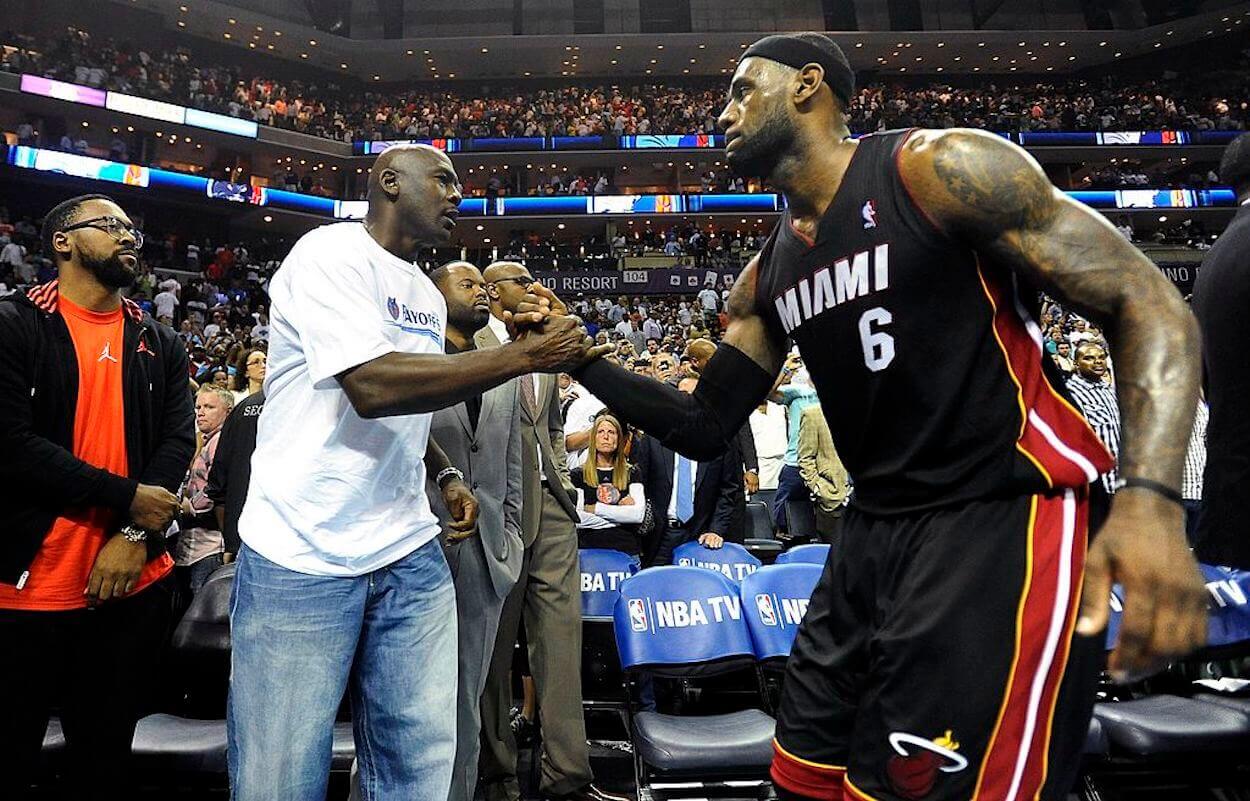 For most basketball fans, having Michael Jordan's number would be unbelievable and probably prompt at least a few phone calls. LeBron James, however, apparently played it a bit cooler, even as a teenager.
If we take Jackie MacMullan at her word, MJ told the phenom that he could call if he ever needed anything. "And guess what," she explained. "LeBron never did [call Jordan]."
And while that may seem a bit strange — why would you pass up the chance to learn from one of the greatest, if not the greatest, NBA players in history? — it didn't cause too much of a problem. Not only were the two men were apparently on good terms when Grant Wahl accompanied James to the Wizards game, but LeBron has obviously put together an incredible professional career. Are there some moments where he could have made a better decision? Sure, but it's not like he stumbled through a few years in the Association before crashing out in disgrace.
So, whether you believe Jordan or James is the GOAT, everything worked out for both men. The former can say he was right about knowing the teenager would be special, and LeBron can brag about being close with MJ since his early days.