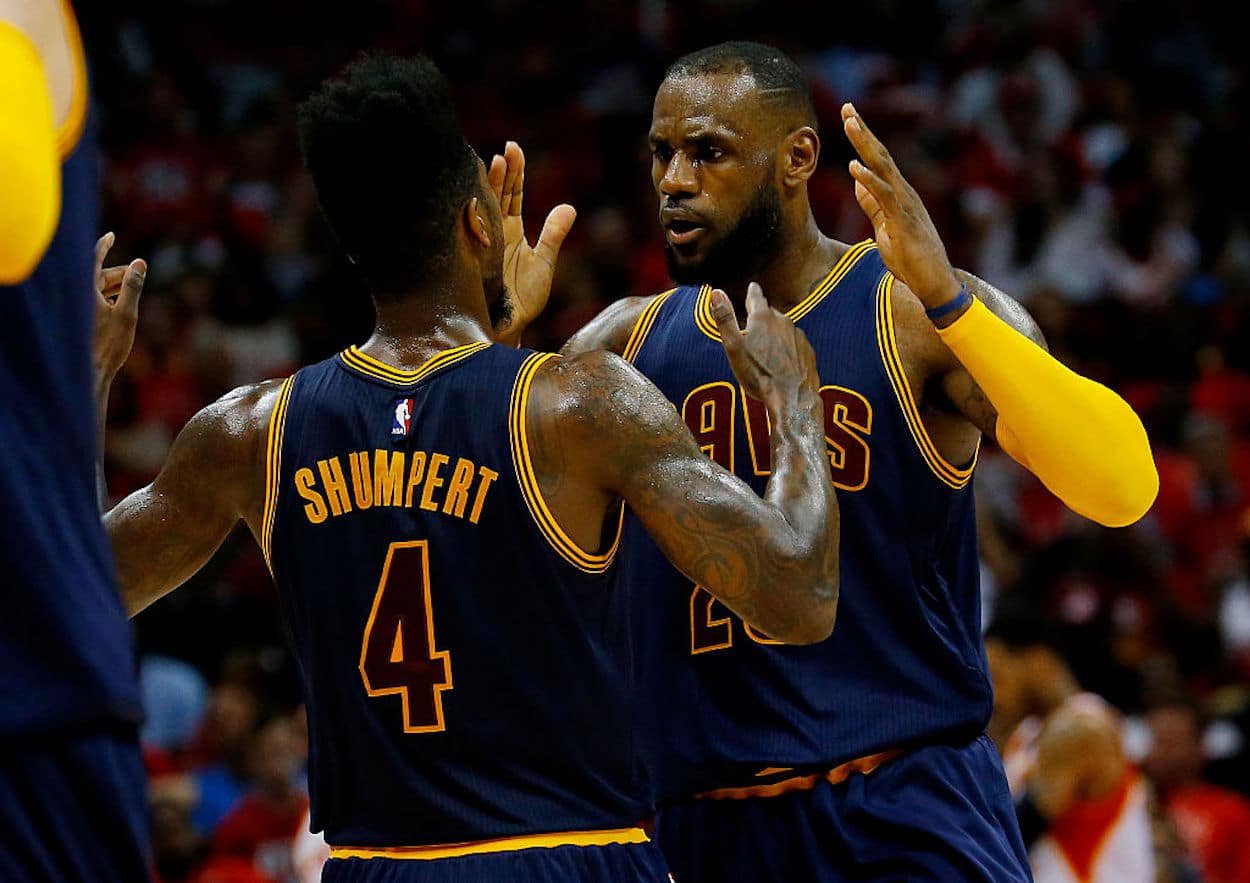 Iman Shumpert Remembers How LeBron James Challenged Him as a Man During a Cavs Game
While Iman Shumpert won an NBA title with LeBron James, he also felt the star's wrath on at least one memorable occasion.
Usually, the best athletes also have a bit of a temper. Michael Jordan, for example, famously pushed his teammates to the brink to ensure they could handle the pressure of crunch time. Kobe Bryant developed his Mamba Mentality and, by and large, didn't have time for anyone who was unwilling to put in the work. More recently, LeBron James has also been known to yell at his teammates; there's even an iconic image of him trying to get through to J.R. Smith during the 2018 NBA Finals.
If you've ever wondered what it's like to be on the receiving end of one of those outbursts, Iman Shumpert has you covered. On a recent episode of the Iman Amongst Men podcast, the former guard remembered the time when King James challenged his manhood on the court.
LeBron James once (literally) put Iman Shumpert in his place during a game
When players spend an entire season together, there are bound to be some clashes. One interaction with LeBron James, however, still stands out in Iman Shumpert's memory.
During a recent episode of the former guard's podcast, a fan asked about a moment when Shump and guest J.R. Smith felt "challenged as a man." One situation immediately stood out.
"I know mine. Oh man," Shumpert began. "We was in, we was playing with Cleveland, and, boy, 'Bron's ass in the middle of the, it was at the end. Shorty grabbed the ball at the top of the key to calm us down. And I believe I, I don't remember if I was not headed over there or what, but he said, "Shump. Corner. Now.' Shorty, I looked around. I looked at [coach Tyronn Lue]. Everybody looking with the eyes like, 'Hurry up.' Cleveland is quiet as hell. And I'm like, bro, if I react, I'm the most selfish person on the earth."
While the guard wasn't sure if King James realized what he had done, he still didn't appreciate being spoken to in that way. After the game ended, he knew he had to stand his ground.
"I think, I think I wanna say I approached the man in the shower to tell him," Shumpert continued. "Like, 'Bro, come on, man. … I'mma run through the wall for you, my dog.' He like, 'Shump, I ain't know, man. Come on, man.'"
While that may seem like an anticlimactic resolution, it does seem like the two men moved on. They're no longer teammates, but King James did tweet about Shumpert's win on Dancing With the Stars. Shump, for his part, appeared unbothered while recounting his story; if anything, it seems to have transformed from a challenge to a nostalgic memory.
And, if nothing else, Shumpert does have a championship ring thanks to James. If Michael Jordan has taught us anything, it's that teammates can tolerate a lot if the season ends with a title.
As the cliche says, all's fair in love and [basketball].
Like Sportscasting on Facebook. Follow us on Twitter @sportscasting19 and subscribe to our YouTube channel.