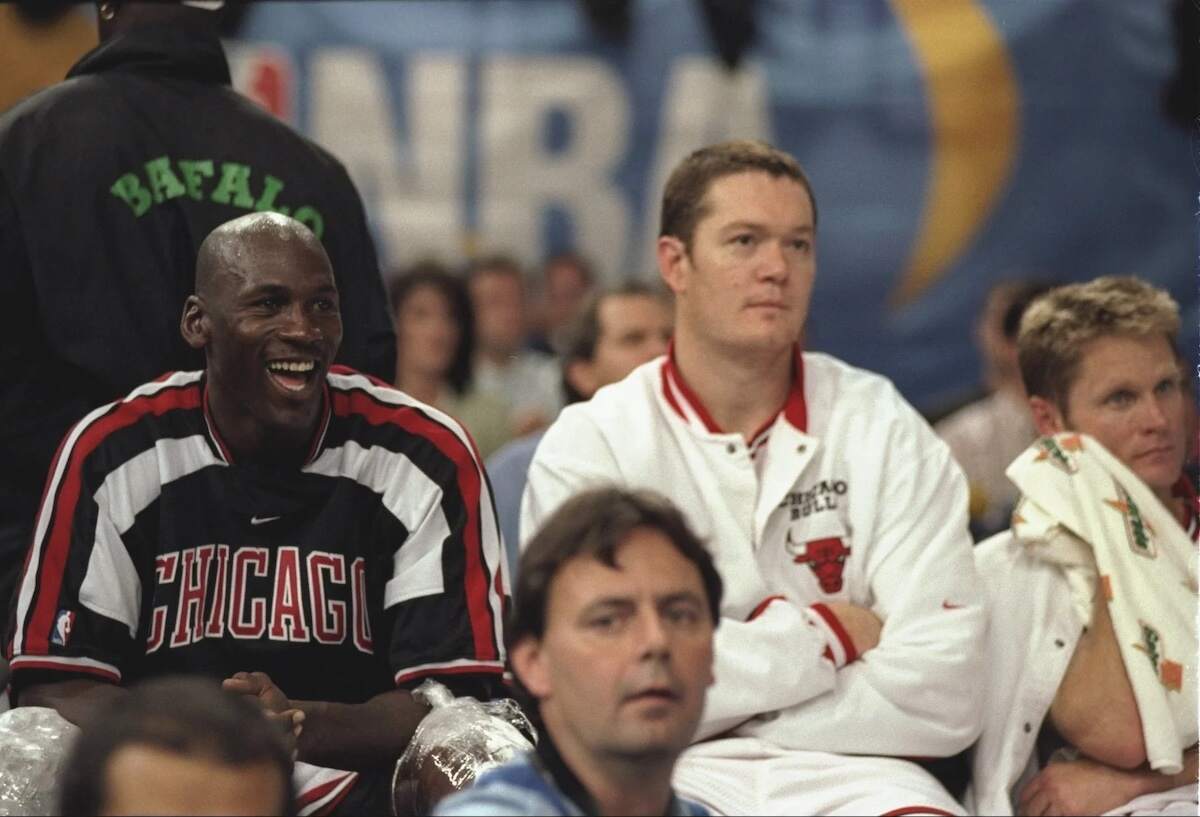 Michael Jordan Once Called Out 3 of His Chicago Bulls Teammates With a Single Line of Vulgar Trash Talk
Michael Jordan didn't pull any punches, even when talking to his own Chicago Bulls teammates.
During his time on the hardwood, Michael Jordan developed a two-sided reputation. On the one hand, His Airness possessed incredible talent. The Chicago Bulls star could do seemingly anything on the court and had the silverware to prove it. Behind the scenes, though, he could also be a less-than-ideal teammate, going after anyone who didn't live up to his high standards.
Take, for example, one anecdote from the 1998 NBA season. With a single line of vulgar trash talk, Jordan put three of his Bulls teammates on blast. Adding insult to injury, a photographer was there, meaning the story eventually reached the public.
Michael Jordan certainly knew how to trash-talk
When you think of His Airness' skill set, his on-court abilities probably spring to mind. Jordan, however, also knew a thing or two about trash-talking.
As a boy, MJ honed his competitive edge by doing battle with his brother, Larry. Even as he moved through the ranks and earned both championships and individual accolades, his inner fire never dimmed. As we saw during The Last Dance, Jordan was able to take anything personally and do whatever it took to win.
In some situations, that "whatever" manifested as trash talk. In a competitive situation, no one was safe from Jordan's verbal onslaughts. Whether you were an opponent, a member of the Chicago Bulls, or even Bill Clinton, His Airness didn't pull punches. For better or worse, he only knew one way to do things.
Calling out three Chicago Bulls with a biting one-liner
As mentioned above, even members of the Bulls roster weren't safe from Jordan's trash talk. Three players were reminded of that reality during a single day in 1998.
In a 2011 Sports Illustrated story reminiscing about his time as a sports photographer, Walter Iooss Jr. shared plenty of tales about His Airness. While many of them showed the human side of the Bulls' star, some also contained flashes of the Jordan that basketball fans came to know.
"Michael was merciless in an amusing way, but he said things to your face," Iooss explained. "In 1998, the Bulls had Joe Kleine, Luc Longley, and Bill Wennington as their centers. One day Michael was in the training room after practice, and I was sitting there while he iced down. Those three centers walked by, and Jordan said, 'You know what I have to play with?'"
That question wasn't rhetorical.
"He looked right at them and said, 'Twenty-one feet of s—,'" the photographer remembered.
In the end, everything worked out for Michael Jordan
While it's impossible to read tone into a written account of Jordan's comments, everything we know about His Airness would suggest that he wasn't joking around with a couple of beloved teammates. In the end, though, everything worked out for him and the Bulls.
In fairness to Jordan, Klein and Wennington weren't on the Bulls roster to stuff the box score; neither man saw more than 10 minutes per night during that season. Longley, however, started 58 games and was the team's fourth-leading scorer. While he was more of a role player than a world-beater, he wasn't exactly "sh*t."
Regardless of the talents of those three big men, though, the Bulls still claimed the NBA title that summer. It was Jordan's sixth championship, and he rode off into the sunset after lifting the Larry O'Brien Trophy.
Only His Airness could call his three centers "twenty-one feet of s—" and then go on to win an NBA title anyway.
Stats courtesy of Basketball-Reference