Michael Jordan Once Bought 7 Cars During a Single Trip to the Dealership but Only Kept a 'Big Black Mercedes' for Himself
These days, the best professional athletes command massive salaries. While the raw numbers were a bit smaller during Michael Jordan's NBA career, he still took home plenty of cash. That, understandably, allowed for the occasional spending spree.
Take, for example, one trip to a car dealership during the early days of His Airness' professional career. That day, he bought seven vehicles; most were set aside for his family, but MJ still managed to score one for himself.
Michael Jordan started making a name for himself at the University of North Carolina
Over the course of his basketball career, Jordan grew into a global celebrity; even if you've never watched a single sporting event, you're probably familiar with His Airness. The guard wasn't born into fame and fortune, though.
Growing up in North Carolina, Jordan had a fairly ordinary childhood; he chopped wood and, on at least one occasion, tangled with the family pigs. On the athletic front, he developed a competitive fire by battling with his brother, Larry.
When it came time to try out for his high school's varsity basketball team, though, MJ famously failed to make the cut at the first attempt. Even though he joined the squad the following fall and became a McDonald's All-American, he was far from a finished product.
At the University of North Carolina, though, His Airness truly took flight. As a freshman, Jordan was a bit inconsistent but still nailed the game-winning shot to clinch an NCAA title. By the time he left school after his junior season, MJ had become a legitimate star capable of taking over any game.
Buying seven cars and giving six away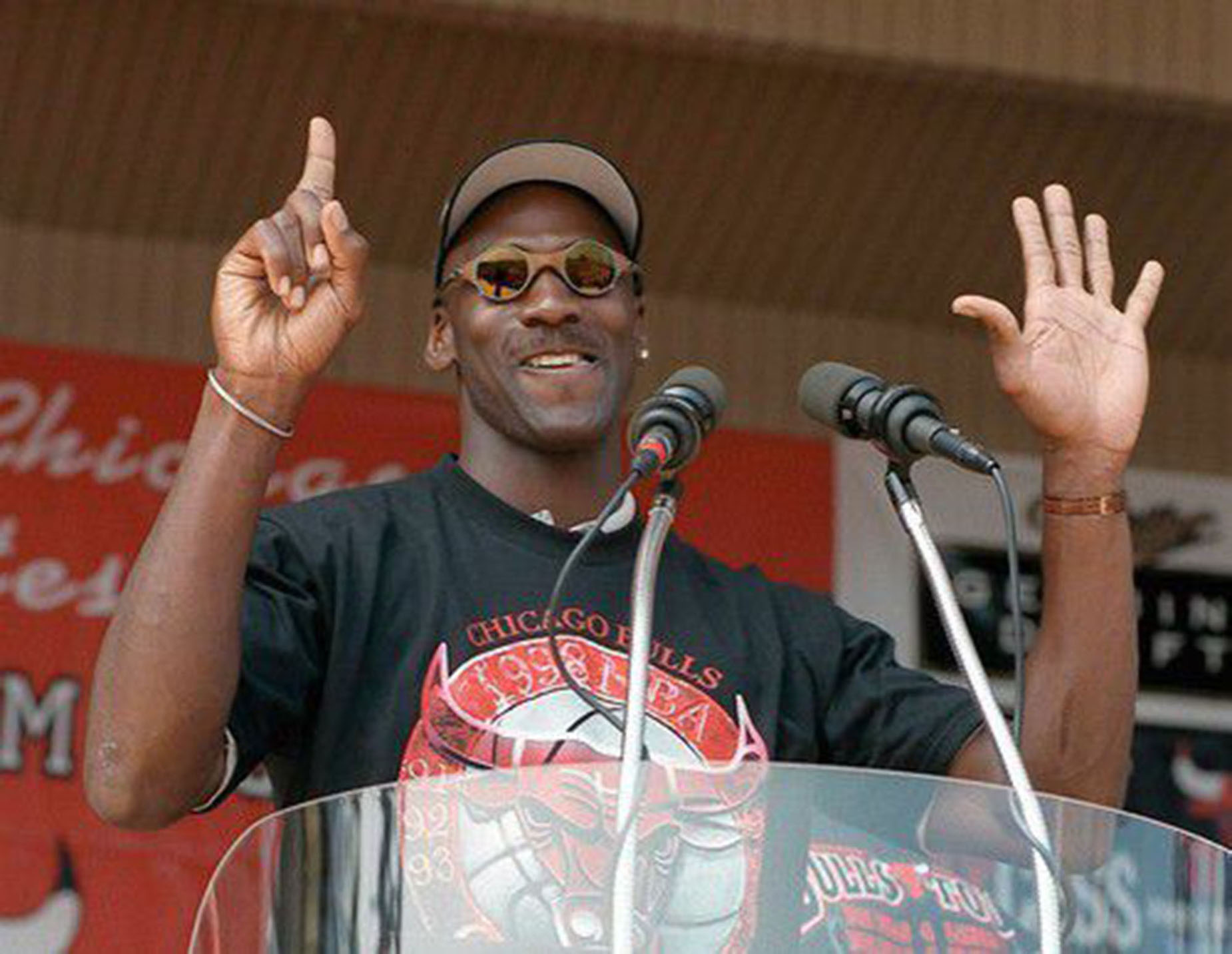 Despite that collegiate success, Jordan still hadn't become a truly global star. That reality didn't stop him from splashing some cash at a local car dealership, though.
According to a write-up in D Magazine, Don Godwin recalled an instance in the early 1980s when his father, a car salesman, crossed paths with Jordan at work. While the exact timeframe isn't clear — there are some conflicting details, but it seems safe to assume the interaction took place shortly after MJ was drafted — one thing was apparent: The young man had no problem spending money.
"Michael's daddy came into the car lot one day with his wife and Michael and the grandmother and a brother and a sister—there were seven people there in all," Godwin explained. "Michael's father knew my father well because he had sold him cars over the years. He said, 'Mr. Lewis'—that's what he called him—'this is my son Michael. He just graduated from the University of North Carolina, and he is wanting to talk about getting some cars.' Michael said, 'I want to buy seven cars. You see that big black Mercedes, the four-door? That's the one for me.'"
As for the other six vehicles, Jordan had a specific plan in mind.
"I want my mother to have the little Mercedes next to it, and I want my dad to have a Mercedes," His Airness continued, according to Godwin. "I want my grandmother to have a big Pontiac Bonneville, and my brothers and sisters—Firebird Trans Ams, beautiful Pontiacs."
While Godwin's father was skeptical about how this young man could afford seven cars, Jordan's father explained that his son was destined for basketball greatness and had just signed a sizable deal with the Chicago Bulls. Michael also apparently insisted on playing sticker price for all seven cars since Godwin had helped his parents over the years.
Michael Jordan's net worth more than survived that early spending spree
For most people, buying seven cars shortly after landing your first job probably isn't the best idea. For His Airness, though, everything worked out.
Although he didn't earn a massive salary until his final years with the Bulls, Jordan still took home more than $94 million in game checks during his NBA career. His endorsement deals more than picked up the slack. MJ proved a prolific pitchman, selling everything from Gatorade to underwear; his partnership with Nike, for example, has literally paid off over the years.
More recently, Jordan has also become the majority owner of the Charlotte Hornets. While the team may not be a championship contender, the investment has still helped His Airness build up a $1.6 billion net worth.
With money like that, he can certainly afford to buy a new car…or seven.
[Correct: A previous version misidentified Michael Jordan's net worth.]