Michael Jordan Suffered a Painful Injury at the Hands of an Angry Pig After His Jumping Ability Abandoned Him in a Crucial Moment
Without jumping, Michael Jordan probably wouldn't be where he is today. During his time on the hardwood, His Airness had headlines with his ability to soar through the air; eventually, those aerial abilities became a central part of his identity. At one moment during his childhood, though, MJ's jumping ability abandoned him when he needed it most.
Michael Jordan became famous for his aerial abilities
It goes without saying that Michael Jordan was a generational talent. A specific part of that skill set, though, was his aerial abilities.
Beyond his impeccable resume—he, of course, won six NBA championships and five NBA MVP titles—Jordan was a prolific jumper. His vertical leap reportedly clocked in somewhere between 46 and 50 inches, and he put that talent to good use. MJ appeared in three Slam Dunk Contests; he finished in second place in 1985, then took the top spot in both 1987 and 1988.
Beyond those individual successes, soaring through the air became a central part of Jordan's identity. Between his nickname of 'His Airness' and the Air Jordan brand with its 'Jumpman' logo, it's almost impossible to think of MJ without imagining one of his sky-walking slam dunks.
His Airness suffered a nasty burn after failing to jump away from an angry pig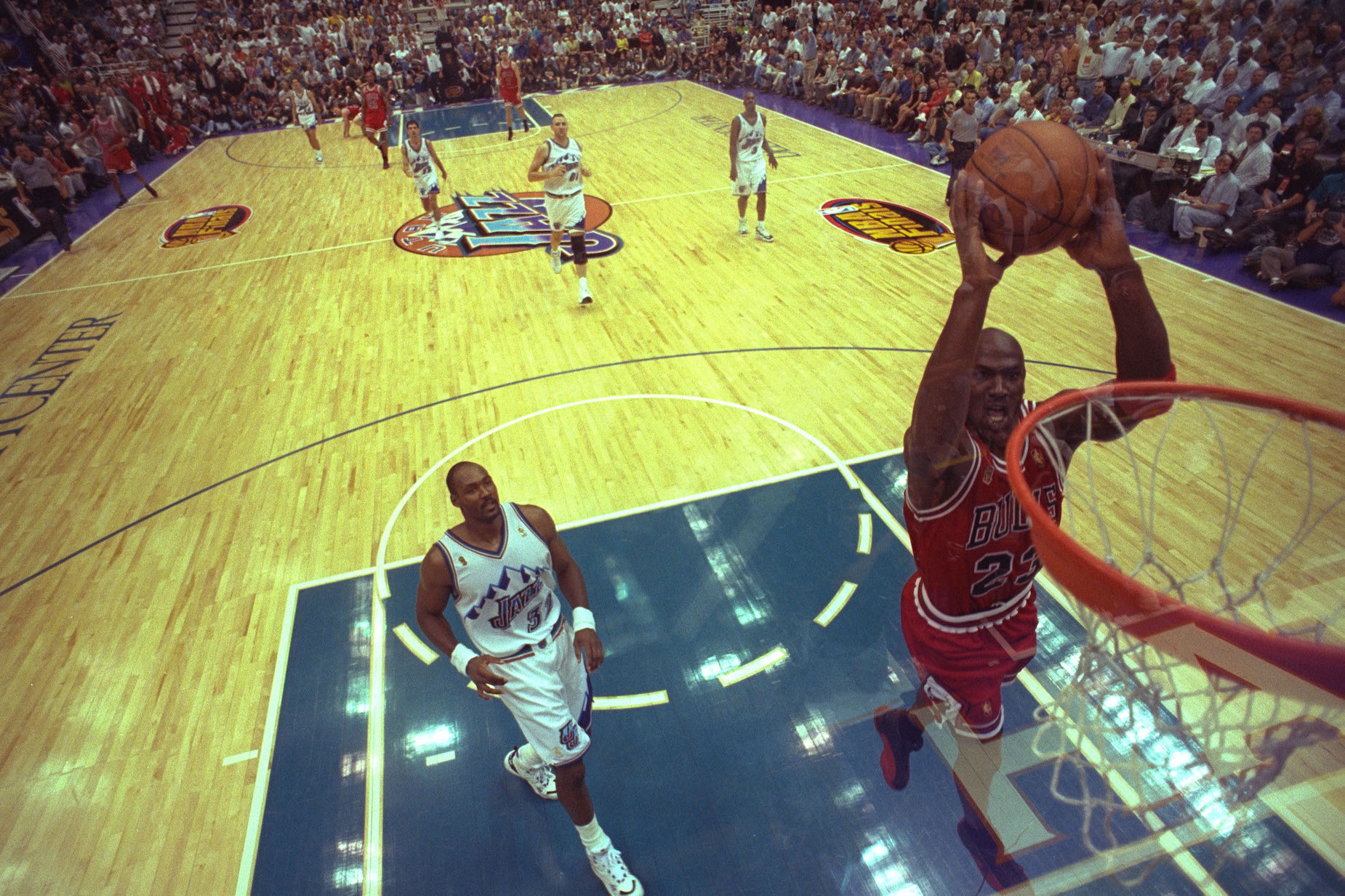 During his basketball career, Michael Jordan found fame and fortune by jumping all over the hardwood. During his childhood in North Carolina, however, he failed to take flight at a crucial moment.
According to Wright Thompson's ESPN story about Jordan's personal history, the future NBA star slipped into the hog pen during his youth; the plan was to provoke the animals, then escape to safety. Things, however, didn't go according to plan.
The Jordan boys thought it was hilarious to dance in the mud and make the pigs chase them around, honking and snorting. A particularly annoyed sow disagreed. She chased Mike toward the fence, and as he prepared to leap over the top wire to safety, he tripped. Caught the electric wire right across his chest. About had his teeth chattering, he got shocked so bad, and left him with a burn across his chest.

Wright Thompson, writing for ESPN
Adding insult to injury, Jordan didn't receive much sympathy when he went inside to tell his parents what had happened.
"You shouldn't have been out there messing with the pigs," MJ was told.
That wasn't Michael Jordan's only childhood mishap
For most people, burning themselves on an electric fence would be the lowlight of their childhood. Michael Jordan, however, found himself in an even worse situation.
Around the same time as the pig incident, MJ decided to disobey his parents and try his hand at chopping wood. As you might assume, a young child wielding an ax proved to be a recipe for disaster.
"He misjudged and caught his big toe with the ax. There was blood everywhere, and he went screaming into his parents' house," Thompson explained. "His mom took him to a local doctor, and a lady there put kerosene on his foot to disinfect it. To this day, he's missing a quarter of an inch of his big toe."
During his time in the NBA, Michael Jordan revolutionized the game of basketball. His childhood, it seems, was also pretty unconventional.