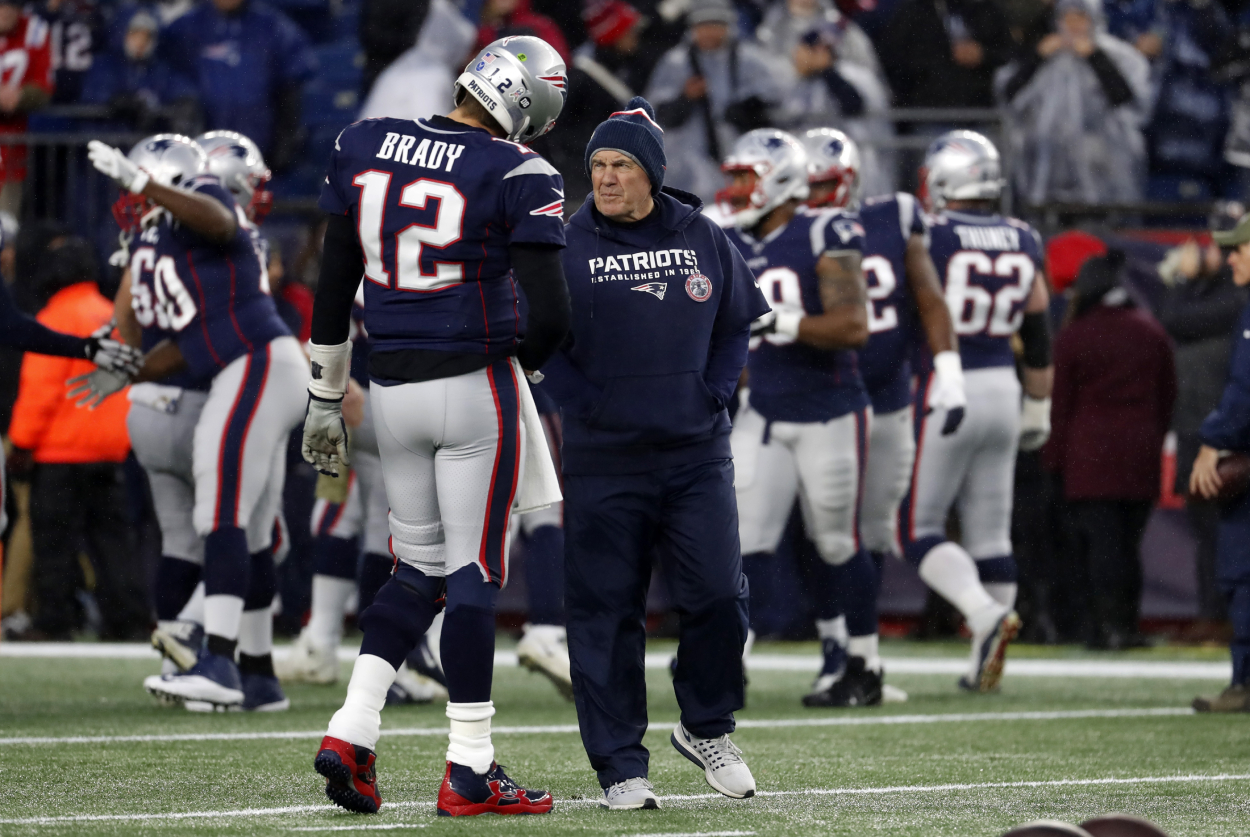 Is Bill Belichick Rooting for Tom Brady? Brady's Father Offers a Clue
Will New England Patriots coach Bill Belichick be rooting for Tom Brady in the Super Bowl? Brady's father offers a little insight.
In the end, the New England Patriots let Tom Brady walk. After 20 seasons and six Super Bowl titles, Brady tested free agency for the first time and wasn't on the market for very long. The Tampa Bay Buccaneers are headed to Super Bowl 55, and the Patriots had their first losing season since 2000. When the Buccaneers take the field against the Kansas City Chiefs, will New England Patriots coach Bill Belichick be pulling for Brady to collect his seventh ring?
Tom Brady or Bill Belichick?
There has always been one big question regarding the success of the New England Patriots. Is it because of Tom Brady or Bill Belichick? It's been an interesting debate and the question appears to have been answered.
Tom Brady is headed to his 10th Super Bowl in his first season with a new team. Bill Belichick and the New England Patriots finished with a 7-9 record. In his first year with the New England Patriots in 2000, Belichick went 5-11. That was Brady's rookie season, but he only threw three passes that year.
Prior to coming to New England, Belichick went 36-44 in five years as head coach of the Cleveland Browns. He had one winning season. Excluding the year in which he tore his ACL and played one game, Brady had double-digit wins in all but one season as the starter in New England. He never had a losing season in 20 years.
Tom Brady's father said Brady wants to win this for his teammates
Tom Brady is eager to win his seventh Super Bowl. Brady has made reaching the Super Bowl seem like an easy task. To Brady, it may seem simple, but most of his teammates haven't played in one. According to Brady's father, his son is just as eager to capture the Lombardi Trophy for himself as he is for his teammates.
"He is every bit as much enthused about winning the Super Bowl this year for his teammates than he is for himself," said Brady's father, according to The Boston Herald. "He said, 'I've done this before, and it's really cool. But there's a lot of guys who haven't done this. And this is what's going to be crazy exciting for me.'''
The Buccaneers aren't used to the playoffs, never mind the Super Bowl. Tampa Bay does have one Super Bowl title, winning it after the 2002 season when they defeated the Oakland Raiders 48-21. That title came one year after Brady won his first when the New England Patriots defeated the St. Louis Rams 20-17.
Will Bill Belichick be rooting for Tom Brady?
Tom Brady Sr. knew the day would eventually come when his son and the New England Patriots would part ways. He said some of the biggest names in football have moved on. His son is no exception. "Every year teams cut people, and people cut with teams. Guys move," Tom Sr. told The Boston Herald one day after the Buccaneers defeated the Green Bay Packers. "Quarterbacks move, whether it's Joe Montana or Brett Favre or Peyton Manning or whomever. It didn't take too much of a crystal ball to know that at some point in time, there would be a finality to Tommy's relationship with the Patriots."
Brady Sr. expressed to the Herald last year that Patriots head coach Bill Belichick no longer wanted Brady and that Belichick controlled the quarterback's fate with the team. When the Bucs defeated the Packers to make the Super Bowl, Patriots owner Robert Kraft reached out to his former quarterback. "Robert's been a spectacular owner for 25 years," Brady Sr. said. "He is sincere in his feelings for Tommy when he expresses his feelings, and it's vice versa. Tommy feels the same way with Robert Kraft. He has an extraordinarily close relationship with him. I know Robert is rooting for Tommy right now. As I know Jonathan, Danny, and the whole family. There's no question about that."
What about Belichick? Is he rooting for Brady? Brady Sr. didn't say. He just told the Herald, "I'm guessing he's on a little bit of a hot seat right now."