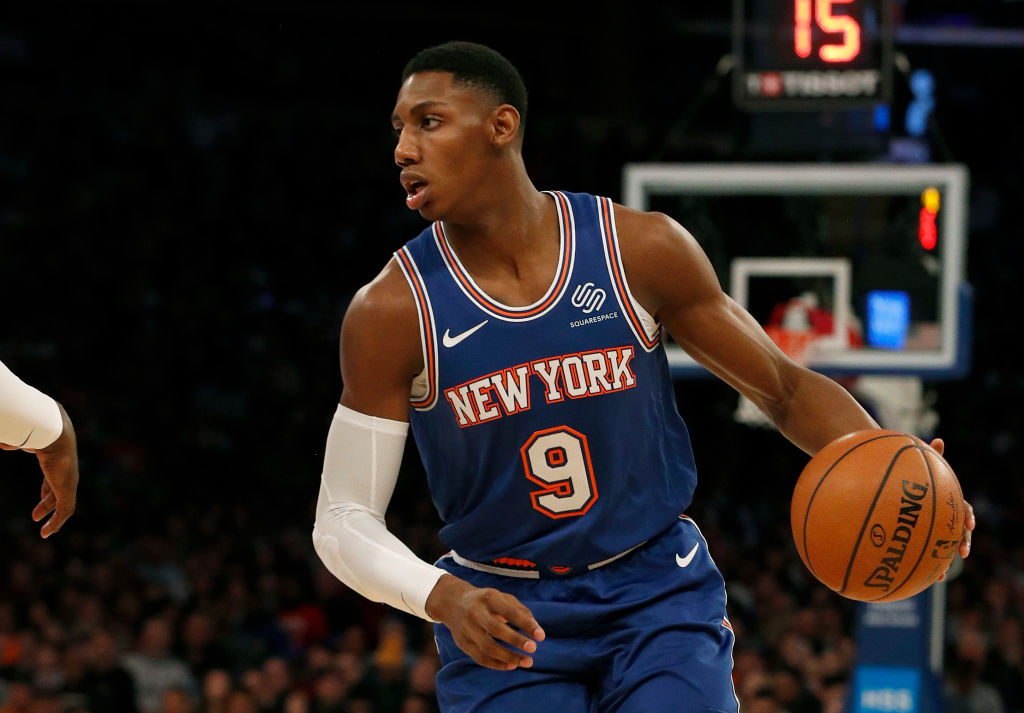 Is Knicks Rookie R.J. Barrett Ambidextrous?
Guard R.J. Barrett does almost everything right-handed but is a lefty when it comes to shooting the basketball.
An "off-hand" conversation that R.J. Barrett had with the media recently may go a long way toward explaining why the New York Knicks rookie has fallen out of the discussion about the NBA's best rookies this season.
It's a story that's fitting for a franchise heading for its seventh straight season out of the playoff picture.
R.J. Barrett has been shooting with the wrong hand
R.J. Barrett eats, writes, throws, and does most everything else right-handed but considers himself to be ambidextrous because he performs the most important task associated with his job left-handed.
Despite being told his shooting form looks better when he launches the ball with his right hand, Barrett has been shooting left-handed for as long as he can recall. Barrett started out shooting two-handed set shots, just like so many other kids on the playground, but he eventually began favoring southpaw deliveries to the bucket. He believes he may have been influenced by his mother, a left-hander.
"I feel both ways I try to make good reads,'' Barrett said. "I actually like dribbling with my right more — which is weird."
Barrett started the season in top form, averaging 17.9 points in his first eight games by shooting 42.4% from the field and 36.7% from beyond the arc. But his totals at the two-thirds mark of the season stand at 13.7 points a game on 41.6% shooting from the field and 30.9% on 3-pointers. He's only knocking down 6.1% of his free throws.
In Barrett's defense, it's only been since he missed 10 New York Knicks games with a sprained ankle last month that his numbers have really tailed off.
Was this an issue before?
NBA teams were aware of R.J. Barrett's righty-lefty idiosyncrasy coming out of college and scouts wondered whether he would have trouble driving to his right against the bigger, more physical guards at the pro level. With a ratio of 2.4 assists to 2.1 turnovers a game the question is still out there.
Barrett averaged 22.6 points a game in his one season at Duke University. He shot 45.4% from the field — though just 30.8% from behind the arc – and the New York Knicks selected him third in the draft.
Before college the Toronto native was a star at Monteverde Academy in Florida, averaging 25 points and 15 rebounds for an unbeaten team, and earned a place in the 2018 McDonald's All-American Game, in which he poured in 26 points.
Later that year he made his debut for the Canadian National Team by scoring 16 points in a 97-62 rout of China.
Where does R.J. Barrett rank among rookies?
R.J. Barrett isn't out of contention, but the NBA Rookie of the Year race is shaping up as a battle between Zion Williamson, taken first by the New Orleans Pelicans, and Ja Morant, selected second by the Memphis Grizzlies.
Morant is averaging 17.5 points and 6.8 assists in 30 minutes of court time per game. He's shooting 49.1% from the field and has been a significant factor in the Grizzlies hovering around the .500 mark and contending for a playoff spot in the Western Conference after going 22-60 and 33-49 the previous two seasons.
Williamson is just 13 games into his pro career after missing the first three months of the season with a knee injury. He's averaging 23.3 points, 7.1 rebounds, and 2.3 assists a game. He's shooting 57.3% from the field.