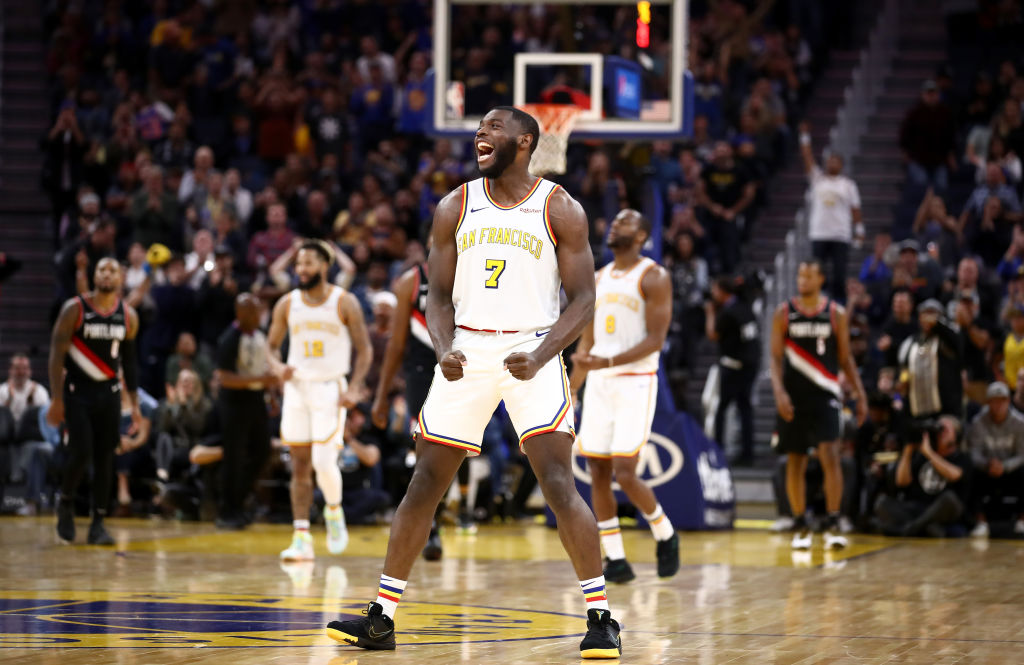 Is Warriors Forward Eric Paschall a Sleeper Candidate for NBA Rookie of the Year?
When you think of the Golden State Warriors, Klay Thompson and Stephen Curry come to mind. Eric Paschall, however, could be a Rookie of the Year contender.
Both in life and sports, adversity can reveal someone's true character. While it's easy to perform when everything is going well, it's a lot harder to step up when the deck is stacked against you. Golden State Warriors rookie Eric Paschall, however, is thriving in a difficult situation.
Adjusting to life in the NBA is never easy, but Paschall hasn't looked out of place. It's early days, but can the forward force his way into the Rookie of the Year conversation?
Eric Paschall road to the pros
Eric Paschall's college career actually began in New York City at Fordham University. The forward committed to play for the Rams scored 31 points in his NCAA debut, but he wouldn't remain in the Bronx for long. After head coach Tom Pecora was fired, Paschall transferred to Villanova.
After redshirting during the Wildcats' run to the 2016 National Championship, Paschall returned to the court. He averaged just over seven points a game as a sophomore; his production would increase to 10 points and five rebounds per game, as Villanova captured the 2018 National Championship the next season.
Paschall averaged 16.5 points and 6.2 rebounds per game as a senior but still remained under the radar. When the NBA draft rolled around, teams seemed to feel that his 6 foot, 6 inch, stature was too small for a professional power forward. The Golden State Warriors, however, snapped him up in the second round.
"He was undersized," Warriors coach Steve Kerr explained. "But these days, undersized guys at that (power forward) position, as long as you are really strong with that wingspan – we've seen it the last few years with Draymond Green – and we felt Eric had a chance to have a similar impact as a second-round pick."
Stepping up for the Warriors
While everyone knew the Golden State Warriors would be a different team this season, injuries have further complicated things.
During the offseason, Kevin Durant left for the Brooklyn Nets, while Andre Iguodala moved to Memphis and Shaun Livingston retired. Klay Thompson is still recovering from his torn ACL; Steph Curry and Draymond Green have both joined him on the sidelines with injuries of their own.
In that power vacuum, Eric Paschall has stepped up. The forward has emerged as a dominant force in the Bay Area, potting 25 points on Saturday and posting 34 points and 13 rebounds in a win on Monday night. He even heard chants of MVP from the Chase Center crowd while he was taking free throws.
"Honestly, for a rookie, you're hearing MVP (chants). That's a 'wow' moment," the forward said after the game. "I was more focused on the game because I realized we had a chance to win right now. To hear that, I just thank Dub Nation for believing in me."
A sleeper for NBA Rookie of the Year?
While no one wins awards after two games, Paschall could be emerging as a sleeper candidate for the Rookie of the Year award. With Zion Williamson on the shelf, the field is wide open for anyone.
Despite his hot start, there's probably too much talent out there for Paschall to win the award; it's hard to see him outplaying Ja Morant, R.J. Barrett, Tyler Herro, and any other rookie for the rest of the season. These two games, however, should still pay off in the long run.
Even when Steph Curry returns, the Warriors are probably looking towards next season more than anything else. If Eric Paschall continues to develop, he'll be locked into the starting small forward role when Golden State is ready to chase another title. Even if he doesn't win Rookie of the Year, the Larry O'Brien Trophy isn't a bad consolation prize.