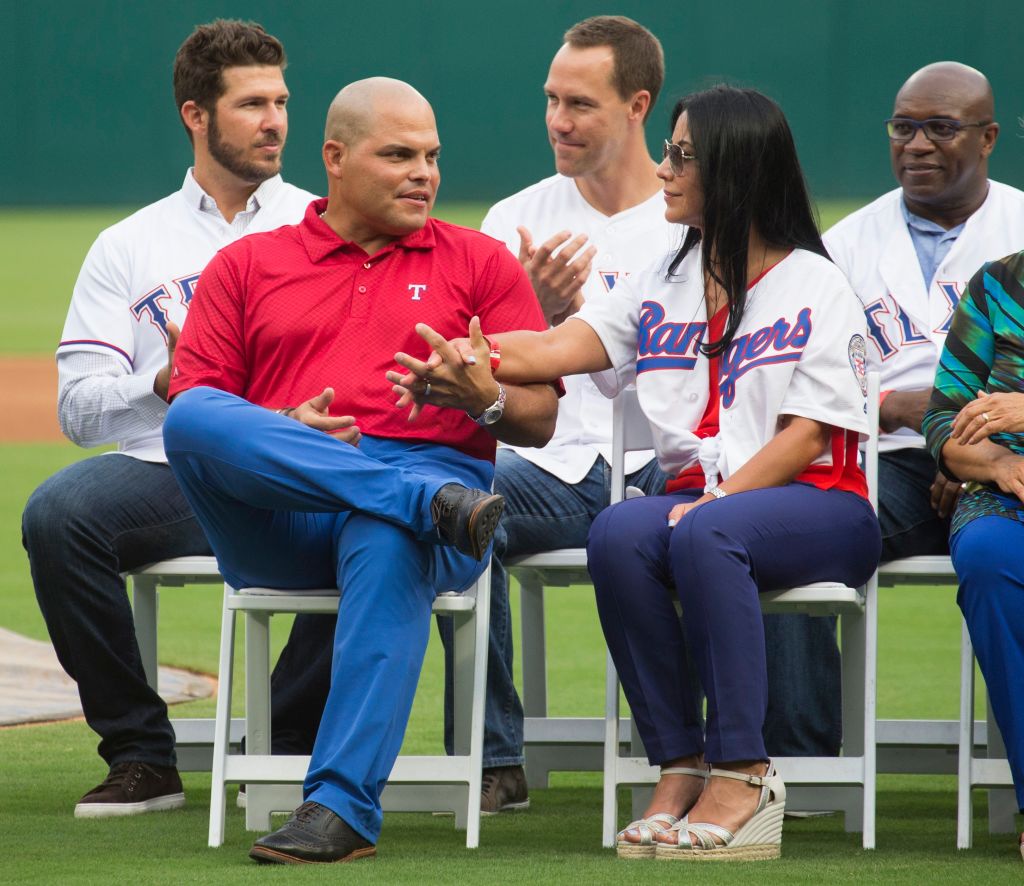 Ivan "Pudge" Rodriguez Had to Skip His Wedding Day Because of a Surprise Call-Up
Hall-of-Fame catcher Ivan "Pudge" Rodriguez actually had to choose between his scheduled wedding and his MLB debut in 1991.
What would you do if you had to choose between your career and your wedding day? For Ivan "Pudge" Rodriguez, he faced that exact scenario in 1991, and he chose his career. On the morning of his wedding day, Rodriguez got called up to the MLB by the Rangers. It turned out to be the right choice for the Hall of Famer, but his future wife couldn't have been thrilled at the time.
Ivan Rodriguez's MLB career
Ivan "Pudge" Rodriguez doesn't just have one of the greatest nicknames in all of sports, but he's one of the greatest catchers in the history of baseball. Rodriguez played 21 years in the MLB and made 14 All-Star games. He also won the league MVP in 1999.
Rodriguez batted over .300 in an incredible 10 seasons, but he was even more impressive defensively. Over his career, Rodriguez threw out 14,863 base runners, the most of any catcher in MLB history.
"Pudge" won 13 Gold Gloves in the majors, also a record for catchers. He was the most feared putout artist the game had ever seen.
"Pudge" Rodriguez had to skip his wedding day for his MLB debut
Rodriguez is known today as one of the greatest catchers ever, but he might never have gotten his shot in the MLB if he didn't skip his wedding in 1991. The longtime Ranger opened up about the unfortunate timing in his Player's Tribune article, "The Story of My Life" in 2017.
I was 19 when I got called up. The Rangers were playing in Chicago at the time. I never expected to be in the big leagues so soon. I should've been happy. But it was actually a little depressing. Get this: The day they called me up I was supposed to get married on the field down in Tulsa where I was playing Double-A ball. The night before, we had done some rehearsals with all the players out on the field, and it went great.

Then the next day my manager at the time, Bobby Jones, calls me into his office and says, "Hey kid, I think we have a problem." I didn't know what was going on. "You're getting called up, so you have two choices. You can either get married here tonight, or you're going to Chicago with the Rangers. But you can't do both. If you're headed to the big leagues, we're going to have to delay the wedding."

Ivan Rodriguez
It was a tough decision for Rodriguez, but he chose to fly to Chicago and make his MLB debut that day. The wedding would have to wait.
Rodriguez gunned out 2 runners in his debut and got married a year later
Unfortunately for Rodriguez and his fiancée, they had to put their wedding on hold while Rodriguez began his journey in the MLB. "Pudge" flew to Chicago that day and threw out two runners in his debut with the Rangers.
In both instances, the ball got to second base before the runners even had a chance to slide. The legend of Rodriguez's rocket arm began that day.
As for the wedding, the couple was forced to push the ceremony back until after the 1991 season. The next year, Rodriguez married his fiancée, Maribel in Port Charlotte.
Rodriguez fearlessly chose his career over his wedding day in 1991, and it led to a Hall-of-Fame career, and eventually his first wife.
All stats courtesy of Baseball Reference