Jack Nicholson Totally Hijacked Kobe Bryant's First NBA All-Star Game Interview on National TV
Jack Nicholson became strictly star material once Easy Rider and Five Easy Pieces hit the big screen, so stealing someone else's scenes wasn't really possible for him after that, though Kobe Bryant might have begged to differ.
Nicholson, an avid Los Angeles Lakers fan, waited until midway through Bryant's second NBA season to introduce himself to the emerging star and traveled across the country to do so.
And, boy, did he make an entrance.
Kobe Bryant played in 15 NBA All-Star Games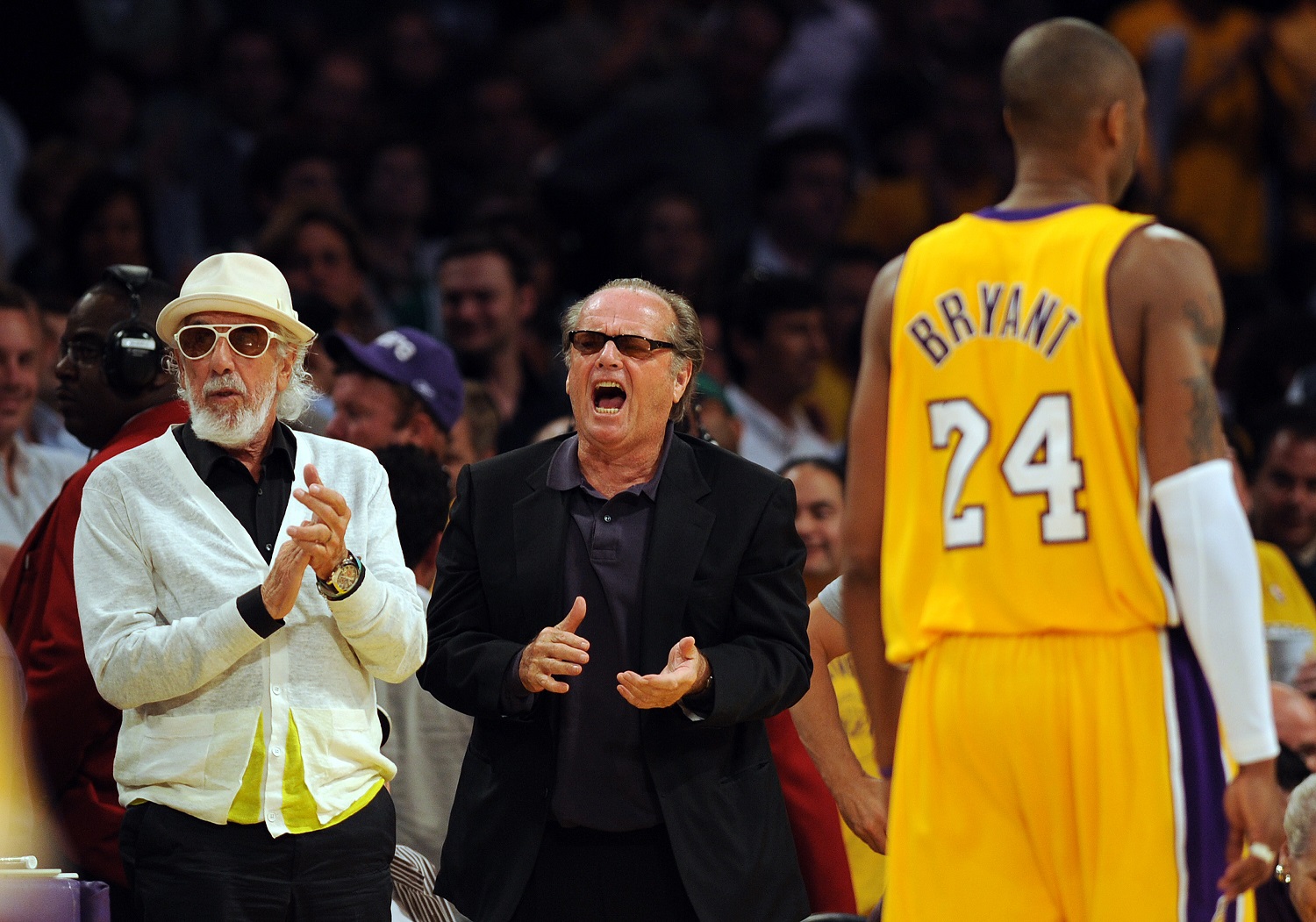 NBA All-Star Games were fixtures on Bryant's calendar. He played his first in 1998 and then earned a spot in every one of them from 2000 to 2016, the year he closed out his brilliant career.
In total, Bryant played in 15 All-Star Games, averaging 19.3 points, 5.0 rebounds, and 4.7 assists. Only LeBron James has scored more points and made more field goals, and only James and Kareem Abdul-Jabbar logged more minutes on the court.
Bryant earned the contest's MVP Award four times from 2002 to 2011. The last of the bunch was his signature moment in the celebrity-fests. He scored 37 points on 14 of 28 shooting in a 148-143 victory.
Jack Nicholson totally hijacked Kobe Bryant's first NBA All-Star Game
Jack Nicholson became a regular at Lakers games in the 1970s. Pictures of him sitting in the front row during games or hanging out with players are everywhere. Bryant was one of those players, but not so much very early on.
Bryant made his Lakers debut as an 18-year-old in 1996 and logged 21.1 minutes a game while coming off the bench his first two seasons. The fact that he wasn't in LA's starting lineup couldn't keep Bryant, 19 at the time, out of the 1998 All-Star Game at Madison Square Garden in New York.
NBC owned the rights to the game back then, and announcer Jim Gray conducted a pre-game interview with Bryant. The young star discussed being both nervous and excited about appearing on the court with such a collection of talent.
At that point, Nicholson casually interrupted the interview and asked Bryant to autograph a basketball. As Bryant obliged, Gray asked Nicholson if he had any advice for Bryant.
"Heat up," Nicholson responded.
Joked Bryant: "It's an LA family thing. We both migrated to New York for this weekend." 
Bryant did indeed heat up in his debut. He led the Western Conference team with 18 points, adding six rebounds and an assist in a 135-114 loss.
Jack Nicholson granted a rare interview after Lakers legend's death
Nicholson, now 84, retired a few years ago and has seldom appeared in public recently. He gave a rare interview in January 2020 hours after Bryant died in a helicopter crash.
"My reaction is the same as almost all of LA," Nicholson told the CBS affiliate in Los Angeles. "Where we think everything's solid, there's a big hole in the wall. I was used to seeing and talking to Kobe that — it kills you. It's just a terrible event."
He added: "I remember the totality of how great a player he was. … We'll think of him all the time and we'll miss him."
All stats courtesy of Basketball Reference.