The Jaguars' Most Perplexing Offseason Mistake Just Took a Disastrous Turn for the Worst, Setting Up Trevor Lawrence for a Nightmare Rookie Season
The Jacksonville Jaguars entered the 2021 NFL draft with needs all over the depth chart. They shored up their most important hole by landing Trevor Lawrence at No. 1 overall, but instead of giving him some much-needed protection or a star pass-catcher with their second first-round pick, the Jags decided to draft running back Travis Etienne at No. 25 overall.
As if it wasn't enough of a mistake to draft a running back in the first round, Jacksonville's puzzling decision just took a turn for the worst. Etienne will now miss the entire season after suffering a foot sprain in Monday night's preseason game, which sets up Lawrence for a nightmare rookie season.
The Jaguars made a perplexing mistake by drafting Travis Etienne in the first round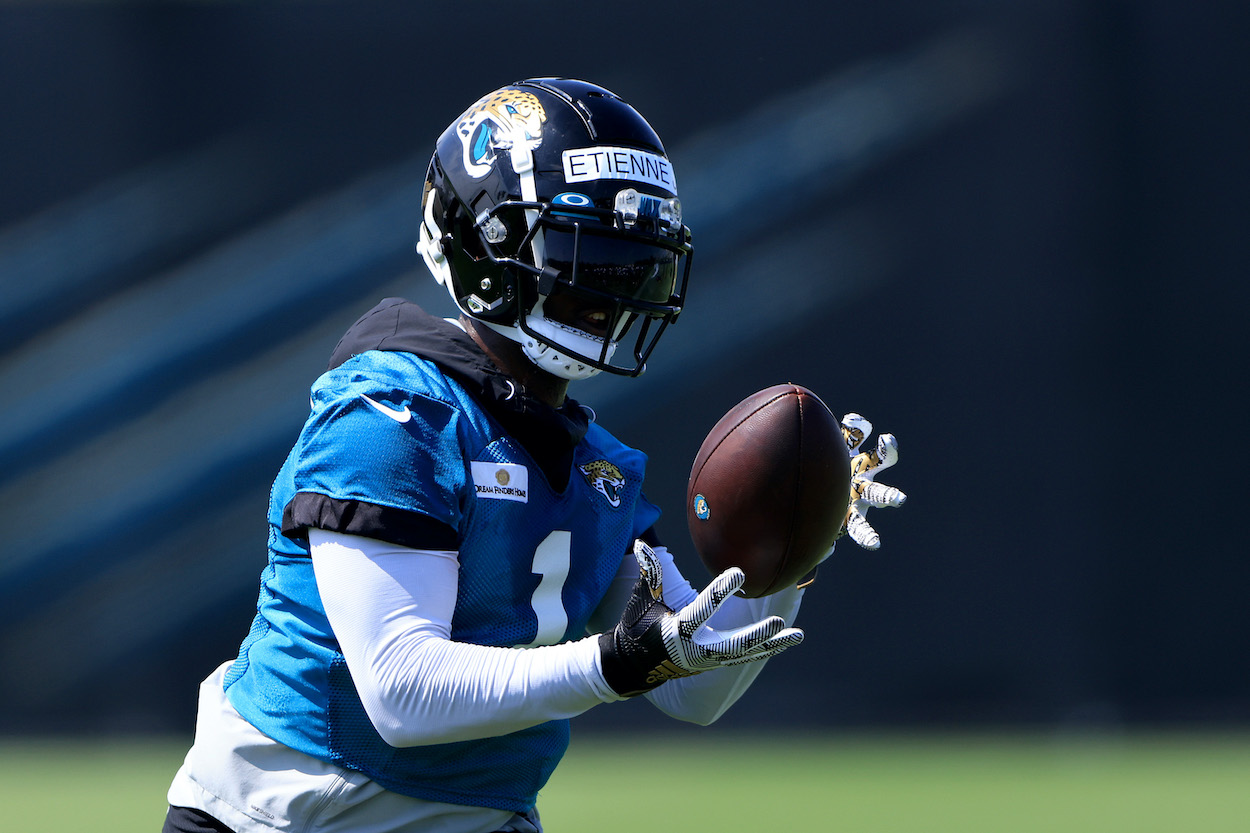 The quarterback position was the most glaring need for the Jaguars coming into the 2021 offseason. Gardner Minshew is fun and all, but he's not a starting-caliber QB in the NFL for years to come. Luckily for the Jags, they were so horrible last season that they ended up with the No. 1 pick in the NFL draft.
There was never a doubt regarding who Jacksonville would select with the first pick. Lawrence has been the best overall prospect in the 2021 class since he was in high school. He was the pick the second the 2020 NFL season ended.
After selecting Lawrence, the Jaguars shifted their focus to addressing the many other needs on the roster. Tight end, wide receiver, offensive line, and defensive line were the most crucial targets, so, naturally, the Jags reached for a running back at 25th overall after watching James Robinson put up the best rookie season of any undrafted free agent RB in NFL history.
Sure, they wanted to cater to their new franchise QB by reuniting him with his Clemson teammate, but the Jaguars had so many other pressing needs on offense.
Running back was not one of them.
Jacksonville could've added Rashod Bateman, Elijah Moore, or Rondale Moore to their unimpressive receiving core; or Landon Dickerson or Teven Jenkins to their thin offensive line. But the Jags chose Etienne instead, and it's already come back to bite them.
Etienne is out for the season with a foot sprain
During Monday night's preseason game against the New Orleans Saints, Etienne left the contest after just one carry and one target. He was later spotted in a walking boot headed to the locker room, which struck fear into every Jaguars fan watching from home.
On Tuesday, those fears turned into nightmares.
Adam Schefter of ESPN reported in a tweet that Etienne suffered a "mid-foot sprain that is Lisfranc" and will undergo surgery. A short while later, the Jaguars placed their first-round RB on injured reserve, ending his rookie season before it even started.
Trevor Lawrence bracing for a nightmare rookie season with the Jaguars
The Jaguars botched the No. 25 overall pick by taking a running back over a bigger positional need. Lawrence needs more talented weapons and more trustworthy offensive linemen in front of him to be successful as a rookie, and it looks as if he'll get neither in 2021.
Now that Jacksonville has an elite franchise centerpiece for years to come, the team will need to be smarter about surrounding him with a supportive roster. Robinson proved he can carry a backfield workload all by himself last season. There was no need to waste a first-round pick on a new, more expensive running back.
And now, instead of forcing snaps to an RB they didn't even need, the Jaguars will now be getting nothing from their second first-round pick.