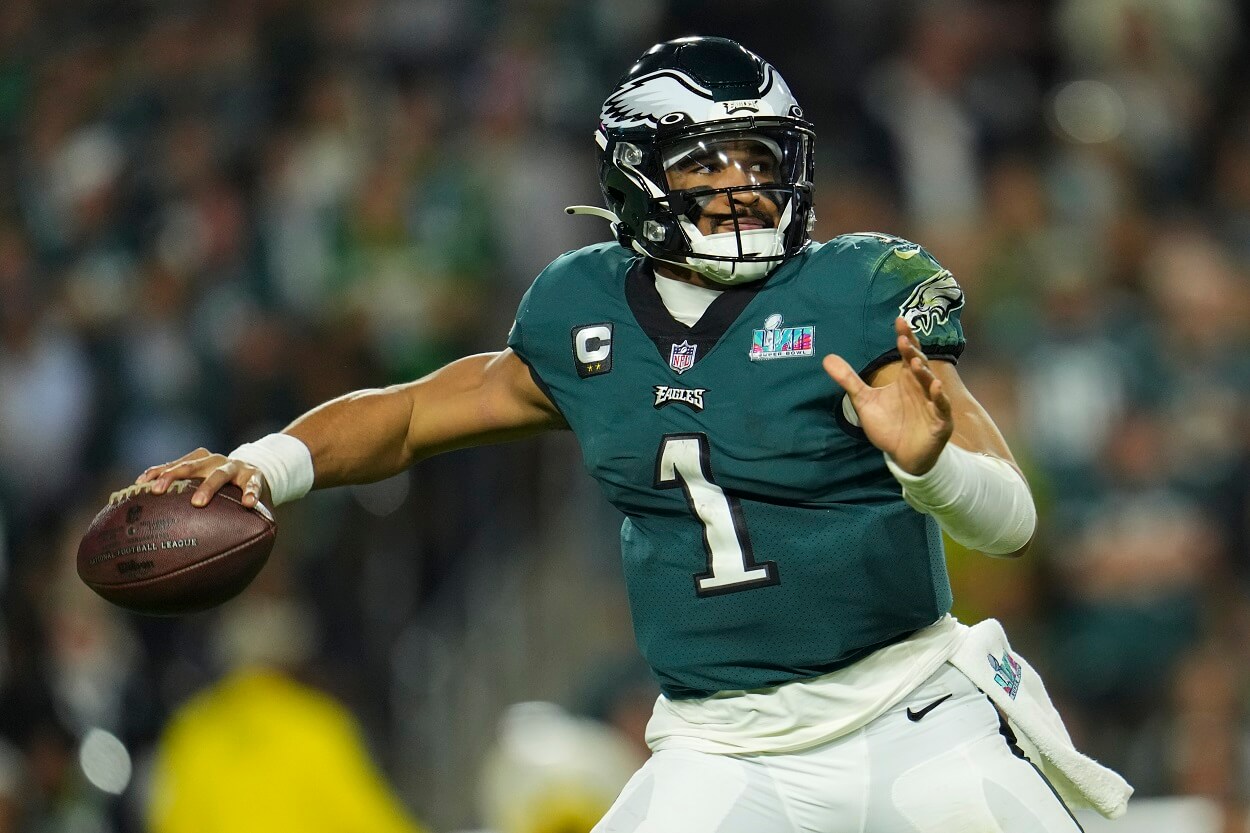 Jalen Hurts' $255 Million Extension Will Look Like a Bargain By the Time the 2023 NFL Season Begins
Jalen Hurts' record-setting extension will soon be passed by other quarterbacks.
Jalen Hurts deserves all the credit in the world for officially becoming the highest-paid player in NFL history. In terms of feel-good stories, few measure up to a journey that includes starring at Alabama, getting benched at halftime of the national championship game, nearly winning the Heisman Trophy at Oklahoma, and facing the possibility of being replaced by his second NFL season. 
But by playing at an MVP level for a Philadelphia Eagles team that came agonizingly close to winning a Super Bowl title, Hurts not only earned widespread respect but also a record-setting raise. Coming off a breakout campaign that couldn't have occurred at a better time, the 24-year-old cashed in by setting a new bar for the quarterback market. 
However, while Hurts should feel incredibly accomplished for going from being the league's biggest bargain to its highest-paid player, he shouldn't expect to be at the top of the mountain for long.
The Eagles paid a record-setting price to keep Jalen Hurts around for years to come
After benefitting from having their starting quarterback on a second-round contract for several seasons, the Eagles bit the bullet by committing significant financial resources to ensure Jalen Hurts will continue running their offense. 
And boy, did it cost owner Jeffrey Lurie a hefty sum to maintain stability at the most important position in sports for at least a half-decade. 
On Monday, April 17, the Eagles signed Hurts to a five-year, $255 million contract extension that includes $179.3 million in total guarantees. According to Spotrac, the record-breaking deal includes $110 million guaranteed at signing, roughly $7 million more than what fellow former Oklahoma star Kyler Murray received from the Arizona Cardinals. 
Tied to the franchise through the 2028 season, Hurts' $51 million average salary puts him at the top of the quarterback market by just a hair over Aaron Rodgers, who has an AAV of $50.27 million. Ultimately, the fact Hurts went from having to prove he deserved to be the man in Philly to having the most lucrative contract in NFL history is a testament to both his hard work and the benefit of timing.
$255 million won't be enough to take care of business with other big-name quarterbacks
Considering he made less than $5 million through his first three NFL seasons, Hurts has to be ecstatic about finally getting properly compensated for his contributions. And when you factor in his inspirational story of overcoming adversity, improving his weaknesses, and developing into a well-respected leader, it's easy to root for him securing a quarter-billion-dollar contract before his 25th birthday. 
While it remains to be seen if the Eagles will get a fair return on their franchise-altering bet on Hurts, it's safe to say several other teams will soon have to surpass that $255 million mark to lock up their own star quarterbacks. 
In fact, don't be surprised if we see a player hit the $60 million salary mark sooner than later. 
While Hurts' 2022 campaign deservedly put him in the mix for MVP honors, the fact he became the highest-paid player of all time based on one season of elite production speaks volumes about the nature of how that position gets paid. If someone who's basically a one-year wonder (at the NFL level, at least) can land a deal that pays $51 million annually, how much will Joe Burrow and Justin Herbert command from their respective franchises? 
The former is undoubtedly on a path that'll lead to the Lombardi Trophy coming to Cincinnati someday, and the latter might be the most physically gifted quarterback in the league not named Patrick Mahomes. The Cincinnati Bengals and Los Angeles Chargers have no choice but to outdo the Eagles and push the mark to $55 million a year. 
Oh, and what about Lamar Jackson? Surely the former league MVP will look at Hurts' deal as the new floor in negotiations with the Ravens. After all, Jackson has a much longer track record of success–albeit with an injury history. 
Plus, let's not forget the Miami Dolphins have to make a decision about Tua Tagovailoa's future. Whether that happens before the 2023 season begins remains to be seen, especially given his concussion history. But even if Miami makes the talented but oft-injured quarterback wait, it's impossible to see the Bengals and Chargers letting their leaders enter the 2023 season without financial security. 
Can Hurts add "Super Bowl champion" to his NFL resume in 2023?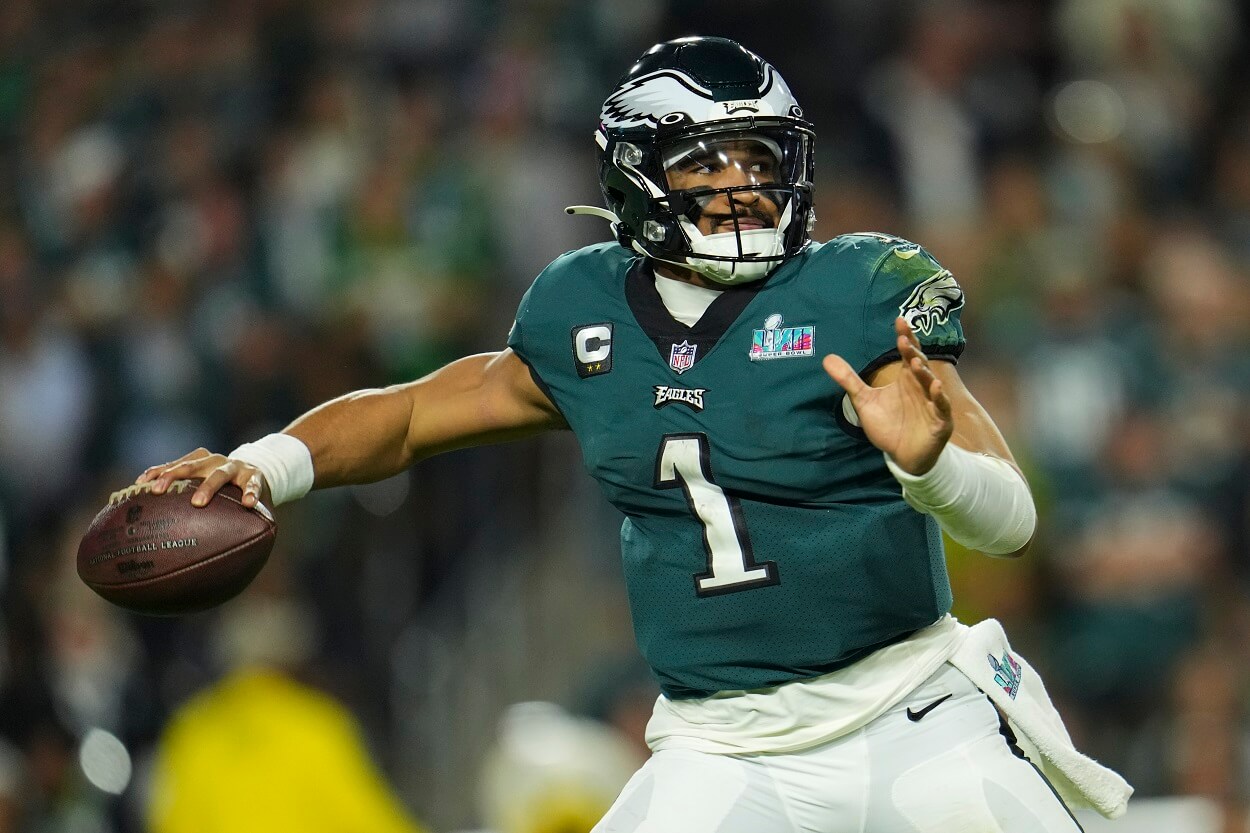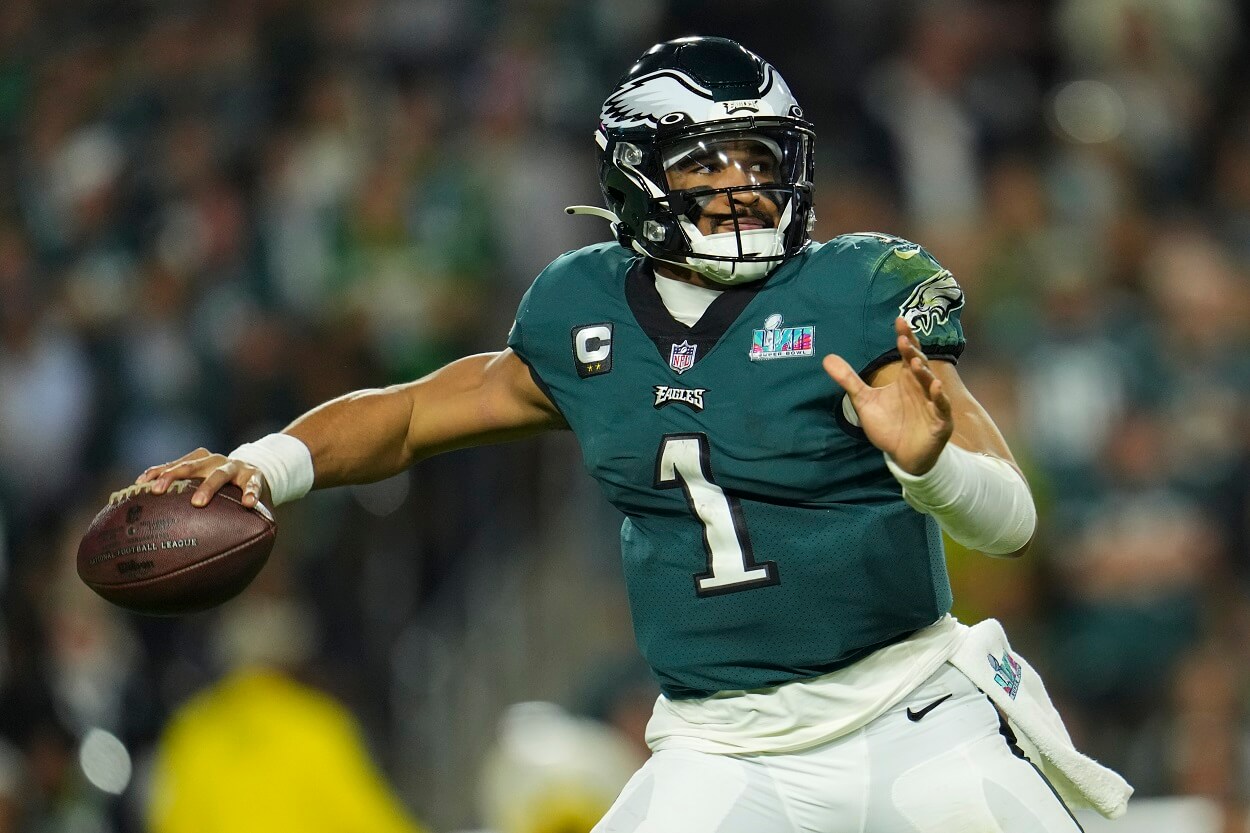 Now that he has a top-of-the-market contract, Hurts has even more pressure on his shoulders to lead the Eagles to their first Super Bowl victory since Nick Foles took down Tom Brady at the end of the 2017 season. Even after saying goodbye to key players like defensive tackle Javon Hargrave, linebacker T.J. Edwards, and running back Miles Sanders, the reigning NFC champions look poised to make another deep playoff run. 
Hurts headlines a star-studded offense that includes the dynamic receiver duo of A.J. Brown and DeVonta Smith. With a veteran line anchored by longtime stalwarts Lane Johnson and Jason Kelce, the Eagles should have no problem putting up points, especially if they land a running back in the first few rounds of the 2023 NFL Draft. 
Plus, Philly should have a top-five defense to complement what should be an explosive, versatile offense. When you combine their strong top-to-bottom roster with a smart, aggressive coaching staff, a savvy general manager, and a supportive owner, you have the makings of a Super Bowl champion. 
Most importantly, though, the Eagles have a franchise quarterback who they drafted, developed, and determined deserved the richest deal of all time. 
Only time will tell if Jalen Hurts will live up to being the highest-paid player in NFL history — for however long he holds that title.