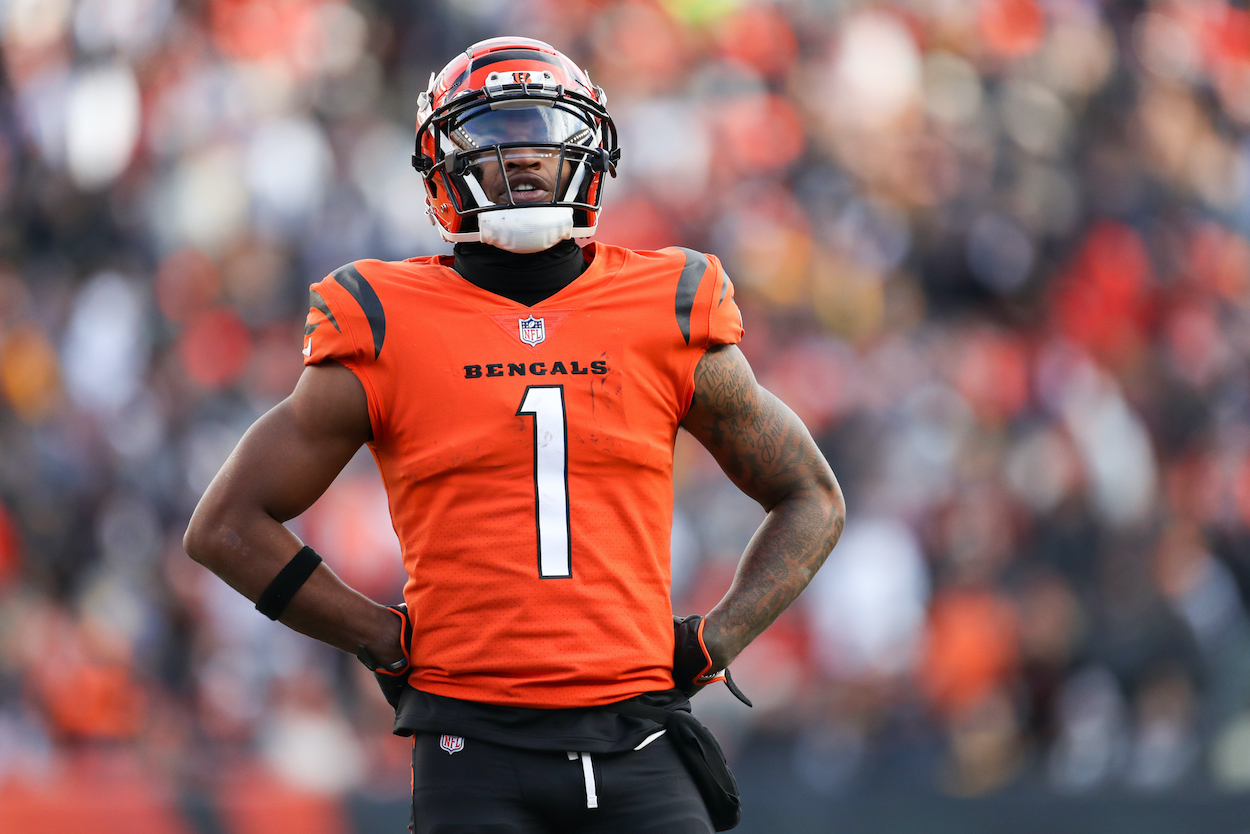 Ja'Marr Chase Criticizes Bengals Offense, Saying It was Better at LSU: 'It Wasn't as Easy to Double Team Me'
Cincinnati Bengals rookie WR has fallen off after a historic start to the season, and now he's criticizing the team's coaching staff for not using him correctly.
Cincinnati Bengals rookie sensation Ja'Marr Chase dazzled in the first half of the NFL season. Since Week 8, though, the first-year wideout has struggled to keep up his incredible initial pace. Now, as the team's season hangs in the balance, the former SEC star who catches passes from his college quarterback has some unsolicited advice for his coaching staff: be more like LSU.
Ja'Marr Chase's production has slowed from his torrid early-season pace
Through the first seven weeks of the NFL season, Ja'Marr Chase was on fire.
Chase had four touchdowns in his first three games. He averaged five catches a game for 107.7 yards and put up 101-, 159-, and 201-yard performances during that stretch. His initial touchdown pace was better than Randy Moss', and his 754 yards through seven games was the most in NFL history.
At the midway point of the season, most experts believed he was a shoo-in for Offensive Rookie of the Year.
That's all changed in the last five games. Since his 201-yard outburst in Week 7, Chase has just 20 catches for 204 yards and two touchdowns. That's an average of four catches for 40.8 yards per game.
The former LSU Tiger even likely lost his Rookie of the Year Award. According to Odds Shark, New England Patriots QB Mac Jones is now the prohibitive betting favorite at -600. Chase is now a distant second at +330.
This dip in production as NFL defenses are seemingly figuring Chase and the Bengals offense out has to be frustrating to the team, its coaches, and its fans.
However, no one seems more frustrated than Ja'Marr Chase himself.
Chase criticized how the Bengals offense is using him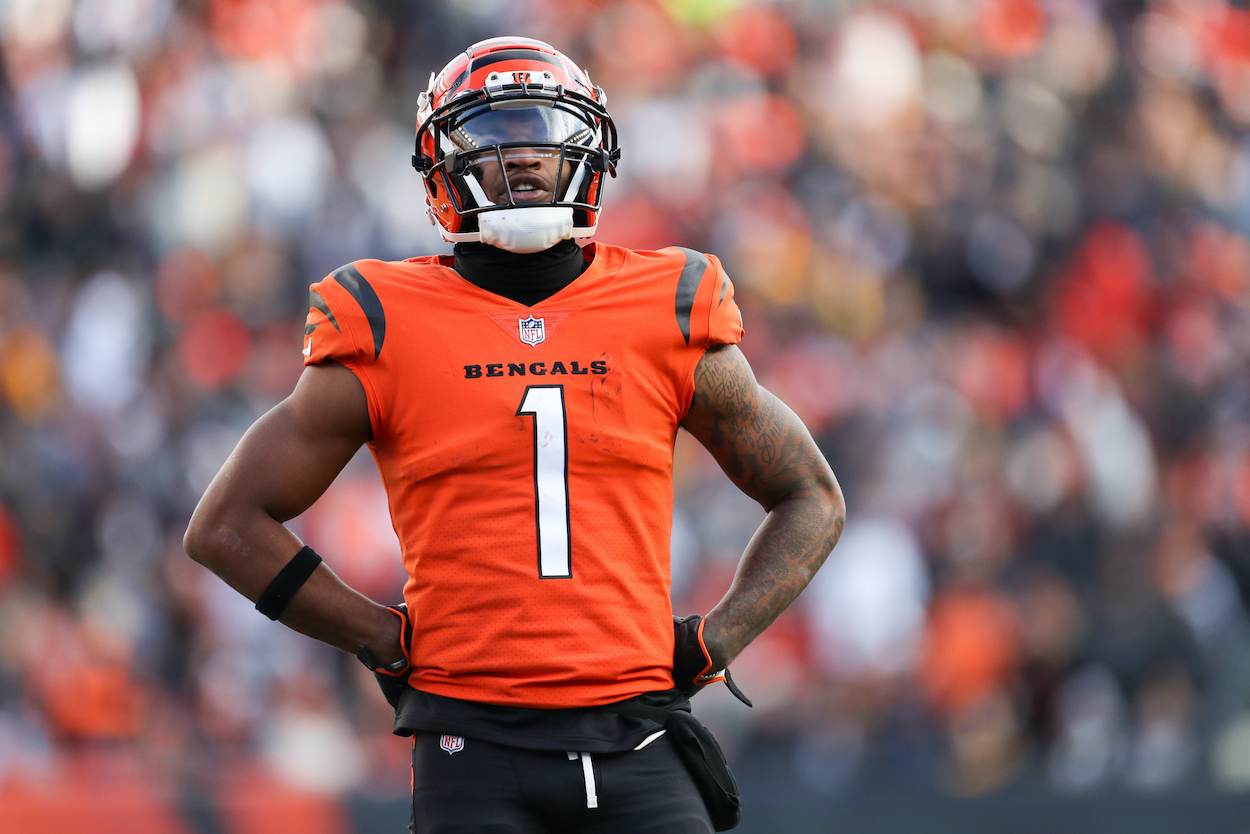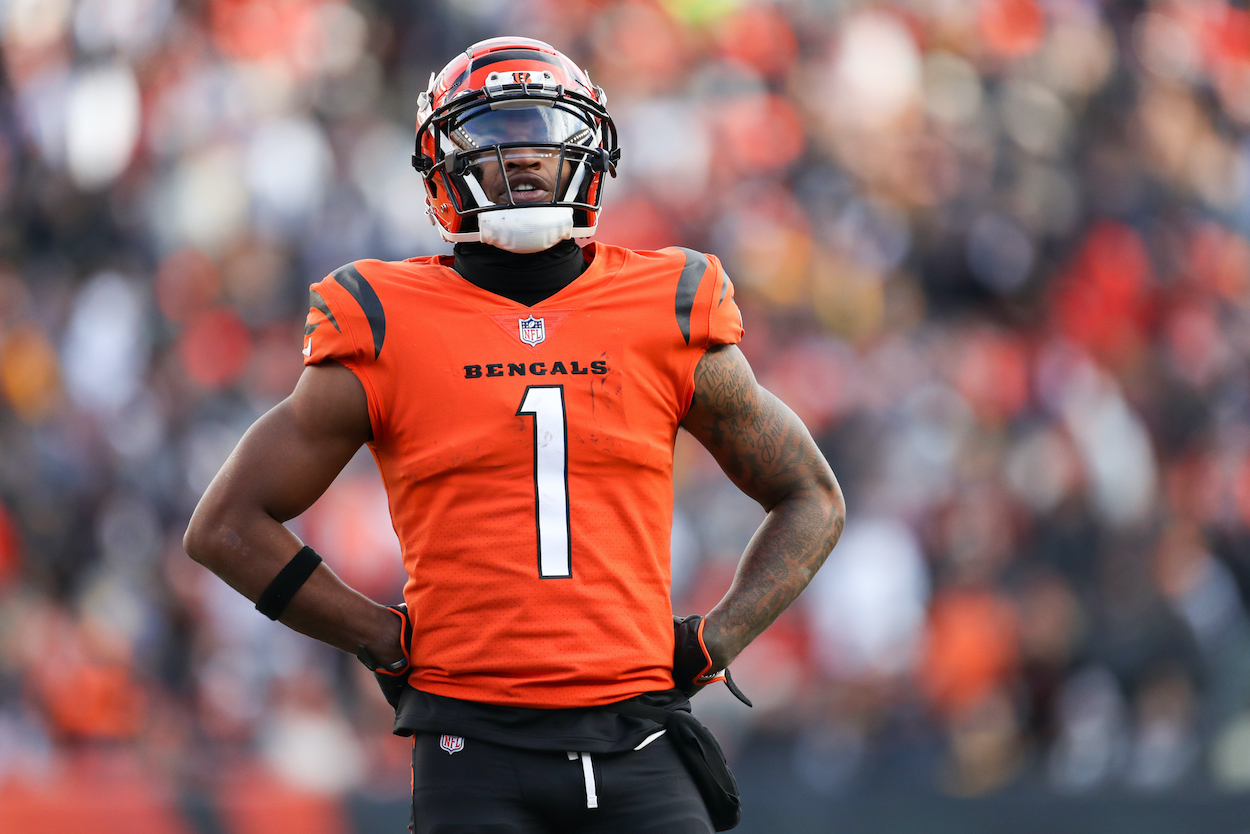 One reason for Ja'Marr Chase's success out of the gate in 2021 is his connection with former LSU teammate, quarterback Joe Burrow.
In the pair's last season at LSU (Chase opted out of the 2020 season), Chase led his team, the SEC, and the entire FBS in receiving yards with 1,780. This bested his teammate Justin Jefferson, his conference-mates Devonta Smith and Jerry Jeudy, and other future NFL stars like CeeDee Lamb, Michael Pittman Jr., and Brandon Aiyuk.
Suffice to say, Chase — with Burrow throwing him the ball — had a good thing going down in Baton Rouge. And, now, he thinks the Cincinnati Bengals need to use him more like the Bayou Bengals did.
Chase recently told reporters, per The Athletic:
I was just getting moved around more in college, so it wasn't as easy to double-team me. Instead of me being on one side of the field, and that's easy. I would love to move around more. I mean, that's not a bad option. It makes the offense open up more.

Ja'Marr Chase on the Cincinatti Bengals offense
This quote certainly sounds like a direct shot at offensive coordinator Brian Callahan. As such, the play-caller defended himself and the coaching staff following Chase's admonishment. He told The Athletic, "It's not always that easy to say, 'move him around.' But I feel like we've tried to do our best."
Callahan noted that the Bengals' depth of WR talent — with Tee Higgins and Tyler Boyd — make it challenging to move Chase all that much. The former Oakland Raiders and Detroit Lions quarterback coach also says defenses adjusting to Chase's success is making life more difficult for the pass-catcher and the offense as a whole.
The Bengals have a tough inter-conference game Sunday vs. the San Francisco 49ers
As goes Ja'Marr Chase, so go the Cincinnati Bengals in 2021, it seems. Coinciding with the wideout's dip in production, the team has struggled as well, losing three of its last five games.
With five weeks left to play, only the New York Jets, Jacksonville Jaguars, and Houston Texans are out of the AFC playoff picture. This means that winning at least three, if not four, of these last few games is crucial if the Bengals want to hang on to their current No. 6 playoff spot.
The race to the finish starts in Week 14 against the NFC's San Francisco 49ers.
The Niners are in nearly the same spot as the Bengals in their own conference. The team currently holds the No. 7 playoff spot in a conference where only the Detroit Lions are out of it at this point.
Although San Francisco lost its last game, just like Cincinnati, the team has won three of its previous five. However, the Bengals might catch a major break in Week 14. The 49ers leading receiver, Deebo Samuel, and leading rusher, Elijah Mitchell, are likely out for Sunday's matchup.
Even if the 49ers' offense is limited, Chase, Joe Burrow, and the Bengals offense still face a 49ers defense that has allowed the third-least passing yards in the NFL this season (2,461). This group has also held several big-name star WRs in check lately. Seattle's DK Metcalf and Tyler Lockette had 60 and 68 yards, respectively, last week. The week before, Minnesota's Justin Jefferson had just 84 yards.
After the 49ers game, the Bengals finish the season against four AFC opponents — the Denver Broncos, Baltimore Ravens, Kansas City Chiefs, and Cleveland Browns — so this isn't exactly a "must-win" game in Week 14.
That said, to get into the playoffs, the Bengals need to start piling up a few more wins soon. To do that, they should follow Chase's advice and be more like LSU.
All stats courtesy of Pro Football Reference and Sports Reference