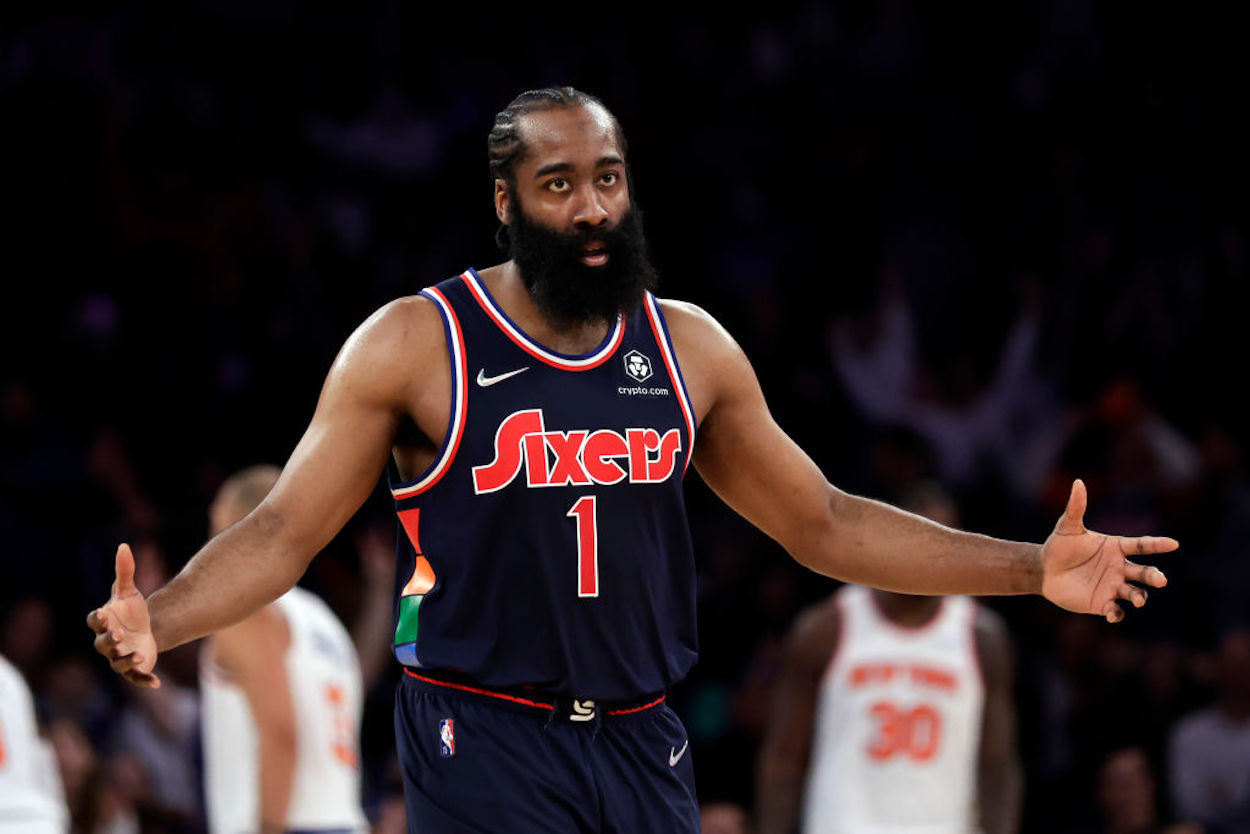 James Harden Has a Stern Response to His Critics: 'I Don't Care What People Say'
James Harden might not be the most popular man in basketball, but the Philadelphia 76ers guard isn't too concerned about his critics.
Barring a few rare exceptions, just about every star player is going to have their fair share of haters. James Harden, however, probably has more than most. Based on the guard's knack for getting to the foul line and habit of leaving town when things get tough, he isn't the most popular man on the NBA scene. In his early days with the Philadelphia 76ers, though, the Beard doesn't seem too concerned about those critics.
While Harden has played well during his first two games with Joel Embiid and company, he's seemingly not content to let his game do the talking. After dispatching the New York Knicks, the guard stepped up to his microphone and directly addressed his biggest critics.
James Harden is talking the talk and walking the walk with the 76ers
As noted above, Harden isn't the most popular guy in the Association. On Sunday, February 27, however, he straight up told his critics that he didn't care about their concerns.
"I don't care what people say," Harden said, according to Sixers Wire. "Honestly, I really, like, don't care at all. I know how skilled and the work I put in to be one of the best basketball players. Nothing was given to me. I wasn't one of the best basketball players growing up. I had to work every single day to be in the position I am today. So there's nothing that somebody can tell me about my game. I put the work in, I go out there and produce, and I try to be the best teammate that I can be every single night. Simple as that."
While there's room to debate some of the guard's claims, especially the "be the best teammate" part, it's tough to disagree with Harden's claim about production. He's always capable of stuffing the box score but has taken things even further during his early days with Philly.
Through his first two games with the Sixers, the Beard posted 56 points, 18 rebounds, and, perhaps most impressively, 28 assists. According to the Philadelphia Inquirer, he's the first player in league history to post at least 25 points and 12 assists in his first two games with a new team.
Assists are nothing new for Harden — he's long been an underrated passer — but it does seem significant that he's doing it again in Philadelphia. For all the talk of him being a ball-stopper on the floor or a bad teammate off the court, the best of the guard has shown up thus far.
It's good that Harden doesn't care because even a championship might not change his reputation
In the world of sports, it's easy to assume that a championship will heal all wounds. For James Harden, however, even a title might not be enough to repair his reputation.
While leading the 76ers to the promised land would certainly make him a hero in Philadelphia, it won't do much to address the two biggest criticisms levied against the guard. As mentioned above, his style — isolation offense and shooting free throws — doesn't exactly speak to neutral fans. Arguably the bigger issue, though, is attitude-driven.
Whether it's fair or not, Harden has developed somewhat of a reputation as a spoiled superstar. The guard's final days with the Houston Rockets were nothing short of a soap opera, with him skirting COVID-19 protocols to party, getting into it with teammates, and seeming generally uninterested in turning things around. While it's impossible to know his true intentions, it was hard to view his actions as anything less than trying to force a trade.
Although there was less drama in Brooklyn, things still came to a similar end. Harden was supposed to be part of a group capable of challenging for championships. Instead, he left town via a trade amid rumors of frustration. While no one came out and directly connected the dots, the Nets' locker room did seem happier without the star guard.
Even if the Bearded One didn't force his way out of Brooklyn, it's easy to see how his critics will counter any hypothetical success in Philadelphia. "Winning a championship," the argument goes, "should be down to hard work, not quitting on teams until you land in the right spot."
It goes without saying, though, that two games aren't much of a sample size. Harden is bound to post a poor performance eventually and, no matter how the 76ers do this season, the narrative around him probably won't change that much. The guard, however, isn't too concerned.
As he said, "Honestly, I really, like, don't care at all."
Stats courtesy of Basketball-Reference