James Worthy Still Remembers the Challenge of Defending Larry Bird and How He 'Didn't Like' the Celtic's Trash Talk
When it comes to NBA rivalries, it's tough to look anywhere than the Boston Celtics and the Los Angeles Lakers. The two franchises may exist on opposite coasts, but they've crossed paths in plenty of iconic battles over the years. During the 1980s and 1990s, Larry Bird was a central part of those encounters.
Although Bird had his famous rivalry with Magic Johnson, he still managed to rankle plenty of Lakers. Allow James Worthy to explain.
Larry Bird told James Worthy exactly what he was going to do and executed it to perfection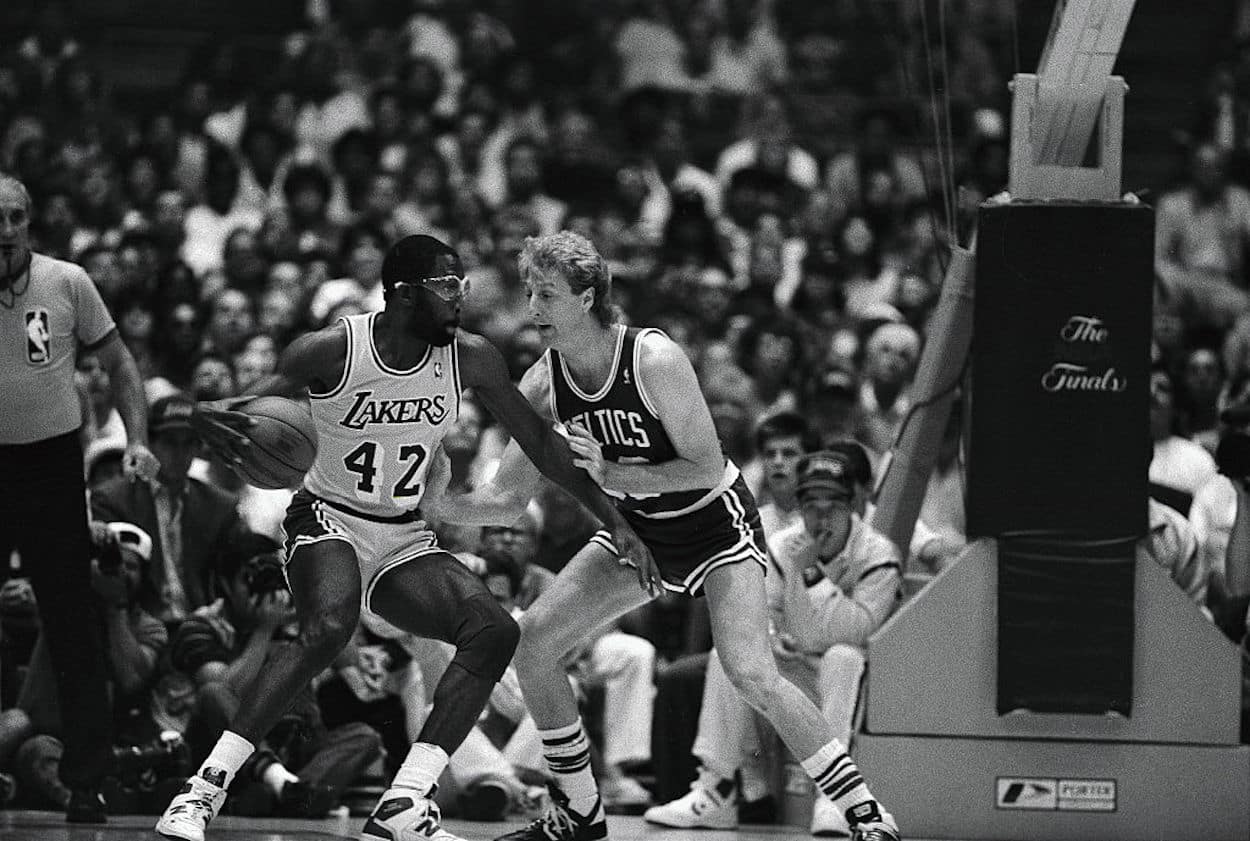 Over the years, plenty of stories have emerged recounting how Larry Bird flexed his metaphorical muscles by telling a defender exactly how he planned to score before doing so. James Worthy, it seems, fell victim to that exact situation.
"I remember this one time," the former Laker remembered on the Knuckleheads podcast. "You might have heard this before because he did it with a lot of people. I had to guard him. You know the play is coming, but he would tell you it's coming. 'You know, with DJ [Dennis Johnson] handling, Robert's gonna, [Kevin] McHale's gonna set a flash pick for Robert [Parish], but Robert, that's only to free him up to come and set a pick for me.' And he says, 'If you trail, I'm on the trail into the lane and shoot a little floater.' And he said, 'If you f***ing pop.' He said, 'If you try to get over the top.' He said, 'I'm gonna pop to that corner and bust a jumper in your f***ing face.'"
When the play began, the forward tried to remain as close to Larry Legend as possible, even going as far as grabbing at his jersey. The Celtics star, however, was simply too good.
"The ball comes in," Worthy continued. "DJ takes a couple of dribbles. I'm quick, I'm quick enough. I think I can get over the top. I get over the top. I get out there, but he pops to the corner, and I'm running. He kinda waiting, you know? He was an asshole."
Beyond that encounter, the UNC product also remembered how Bird would walk into the locker room ahead of the All-Star Game and ask who was going to come in second during the Three-Point Contest. While Worthy didn't appreciate that, he couldn't argue with the living legend's body of work.
"He was that good," Worthy concluded. "I didn't like him, but he was that good."
Worthy even went as far as saying that he'd rather guard Michael Jordan than Larry Bird
As if those memories weren't telling enough, we do have another quote that shows just how much of an impact Larry Legend left on James Worthy. Speaking on ESPN's SportsCentury, the Lakers even went as far as saying he'd rather defend Michael Jordan than Bird.
Yes, you read that correctly. He'd choose to defend one of the greatest talents in NBA history before facing off with the Celtics star.
"I would much rather guard Michael Jordan than Larry Bird because you have to play the game as a thinker when you're playing [Bird]," Worthy explained. "You have to get inside his mind. Larry wasn't quick, he couldn't jump really high, but there were just some sleepless nights."
And while that might sound a bit jarring — you'd think it's easier to guard someone who isn't the most physically gifted — Worthy wasn't alone in his assessment. Jordan, for example, was convinced that Bird's lack of foot speed and leaping ability made him an even greater threat since he had to outthink the opposition.
No matter who you listen to, though, the implications are clear. Even if you knew exactly what he was doing, Larry Bird wasn't someone you wanted to defend for any length of time.