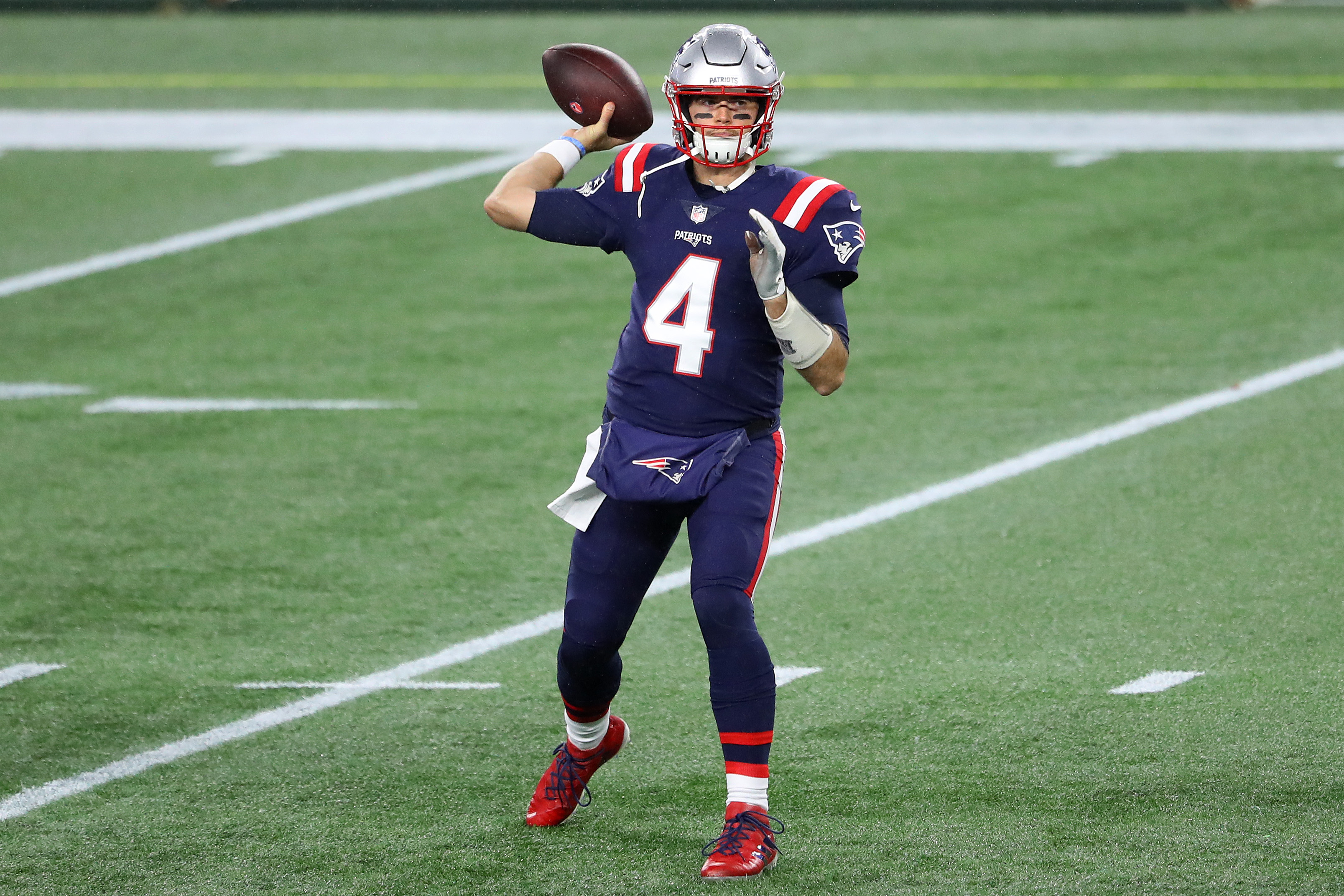 Jarrett Stidham Gets a Very Sobering Message from Josh McDaniels
New England Patriots backup quarterback Jarrett Stidham gets a sobering message from offensive coordinator Josh McDaniels.
After winning four of their last five games to get to .500 and give themselves a very outside shot at the postseason, the New England Patriots had a clunker Thursday night. The Patriots struggled on both sides of the ball, falling 24-3 to the Los Angeles Rams. Quarterback Cam Newton was highly ineffective and after the game Patriots offensive coordinator Josh McDaniels had some tough news for backup Jarrett Stidham.
The New England Patriots were ugly against the Rams
Heading into Thursday night's game with the LA Rams, the New England Patriots needed to run the table to have a realistic shot at postseason play. After a 2-5 start, the Patriots climbed back to 6-6. Although their offense wasn't smoothly operating, they had managed to go 4-1 in the last five games.
Against the Rams, the Patriots struggled on both sides of the ball. Defensively, the Patriots couldn't stop the run. Rookie running back Cam Akers ran wild on the Patriots. He set the tone for the night by rushing for 171 yards on 29 carries.
Offensively, the Patriots and quarterback Cam Newton continued to struggle. Newton threw his 10th interception this year, one that was returned for a touchdown. Newton, who had thrown just five touchdown passes this season, was 9-for-19 passing for 119 yards.
Cam Newton or Jarrett Stidham?
The passing game for the New England Patriots has been atrocious this season. After six-time Super Bowl champion Tom Brady bolted New England to play for the Tampa Bay Buccaneers, the big question was who was going to replace him. Brady backup Jarrett Stidham appeared to be the front-runner, but the Patriots signed former MVP Cam Newton to a free-agent deal soon before the season started.
Newton certainly hasn't been great, but he hasn't been a complete bust. While his passing game has struggled, he does have 11 rushing touchdowns. In three games this year, Newton has completed fewer than 10 passes. He has never thrown more than one touchdown pass in a game this year.
Newton got off to a good start with the New England faithful, beating the Miami Dolphins in the season opener. In that game, he completed 15 of 19 passes and rushed for two scores. He had two more rushing touchdowns and a TD pass as the Pats put up 30 points in a loss at Seattle. Then New England defeated the Las Vegas Raiders 36-20. Since then it's been downhill and fans have been calling to see Stidham replace Newton as the starter.
Stidham gets a sobering message from Josh McDaniels
In Thursday's loss to the LA Rams, backup quarterback Jarrett Stidham came in to replace Cam Newton in the fourth quarter. He didn't do anything mind-blowing, completing five of seven passes for 27 yards, but certainly wasn't any worse than Newton. In Newton's last three games, he's averaged 90.6 yards passing per game. He has one touchdown pass and three interceptions during that stretch.
While Newton's numbers have been dreadful lately, New England Patriots offensive coordinator Josh McDaniels had a message following the game that didn't bode well for Stidham. "Cam has certainly, he certainly has been the best option for us all year long since he earned the opportunity in training camp," McDaniels said Friday on a conference call, according to WEEI in Boston.
"And look, whenever the offense struggles, I know the attention is always going to get turned to that position," McDaniels continued. "Me personally, it's my responsibility to put us in a position to be more productive than we were last night."Newton is struggling to complete a single pass. If he is still "certainly" their best option, how good can Stidham actually be?