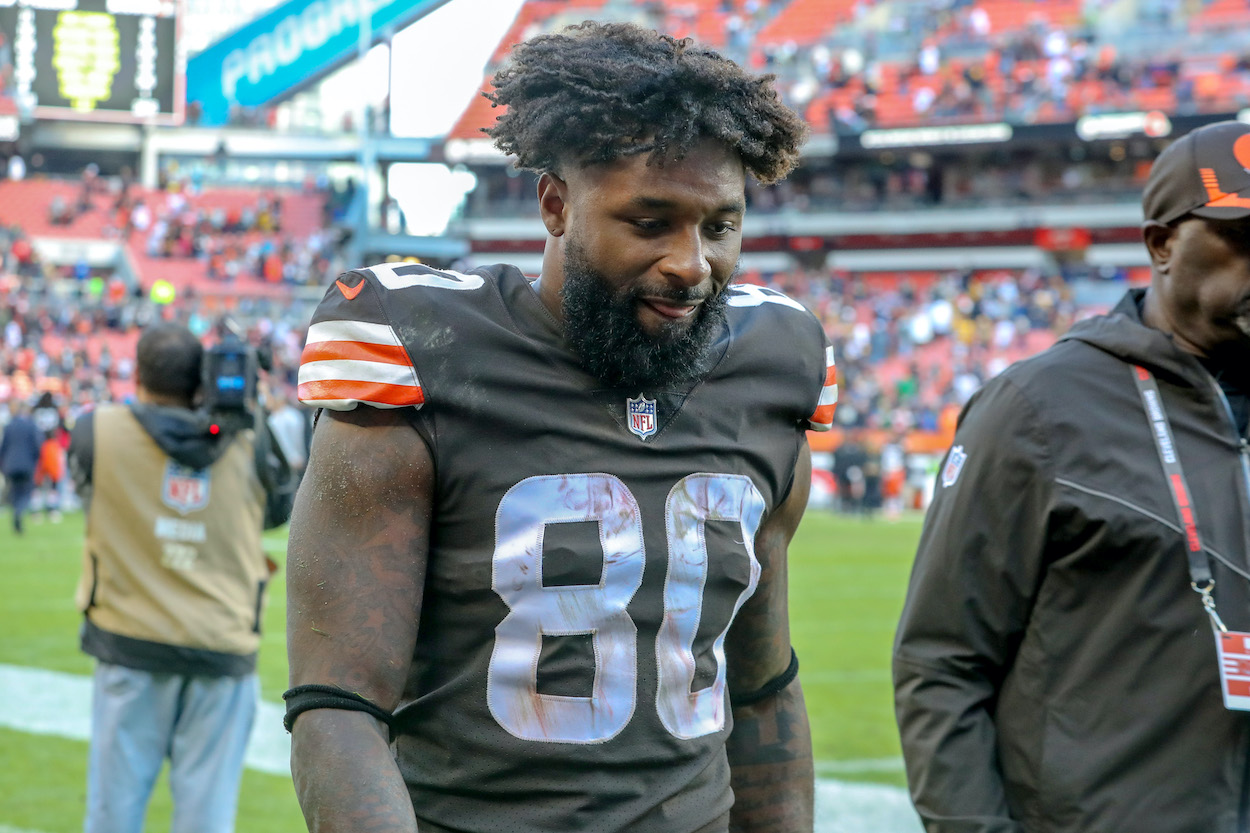 Jarvis Landry Puts Browns on Notice With Series of Twitter Posts
Cleveland Browns WR Jarvis Landry's Twitter rant that suggests he won't be around next year, meaning the team needs to find a new WR.
After ending a 17-year playoff drought in 2020, the Cleveland Browns organization and its fans expected great things from the 2021 season. A drama-filled losing (8-9) season is what they got, and that drama is now spilling into the offseason with the team's leading pass-catcher, Jarvis Landry, taking his beef with the franchise to Twitter.
The 2021 season was a disaster for the Cleveland Browns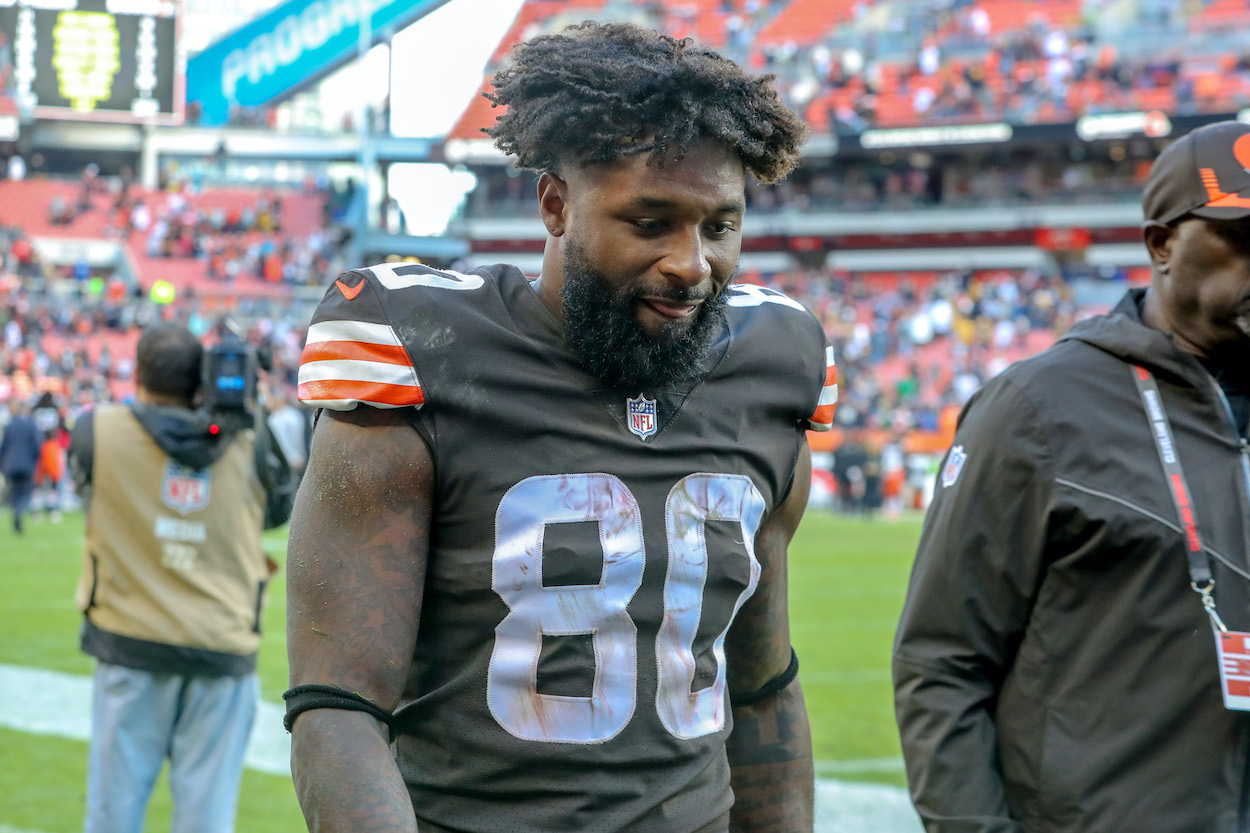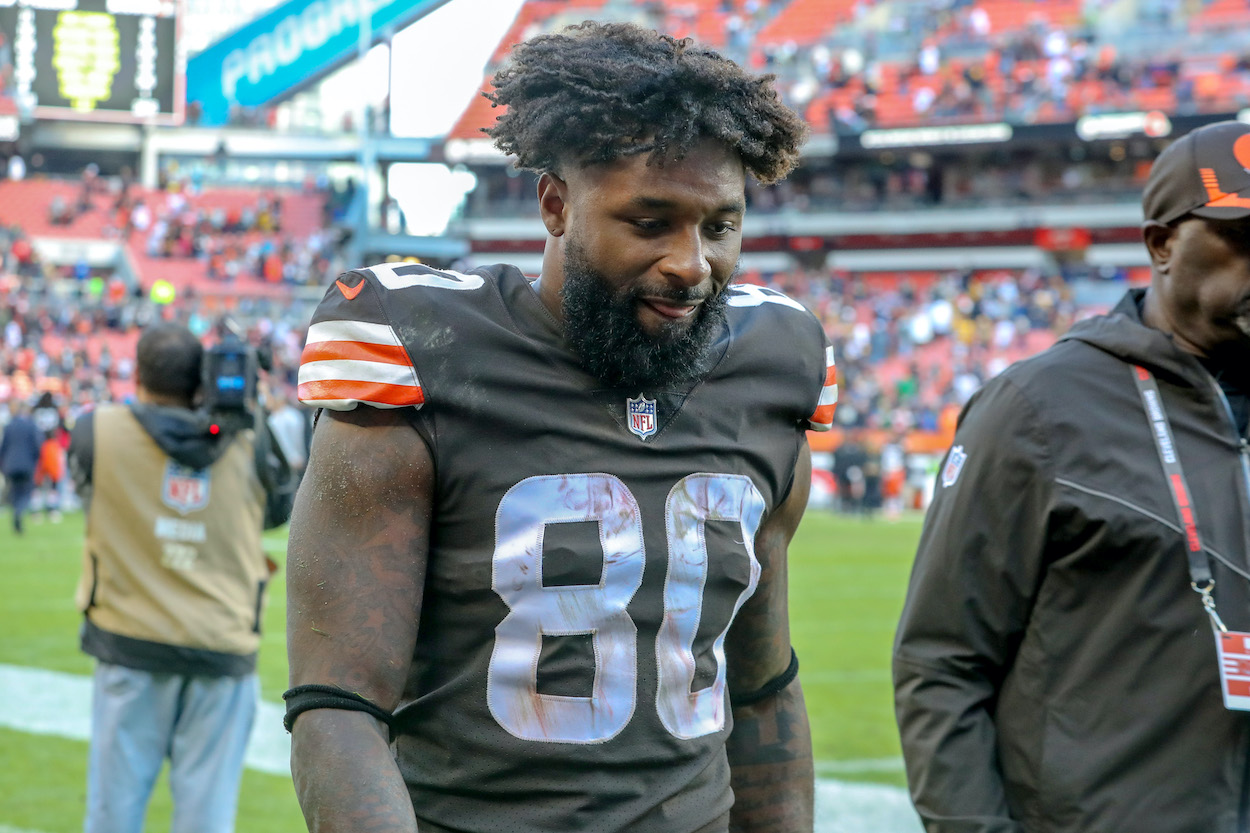 In 2020, the Cleveland Browns clicked for the first time in almost two decades. The team had a young franchise QB in Baker Mayfield. It had a dynamic receiving duo in Odell Beckham Jr. and Jarvis Landry. And it had a talented defense that included Myles Garrett and Denzel Ward.
That team went 11-5, won the AFC North, and beat the rival Pittsburgh Steelers in the Wild Card Round.
After that performance, expectations were high heading into 2021, and the Browns simply didn't deliver. The team played the defending AFC champion Kansas City Chiefs tough in a Week 1 loss. Then, they ripped off three wins in a row. However, at 3-1, the wheels fell off for Cleveland.
The Browns went 5-8 the rest of the season. Mayfield dealt with a handful of injuries, RB Kareem Hunt missed nine games, Landry missed five, and almost no Browns player played in all 17, except for Garrett.
Worst of all, Beckham, with the help of an Instagram video posted by his dad, sulked and criticized and ultimately forced his way out of Cleveland. To add insult to injury, he won the Super Bowl with the Los Angeles Rams.
Now, heading into a contract year for Mayfield with no extension and facing questions as to how to improve, the Cleveland Browns face tough offseason decisions, and what to do about Landry is one of them.
Jarvis Landry took to Twitter to explain 2021 and say he's ready for 2022
Jarvis Landry, who was Odell Beckham's running mate at both LSU and in Cleveland, is heading into the last year of a five-year $75 million deal. His cap number for the season will be $16.3 million, while his dead cap is $1.5 million. The nearly $15 million savings the team would see by cutting Landry has the media speculating that will be the Cleveland Browns' next move.
With rumors swirling, Landry took to Twitter to explain his physical and mental state in 2021, said he's open to staying in Cleveland, and issuing a declaration to whichever team he plays for in 2022:
1/2 Reality behind all this is I came back to play in the best shape of my life, I got hurt week 2 with a high grade MCL Sprain,Partial quad tear and bone bruise. Then came back way to early and ended up staying hurt the entire season. You never heard me mention anything about it

2/3 Also my media availability didn't happen because I was focused on getting on the field as healthy as possible during the week and after games.. a strategic plan was set in place to be followed. I put the ball in CLE court by telling them I would like to stay but if not then

3/3 I have put the ball in CLE court by telling them I would like to stay but if not then I'm confident enough in myself to be a better healthy me this year and moving forward to helping do my part in winning a championship elsewhere.

Cleveland Browns WR Jarvis Landry on Twitter
Whether or not Landry stays in Ohio likely comes down to whether he'll accept a contract renegotiation and maybe a pay cut. If not, it looks like the eight-year veteran may not be with the Browns next season.
What are Cleveland's WR options if Landry leaves?
If Jarvis Landry is, in fact, out in Cleveland, the team will need to go to work to replace both him and Odell Beckham Jr. this offseason.
There is a decent option already on the team to help Baker Mayfield. While Landry was the team's leader in receptions, second-year pro Donovan Peoples-Jones had 27 more yards and one more touchdown with 18 fewer catches.
To find a partner or two for People-Jones, the Cleveland Browns can attack the issue with their $28 million in cap space (and even more if they release Landry). That space will allow them to sign a top free-agent WR. After issues with Beckham and now Landry, the team will likely stay away from any pass-catchers with polarizing personalities. Meaning, a guy like Juju Smith-Schuster is likely out. Allen Robinson II, Mike Williams, or Chris Godwin are all possibilities, though.
The Browns could also go wideout with the No. 13 pick in the upcoming NFL draft. Treylon Burks or Drake London, big pass-catchers from Arkansas and USC, respectively, who could develop into a No. 1 target for Mayfield. One of the Ohio State dynamic WR duo — Garrett Wilson or Chris Olave — could work, too.
The upcoming season is a make-or-break year for Mayfield, head coach Kevin Stefanski and the franchise as a whole. If the Browns let Landry and his big contract go as part of trying to make the next step, they better replace him and his production well.
All stats courtesy of Pro Football Reference and contract figures courtesy of Spotrac