Joe Burrow Caught on Camera Explaining His Relationship With Odell Beckham Jr.
Cameras caught Cincinnati Bengals QB Joe Burrow's surprisingly emotional reaction to Los Angeles Rams WR Odell Beckham Jr.'s Super Bowl injury.
On Super Bowl Sunday, Joe Burrow and Odell Beckham Jr. were enemies on opposite sides. However, when the Los Angeles Rams wide receiver went down with a serious knee injury — a knee injury Burrow is all too familiar with — cameras caught the Cincinnati Bengals quarterback's concern.
While the two players don't seem to have a lot in common, they are both former LSU Tigers, and cameras caught Burrow as he shared some fascinating insight into their relationship.
Joe Burrow and Odell Beckham Jr. both had incredible success at LSU 
The relationship between Joe Burrow and Odell Beckham Jr. goes back to LSU, where both players played for the Tigers, albeit five years apart.
Beckham, a Louisiana native, played football for LSU from 2011-13. During his three seasons in Baton Rouge, the wide receiver caught 143 balls for 2,340 yards and scored 12 touchdowns. These numbers are even more impressive when you consider that he played with an inauspicious group of signal-callers. That group includes Jarrett Lee, Jordan Jefferson, Zach Mettenberger, and Anthony Jennings.
OBJ certainly never had a passer like Burrow. The Ohio native started his college career at Ohio State, but after losing the starting job to Dwayne Haskins, he transferred to play for Ed Orgeron at LSU.
After a solid junior season, Burrow took the college football world by storm in 2019. He completed 76.3% of his 527 pass attempts for 5,671 yards and 60 touchdowns while throwing just six picks.
The Bayou Bengals QB led his team to a national championship in his last season in Louisiana as well.
That's when the world first learned about Burrow's relationship with Beckham.
Following LSU's championship game win over Clemson, Beckham was on the field celebrating with his former team. It looked like the NFL receiver was handing out cash to players in the celebration, which seems like it would be a clear NCAA violation. However, LSU quickly claimed the money was fake.
After Burrow declared for the NFL draft, he contradicted that report, telling Barstool Sports' Pardon My Take that Beckham did, in fact, give him real money for the win.
Burrow explained his relationship with Beckham after Super Bowl injury
Fast forward two years from Odell Beckham Jr. handing Joe Burrow cash while the confetti fell on LSU's championship team, and the two former Tigers faced off in an even bigger championship game: Super Bowl 56.
Beckham got off to a fast start in the Big Game. He caught two balls for 52 yards and scored the contest's opening TD.
However, with just under four minutes left in the first half, injury struck. Beckham ran a shallow cross, and LA Rams QB Matthew Stafford threw the ball behind him. As OBJ twisted to catch the ball, he came down awkwardly on his left knee and went down in a heap.
Beckham left the game, not to return with a torn ACL.
Cameras caught the reactions on both sidelines to the devastating injury, including Burrow's. As the Cincinnati Bengals QB tensely watched what was happening on the field, an unidentified member of the Bengals organization asked him, "You know [Beckham] pretty well?"
"Yeah," Burrow responded. "He's a good dude. He would always call me after all our big wins, say congrats."
In the midst of watching all the emotional reactions to Beckham's injury, it was interesting to know that Burrow and Beckham have a deeper relationship than just exchanging cash after a big LSU win.
Judging by Burrow's reaction, it seems like the QB genuinely likes the outspoken WR. And, it also may make fans wonder: Now that OBJ is a free agent, will Beckham and Burrow ever play together?
Could the two former LSU Tigers team up in 2022?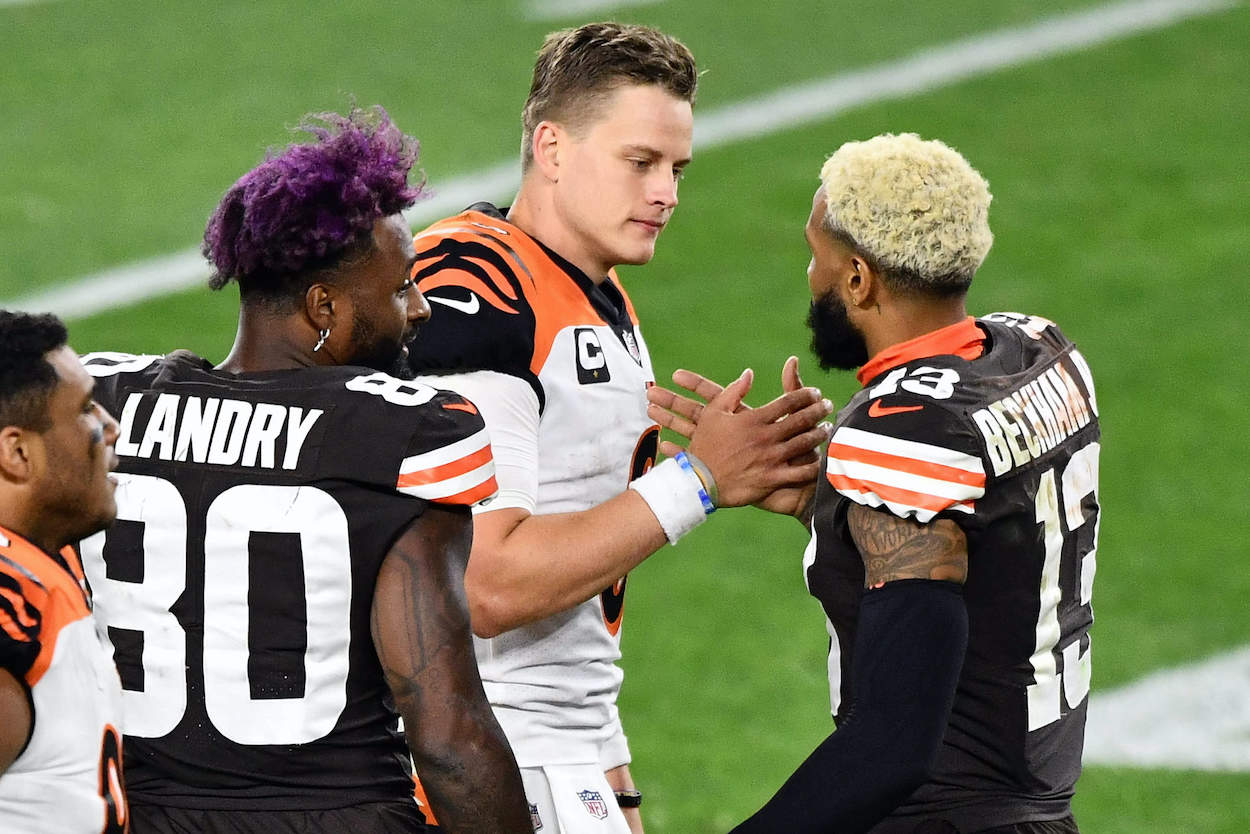 The silver lining of the Odell Beckham Jr. injury is that the LA Rams won the game, earning the eight-year NFL veteran his first Super Bowl ring.
Now, after signing a one-year deal with the Rams, Beckham is an unrestricted free agent.
The three-time Pro Bowler will be 30 next season and is coming off a serious knee injury. He's also burned bridges with his first two teams, the New York Giants and Cleveland Browns. Despite his immense talent, his suitors will be limited this offseason.
The team that signs Beckham will likely have to have three things: a strong and talented QB, championship aspirations, and a glitzy location.
The wideout has clashed with late-period Eli Manning and Baker Mayfield and doesn't react well to losing, hence the first two qualifiers. He also loved being in LA, by all accounts, and going back to a small town doesn't seem like something Beckham would choose.
On the Bengals side, they have the fourth-most cap room in the NFL this offseason, with an estimated $48 million free. They also have one of the best young QBs in the NFL with Joe Burrow.
While nothing's impossible, especially if Burrow recruits his old LSU pal, there are two reasons Beckham probably won't come to Cincy. One is the city itself. After two-plus seasons in Ohio, Beckham probably won't want to come back. Teams in California, Texas, or Florida are more likely.
Also, if the Bengals do sign a free-agent pass-catcher, it probably won't be an outside WR like Beckham. Ja'Marr Chase and Tee Higgins have those spots locked up.
Beckham and Burrow's paths might cross again someday, but it probably won't be in 2022.
All stats courtesy of Sports Reference