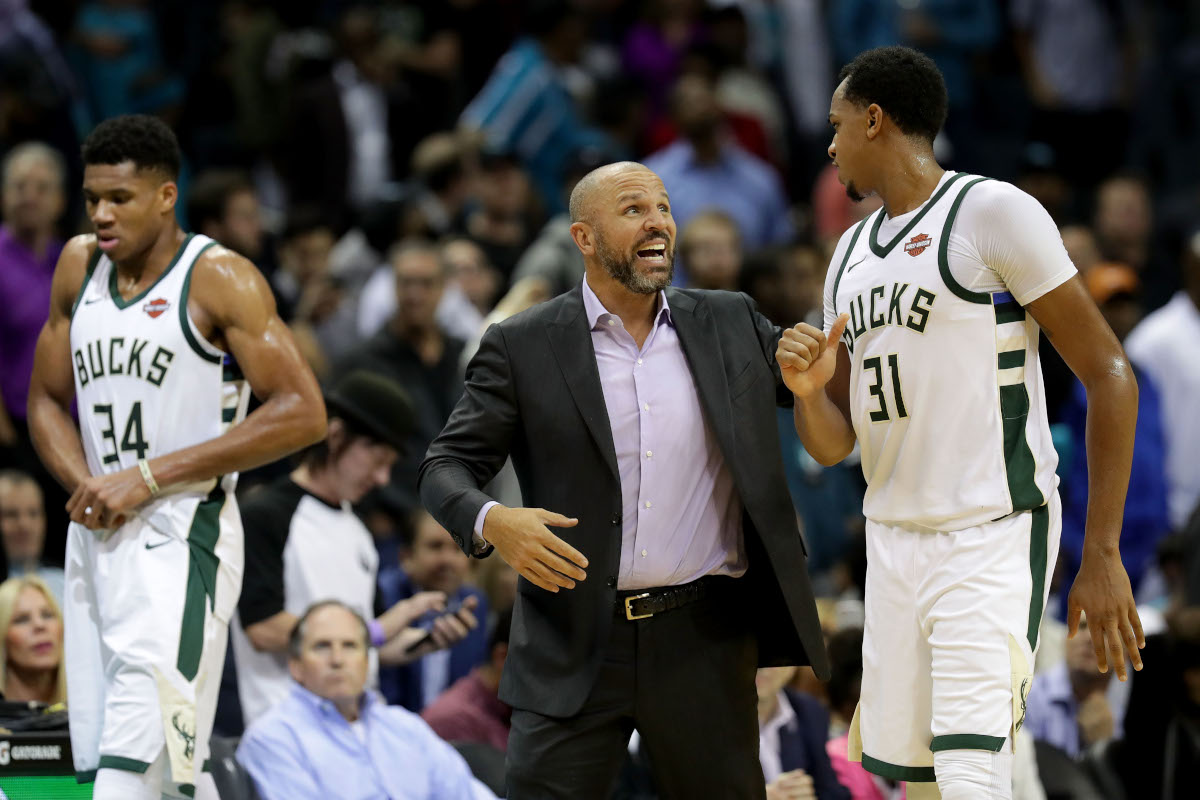 Jason Kidd Blasted by Former Bucks Player in Giannis Antetokounmpo's Biography: 'I Don't Think He's a Bad Person, but …'
The history is clear, but teams keep hiring Jason Kidd to coach. Now with the Dallas Mavericks, Kidd was not remembered fondly by several of his former Milwaukee Bucks players in a new Giannis Antetokounmpo biography.
Jason Kidd was a Hall of Fame point guard. But he's been mediocre at best in his first two head coaching stints in the NBA. Kidd, recently named coach of the Dallas Mavericks, came under heavy scrutiny in a new biography about Milwaukee Bucks superstar Giannis Antetokounmpo. The dirt dished by Kidd's former players in Milwaukee adds another layer to an already-complicated history that includes guilty pleas for domestic violence and DUI.
Kidd spent the last two seasons as an assistant for the LA Lakers after five seasons as a head coach. He led the Brooklyn Nets to a 44–38 record and a second-round playoff loss in 2013–14 before he was traded (yes, traded) to the Milwaukee Bucks. Milwaukee was 139–152 under Kidd, fired in January 2018 during his fourth season there.
Kidd is a polarizing figure around the NBA; there are as many people singing his praises as gingerly stepping around the subject.
Jason Kidd has a troubling past and a new role
Jason Kidd was reportedly not the coach Mavericks superstar Luka Dončić wanted. But Dallas went through with the hire even with Kidd's lengthy list of misdeeds.
Some of Kidd's tactics lend themselves to second-guessing. While with the Nets, he paid $50,000 for an extra timeout. As backup guard Tyshawn Taylor walked toward the bench, Kidd instructed Taylor to hit him. Kidd spilled his drink and, presto, a timeout on the floor.
Brooklyn is also where Kidd demoted lead assistant Lawrence Frank, who coached Kidd for four seasons in New Jersey. Kidd wanted Frank to help the first-time head coach while running the team's defense. The Nets paid him $6 million for his troubles.
But the partnership was doomed from the start. Kidd didn't make his Brooklyn debut until the team's third game because of a suspension and named Joe Prunty interim head coach. Frank wasn't happy about it. Before the season was a month old, Kidd banished Frank after an early-season loss. In Milwaukee, Kidd's tactics bordered on abusive.
Kidd's demanding style with the Bucks left victims behind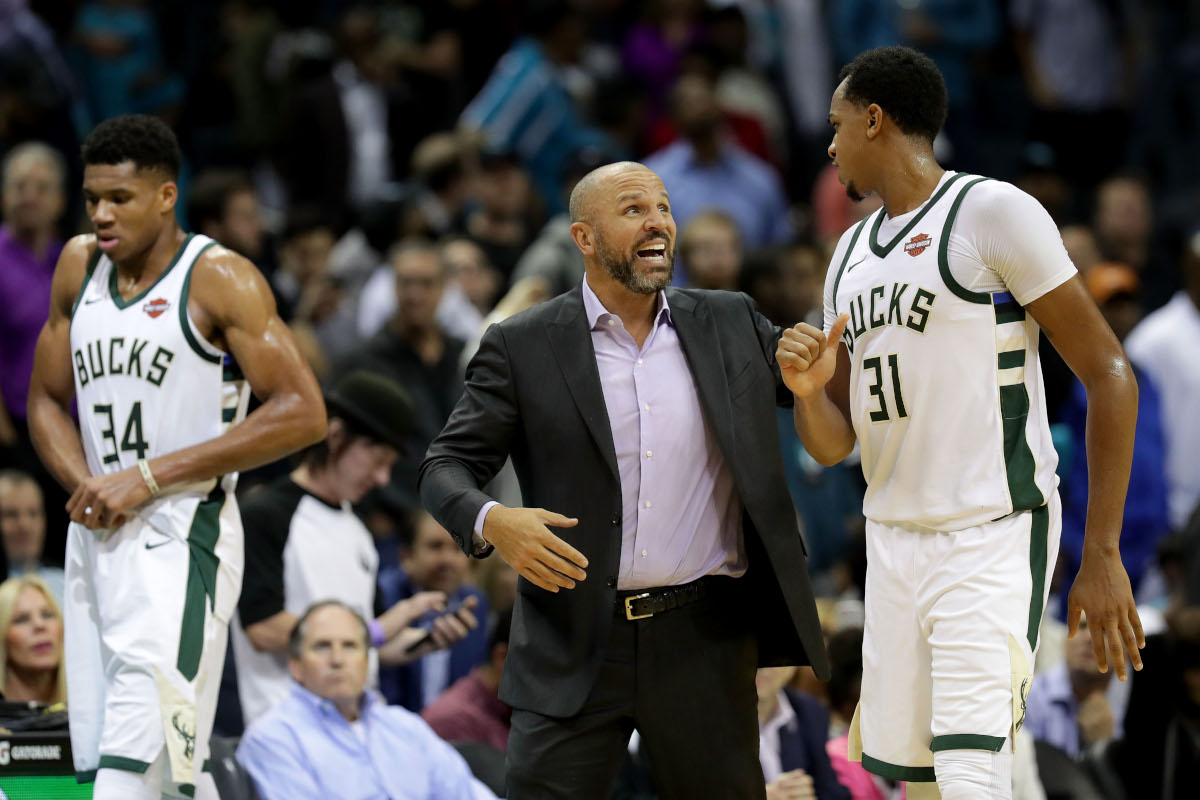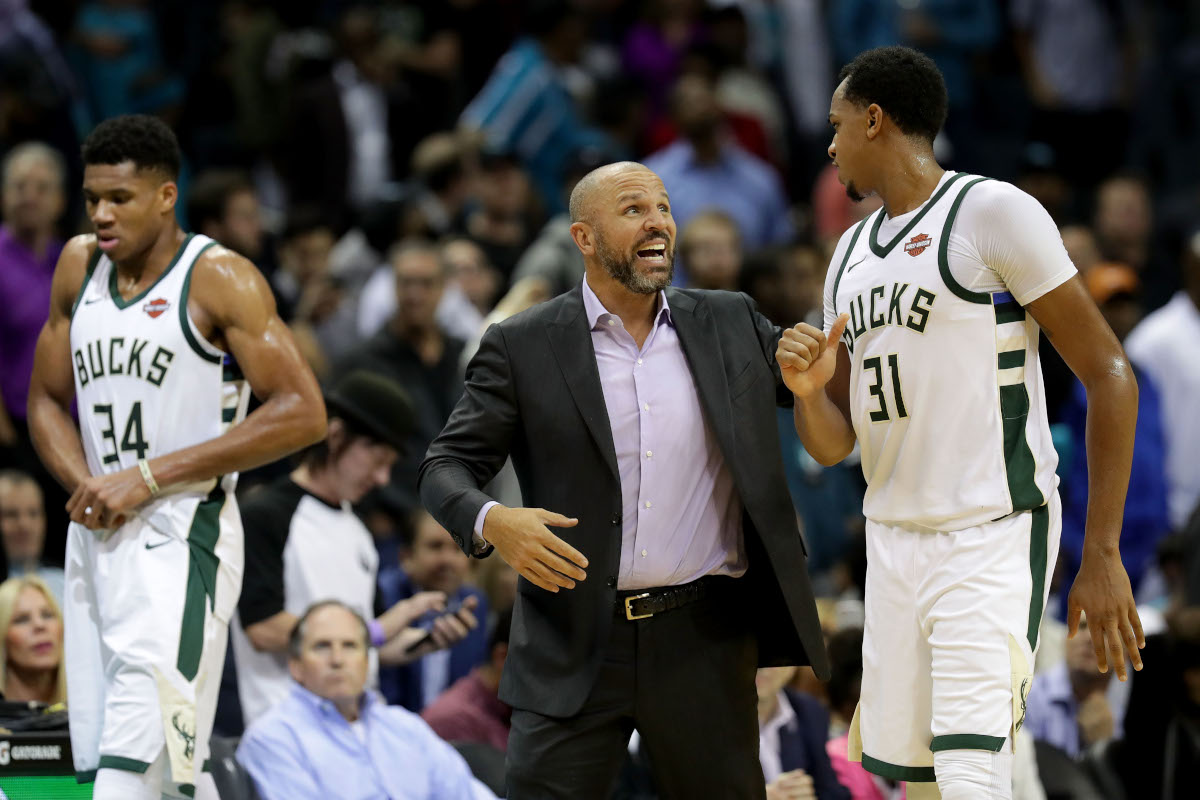 In Mirin Fader's biography Giannis: The Improbable Rise of an NBA MVP, several former players talked about former Bucks coach Jason Kidd. Few had positive things to say.
One former player called his coaching style "psychological warfare." When asked questions about Kidd, many players and coaches replied, "On the record or off?"
Young center Larry Sanders most often landed in the coach's line of fire. Sanders emerged as a defensive force in his first full-time minutes in 2011–12, finishing second in the NBA in blocks.
But Sanders never delivered on that promise. Things came to a head during a Christmas Eve practice in 2013 that stretched three hours. Players were sprinting, lifting weights, and running in the pool. Players were already unhappy with the session after booking flights to see family over the holiday break. But the practice was especially damaging for Sanders.
Kidd called his young center "a piece of sh*t," "pathetic," and "a terrible player." Sanders doesn't want to blame Kidd for his career fizzling out, but he's also glad to be away from his former coach.
"I don't think he's a bad person, but mentally, he kinda, like, brain f*cked me a little. It was a lot of; I love you, kiss you on the cheek, now it's all about money, who cares about your mental health, your body breaking down.
"I'm happy (and) I'm in a much better place now; I'm sorry it had to go out the way it did."
Sanders asked to go to the bathroom during some of the Christmas Eve sprints. Kidd said the team would wait for him and then run more. Sanders ended up taking himself to the hospital, where he spent the night.
Jason Kidd is a bit of a walking contradiction
Whispers said Jason Kidd was behind at least a couple of coaching changes during his career as a player. As a sophomore at California, Kidd reportedly played a central role in the midseason firing of coach Lou Campanelli. In the NBA, the rumblings in New Jersey in 2004 were that Kidd was behind the firing of Byron Scott and the elevation of Frank to head coach.
Dylan Hernández of the LA Times wrote a column in May 2019 warning new coach Frank Vogel to watch his back after the Lakers hired Kidd as an assistant.
Meanwhile, Kidd's coaching style seems more like something out of the 1950s or 1960s than motivating the modern athlete.
Will a star player in Dallas end up being the assassin behind the scenes to take Kidd down?
Statistics courtesy of Basketball Reference.