Jason Kidd Was Paid 'the Greatest Compliment I Could Get' After Giannis Antetokounmpo and the Bucks Won the NBA Title
It's only preseason, but Jason Kidd and the Dallas Mavericks finished with a 4-0 mark. They filled out their schedule with a 114-103 win over the Milwaukee Bucks on Friday as Kidd returned to Milwaukee, a place where he coached for four seasons. He spoke about the success of his former team and the greatest compliment he received after the Bucks defeated the Phoenix Suns in the 2021 NBA Finals.
Jason Kidd returns home with the Dallas Mavericks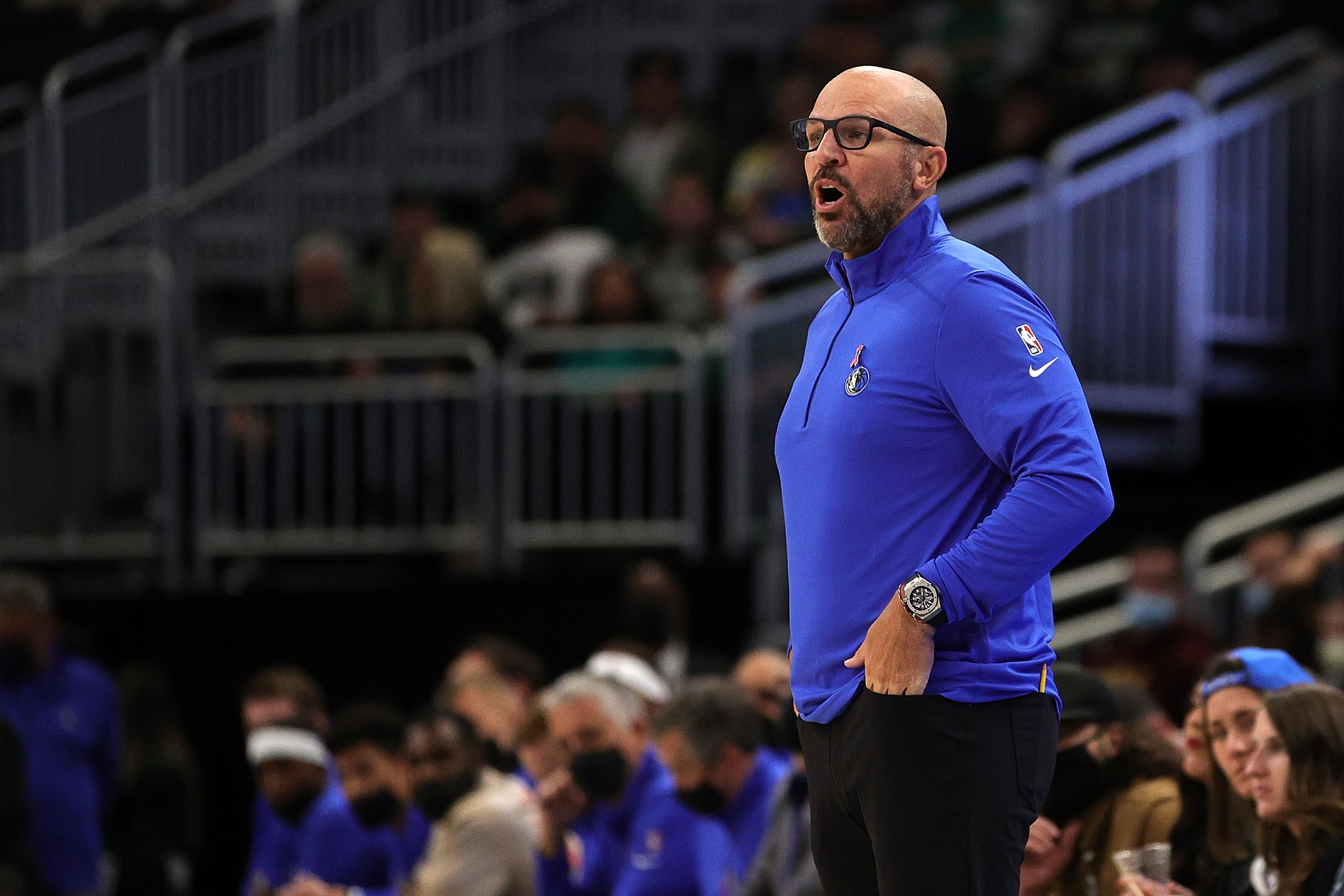 After spending the last two seasons as an assistant coach with the Los Angeles Lakers, Kidd returned to where it all began, landing the head coaching job with the Mavericks.
The Mavericks drafted Kidd with the second overall pick in the 1994 NBA Draft. He played three seasons in Dallas before being traded to the Phoenix Suns. Dallas later reacquired him in 2008. He was a member of the Mavericks' 2011 championship team.
"Dallas has meant so much to me as a player and I want to thank Mark Cuban for the opportunity to return as a head coach," Kidd said to Mavs.com in June. "I am excited to get to work with this young, hungry, and incredibly talented team and to continue to build a winning legacy for the Mavericks organization."
Kidd replaces Rick Carlisle, who moved on to coach the Indiana Pacers. He inherits a strong team led by Luka Doncic.
Jason Kidd said he received 'the greatest compliment I could get' after the Bucks won the title
Kidd said he was happy to see his former team put it all together last season and come away with a championship. He had no bitterness toward the team that fired him midway through the 2017-18 season, with his team sporting a 23-22 record.
"If you're lucky enough to be a great coach or a great player you get to stay in one spot. It doesn't happen a lot," Kidd said, per The Green Bay Press Gazette. "So I was lucky enough to have a stop here on my journey and I know some of the guys and ownership. So it was great to see them get over the hump.
"It's a beautiful thing when you get to see someone early in their career and see who they are. And for them to finally get to the top, it was just a matter of time."
He said Antetokounmpo didn't forget Kidd after the Bucks' championship.
"Someone said it after they won the championship that they thanked me," Kidd said. "So that's the greatest compliment I could get.
"If you don't know who it was, it was Giannis."
Kidd recalled his coaching days with Giannis Antetokounmpo and the Bucks
Under Kidd, Giannis Antetokounmpo began developing into the player he has become today — a two-time MVP and a champion. Kidd knew his Bucks teams were talented and learned that over time they would develop into that championship-caliber team.
I'm happy that they won the championship," Kidd said, according to The Green Bay Press Gazette. "The hard work that the ownership and coaching staff and management have done here is incredible. And it's great to see Giannis, you know, he's (one of) if not the best player to play the game right now. There's a lot of great things here in Milwaukee and it's great to see."
Although Kidd only took the Bucks to the playoffs twice, he got the franchise moving in the right direction.
"Being here for those four years were incredible because when I came here it was the laughingstock, right – they only won (15) games – and we helped build a foundation here with Giannis and Khris (Middleton),"  Kidd said.
RELATED: Giannis Antetokounmpo Weighs in on Kyrie Irving Situation Ahead of Season Opener