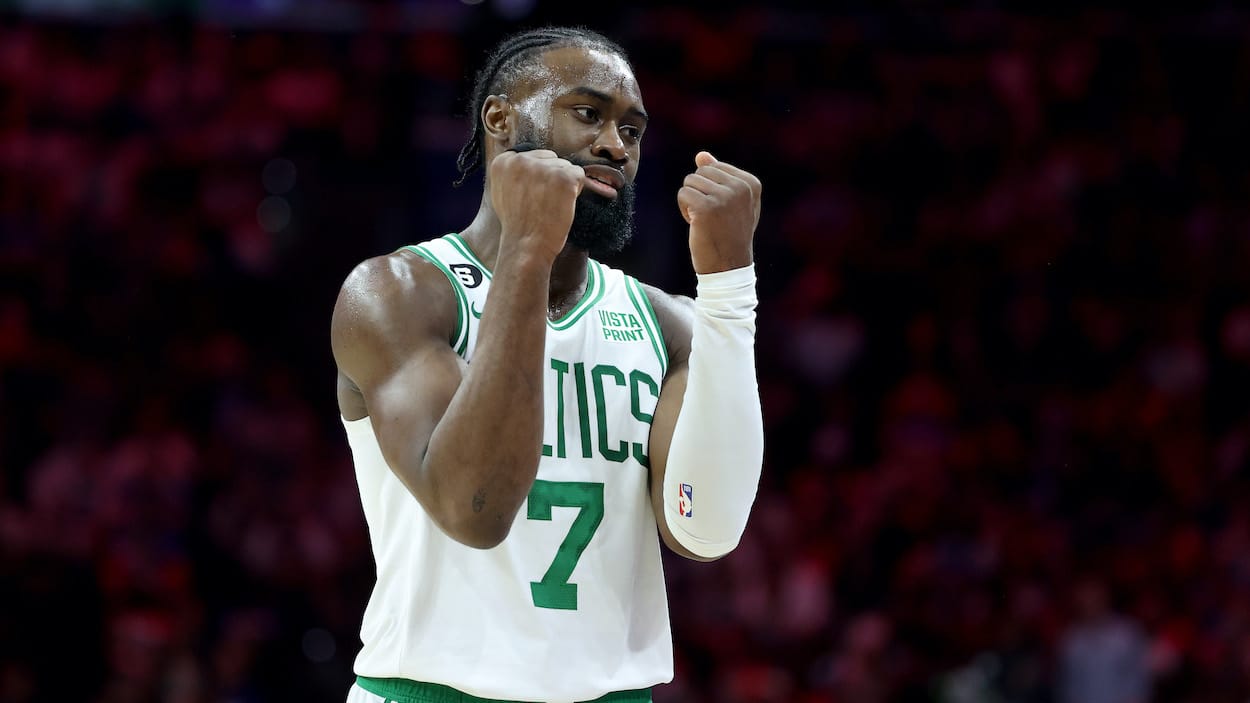 Jaylen Brown Trade Rumors: Possible Warriors Deal Triggers Celtics Fans
The Jaylen Brown trade rumors are real, but the Celtics trade suggested by Colin Cowherd is simply ridiculous.
The Boston Celtics are heading to Game 7 with the Philadelphia 76ers on Sunday, and win or lose, the team will have some serious decisions to make this offseason. The team is on the verge of having to pay its two young stars, Jaylen Brown and Jayson Tatum, over $600 million on their new contracts. This reality has led to a host of Jaylen Brown trade rumors.
It remains to be seen if a Tatum-Brown one-two punch can win an NBA championship. Some, including Colin Cowherd, don't believe they can, which makes paying them over half a billion dollars a bad idea.
To this end, Cowherd threw out a Jaylen Brown trade rumor that involved the Celtics star heading to the Golden State Warriors, but Boston fans weren't impressed.
Jaylen Brown trade rumors to the Warriors didn't go over well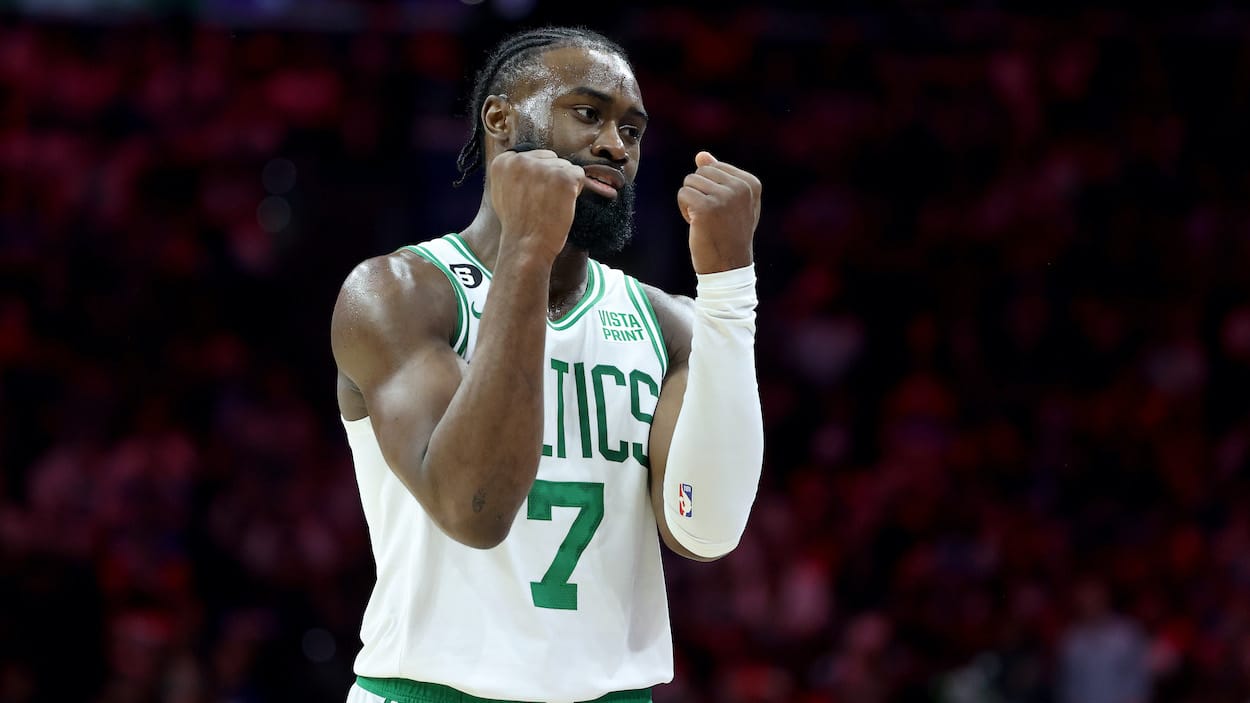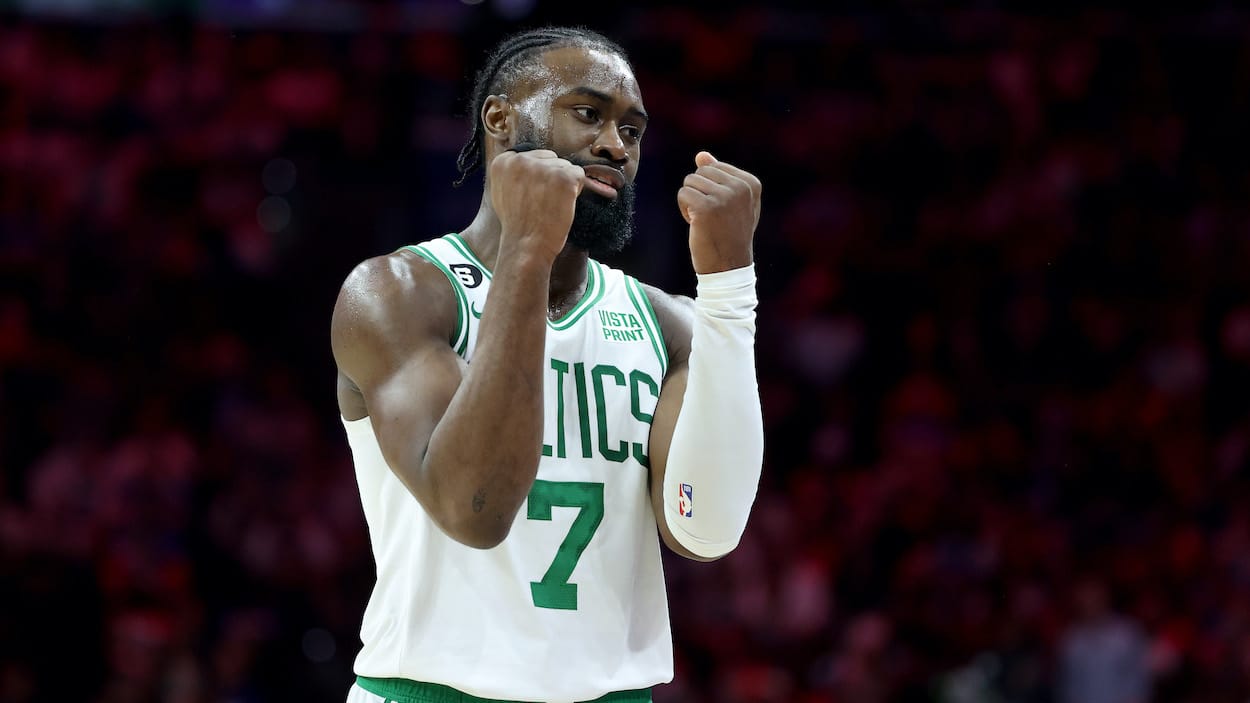 "Win or lose, the Celtics have to make a move," sports talk host Colin Cowherd opined on The Herd with Colin Cowherd after Boston beat Philadelphia in Game 6 of the Eastern Conference Semifinals to force a Game 7.
His contention is that Jayson Tatum and Jaylen Brown don't work together because Brown "has more alpha, but Tatum's the better player."
The Jaylen Brown trade Cowherd floated is Brown and guard Malcolm Brogdon to the Warriors for Andrew Wiggins and Jordan Poole.
Cowherd's thinking is that Wiggins is a push defensively with Brown, and both Wiggins and Poole provide wing scoring, although they aren't as good as Brown. This definitively makes the Celtics Tatum's team, and better defensively.
As for the Warriors, they would do the deal because, well, they get the far better player and give up next to nothing.
Cowherd did not mention any draft picks changing hands.
Now, this Jaylen Brown trade rumor is obviously ridiculous unless there were other things from the Warriors to sweeten the pot. However, since Cowherd didn't mention anything else, Celtics fans on social media predictably lost their collective minds.
One of the most prominent Celtics fans in the country, The Ringer's Bill Simmons, was among the first to express his displeasure with Cowherd's fake trade.
"This is the worst fake trade I think I've ever heard," Bill Simmons tweeted. "Maybe the Celtics could throw in a couple unprotected firsts to make it even dumber? Come on Cowherd!"
The comments under Simmons' tweet from Celtics fans echoed his sentiment, with more than a few adding some colorful Boston language to truly drive home their displeasure.
If the Celtics don't win a title this year, they probably should trade Brown this offseason. The new CBA has changed to punish high-salary teams. And the Celtic's championship window with Tatum and Brown may be closed if they don't win in 2023.
That said, they shouldn't (and won't) at 60 cents on the dollar just to get rid of Brown, which is what Cowherd is proposing.