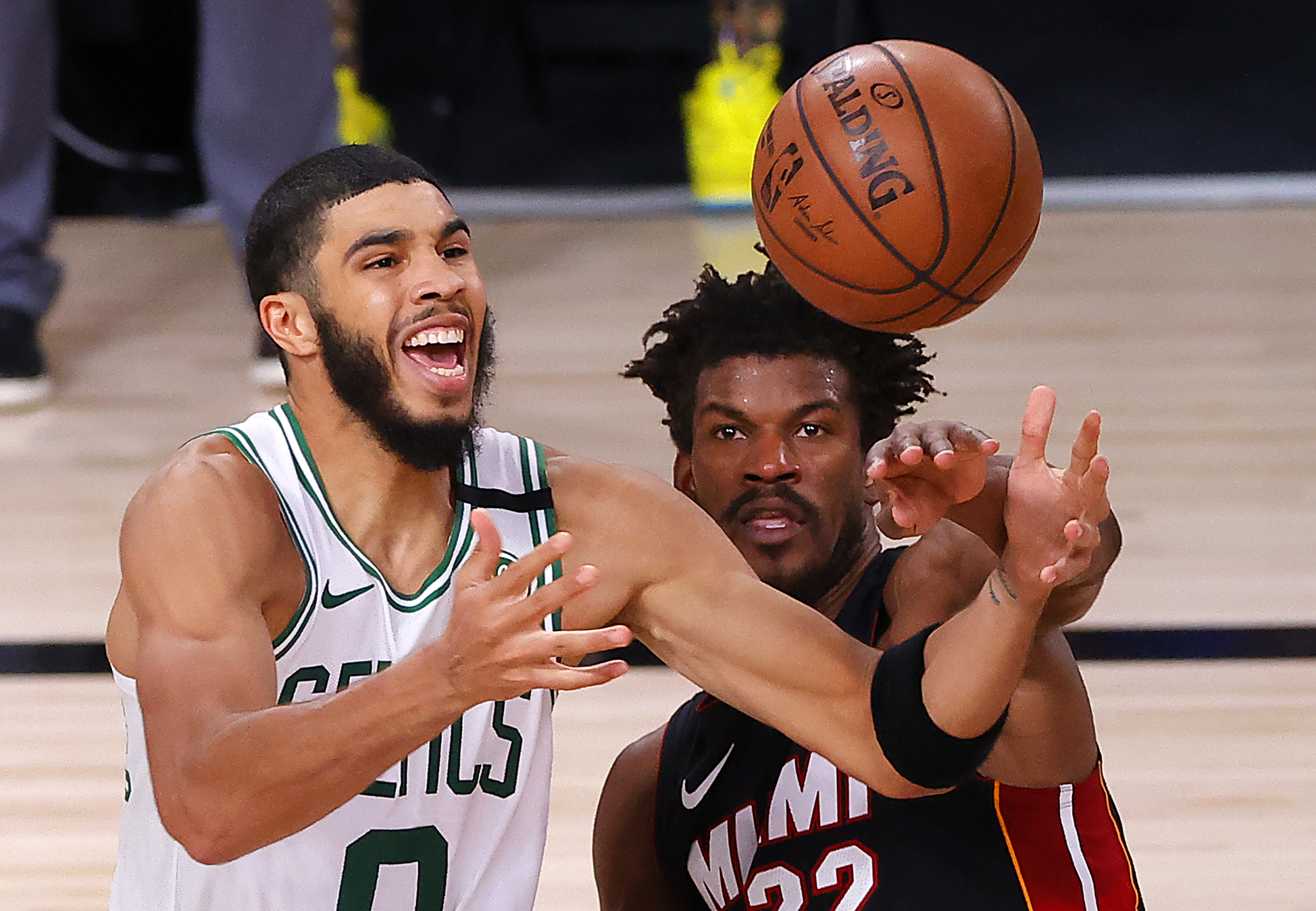 Jayson Tatum's Best Friend Is Available and Would Fit In Nicely With the Celtics
Jayson Tatum's best friend is now available via free agency and could be a nice fit for the Boston Celtics.
For now, the priority for the Boston Celtics is doing something with Gordon Hayward. Hayward recently opted out of the last year of his deal and the Celtics are exploring sign-and-trade options. The Celtics also are in desperate need of bench help. Recently, Jayson Tatum's best friend was released and he could help fill a hole the Celtics need.
Where do the Celtics stand with Gordon Hayward?
Gordon Hayward opted out of the final year of his contract that would've paid him $34 million this season. This means there are three options for Hayward and the Boston Celtics. Hayward could walk away and sign with any team he wants without the Celtics getting anything in return.
The Celtics could also re-sign Hayward and keep him. They could offer him less money per year and stretch out the length of his contract. The third, and most likely scenario, is the Celtics work out a sign-and-trade with Hayward and trade him to a team he wants to play for.
As of now, there are very few teams that have the salary-cap space to pay Hayward the money he is walking away from. The oft-injured Hayward won't likely get $34 million per season, but a team like the New York Knicks has a lot of cap space and could sign the former NBA All-Star to a similar deal he had in Boston. It's unlikely Hayward, 30, would want to play for a team that isn't playoff-ready, and those are the type of teams that have the most cap space.
Hayward holds the key to future Celtics moves
It's been reported by NBA Insider Shams Charania that Gordon Hayward's preferred destination is the Indiana Pacers. Playing for the Pacers would allow Hayward to return home. He went to high school in Indiana and then played his college basketball at Butler University.
If Hayward has his heart set on playing back home in Indiana, the Boston Celtics would likely have to initiate a sign-and-trade for him. The Pacers don't have the necessary cap space to sign a player of Hayward's caliber so they would have to swing a deal for him. That's the tricky part.
Reportedly, the Pacers have offered Myles Turner and Doug McDermott for Hayward. Turner, a 6-foot-11 shot-blocker, would bring something the Celtics desperately need. Boston's weakness, aside from the bench, is their inside presence. Gary Washburn of The Boston Globe reported via Twitter that Celtics GM Danny Ainge is asking for either TJ Warren or Victor Oladipo instead of McDermott.
Jayson Tatum's best friend is available via free agency
No matter what happens with Gordon Hayward, the Boston Celtics will still need to fix their bench issues. There's not much depth on the team and now that they traded Enes Kanter back to the Portland Trail Blazers, they could use a big man off the bench.
Enter Jayson Tatum's best friend. Harry Giles, who like Tatum, was a star at Duke University. Giles, a 6-foot-11 center drafted in the first round of the 2017 NBA draft, has played two seasons in the NBA with the Sacramento Kings. According to NBA.com, Tatum said Giles was the best player in Tatum's draft class. "You can ask anybody that was in our [draft] class," Tatum once said. "Harry was the only player I would've said in high school, "Yeah, he might be better than me."
Giles, reportedly being released by the Kings, didn't get a whole lot of playing time with the Kings, averaging 14.3 minutes per game in his career. In the 2018-19 season, Giles averaged seven points and 3.8 rebounds per game. Last season, he put up 6.9 points and 4.1 rebounds. The numbers certainly aren't eye-popping, but Giles might be a good fit in a much smaller move for the Boston Celtics.