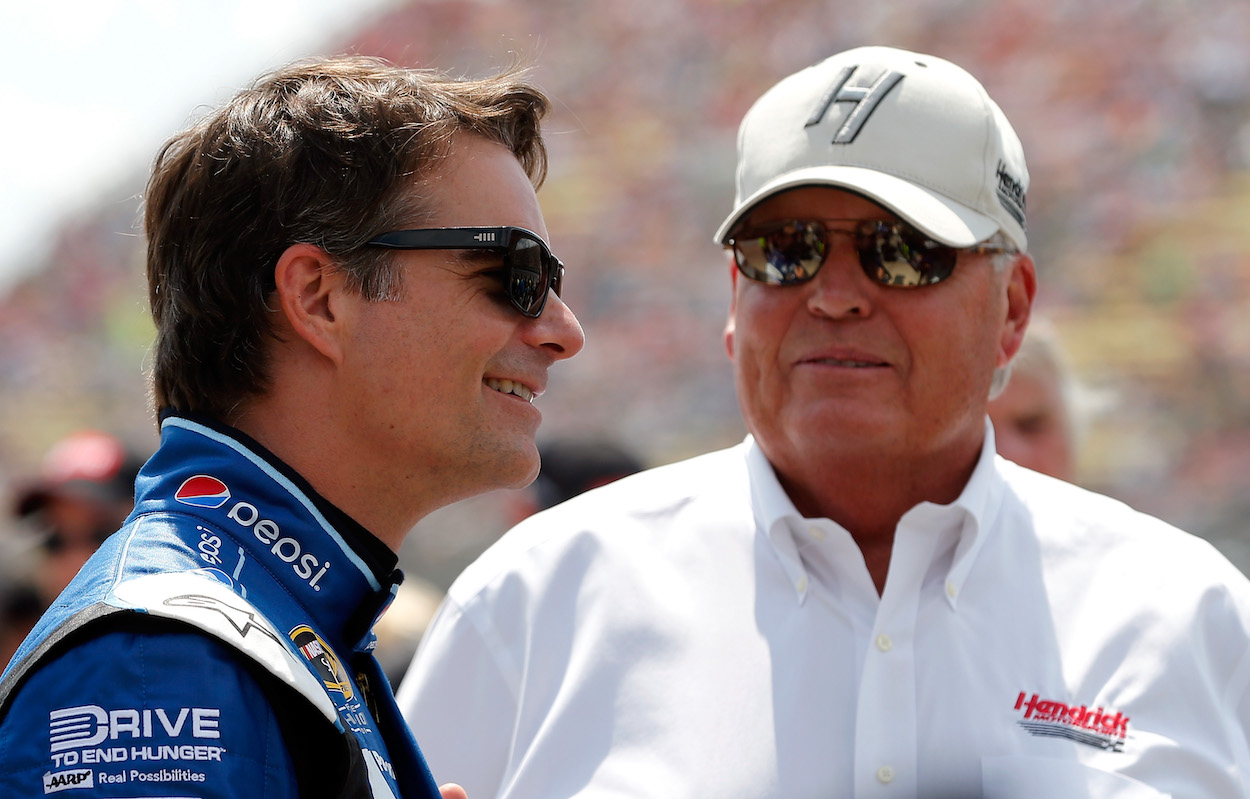 Jeff Gordon Makes Surprising Admission That He Might Return for 1 More Race 'That Makes Sense'
Jeff Gordon last raced in 2016 but recently acknowledged he is open to returning one last time to a race "that makes sense."
Jeff Gordon produced an impressive racing resume that includes 93 NASCAR Cup Series wins and four season championships. However, long before Gordon ever strapped in behind the wheel of the rainbow-schemed No. 24 car and became one of the most popular drivers in the sport, he was winning races in various other disciplines at smaller tracks around the country.
Since he last raced competitively in 2016, Gordon has transitioned to the broadcasting booth with Fox and its NASCAR coverage while also working with the Hendrick Motorsports organization, where he is expected to one day take over and run the operation. But once a racer; always a racer. This last week, Gordon pleasantly surprised the racing world and his fans when he admitted how he would be willing to return one last time to a race "that makes sense." 
Jeff Gordon found success early in his racing career
The list of Jeff Gordon's racing achievements is long. It all started at the young age of six when Gordon launched his racing career in the world of quarter midgets. Incredibly, in that first year, he won 35 main events and set five track records. In hindsight, it was just an appetizer of things to come.
Gordon got an exemption from his insurance company and moved up to sprint cars at age 13 (minimum age was 16) and immediately found success. However, when he realized there wasn't a future in open-wheel racing, he enrolled in a stock car driving school, and it changed the course of his life forever. 
In 1991, at 20 years old, Gordon became a full-time driver on the Busch/Xfinity Series. He raced for two full seasons before transitioning to the Cup Series in 1993.   
Admits he's open to possibly returning for one more race
Last week, Gordon ran a few laps at the Indianapolis Motor Speedway dirt track in a promotion for an upcoming race. After the laps, an excited Gordon talked about what it was like running a midget car for the first time since 1993.
"I tell you what, when I was behind the wheel, it all came back," Gordon said. "Just how much fun dirt racing is, how much fun midgets are. Of course they've evolved, but I couldn't believe the power and the grip that this thing has. That's definitely the most fun I've had in a long time."
After Gordon admitted the muscle memory surprisingly returned quicker than he thought, the reporter brought up Kyle Larson, Alex Bowman, and Chase Elliott competing at the Chili Bowl and the likelihood that fans might see the 49-year-old broadcaster make an appearance one last time on a dirt track. 
"When you're double the age of those guys, I think that's probably not a good idea," Gordon said, before modifying his answer. "I mean, hey, if there's something fun that we can do that makes sense, why would I not want to get back out in one of those things and do something like that?"
His future includes overseeing Hendrick Motorsports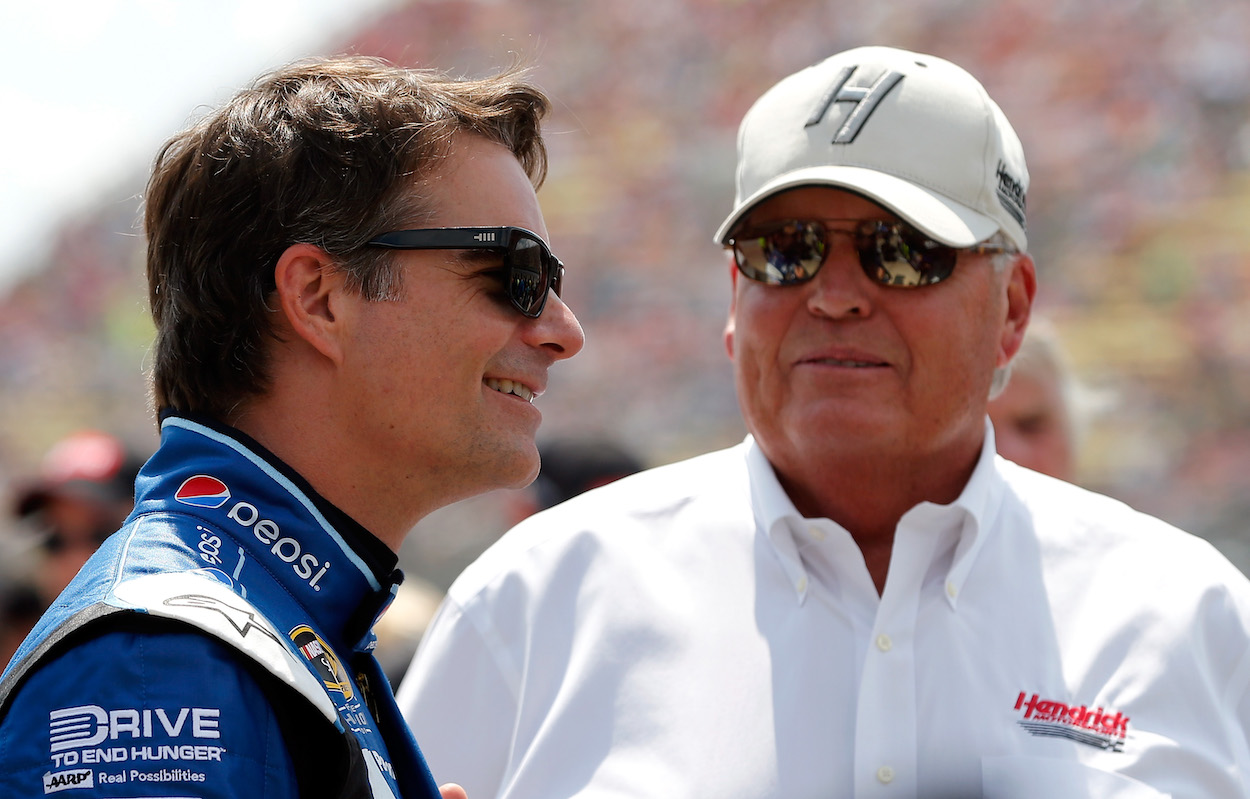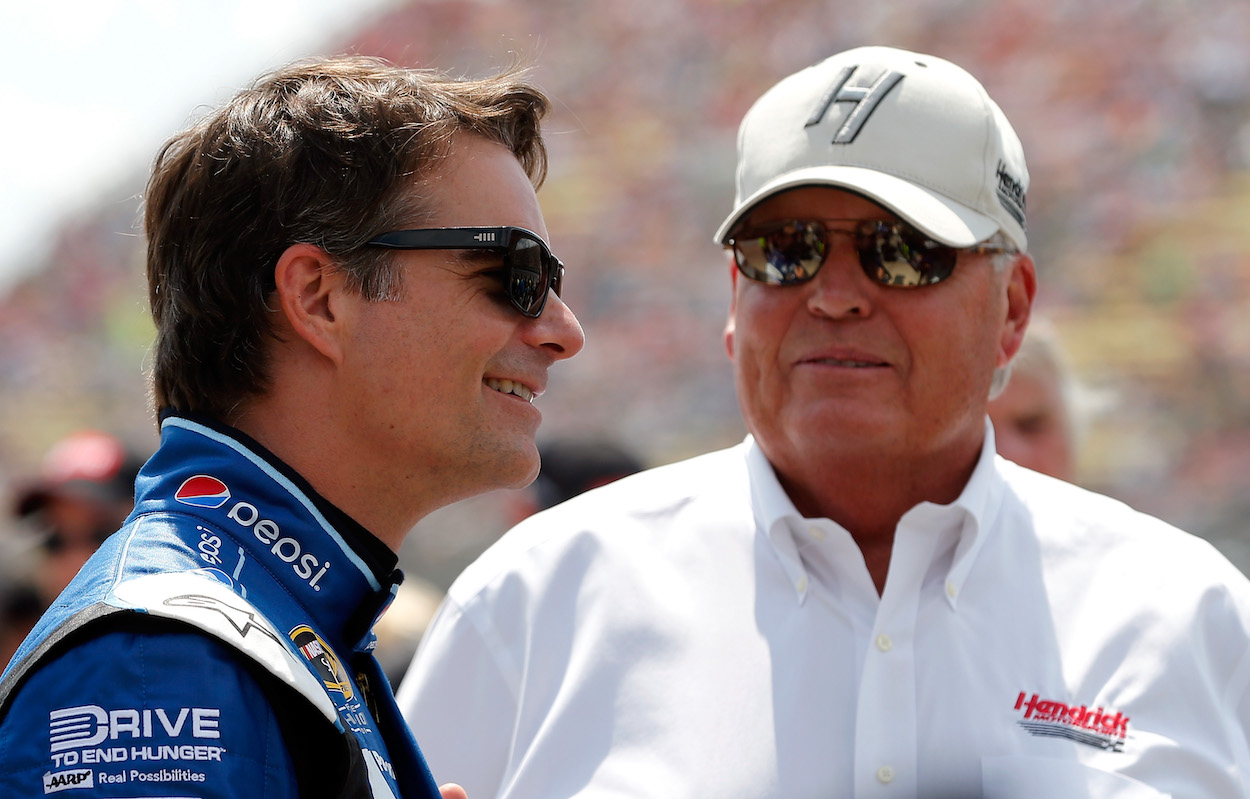 While Jeff Gordon fans would undoubtedly love to see him race one more time in whatever kind of car on whatever kind of track, Gordon is presently focused on his role with Hendrick Motorsports, where he has an ownership stake and is slated to one day run the company when Rick Hendrick steps down.
Until that time, Gordon is enjoying the run the HMS team has been on as of late. Chase Elliott won the championship last year, and that momentum has carried over into 2021, with the four drivers winning eight races, including the last three by Kyle Larson. The organization passed Richard Petty Motorsports earlier this year for most all-time wins by an organization. 
The present and future are very bright at HMS, and Gordon will always be able to look back and know he played a significant role in building it into the top-level organization it has become.  
Like Sportscasting on Facebook. Follow us on Twitter @sportscasting19.