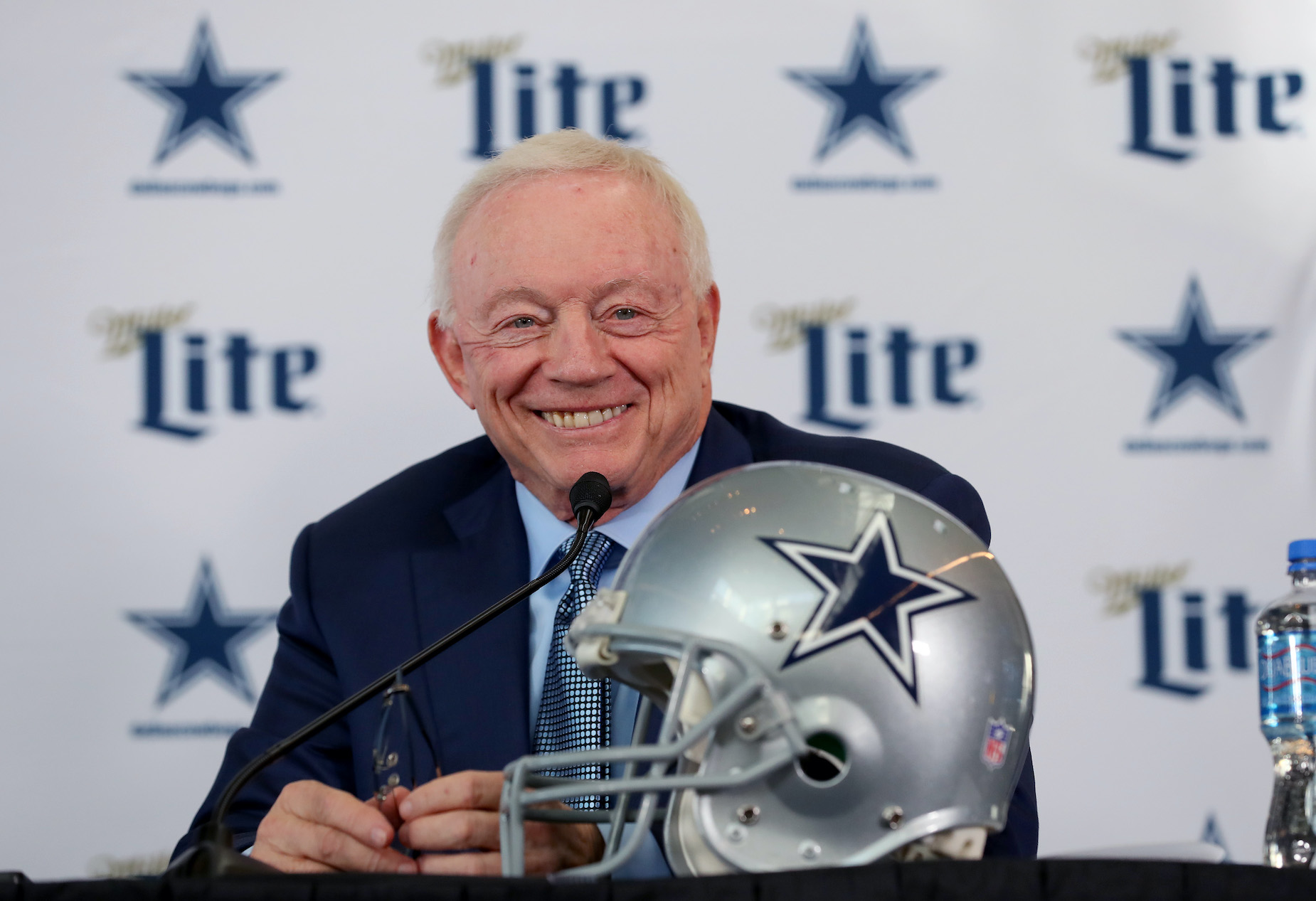 Jerry Jones Played Beer Pong and Made it Rain With Post Malone in a Bizzare Promotional Video
To celebrate the 2021 NFL schedule, Dallas Cowboys owner Jerry Jones starred alongside Post Malone in a unique promotional video.
Whether you love him or hate him, just about every NFL fan has to admit that Jerry Jones has a knack for business. As a boy working in his father's grocery store, the future Dallas Cowboys owner learned the importance of a good spectacle. Even as a billionaire, he hasn't forgotten that principle.
Take, for example, the NFL schedule release. While the Cowboys could have fired off some tweets and called it a night, they chose to commemorate the event with a bizarre promo video starring Jones and Post Malone.
Jerry Jones will be hoping the 2021 NFL schedule gives his Cowboys some redemption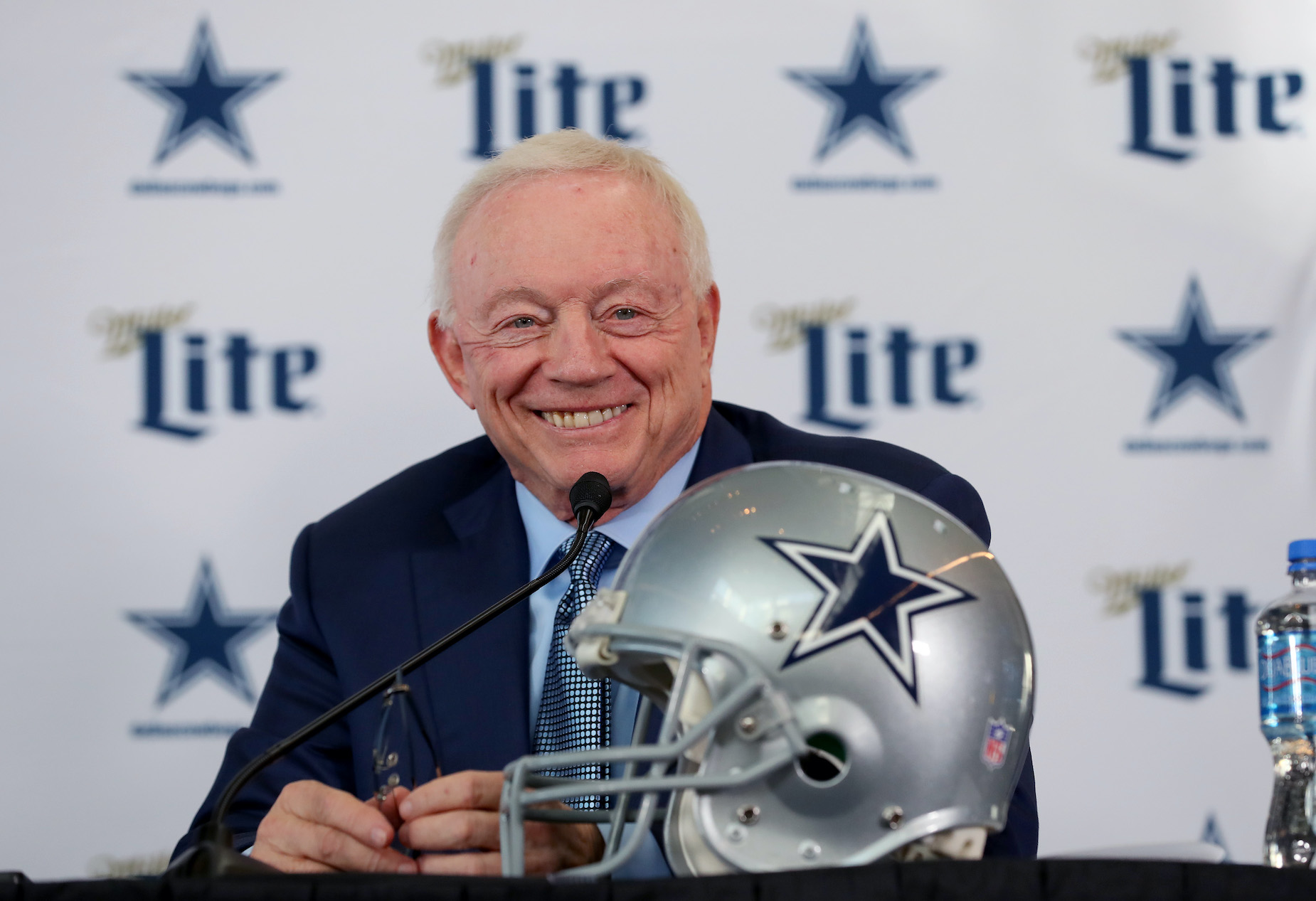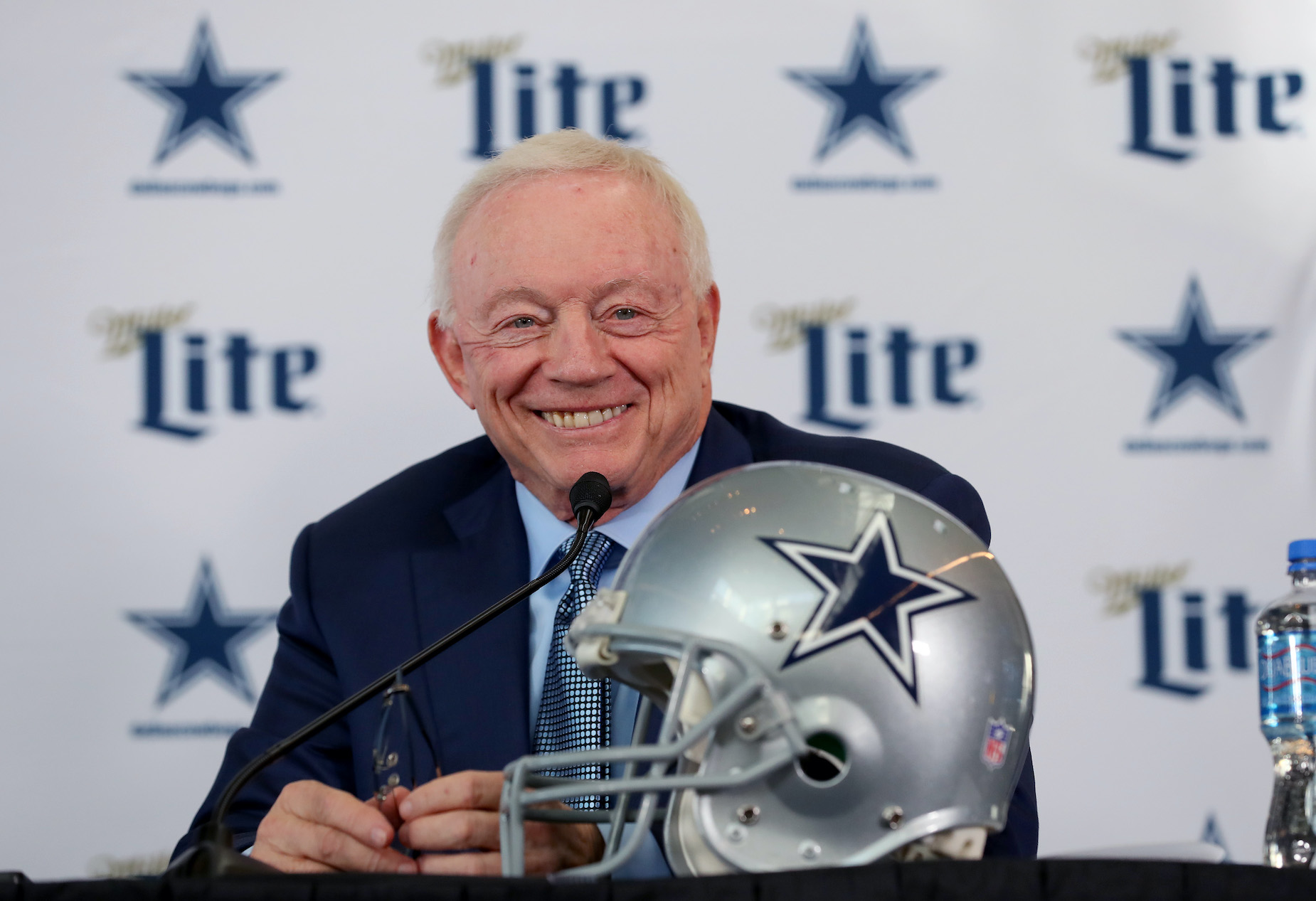 In recent years, most Cowboys seasons have followed a similar pattern. The team will enter the season as the favorite in a weak NFC East, only to fall short in disappointing fashion. Jones, however, will be hoping that the 2021 campaign turns out differently.
In 2020, a combination of factors sunk the Cowboys. During his first season in Texas, Mike McCarthy seemed to briefly lose control of his locker room; the fact that the team's defense was playing at a historically poor level didn't help matters either. Dak Prescott also suffered a season-ending ankle injury in Week 5, which proved to be an insurmountable obstacle.
Heading into the 2021 campaign, though, some of those issues have been addressed. Defensive coordinator Mike Nolan has been relieved of his duties, and Prescott should be back to full health by the fall. Jones also gave the quarterback a new contract, eliminating some backstage drama that could have been a distraction last year.
Jones will also appreciate his team's schedule. While the Cowboys do have to play both the Chiefs, Buccaneers, and Patriots on the road, they still have the second-easiest strength of schedule, according to The Sporting News.
As usual, Dallas should have the talent to at least win their division. It remains to be seen, however, if they can avoid imploding in 2021.
Jerry Jones celebrated the new schedule with Post Malone in a unique promotional video
Despite the NFL's best efforts, the annual schedule release isn't that exciting; we already know which teams will play against each other, so it's just a matter of confirming the exact dates. That reality, though, didn't stop Jones and his Cowboys from promoting things in style.
On Wednesday night, the Cowboys released a Youtube video simply titled, "2021 Dallas Cowboys Schedule Release." The video, however, was anything but simple. It began with Post Malone, playing the role of a postman, delivering the new schedule to Jones. The two men then decided to celebrate the occasion.
Jones and Post Malone then played some beer pong and made it rain promotional schedules. There was also a cameo by Dak Prescott and some surreal shots of Jones donning Crocs and plenty of Cowboys-themed jewelry.
If nothing else, the video was certainly eye-catching.
Post Malone is no stranger to playing beer pong with NFL power brokers
Despite what the promotional video showed, it's safe to assume that Post Malone probably didn't play an actual game of beer pong with Jones. The rapper, however, has hit the table with some big NFL names in the past.
After the Super Bowl 54, Patrick Mahomes and Travis Kelce joined the New York native backstage at one of his shows. The two Chiefs proved to be quite the force on the beer pong table and, try as Post Malone might, he couldn't beat them.
Eventually, the rapper proposed a bet. If he lost the next game, he'd get Mahomes and Kelce's autographs tattooed on his body. The two Chiefs stars won the next game and, from there, the rest is history.
As far as we know, Post Malone didn't leave the Cowboys facility with a tattoo of Jerry Jones' signature.