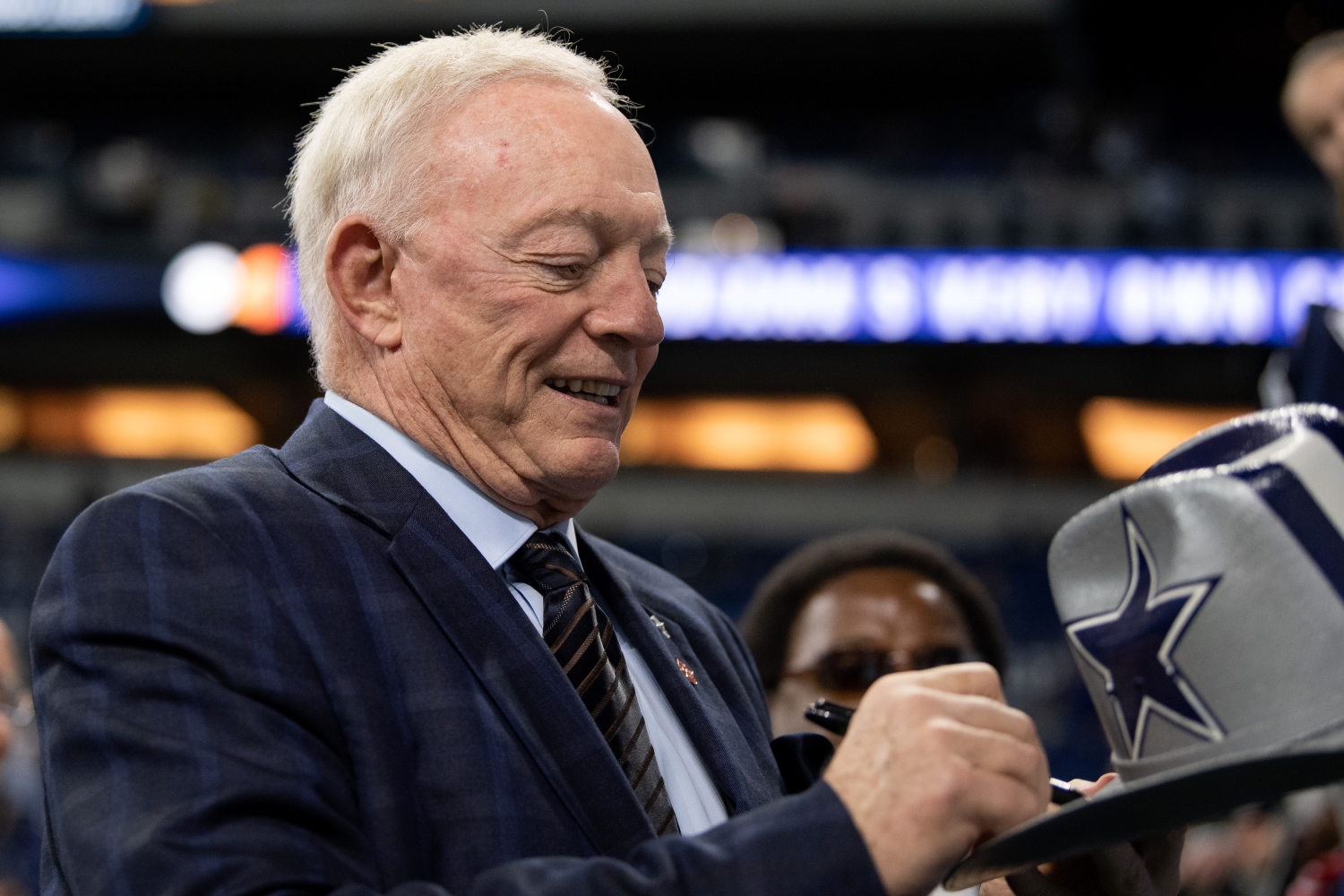 Jerry Jones Has Officially Committed $20 Million to a Cause Much Bigger Than the Dallas Cowboys
Jerry Jones recently committed $20 million to a cause much bigger than the Dallas Cowboys.
When you're a billionaire like Jerry Jones, you have the financial flexibility to do just about anything you want. Earlier this month, the Dallas Cowboys owner made Dak Prescott one of the highest-paid quarterbacks in NFL history.
But after signing his star quarterback to a lucrative deal, Jones has officially committed $20 million to a cause much bigger than the Cowboys.
Jerry Jones just gave Dak Prescott $126 million guaranteed in his new deal
Despite suffering a gruesome season-ending injury, Dak Prescott still received the ultimate form of respect from Jerry Jones and the Cowboys.
After making $31.4 million under the franchise tag in 2020, the talented signal-caller will earn more than double that amount this year. By securing a $66 million signing bonus as part of his four-year, $160 million contract, Prescott will collect $75 million in cash in 2021.
His lucrative deal includes $126 million guaranteed.
The Cowboys obviously have no reservations about the long-term health of their star quarterback's surgically-repaired ankle. After all, Jones wouldn't have agreed to pay Prescott an average salary of $40 million if he had doubts about his ability to lead Dallas in the right direction.
Set to turn 28 in July, the two-time Pro Bowler now faces even more pressure to turn the Cowboys into a legitimate Super Bowl contender. But with $126 million coming his way across the next three seasons, Prescott no longer has to worry about contract negotiations or trade rumors.
Recently, though, Jones committed a small chunk of his wealth to a cause much bigger than the Cowboys.
Jones has officially committed $20 million to a cause much bigger than the Cowboys
Jerry Jones built a dynasty back in the early '90s.
In 2005, he started the process of putting together one of the most impressive stadiums in the entire NFL.
And on the 30th anniversary of National Medal of Honor Day, the Cowboys owner committed $20 million to a project honoring some of America's bravest heroes.
According to USA Today Sports, Jones is donating $20 million to help fund a new National Medal of Honor Museum that will be located close to AT&T Stadium.
"It says everything when I look at (us) saying, 'We need to show each other love from every kind of bias we can talk about,'" he told USA Today Sports.
The mayor of Arlington reportedly reached out to the Jones family back in 2019 to help secure the bid to bring the museum to the city. Thanks to the work of Cowboys executive vice president and chief brand officer Charlotte Jones, Arlington got selected over Denver.
Scheduled to open in 2024, the museum will aim to educate visitors about six values, including courage, sacrifice, and commitment.
"This project is really about driving character-driven leadership and empowering patriotism and really letting people understand not what [recipients] did, but how did they do it," Charlotte Jones told USA Today Sports.
Dallas still needs to invest heavily on defense in the 2021 NFL draft
Jerry Jones has invested quite a bit of money during the month of March. And thanks to his philanthropic efforts, National Medal of Honor recipients will receive the recognition they deserve in a new museum right down the road from where the Cowboys play.
However, with the 2021 NFL draft inching closer, Jones and the rest of the front office must focus on finding young talent at a cheap cost.
Dallas will likely devote significant draft capital on improving a defense that ranked 28th in points allowed. The front seven could use an interior run-stuffing presence. On the back end, the Cowboys have to come out of this draft with a high-upside cornerback. And it wouldn't hurt to add another safety to the mix, either.
While Prescott has plenty of playmakers, he needs Jones to find him some help along the offensive line. Given their injury histories, it seems like a risky bet to bank on Tyron Smith and La'el Collins moving forward.
So even though the Cowboys secured the most important piece of a championship puzzle, they still have plenty of work to do as the offseason progresses.
All salary information courtesy of Spotrac. All statistics courtesy of Pro Football Reference.