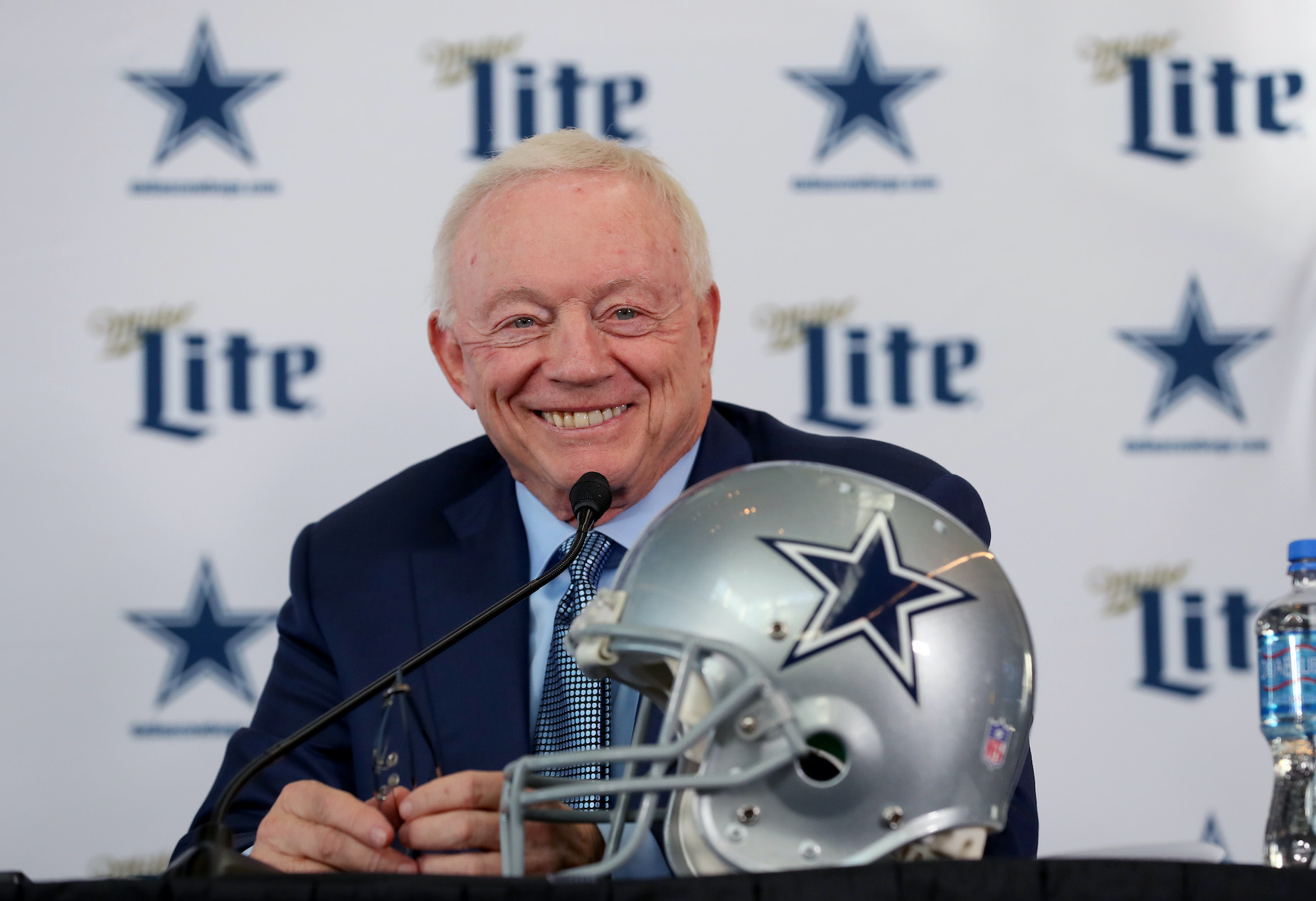 Cowboys Owner Jerry Jones Has a Custom Helicopter to Go Along With His $250 Million Superyacht: 'It's a Real Attention Magnet'
Dallas Cowboys owner Jerry Jones is no stranger to traveling in style.
Jerry Jones, for better or worse, knows how to spend money. While that hasn't always worked from a football perspective—the Cowboys, after all, haven't won a Super Bowl since 1995—the joint owner and general manager still knows how to enjoy the finer things in life. Just take a look inside of his (metaphorical) garage.
During the 2020 NFL draft, Jones made headlines by calling the shots from his $250 million superyacht; that isn't his only luxury ride, though. The Dallas Cowboys boss also has a custom helicopter, which allows him to travel and promote his NFL investment at the same time.
Jerry Jones has used the Dallas Cowboys to grow his massive net worth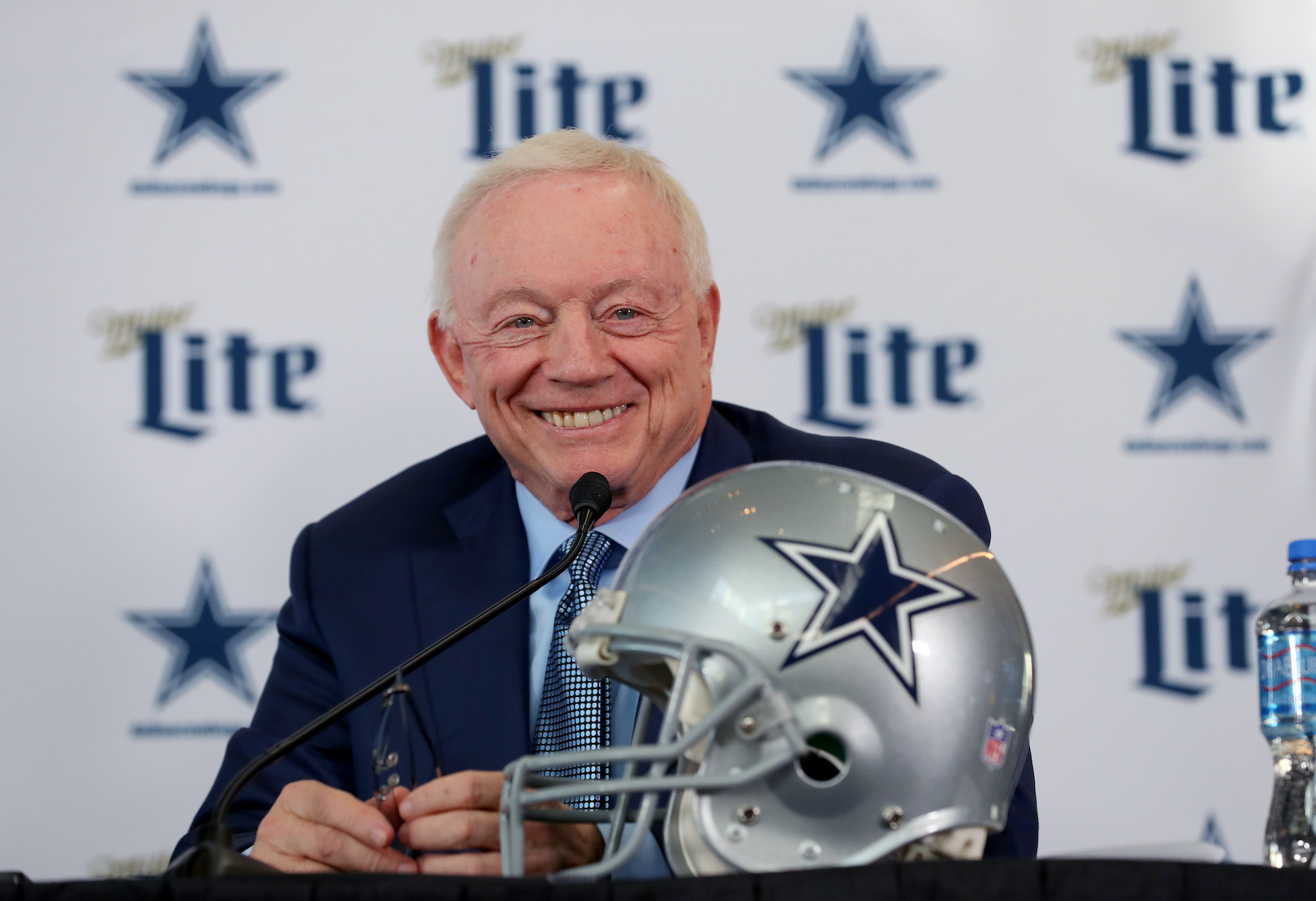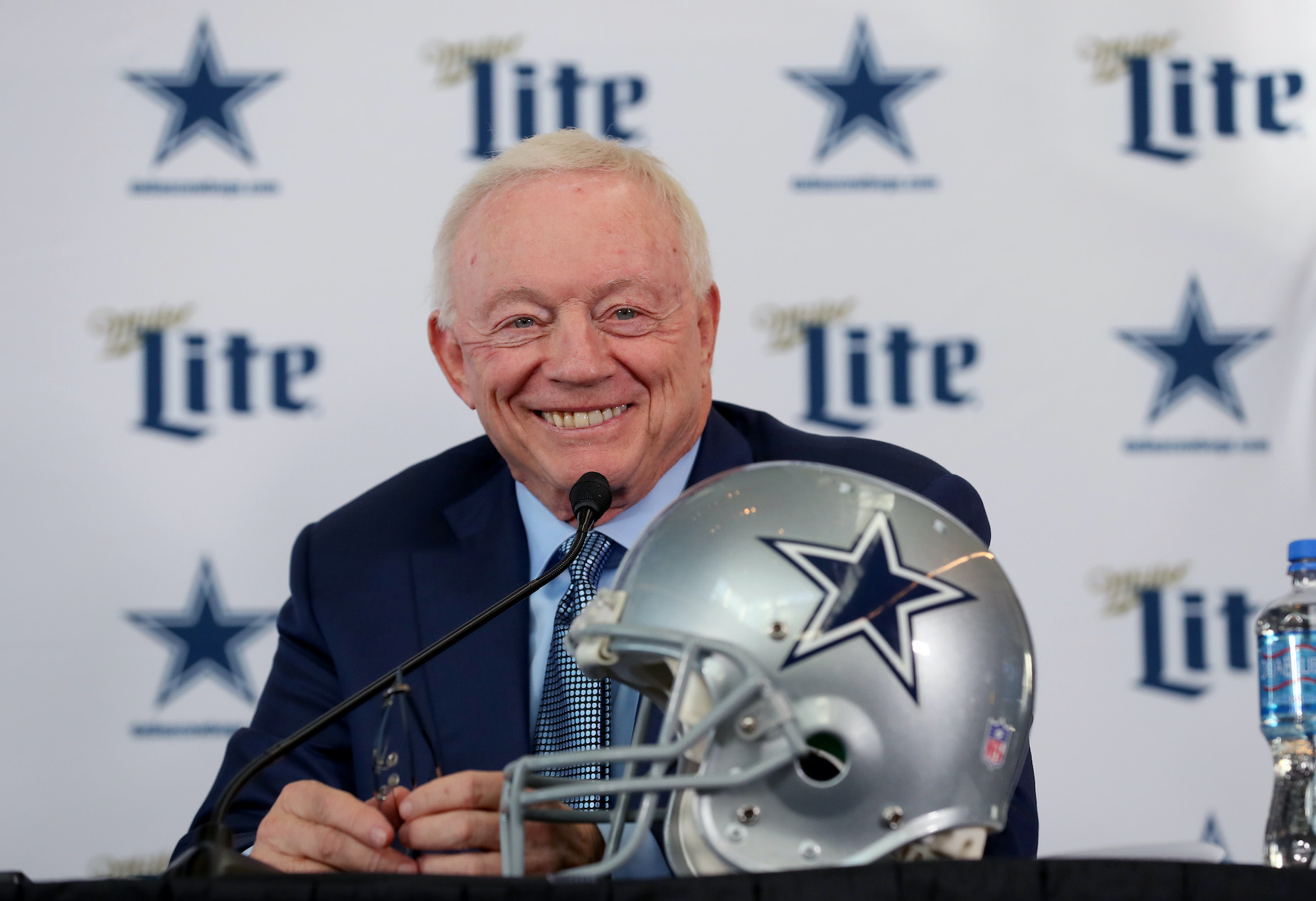 In recent years, Jerry Jones' decision-making hasn't exactly turned the Dallas Cowboys into the dominant force in the NFC, let alone the entire NFL. From a financial perspective, though, his time in Texas has been a massive success.
Jones' football career actually started in college, when the future-billionaire suited up as an offensive lineman for the University of Arkansas Razorbacks. After graduation, though, he struggled to stay near the gridiron. Jerry attempted to buy the AFL's San Diego Chargers but failed to close the deal.
NFL ownership, however, was still on the cards. Jones eventually tried his hand at wildcatting and struck oil. That set the stage for his 1989 purchase of the Dallas Cowboys.
Although the team was bleeding money at the time, Jones' investment has quite literally paid off. He shelled out $140 million to purchase the Cowboys; as of 2020, Forbes valued the team at $5.7 billion. The publication also estimates Jones' net worth at $8.7 billion.
Flying in style with a custom helicopter
Given his massive net worth, it's understandable that Jerry Jones has a few toys to enjoy. One of those is a custom ACH145 helicopter.
As Michael Verdon of Rolls Report explained, the chopper can seat up to 10 people in a custom, Cowboys-colored interior; there's also a "custom, carbon-fiber chest [to serve] as the onboard liquor cabinet," if you want a little something extra to help you enjoy your flight.
As you might imagine, the helicopter provides a logistical benefit for the Cowboys owner. It allows him to get from the team's practice facility to AT&T Stadium in less than 15 minutes. Jones and his wife also used it to fly to their grandson's high school football games, squeezing a bit more family time into the schedule.
Beyond that, though, Jones also believes a helicopter helps build the Dallas Cowboys brand. "It lends an aura to the Cowboys, whether we're circling the stadium and landing in the parking lot on game day or carrying business associates and sponsors," he told Verdon.
"I'm being facetious, but I'm also half-serious here," the owner continued. "I'd like to take it and land it on every road in Texas. Or maybe have five, landing in every community across the US. It's a real attention magnet."
Jerry Jones is no stranger to luxury travel
According to Business Jet Traveler, a new ACH145 helicopter sells for around $9.7 million. While that's a drop in the bucket for someone with Jerry Jones' net worth, it's also a bargain compared to some of his other vehicles.
Jones also has a $250 million superyacht, which he showed off during the 2020 NFL draft. According to a Forbes write-up, the vessel is 357 feet long and, unsurprisingly, contains plenty of bells and whistles. The Bravo Eugenia features an onboard spa, complete with a sauna, steam room, and plunge pool, and storage for smaller watercraft. It's also longer than a football field.
And, in case you're wondering, there are also two helipads on board. Nothing, after all, says $8.7 billion net worth like taking your custom helicopter to your superyacht.