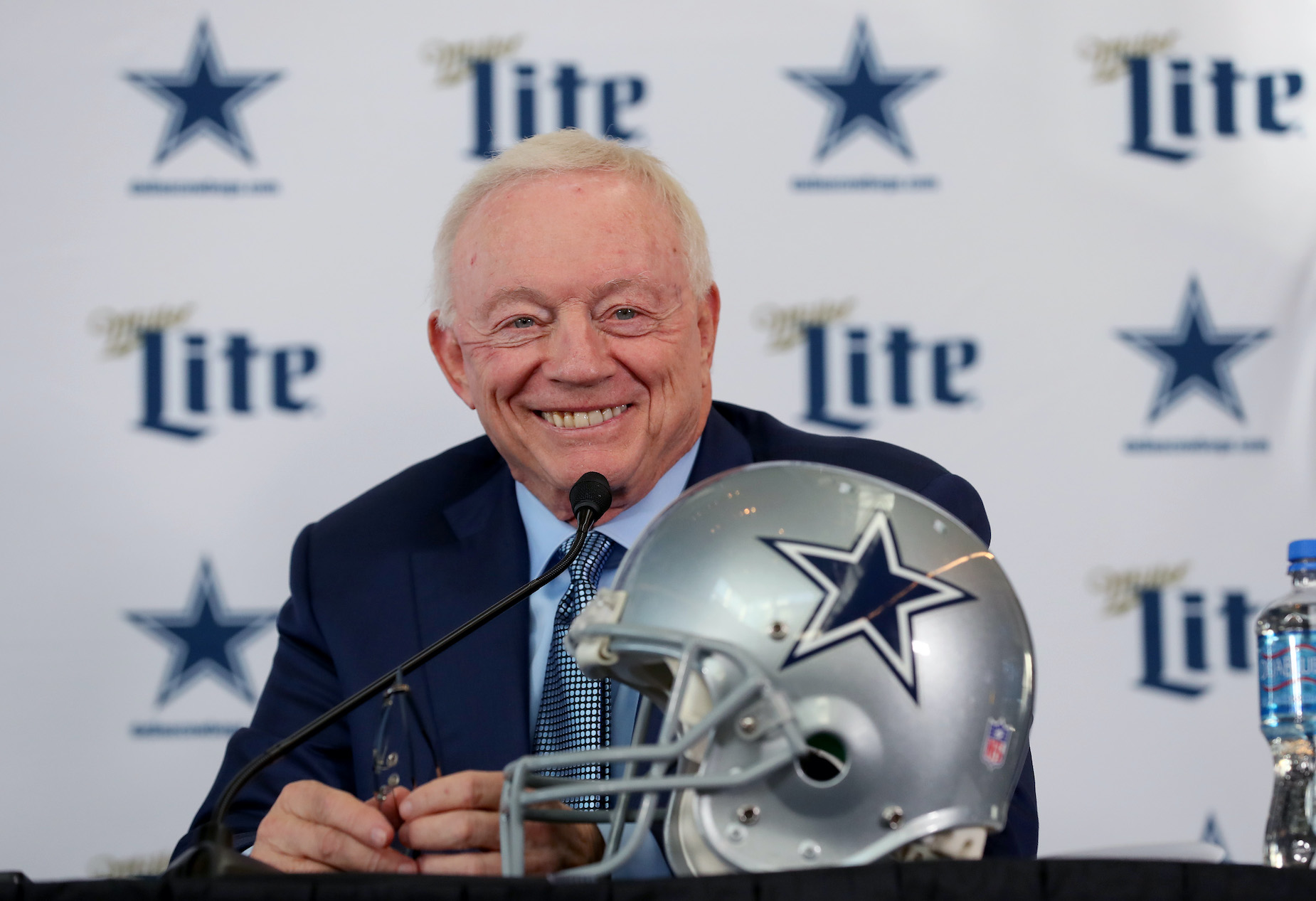 Jerry Jones Is Worth $8.8 Billion, but He Once Learned a Harsh Lesson About Financial Responsibility When a Woman Literally Cut His Credit Card in Half
While Cowboys owner is pretty wealthy, he once learned a harsh lesson about financial responsibility at a Dallas airport.
Whether you love or hate the Dallas Cowboys, just about every NFL fan knows all about Jerry Jones and his massive net worth. The owner, however, wasn't always rolling dough. In fact, he needed to learn a harsh lesson about paying his bills on time.
About 15 years before he bought the Dallas Cowboys, Jerry Jones tried to get a car at Love Field airport. The woman behind the counter, however, wasn't prepared to hand over the keys; instead, she pulled out a pair of scissors and cut the future NFL owner's credit card in half.
Jerry Jones wasn't always the owner of the Dallas Cowboys
These days, it's almost impossible to imagine Jerry Jones doing anything other than owning the Dallas Cowboys. It goes without saying, however, that he wasn't born into NFL ownership.
Football has been a constant in Jones' life, though. He played offensive line for the Arkansas Razorbacks during his time in college; he even served as a co-captain of the team and won a national championship in 1964. After graduating, Jerry tried to buy the AFL's San Diego Chargers but couldn't muster up the cash required to seal the deal.
Jones also borrowed some money from the teamsters union to open a series of Shakey's Pizza Parlors; after that venture went belly-up, he ended up working alongside his father in the insurance industry. Another change, however, was still on the cards.
Eventually, Jerry Jones started wildcatting for oil and struck black gold. Before becoming a millionaire, though, he had to learn a Texas-style lesson about financial responsibility.
Having his credit card cut in half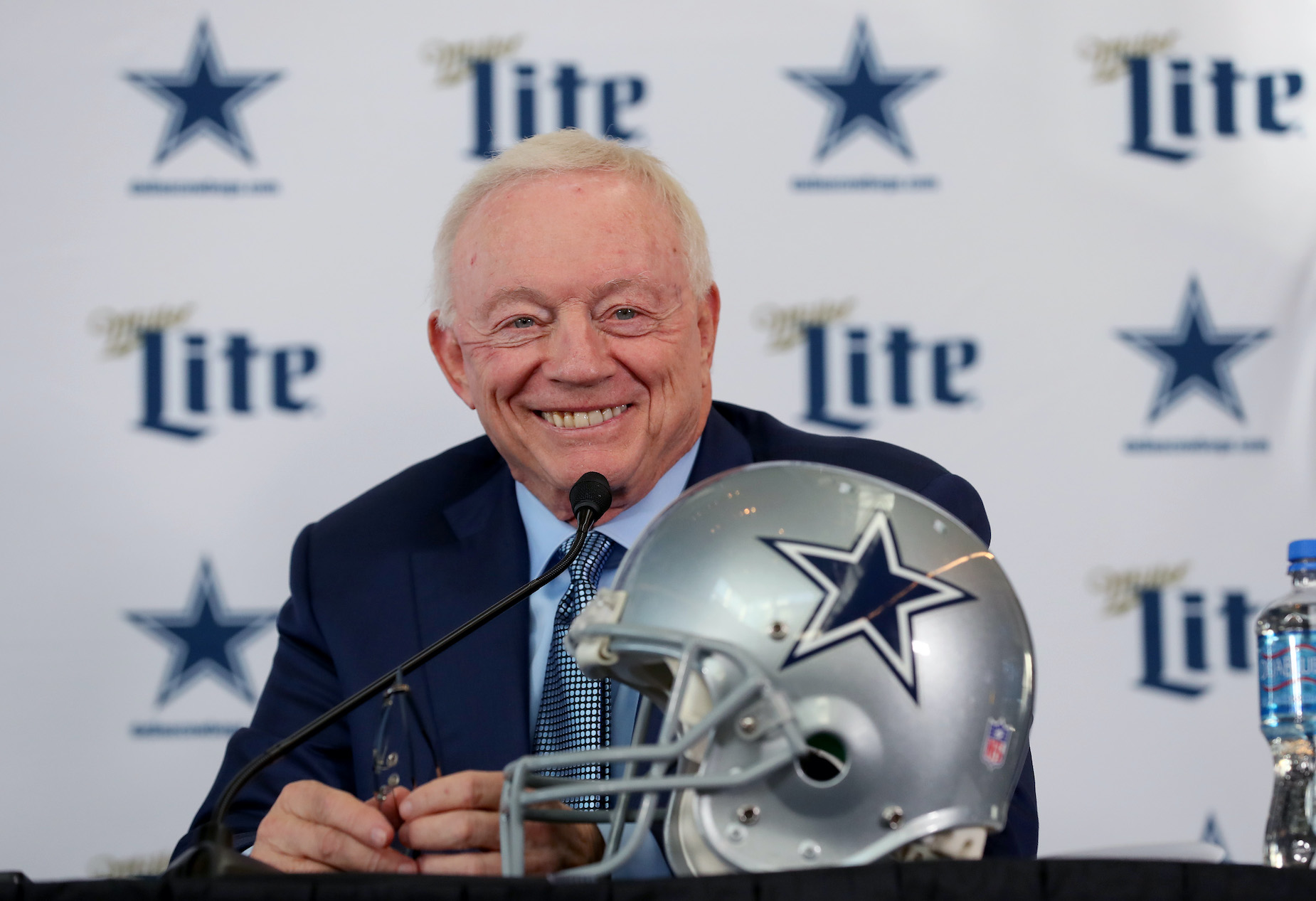 Given his current fame and fortune, Jerry Jones can more or less buy anything that his heart desires. At one point, though, he even had trouble renting a car.
"You've heard me tell the story about getting those credit cards cut up about 15 years before I bought the Cowboys," Jones said in 2015, according to the Dallas Morning News.
You guys have heard it ad nauseam, but I arrived here at Love Field [airport], young man there about 31, 32 years old and handed my credit card over here at Love Field. Lady went down a list, saw my name on it, reached up, cut it in two, [and] said, 'Young man, you need to learn how to pay your bills.' Now, that's a little rugged day in Dallas, Texas.

Jerry Jones' credit card story
As Jones himself said, he's told the same story multiple times over the years. In another version, recorded by CBS News, he explained that he was trying to "get a car" and the airport and had some outstanding debt.
"Let's say this, I hadn't paid that I hadn't paid that bill," Jones explained. "And certainly, I was operating on fumes and not on a full gas tank."
Jerry Jones' net worth now clocks in at $8.8 billion
If Jerry Jones' memory is accurate, his fateful encounter at Love Field would have taken place in roughly 1975. More than 45 years later, though, his financial situation is quite a bit different.
As mentioned above, Jones Oil and Land Lease struck oil, making Jerry himself quite wealthy. In 1989, he purchased the Dallas Cowboys for $140 million; while the team was hemorrhaging money at the time, it still proved to be an incredibly smart investment.
Although the Cowboys haven't quite lived up to their own high standards from the early 1990s, they're still worth a massive amount of money. As of September 2020, Forbes estimated the franchise's value at $5.7 billion. The publication, in turn, also pegs Jerry Jones' net worth at $8.8 billion.
Whether you love him or hate him, though, we can all agree on one thing: it's unlikely that Jerry Jones will ever have a problem paying his credit card bill for as long as he lives.