Jesse Ventura's Greatest Body Slam Was Against 2 Politicians on Election Day
Few pro wrestlers were as cool as Jesse Ventura, and it's not entirely about his life in the ring. The man known as "The Body" served in an elite Navy unit before entering the WWF ring. He topped it off by becoming governor of Minnesota, making for a full career that has not ended in tragic death — a fate suffered by so many of his contemporaries.
Act 1: Jesse Ventura, military man
Born James Janos in 1951 in Minneapolis, the man who would come to be known as Jesse Ventura served in the U.S. Navy from December 1969 to September 1975. Ventura qualified for Basic Underwater Demolition/SEAL training following boot camp and was assigned to an Underwater Demolition Team in Asia but did not see duty in Vietnam.
Ventura described himself in later years as having been a Navy Seal, which led to controversy in his post-wrestling career because he did not serve a six-month probationary period with a SEAL team. Several years after Ventura left the service, however, the Navy reorganized its specialized units, integrating its Underwater Demolition Team into the SEAL teams.
After being discharged, Ventura returned to Minnesota to attend junior college and worked security for The Rolling Stones for a time.
Act 2: 'The Body' becomes a bad-guy wrestler
Cynics might suggest that Jesse Ventura found the perfect apprenticeship for politics: He was a loudmouth "heel" in professional wrestling, creating the persona of a beach bodybuilder with an attitude.
Ventura started out in smaller promotions before forming a successful tag team with Adrian Adonis in the Minnesota-bases American Wrestling Association. Ventura and Adonis arrived in the dominant WWF in 1980 but mostly wrestled individually because promoter Vince McMahon was already enjoying success with a sustained run of bad-guy champions that included The Samoans, The Moondogs, and Mr. Fuji and Mr. Saito.
Ventura was given several matches against WWF champion Bob Backlund, but his career in individual matches all but ended in 1984 due to blood clots after a string of losses to Hulk Hogan. He later formed a tag team with Randy Savage.
Ventura spent the later portion of his WWF career as a ringside announcer, which was a perfect fit for his character. Loud and verbose, he usually took the side of the villains in his commentary. It added to fans' hatred of the "heels," which translated into even more interest in live shows and pay-per-view events.
Ventura left full-time wrestling work in 1990, did radio commentary on Minnesota Vikings and Tampa Bay Buccaneers football games, and successfully ran for mayor of Brooklyn Park, Minnesota. He defeated a long-time incumbent and served for four years.
Act 3: Jesse Ventura becomes governor of Minnesota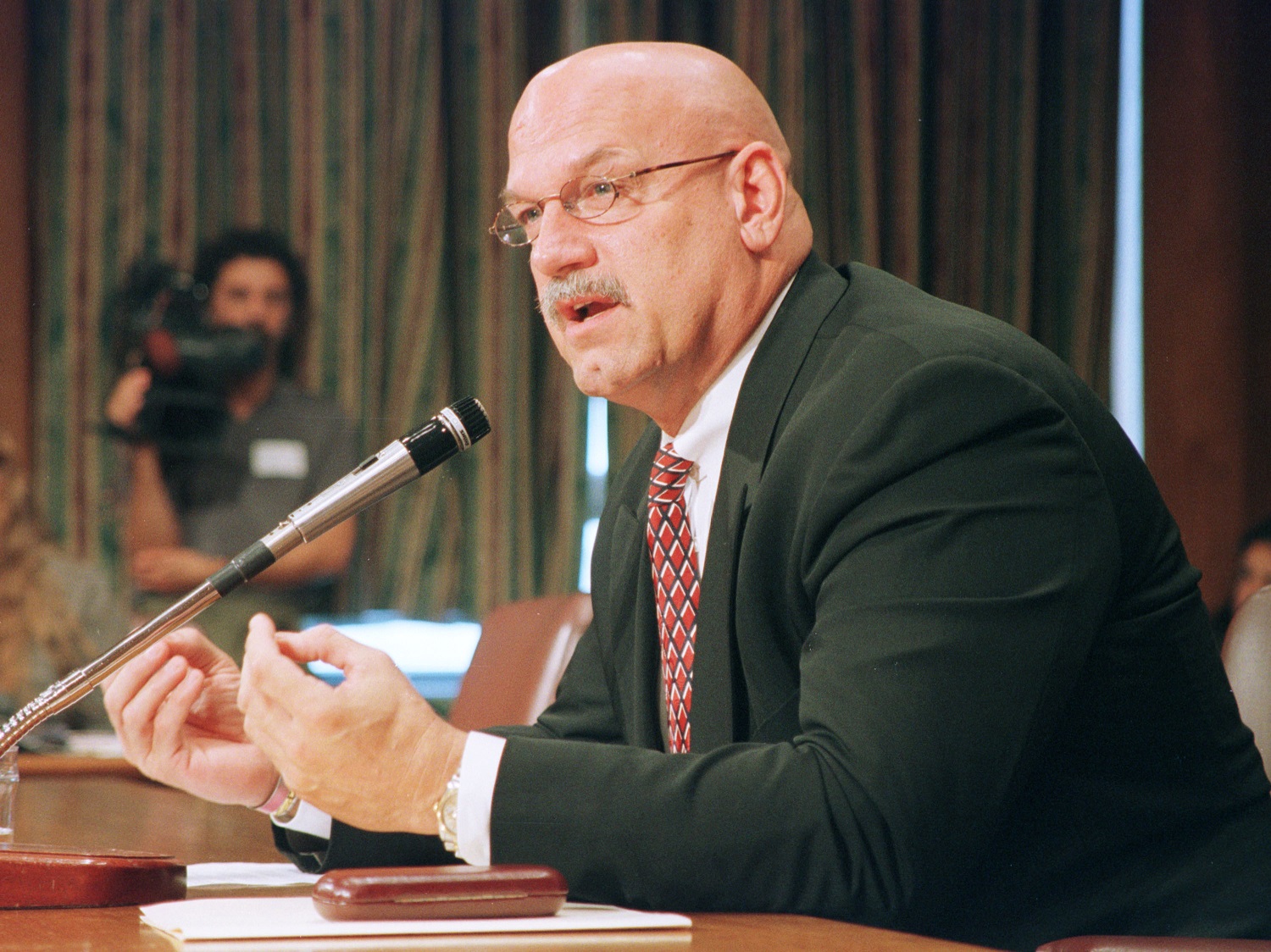 What Jesse Ventura pulled off in 1998 will always rank as one of the most improbable political stories ever. Running as an independent against two major-party candidates with extensive backgrounds in politics, he pulled off a stunning victory against a big-city mayor and the state's attorney general. As noted by The Washington Post, it made Ventura "the nation's first governor to have his own action figure doll."
Running on the Reform Party ballot line, Ventura was badly underfunded – he spent an estimated $250,000 — but exploited his name recognition and rebranded himself from the Jesse "The Body" Ventura of his WWF days to Jesse "The Mind" Ventura. He broached the idea of legalizing drugs and prostitution years before it became a mainstream conversation and quoted pop-culture figures rather than dead presidents and senators.
Ventura gained momentum with older voters on the campaign trail with a pledge to veto tax increases and limit campaign contributions to a maximum of $50. He attracted younger voters, who knew him as a wrestler, with an online fundraising strategy that was ahead of its time.  
As the campaign evolved, so did the candidate. The newspaper noted an early TV ad portrayed Ventura as an action figure fighting off the villainous Evil Special Interest Man, but his final commercial had the wrestler posed as Rodin's "The Thinker."
A wild ride ends without Ventura running for re-election
Former WWF star Jesse Ventura won the election for governor with 37% of the vote in a heated three-man race. With no clear mandate from the voters and no Reform Party members in the Minnesota legislature, Ventura lacked leverage to propose very many initiatives. He did, however, succeed in pushing through a sales tax rebate at a time when Minnesota was running a budget surplus.
Consequently, the veto pen was Ventura's biggest weapon – one that he used frequently and successfully in his first three years in office. In his fourth year in office, however, the legislature voted to override six of the former WWF star's nine vetoes.
Ventura announced in 2002 that he would not run for re-election. He explained to the Boston Globe that his decision was rooted largely in the media's effect on his family.
Ventura inherited a $3 billion state budget surplus when he took office, but it turned into a $4.2 billion deficit at the time of his departure.