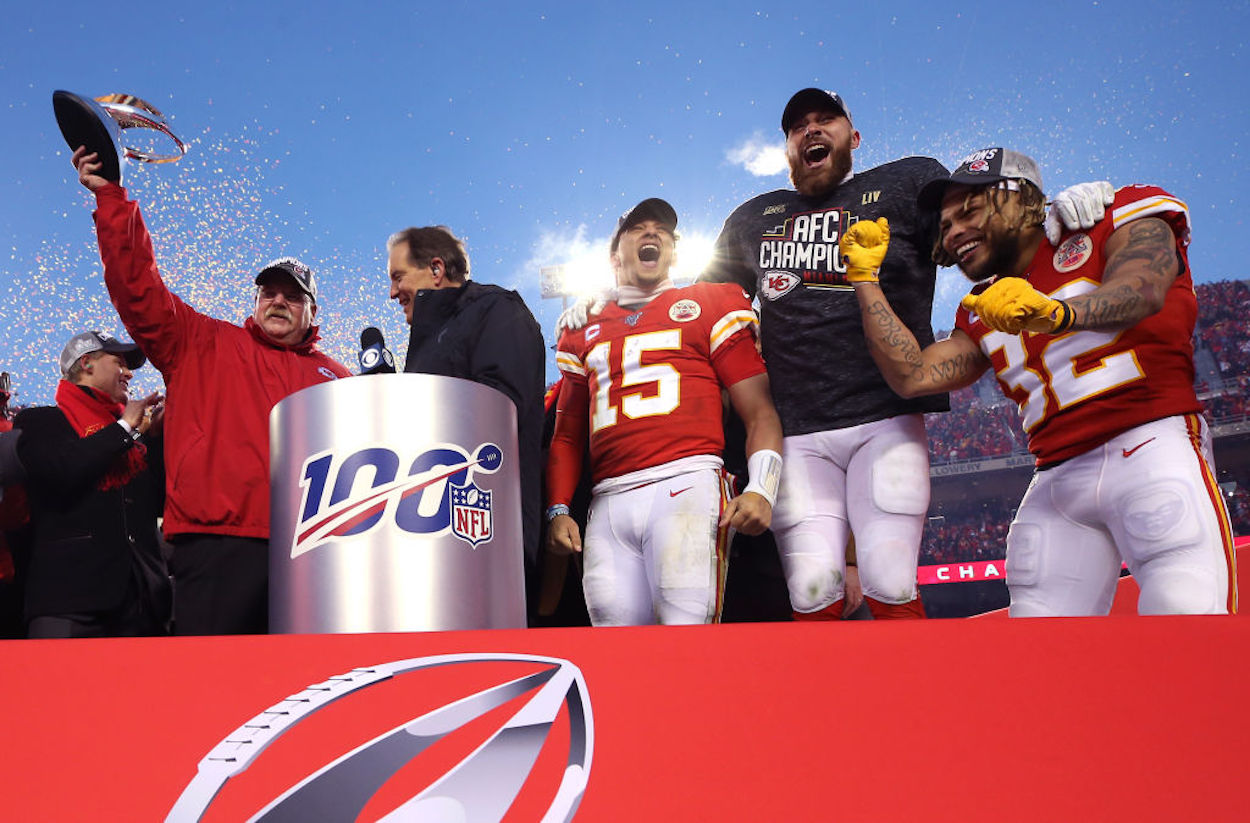 Jim Nantz Got a Taste of Patrick Mahomes' Ruthless Competitiveness at His Backyard Golf Hole
Jim Nantz sees Patrick Mahomes' competitive fire on the field from the booth, but he got a personal taste at his iconic backyard golf course.
CBS broadcaster Jim Nantz has witnessed Patrick Mahomes' unmatched competitiveness from the broadcast booth numerous times over the past few years, but he once got a personal taste of just how competitive Mahomes can be with even the lowest stakes at risk.
Jim Nantz has a replica golf hole in his backyard
Jim Nantz loves Pebble Beach so much he decided to bring a taste of the course to his own backyard. In 2015, the CBS broadcaster finished construction on a half-sized replica of Pebble Beach's iconic 7th hole by the water.
Nantz has hosted multiple golfers and celebrities to his Monterey home to try out his personal golf hole, and he even has a "Rock of Fame" commemorating the lucky few who have dunked a hole-in-one. Brandt Snedeker was the first to make an ace in Nantz's backyard. Phil Mickelson, David Feherty, Tony Romo, and more have since joined Snedeker on the "Rock of Fame."
Patrick Mahomes had his chance to join the group last year.
Patrick Mahomes recently tried his hand at Nantz's backyard hole
Last offseason, Patrick Mahomes took a final golf trip to California before returning home to get back to work. He joined Jim Nantz for 18 holes at Cypress Point and 18 more at Pebble Beach, where he shot 81 and 83, respectively.
After the round, Nantz invited Mahomes and his fiancee, Brittany Matthews, to his house to give his replica hole a try. It was there Nantz saw up close and personal just how competitive Mahomes can be.
Jim Nantz got a taste of Mahomes' ruthless competitiveness that day
In a 2020 GQ profile of Patrick Mahomes, Clay Skipper explained what went down at Nantz's house that day.
It had been a nasty, rainy day, and it was already getting dark by the time Mahomes started teeing off, so Nantz remembers having to turn on the stadium lights he keeps back there. Though Mahomes nearly aced his first shot—it lipped out on the opposite side of the hole—he says he was nowhere close after that. Even still, he must have taken 40 or so swings, not willing to give up. Nantz told me that he remembers Mahomes being "fired up."

"His whole countenance changed once he stepped foot on that tee," Nantz said, his famously buttery voice lending drama to the recollection. "He was sociable. He was who he is. He's just a great guy, convivial and all that, but I also saw him go to a place that I've recognized looking into the helmet a few times. 'I'm here to do something. I'm here to pull something off. I'm here to make history.' "

After a while, it was getting late. Mahomes and Brittany were scheduled to catch a plane back to Dallas the following morning and worried that, with the coronavirus starting to spool out across the country, missing their flight could spell big trouble. It was hard to pull him away, but Brittany eventually succeeded. "I'm going to be back," he told Nantz on the way out, vowing to hit a hole in one.

Clay Skipper, GQ
And you know he will.