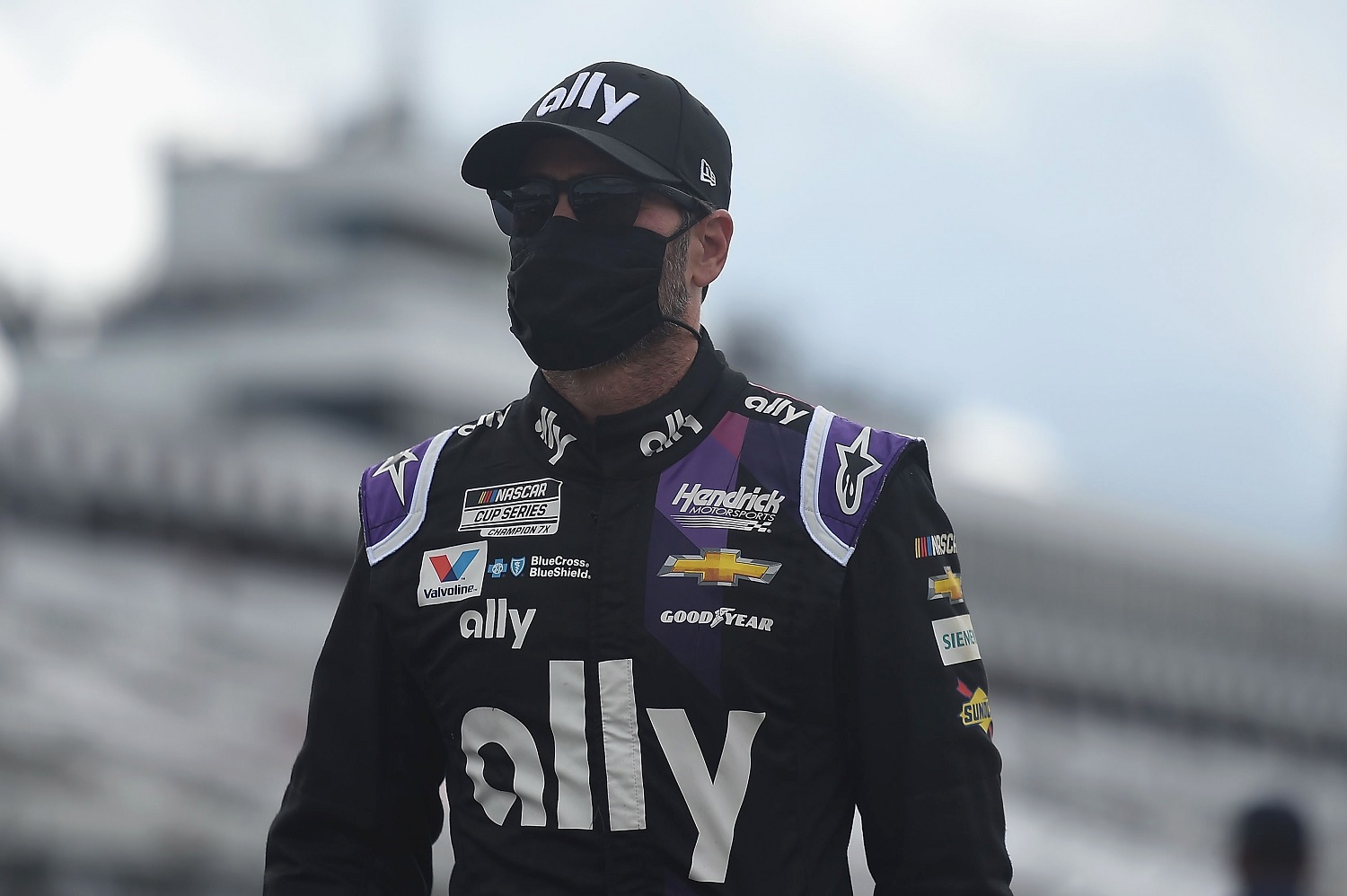 Jimmie Johnson's COVID-19 Diagnosis May Drop the Red Flag on the NBA and MLB
Seven-time NASCAR series champion Jimmie Johnson has tested positive for COVID-19.
As unimaginable as a NASCAR race without seven-time series champion Jimmie Johnson may seem, try picturing the Los Angeles Lakers taking the court without LeBron James, the Kansas City Chiefs suiting up without Patrick Mahomes, or the Los Angeles Angels playing without Mike Trout.
The country is clamoring for the resumption of the major team sports, but are the games worth watching, whether in person or on television, if the biggest names are missing due to COVID-19 or even the mere fear of the illness?
Jimmie Johnson tests positive for COVID-19
Driver Jimmie Johnson dropped a bombshell on the sports world heading into a huge auto racing weekend in which NASCAR and IndyCar are sharing the spotlight at historic Indianapolis Motor Speedway. Johnson revealed that he had tested positive for the coronavirus, taking him out of the No. 48 car for an undetermined amount of time.
NASCAR and UFC were the first two sports to resume schedules after the coronavirus pandemic shut everything down in early March, and the auto racing circuit has been enjoying its time in the spotlight even without fans in the stands. Although pestered by rain, NASCAR has successfully experimented with mid-week racing and with sending racers in its top series out to compete on back-to-back days.
The usual crashes and mechanical failures have prevented some competitors from finishing races, but fans have one reason in particular to turn on the TV and watch: Every NASCAR star, including Johnson, is in his car for the start of every race – until now.
Johnson, 44, is no longer the Hendrick Motorsports superstar who won the NASCAR Cup Series seven times from 2006-16. In fact, he hasn't won a race since the 2017 season. However, he remains highly popular among fans and, even without spectators at most tracks to cheer him on, Johnson is a sentimental choice to win after having announced that this is his final season of full-time driving.
And now one of the huge names in the sport is sidelined after both Jimmie Johnson and his wife have tested positive for COVID-19.
The show must go on for NASCAR and the NBA
Jimmie Johnson's absence doesn't mean that Hendrick Motorsports will park the No. 48 Ally Chevrolet. Hendrick and its sponsors have big money invested, so Justin Allgaier will fill in as the driver. Johnson has taken the checkered flag 83 times in 666 career NASCAR Cup Series starts; Allgaier is 0-for-76 lifetime and hasn't raced in the top series since making one start in 2016.
In that sense, hardcore racing fans must feel like they were promised Pavarotti and are being given Meat Loaf. And that's the dilemma that all major American sports leagues are facing as they attempt to reboot seasons that were red-flagged in March. What's worse, having to stop the season again due to the pandemic or trying to carry on with little-known players filling in for big brand names?
Major League Soccer was to be first out of the gate this week with the unfortunately named MLS is Back Tournament. Instead, the July 9 match between the Vancouver Whitecaps and FC Dallas has been postponed after eight players, including six from Dallas, tested positive for the coronavirus. A July 8 game between Orlando City and Inter Miami is still on for now at the ESPN Wide World of Sports complex at Walt Disney World, where the 26 teams are sequestered.
Meanwhile, the NBA is wrestling with positive test results as the league pushes to get all the pieces in place at Disney World by the end of the month. More than two dozen players have now tested positive for COVID-19, including significant names like Spencer Dinwiddie of the Brooklyn Nets and Nikola Jokic of the Denver Nuggets.
MLB has a tough road ahead
Regardless of how the rest of 2020 plays out, the NBA and NHL can at least say they squeezed in most of their regular season, giving them something to write in their record books and keeping memories fresh in fans' minds.
Major League Baseball may not be fortunate. The MLB season still hasn't started, will only consist of 3/8ths the number of games – at best – originally scheduled, and can still be shut down on no notice by another flare-up of the pandemic.
Cracks are showing already, with positive tests reported at training facilities. Players have been given the choice of sitting out the season, and Washington Nationals veteran Ryan Zimmerman was the first big name to avail himself of that option.
And then, one day after NASCAR star Jimmie Johnson revealed he had tested positive for COVID-19, Los Angeles Dodgers pitcher David Price announced that he has opted out of playing this summer. Price, 34, cited health concerns for himself and his family.
It's an announcement we could see made repeatedly in the coming weeks. Every big-name player who bows out makes for one less reason to be excited about the return of baseball.