Joe Buck Admits to Sipping on 'the Biggest Beer in the Stadium' During Intense Broadcasts
Like it or not, Joe Buck is the soundtrack to a good chunk of our sports-watching lives for the last three decades. The polarizing play-by-play announcer has called some of the biggest moments in NFL and MLB history and seems to always rise to the occasion.
Buck was born to be an announcer. He has been in sports media, broadcasting important, nationally-televised games from a very young age. While most of the pressure is on the field, there is plenty of stress on the announcer, too, when a call might go down in history. To stay calm in these massive moments, Buck gets a little help sometimes from "the biggest beer in the stadium."
Joe Buck was destined to be an announcer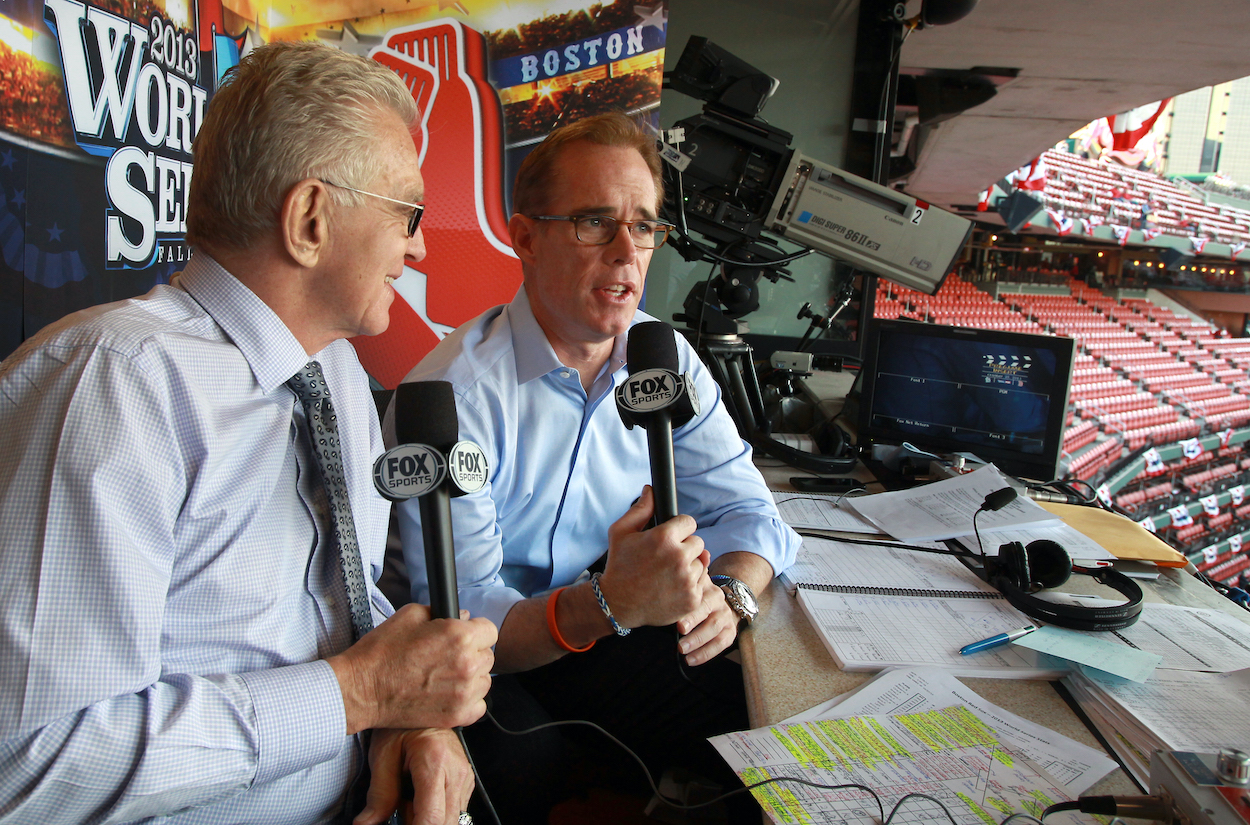 For parts of seven decades, Jack Buck was one of the most well-known voices in sports. In 1948, Jack started at the radio station called WOSU in Columbus, Ohio, per Historic Missourians. He hosted a sports show and called his first basketball game there.
In 2000, Jack officially retired from the booth. In between, he called 17 Super Bowls, eight World Series, NBA and NHL games, The Ice Bowl, and was the voice of the St. Louis Cardinals for multiple generations.
With this type of pedigree, it is no surprise that Joe Buck took the career path he did. Joe started his college career in college and with minor league baseball at the age of 20. In 1994, at the age of 25, FOX Sports hired this son of a legend to call a full slate of NFL season games. He is the youngest person ever to have this responsibility.
In 2002, Buck became the lead analyst for FOX's NFL football coverage with former Dallas Cowboys QB Troy Aikman. It's a job he still holds today.
Like his dad, Joe is a multi-sport play-by-play man and is just as associated with Major League Baseball as he is with the NFL. At just 52, Joe has already called six Super Bowls, 23 World Series, and 25 MLB League Championship Series.
In 2020, the Pro Football Hall of Fame awarded Joe the Pete Rozelle Radio-Television Award and inducted him into the HOF.
Buck orders a beer to remind himself to relax during big games
With all these big games under his belt from such a young age, how does Joe Buck keep his cool in the loftiest moments? He recently joined The Pat McAfee Show 2.0 and shared his secret.
I would send the runner out to get the biggest beer in the stadium, and I would have the beer sitting there as like a visual cue to just chill. So, yes, I drink a lot of coffee, but no, it's never just routine. No, I'm never just mailing it in. I care a lot more than anybody has any idea, and sometimes when it gets a little intense or I'm a little tight, I'll look at that beer, I'll take a baby sip of it and go, 'We're just doing a game. Have fun, relax.' And I would suggest that to anybody. Have whatever you need to have around you to kind of pop that bubble of intensity and let yourself relax.

Joe Buck on calling big moments
Joe Buck shared that he hasn't done this in the last six or seven years or so. However, he also mentioned that "I won't say I won't go back to it." He thinks that it helped him settle down and set the right tone for some of the most prominent calls of his career.
Joe Buck has called some of the biggest moments in sports in the last 20 years
In 2024, it will be 30 years since Joe Buck started calling professional sports on national television. In those three decades, Joe has called some of the most iconic moments, especially baseball and football.
He's been in the booth above the diamond for the Cubs breaking their curse and winning the team's first World Series since 1908 and for the Red Sox breaking theirs and winning in 2004. He was at the mic when his dad's team won in 2011 and when Derek Jeter cranked one over the wall in the early minutes of November, just weeks after 9/11.
On the football side, it was Joe Buck who described the David Tyree "Helmet Catch" when the New York Giants upset the then-17-0 New England Patriots in the Super Bowl. He also called the Patriots' astounding Super Bowl comeback against the Atlanta Falcons in 2016. A year later, he was in Minnesota when Stefon Diggs got behind the Saints D for the "Minneapolis Miracle" in the 2017 playoffs.
Now, looking back at all these moments, you see how important Joe Buck has been to all our sports-watching lives these last few decades. You also have to wonder (at least a little) if Joe took a baby sip of beer before exclaiming any of these iconic calls.
Like Sportscasting on Facebook. Follow us on Twitter @sportscasting19