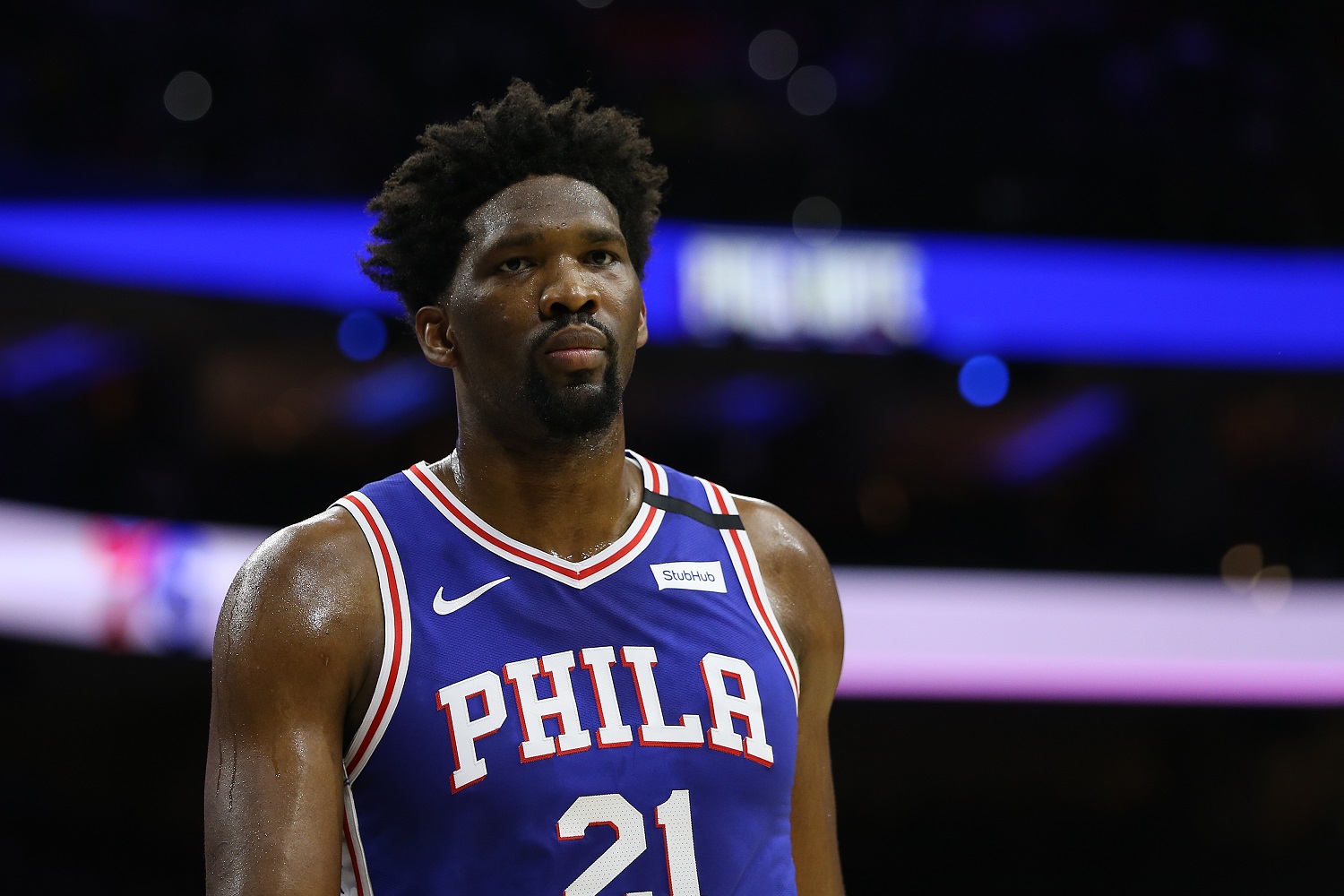 Joel Embiid's COVID-19 Fashion Statement Has an ESPN Analyst in a Tizzy
Joel Embiid arrived at the airport in a hazmat suit for the Philadelphia 76ers' trip to Orlando.
Joel Embiid's style has substance to it, although a former NBA player who's now an ESPN basketball analyst called out the Philadelphia 76ers standout over it. And Kendrick Perkins will probably regret doing so for a while. Even one of his own co-workers is taking Embiid's side.
Joel Embiid was taking no chances on his way to Orlando
Thursday was departure day for the Philadelphia 76ers as they headed to Orlando, Florida, for the final preparations as the NBA attempts to restart its season and then conduct its playoffs there.
Although the NBA appears to have done the most thorough planning of any of the pro leagues and made a wise preemptive move to secure Disney World, several players have expressed concerns about the season reboot. Being separated from family and locked down at the complex are among the concerns, but COVID-19 is the big issue because more than two dozen players have tested positive since early March.
Joel Embiid is one of the players who has voiced his displeasure.
"Unfortunately, I'm not a big fan of the idea," Embiid said this week. "But then again, I'm going to do my job. I'm not going to let the city down. I'm going to represent my city -that's what I've always done — my family, my teammates. The mindset doesn't change."
However, that doesn't mean he's going to take unnecessary risks along the way. Embiid showed up at the airport for the team charter decked out in a hazmat suit. (If you hadn't thought about until now, the protective gear apparently does come in a size suitable for 7-footers.) He was also well-accessorized with gloves and a mask.
Kendrick Perkins has been going after the 76ers star
Kendrick Perkins played 14 NBA seasons with four teams, retiring in 2018 with career averages of 5.4 points and 5.8 rebounds. Those numbers don't measure up very well with Joel Embiid's averages of 24.1 points and 11.5 rebounds in four seasons with the Philadelphia 76ers.
Perkins, who now works for ESPN, took Embiid to task for his reluctance to resume the NBA season.
"Do you want to hoop or not? None of the other contenders complained!" Perkins said on First Take. "I don't want to hear all that. To me, this is just an excuse. If they get knocked out, this is gonna be an excuse because their superstar was halfway in, his mental (commitment) wasn't there."
Perkins went on Twitter to clarify his remarks. But saying that his criticism came during a conversation about playing in the so-called bubble didn't really change the context. He also ended the tweet with the comment, "Never once that we talk about Black Lives Matter!!!"
That came off as a weak attempt to divert attention from his comments, and Perkins had more to be unhappy about when ESPN colleague Jay Williams called out Perkins. "Unfortunately," Williams wrote while linking to a clip of Perkins' comments, "this video lacks empathy."
"You got my number homeboy," Perkins snapped back at Williams on Twitter. "You know exactly what I was saying and meant."
Joel Embiid doesn't need help defending himself
Philadelphia 76ers center Joel Embiid didn't meekly sit and take it after Kendrick Perkins criticized him on ESPN. Instead, he fought back in subtle fashion, giving a like to a tweeted highlight clip showing a variety of Kendrick Perkins flubs, including air-balled jumpers, from his playing days.
Perkins responded by tweeting some of his more dignified highlights, but he couldn't leave well enough alone. After seeing Embiid arriving at the airport in the hazmat suit, Perkins re-tweeted that photo and commented, "Seriously if he feels this way about going to the Bubble … he should have just opted out! No one would have looked at him differently."
Perkins deleted the tweet soon afterward, but not quickly enough. A follower captured a screenshot and tweeted it out, NBC reported. Perkins followed up with a tamer tweet.
"Do ya thing Big Fella," he wrote.