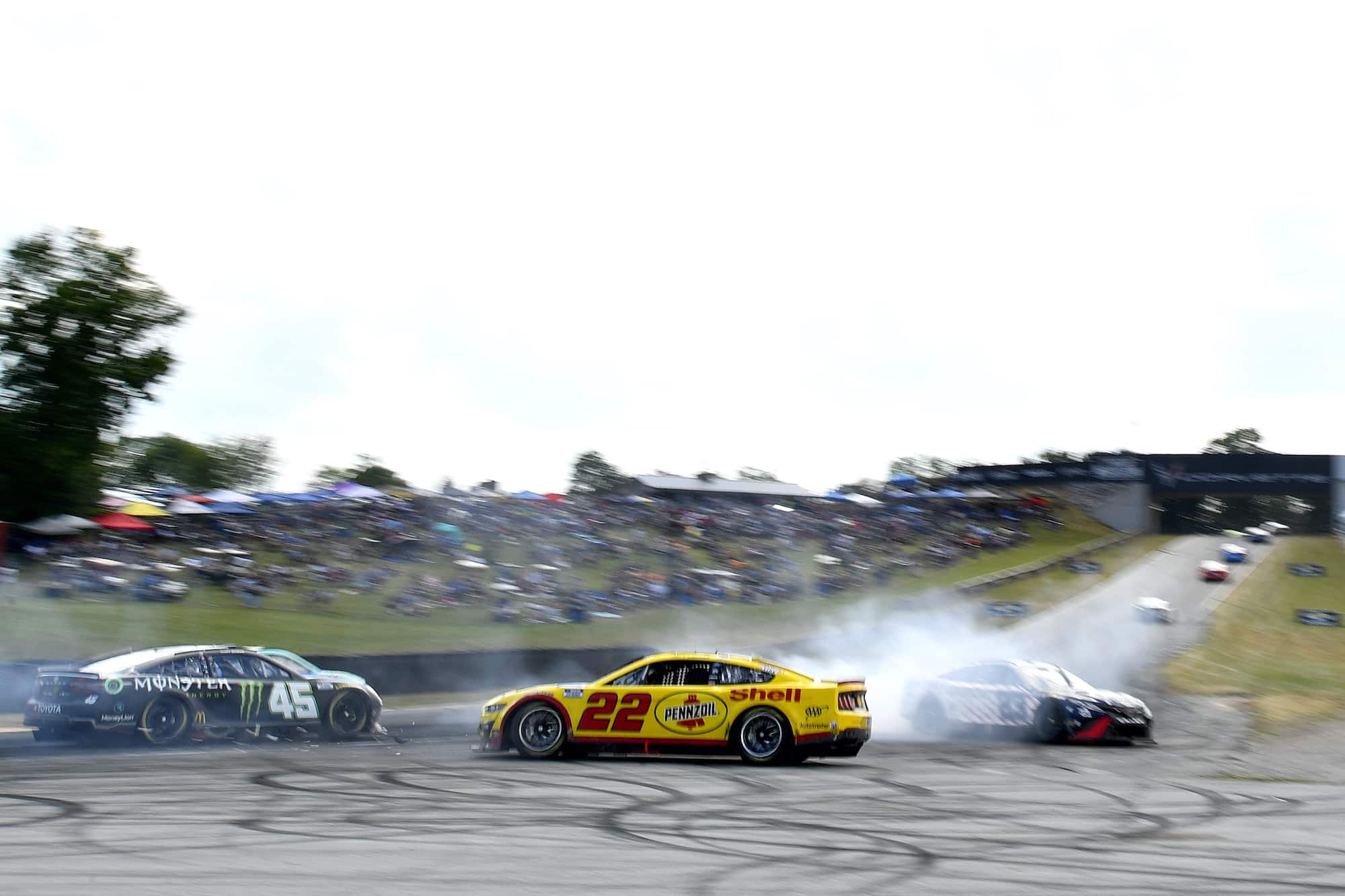 Joey Logano Embarrassed at Road America by Bubba Wallace and Gets Bluntly Called Out for His Actions by NBC Broadcast Team
Joey Logano reacted in an embarrassing way at Road America when Bubba Wallace turned the tables on him and the NBC broadcast called out the 2018 champ for his reaction.
While Ross Chastain and his aggressive driving style have been the center of attention this year because he's used it en route to winning a couple of races, those in the garage haven't forgotten about Joey Logano.
The Team Penske driver has been consistently viewed as the Cup Series' most aggressive driver for years. It's a title the 2018 champion hasn't shied away from but embraced. On Sunday at Road America, Logano appeared to be following his MO in an incident with Bubba Wallace. Except this time, when it appeared the roles were reversed and the 23XI Racing driver might be returning the favor, the 32-year-old reacted in an embarrassing way and was called out for it by the NBC broadcast team.
Joey Logano sends William Byron into wall
Last year in an annual entertaining USA Today survey, Cup Series drivers voted Joey Logano as the driver "most likely to bump you out of the way to win a race."
Earlier this year at Darlington, the Penske driver validated the vote and confirmed his reputation. After feeling that William Byron had squeezed him into the wall on a late restart, Logano had retaliation on his mind.
On the white-flag lap, he did just that and sent the No. 24 up into the wall before passing him and cruising to victory. The upset HMS driver revealed a side rarely seen, calling Logano an "idiot" and "moron" in his postrace interview.  
The race winner admitted it was payback. "You're not gonna put me in the wall and not get anything back. That's how that works," he said.
Wrecks Bubba Wallace at Road America 
Logano hasn't made any headlines for his aggressive driving since, including a few weeks later at World Wide Technology Raceway, where he won the race but did so cleanly in a hard-fought battle with Kyle Busch in the final laps.
On Sunday at Road America, the 2015 Daytona 500 winner found himself heading down the long straightaway before Turn 5, which was a corner that provided a great opportunity to pass, and the drivers knew it.
During Stage 2, Logano saw a chance to get by both 23XI Racing cars of Kurt Busch and Bubba Wallace. However, in his attempt at a two-for-one special, the No. 22 drove it in too hard, locked up his front brakes while passing Busch on his outside, got sideways, and slammed into the left side of Wallace, sending the No. 23 into the gravel pit. 
The yellow Penske car stayed on the runoff area and narrowly missed going into the gravel before returning to the track. Wallace delicately navigated out of the gravel and merged back into the pack.
Logano gets called out by NBC broadcast team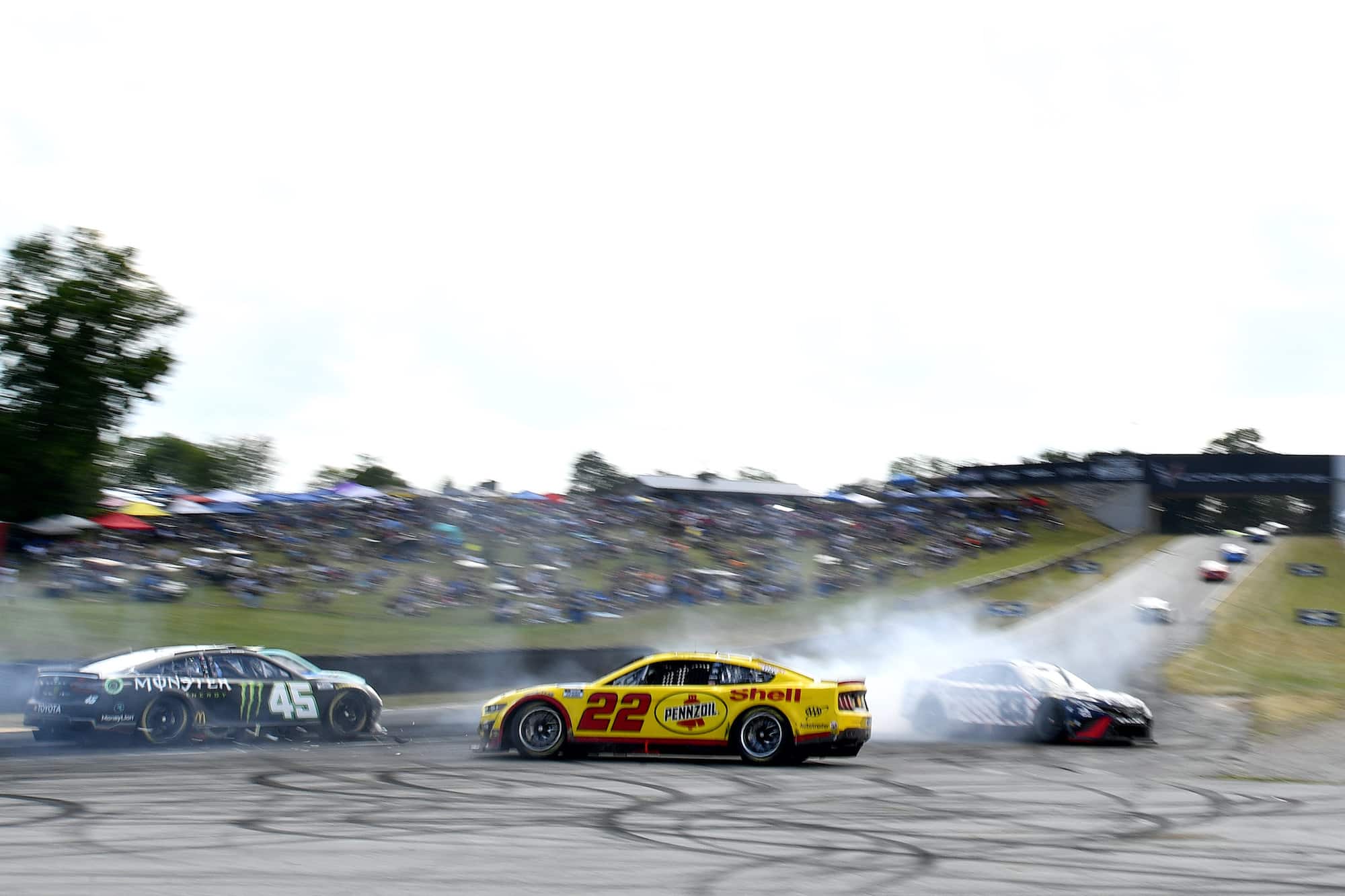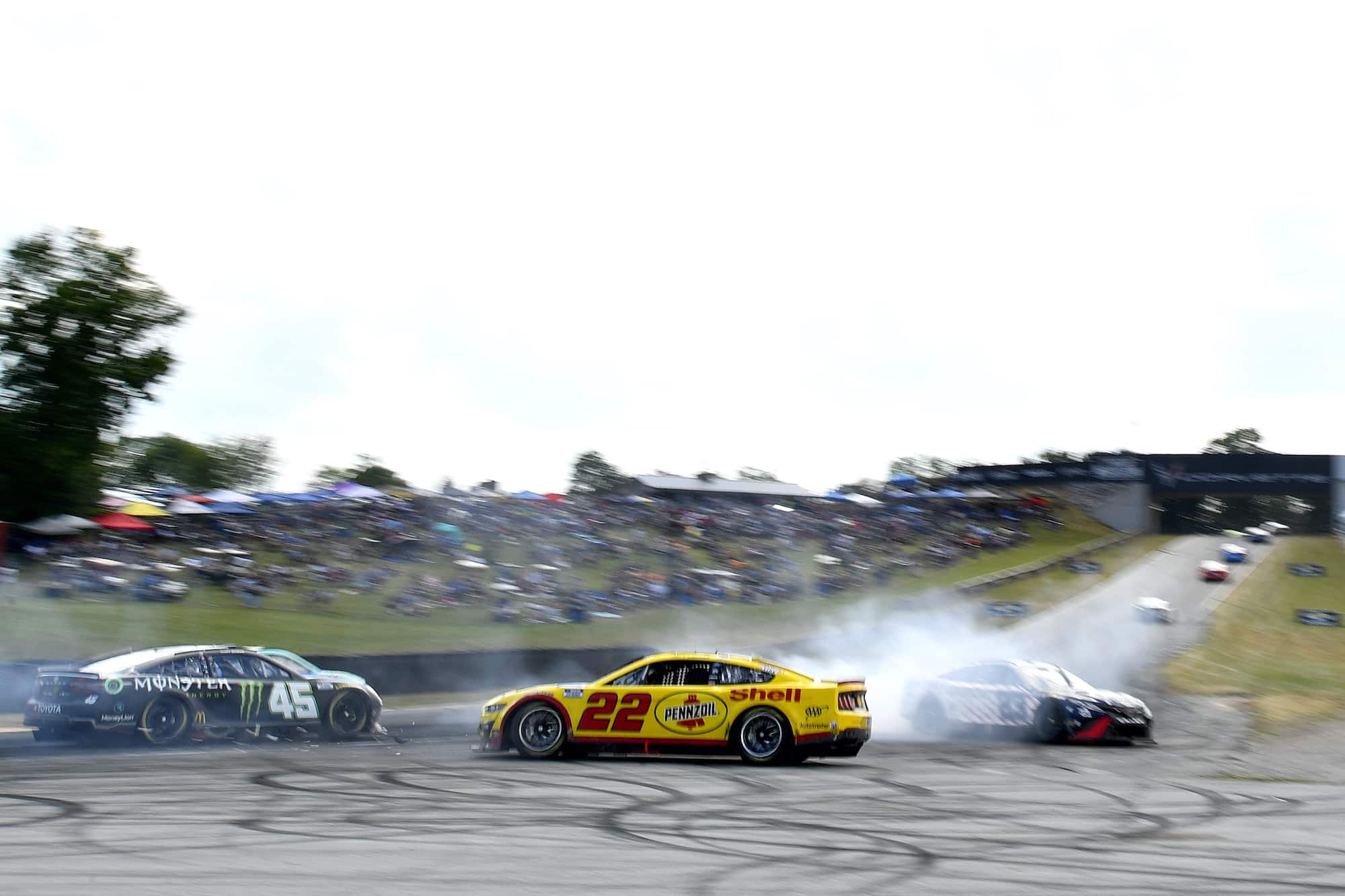 Later in the stage, Wallace had caught up to Logano and was right on his rear bumper. 
"The 22 car of Logano and Bubba," Dale Earnhardt Jr. said as the cameras showed a replay of the two cars racing each other and what appeared to be Wallace escorting Logano off the track. "Bubba showing him a little frustration over the incident they had in Turn 5."
"You're absolutely right, Junior," Steve Letarte chimed in as the broadcast showed another angle of the incident. "I'm going to send you off right here. You're not going to hit anything but it's not going to be a fun ride."
However, moments later, the cameras then showed the best view from inside Wallace's car that revealed the two cars never made contact. 
"Oh no, he never touched him," Earnhardt said. 
"Never touched him," Jeff Burton echoed. "Joey might have thought he was going to touch him and he was trying to get away from him."
"That was like a karma wreck or something there," Letarte said. 
Maybe it was karma for what had happened earlier, or all the other times Logano has been in that position and dumped another car. Or, maybe, as Burton suggested, the Penske driver was mirror-watching, expecting Wallace to send him off track. 
In either case, Logano found himself in the unenviable position of being the dumpee instead of the dumper. And as everyone got to see and the NBC broadcast team accurately pointed out, he didn't like it.   
Like Sportscasting on Facebook. Follow us on Twitter @sportscasting19 and subscribe to our YouTube channel.