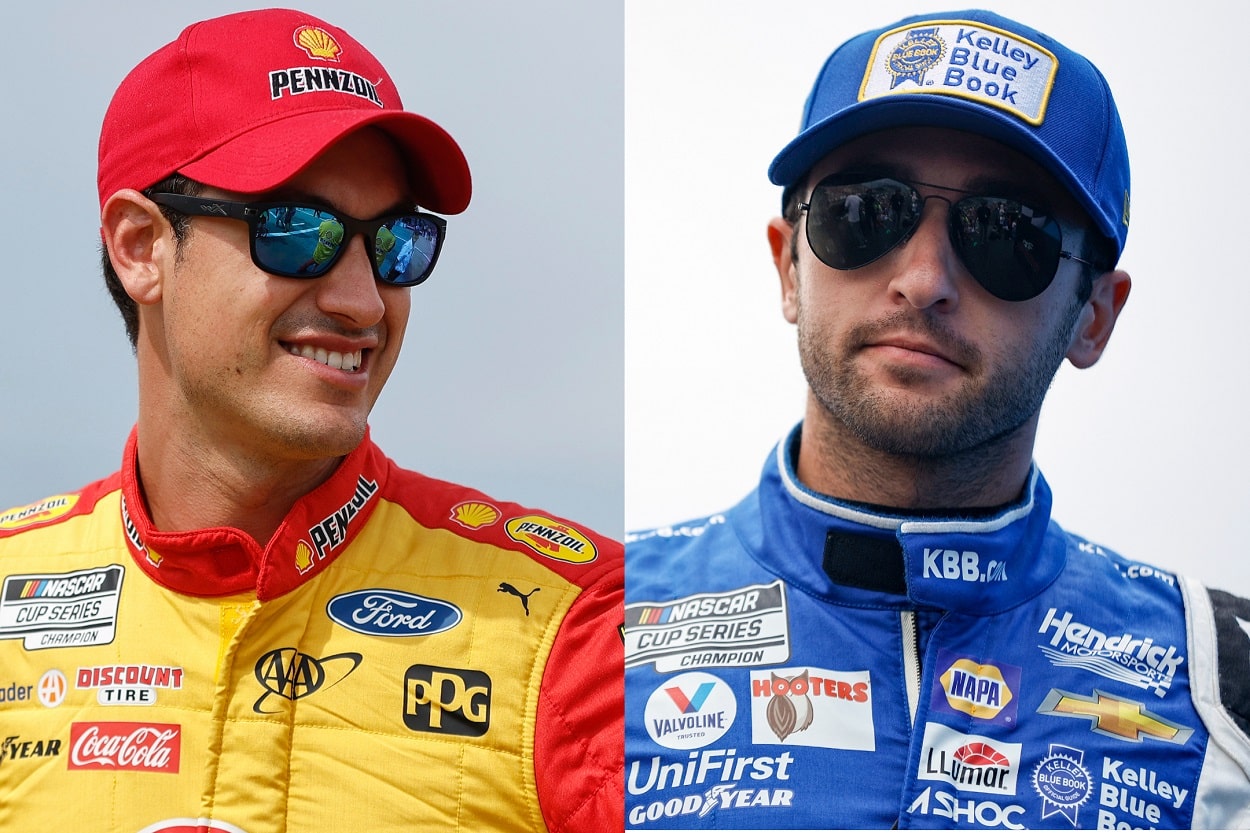 Joey Logano Has Set Himself Up For an Old-School Ford-Chevy Showdown With Chase Elliott
An old-school battle between Joey Logano and Chase Elliott is brewing.
Much of the attention during the second half of the 2022 NASCAR Cup Series season revolved around Chase Elliott taking control of the points standings and the chaos surrounding the final postseason spots.
But Joey Logano has once again put himself in prime position to be one of the strongest contenders for the Cup Series title, which could easily lead to an old-school battle for all the marbles come Championship 4 time.
Joey Logano has had an up-and-down 2022 season
Logano opened the debut season of NASCAR's Next Gen car model in fine form. He won the Clash at the LA Memorial Coliseum exhibition race in February before the regular season began, and he led the points standings after the fourth race of the season when the series returned from Phoenix Raceway.
He had five top-10 results in the first nine races and captured his first points-paying win three weeks later at Darlington Raceway, coincidentally where the NASCAR Playoffs begin Sunday.
Logano got his only other win of the year three weeks after Darlington when he outdueled Kyle Busch on the first Sunday of June at World Wide Technology Raceway near St. Louis.
Those were the only two bright spots in a sea of finishes outside the top 15 for Logano and the No. 22 Team Penske Ford program. A ninth-place in July at Nashville Superspeedway was his only finish better than 17th through an 11-race stretch from late April through late July.
Logano was seventh in the points standings after a 20th-place finish at Pocono Raceway but has been one of the hottest drivers on the circuit since.
He did not finish lower than sixth in four consecutive races after Pocono before a 12th-place result Sunday at Daytona International Speedway. He was among the leaders caught up in a 13-car crash with 21 laps to go.
Logano has also won a stage in each of the last three races. He has five stage wins overall, and his surge to second in the points standings by the end of the regular season earned him another 10 playoff points to add to the 10 he totaled with his two victories.
Both Logano and Chase Elliott are poised for deep playoff runs
Logano is now the No. 2 seed in the playoffs behind only Elliott and his 40-point total that included four wins and a 15-point bonus for being the regular-season champion.
The 2020 Cup Series champ Elliott is the easy favorite to win this year's title, given his accumulated credentials through the regular season. But Logano might be his biggest challenger. He's peaking at the right time and could create a classic battle between his Ford and Elliott's Chevrolet.
Along with Logano's win in the spring race at Darlington, the 2018 Cup Series champion has at least one previous victory at nine of the 10 tracks on the playoff schedule. The only track missing is the Charlotte Motor Speedway Roval, which the series has raced on only four times.
That could be where Elliott could take advantage in the final race of the second playoff round, given he has won two of the four Cup Series races on that layout. Logano, however, has posted a top-10 finish in each of those four races and ranks second only to Elliott with a 6.3 average finish in the last three races on the Roval.
Of course, this year's playoffs are set up to be some of the most volatile in history because the field is so tightly bunched to begin the final 10 races. Elliott has a 15-point margin on Logano in second, and Logano is five points clear of Ross Chastain in third. Otherwise, only 15 points separate Chastain from Austin Dillon in 16th.
One lousy race in any of the first three playoff events could be disastrous for any playoff driver, but Elliott and Logano at least have some breathing room in a first round that includes three tracks where they have a combined seven wins.
Elliott and Logano have the two most straightforward paths to the Championship 4 in the season finale at Phoenix Raceway and could have somewhat of a 10-race duel for the title even though two other drivers will also have a shot to win the title at Phoenix.
Both have bold driving styles that could produce high drama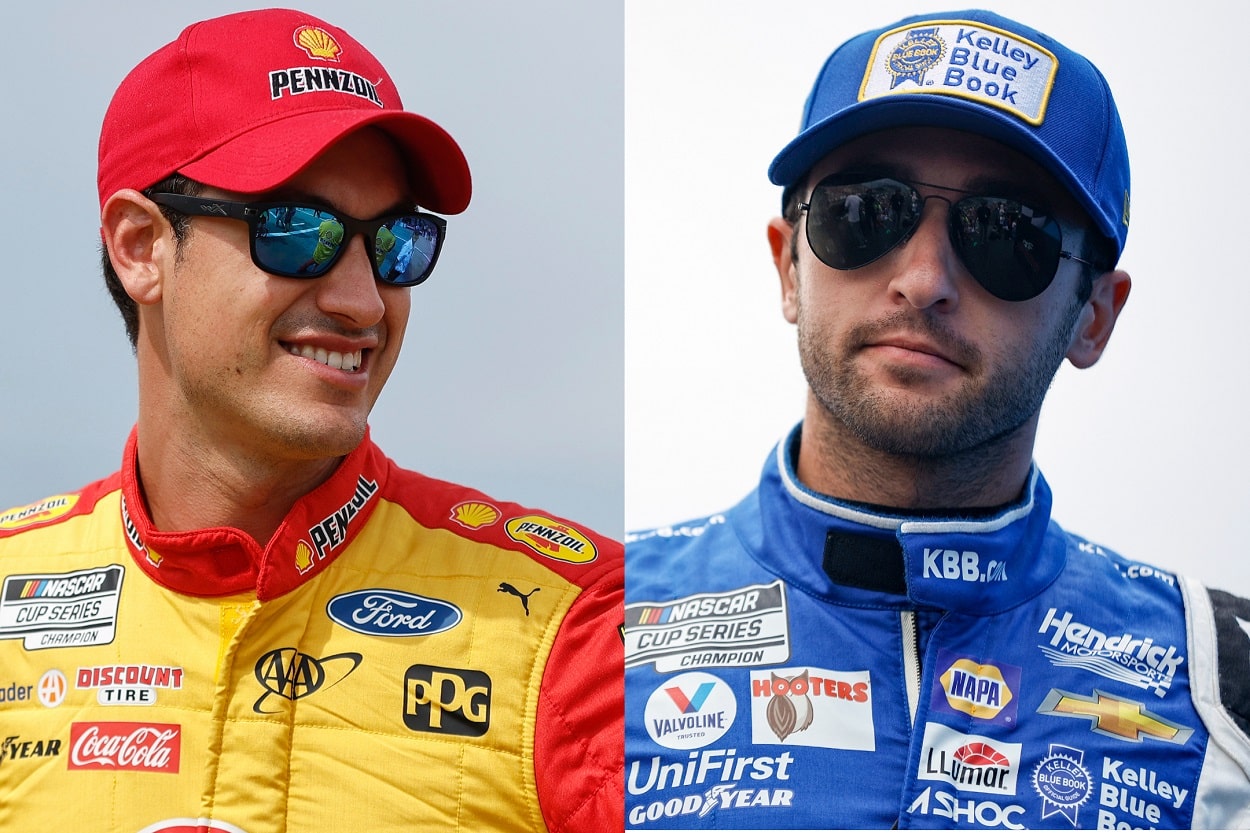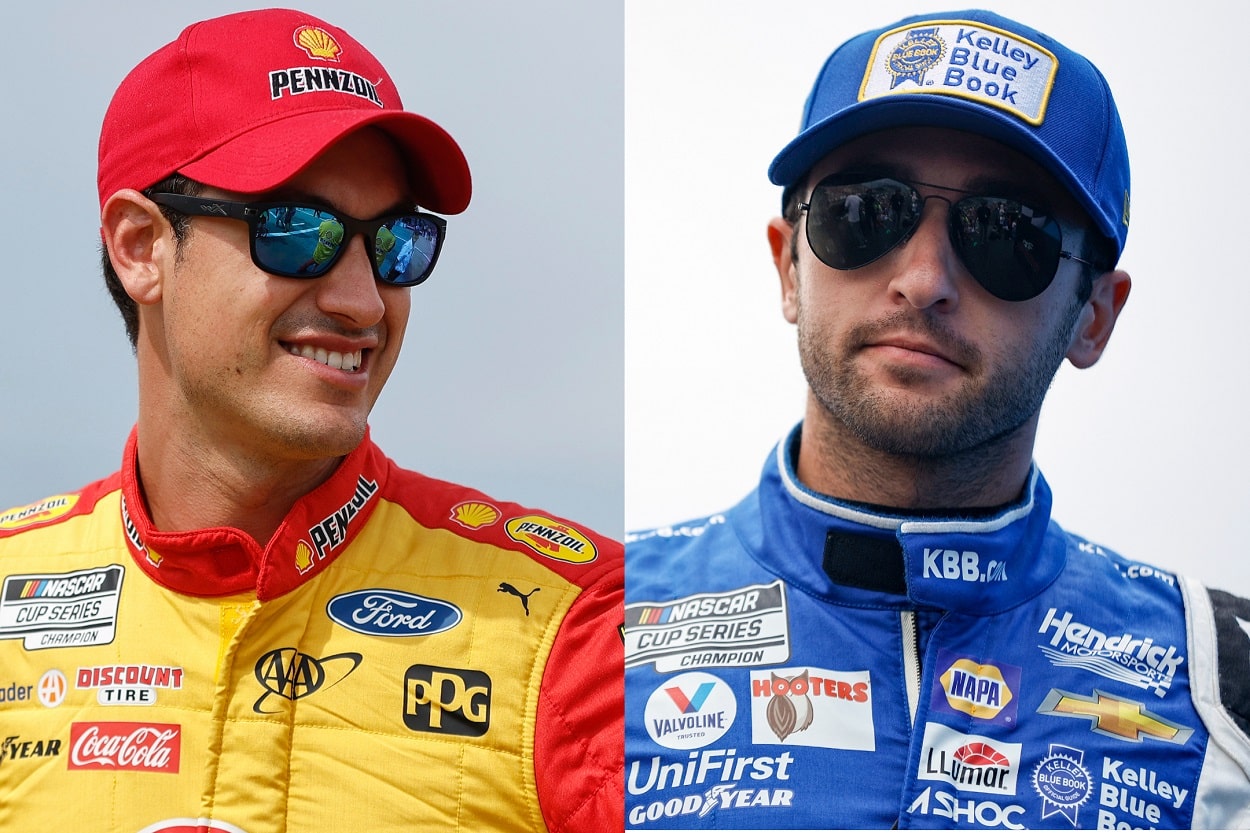 Both Elliott and Logano are aggressive former champions who have each had their fair share of feuds with other drivers, including each other, throughout their careers. They've also already had a run-in this season.
Elliott passed Logano for second place late at New Hampshire Motor Speedway and damaged Logano's car in the process. Logano was clearly upset with the incident and has shown previously he has a long memory for retaliation.
The two playoff leaders might not wreck each other with a championship in sight, but the hard racing between the leading Ford and leading Chevy could be one of the most intense and fun storylines to follow through the postseason.
Stats courtesy of Racing Reference
Like Sportscasting on Facebook. Follow us on Twitter @sportscasting19 and subscribe to our YouTube channel.