Johnny Manziel Was Just Handed a Harsh Reality Check in His Bold Quest to Become a Professional Golfer
Johnny Football is trying to rebrand himself as Johhny Golf, but it might be a bit harder than he anticipated.
Former Heisman Trophy winner and first-round pick of the Cleveland Browns, Johnny Manziel, recently revealed he's embarking on a bold journey to become a professional golfer. Manziel competed in the Texas State Open this week in the first true test of his new career, and he received a harsh reality check after finishing in second-to-last place in the event.
Johnny Manziel's bold new career path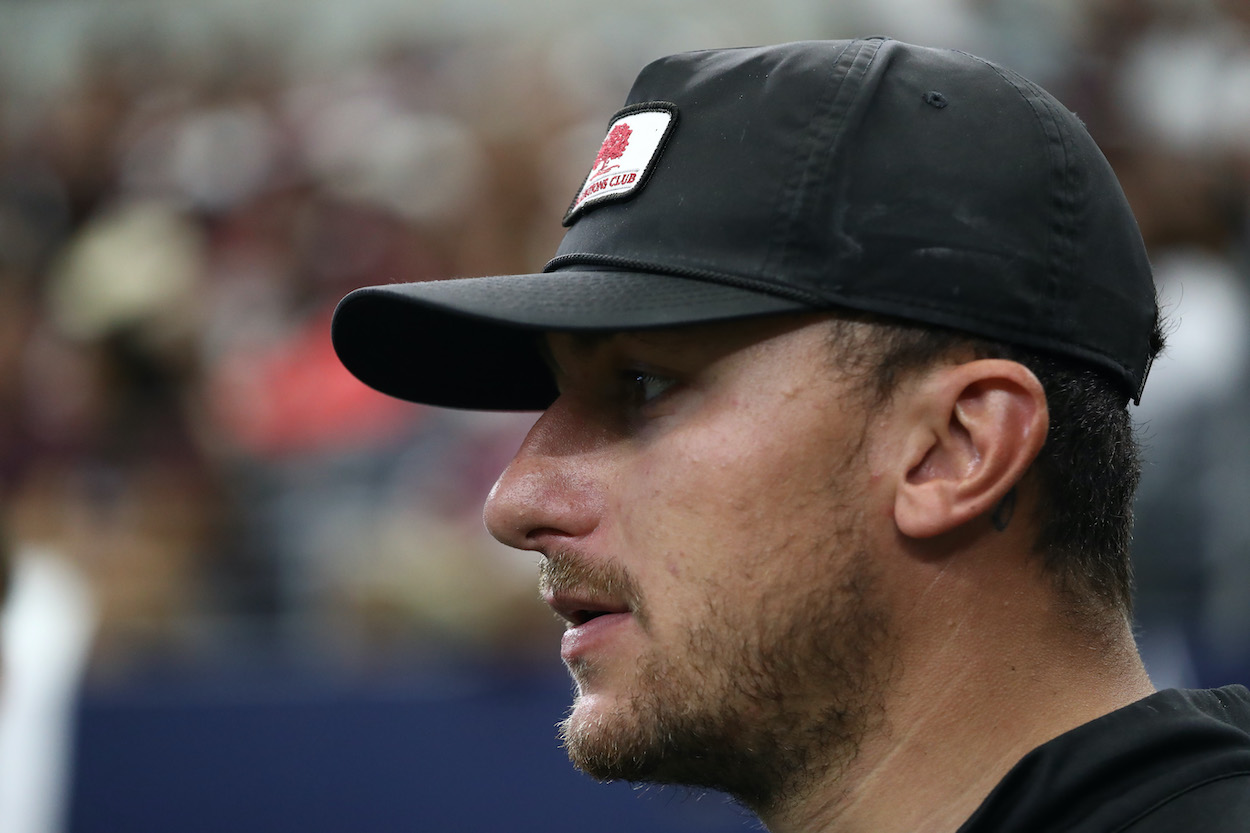 Manziel flamed out as an NFL player quicker than many envisioned. He played just two seasons with the Browns after getting drafted in 2014, and he finished with a 2-4 record as a starter in Cleveland.
Once Manziel realized his football career had come to an early end, he shifted his focus to a different sport: golf.
"I'm giving myself 12 years to try to play professional golf. I'm gonna grind this out and see how good I can get and see if I can't enter in some tournaments, and see if I can't try and go play professional golf eventually," Manziel said on the Green Light with Chris Long podcast earlier this year. "I think it is a very uphill battle, but that's what I'm setting for my goals. I have 12 years to try and make a PGA Tour event."
Manziel has been playing golf ever since he was a child. He spent his summers playing almost daily at local Hollytree Country Club in Tyler, Texas, and he's become quite good ever since calling it quits on his football career. Manziel's 12-year window would give him until age 40 to qualify for a PGA Tour event.
Manziel was just handed a harsh reality check
Johnny Golf decided to put his money where his mouth is and enter this week's Texas State Open at The Cascades Golf & Country Club in Tyler, Texas.
It uh… didn't go as well as he hoped.
According to Monday Q Info on Twitter, Manziel showed up to the first round of the tournament not knowing he had to wear pants on the course. He reportedly scrambled to find a pair before his tee time and didn't even get to warm up on the range beforehand.
Manziel proceeded to shoot a 9-over 79 and a 5-over 75 in the first two rounds of the tournament to miss the cut by 16 strokes, and he finished in second-to-last place in the field of 156 players (six golfers withdrew). The leader of the tournament sits at 14-under par after two rounds, which is 28 strokes ahead of Manziel.
"I didn't come here by any means thinking I was going to come in here and win this tournament," Manziel told the Tyler Morning Telegraph this week. "But I have a lot of people supporting me, a lot of family, and a lot of friends that came out throughout the day. I've gone around this place hundreds of times. It was fun to do it in a competitive tournament setting." 
It's not out of the realm of possibility that Manziel could eventually find his way into a PGA Tour event, but this week proved he has a long way to go.
Is Manziel in over his head?
Not many people realize how much better pro golfers are compared to the casual scratch golfer, which Manziel claims to be. Shooting even par isn't going to cut it in professional events, and shooting 14-over surely isn't.
But we'll give Manziel a pass in his first pro tournament appearance. At least now he knows how much he has to improve to make his new dream a reality. With a proven swing coach and thousands of hours on the range, who's to say he can't qualify for a PGA Tour event in the next 12 years?
After all, the dude was the best player in college football nine years ago. He's still got that greatness inside of him somewhere.
What a redemption story it would be if Manziel accomplishes his lofty goal.