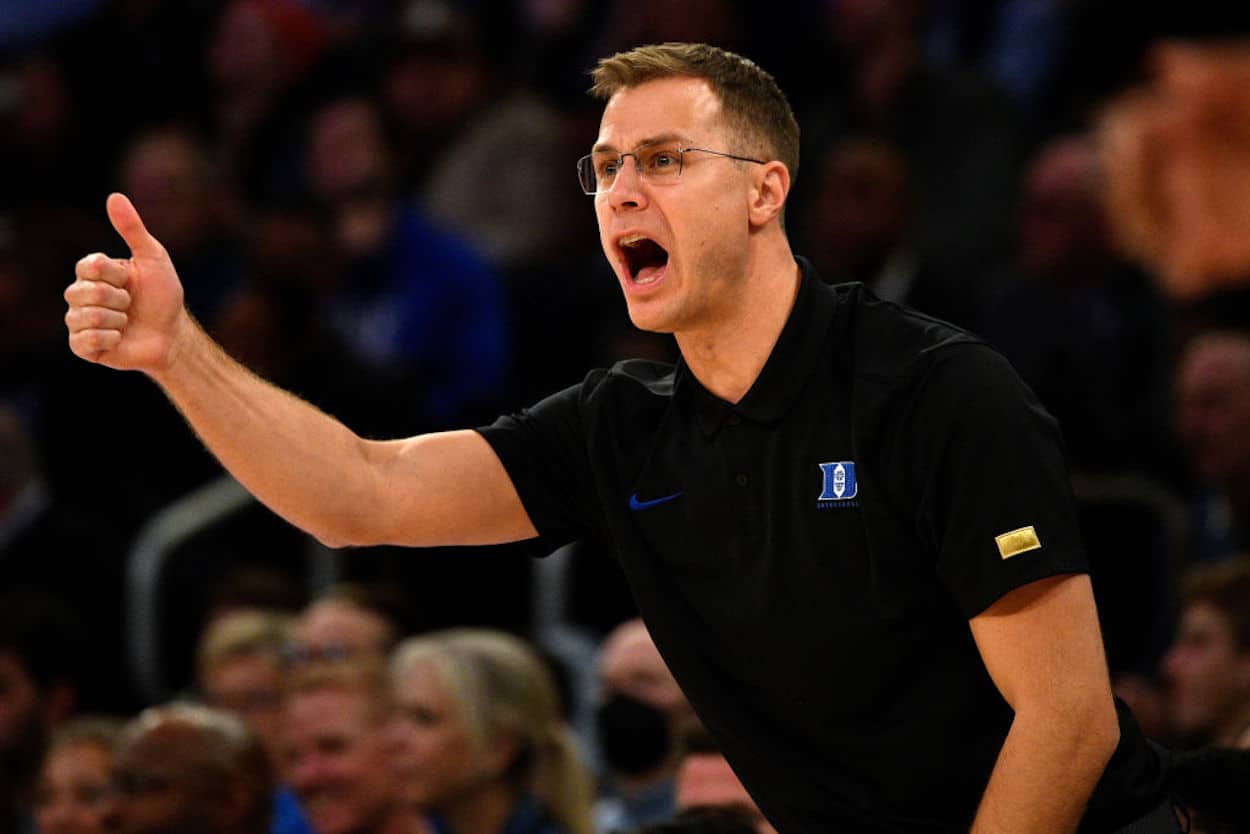 Jon Scheyer's Shock Hiring of Rachel Baker Is Almost Guaranteed to Make Duke Basketball Even More of a Juggernaut
Jon Scheyer hasn't been head coach for long, but he's already positioned the Duke Blue Devils for long-term success.
For decades, the Duke Blue Devils men's basketball program was rather stable. Coach K ruled the roost, and everything fell into place under him. Now that the seal is broken, however, the changes just keep coming.
As everyone knows, Jon Scheyer has taken over the program and is putting his own stamp on things. He's spoken about doing things slightly differently than Krzyzewski and even made an unthinkable move by hiring a coach without Duke ties. Now, it seems like an even bigger addition is coming down the pipeline.
Rachel Baker might not be a household name, but, based on the way things have been trending in Durham, she could be the piece that ensures Duke remains atop the NCAA basketball landscape for years to come.
Jon Scheyer landed Nike's Rachel Baker as his program's new general manager
When you hear the term "general manager" you probably think of professional sports where contracts and trades are literally a big-money business. As of now, though, Duke will be bringing that position to the NCAA ranks.
On Tuesday, June 7, news broke that Rachel Baker would be coming to Durham and joining the Blue Devils as a GM. As laid out in Duke's official statement, Baker has previously worked with both Nike and the NBA. In the former role, she "led grassroots partnerships and event strategy for Nike's Elite Youth Basketball League" in addition to managing "strategic initiatives between the footwear giant and NBA All-Star Kevin Durant." In the latter, she "served as the marketing and brand lead of a season-long task force in rebranding the WNBA and helped to introduce digital solutions to refresh the NBA All-Star Game and NBA Combine."
Scheyer expects that her experience in those spaces will help Duke navigate a rapidly changing NCAA landscape, where name, image, and likeness money will presumably play a larger and larger role.
"The state of college basketball is growing and changing at an exponential rate," said Scheyer. "Rachel is a one-of-a-kind talent with unique experience that will provide our players and their families with an unparalleled resource and partner as we navigate new frontiers of college basketball together. Through her work in the NBA and at Nike, she brings nearly a decade of expertise in the business of basketball to our staff, as well as her gifts in relationship and community building, leadership development, and experiential marketing. We can't wait to see all she brings to our program in this newly-created position."
Between Baker and Jai Lucas, Scheyer has made two savvy hires to keep Duke atop the NCAA pyramid
Whether we're talking about sports or business, you've probably heard plenty of cliches about how stagnation leads to falling behind the pack. While it remains to be seen how his team will perform, Scheyer is certainly doing his part to keep Duke in touch with the modern realities of basketball.
As laid out above, Baker has an intimate understanding of the business of basketball. That, combined with her connections to Nike's Elite Youth Basketball League, suggests that the program is ready to flex all of its branding and financial might. The Blue Devils already have a brand that largely speaks for itself. If they're able to further leverage their connections to Nike and link recruits up with a general manager who has worked with the likes of Kevin Durant on commercial projects, the sales pitch almost writes itself.
Duke essentially acknowledged that reality in their statement. The program explained that Baker "will specialize in helping players enhance their personal and professional skill sets, capitalize on strategic partnerships, including NIL opportunities, and work to support players in navigating the opportunities and challenges that come with being a student-athlete at the highest level."
Earlier this offseason, Scheyer also brought Jai Lucas to Durham. During his time at Kentucky, the assistant coach developed a reputation as a top-notch recruiter. In theory, he'll provide the people skills and personal connections to complement a package that includes NIL opportunities, chances to build your brand, and on-court success.
In theory, this is the sort of situation that snowballs. Duke already has the top-ranked recruiting class for the upcoming NCAA season. If we assume that talent translates into a strong season, it further boost the Blue Devils' commercial standing, theoretically allowing players to gain larger social followings, command more money from brands, and the like.
If the Blue Devils are also able to offer more commercial opportunities and a chance to build an NBA-style brand portfolio before turning pro, that will only enhance their offerings to prospects who have an eye on the a big-time basketball career. At that point, the flywheel just keeps turning. Each successful season will increase the program's prestige (and financial might), which will give Scheyer, Lucas, and Baker more ammunition to keep the ball rolling.
While it's unlikely that we'll get a UCLA-style scenario where Duke dominates the NCAA for years — it's safe to assume all the blue-blooded programs will be following their lead — Baker's hiring is a clear statement of intent. The Blue Devils may have lost a legendary coach, but they now have a top-notch GM sitting upstairs. Even if she can't pull off personnel moves like her professional counterparts, she's still a strong hire with plenty of experience and connections. If anyone is equipped to sell a vision of how attending Duke could shape a player's life and career, it's Baker.
In a (relatively) recent interview, Scheyer spoke about seeing the new college basketball landscape as an opportunity rather than an obstacle. Based on the hiring of Rachel Baker, he's already living up to his promise.
Like Sportscasting on Facebook. Follow us on Twitter @sportscasting19 and subscribe to our YouTube channel.