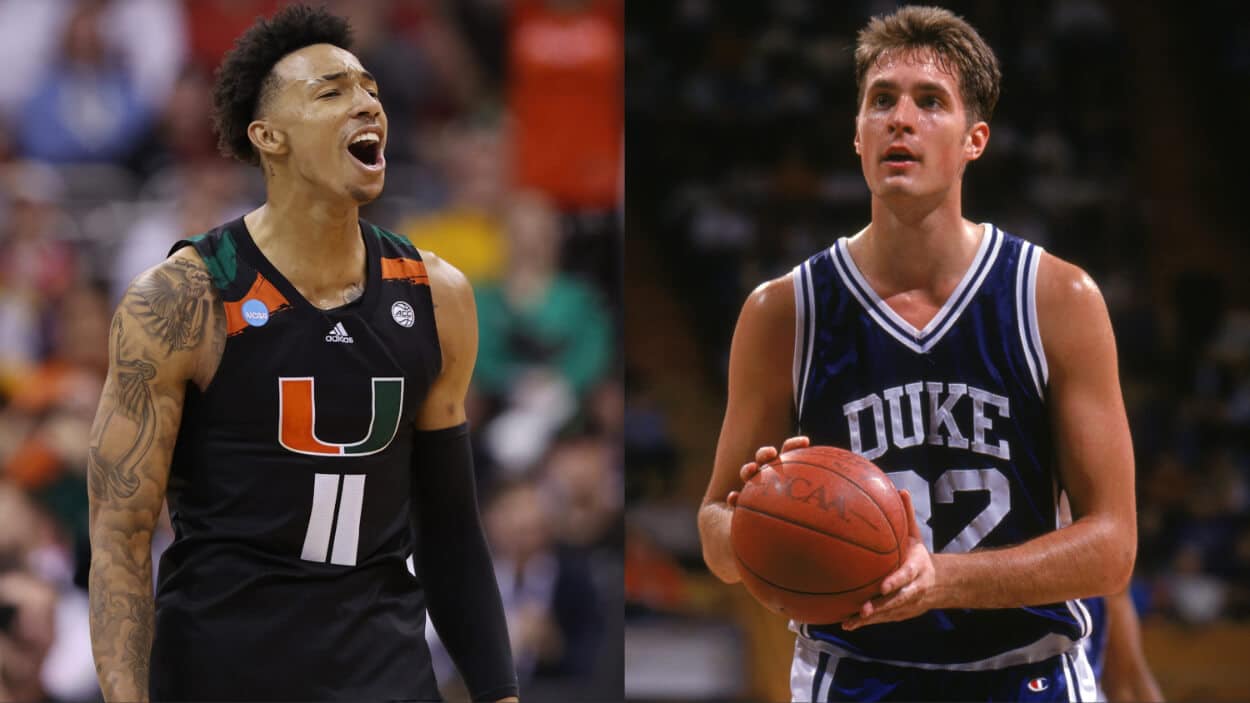 Jordan Miller Joins Christian Laettner in Historic Club as Miami Goes to Final Four
Jordan Miller led Miami to its first Final Four in the 2023 NCAA Tournament and did something no one but Christian Laettner has done.
On any short list of the greatest college basketball players of all time, you'll find former Duke Blue Devils star Christian Laettner. And if you remember one Laettner game at Duke, it's the 1992 Elite 8 game against Kentucky, when he hit "The Shot." Well, in the Elite 8 of the 2023 NCAA Tournament, Miami guard Jordan Miller didn't have to hit an iconic buzzer-beater to take his team to the Final Four, but he did do something that hasn't happened in March Madness since that famed Laettner game.
Jordan Miller was perfect in the Elite, 8 just like Christian Laettner
The part of the 1992 NCAA Tournament Elite 8 game between Duke and Kentucky that everyone remembers is the three-quarters-court pass from Grant Hill that Christian Laettner caught at the foul line. The Duke superstar took one dribble, faked right, spun left, and sunk the most famous shot in March Madness history.
Duke ultimately beat Kentucky 104-103, but it would have never gotten to that point if Laettner wasn't perfect in that game. The Blue Devils forward was 10-of-10 from the field (9-of-9 from two and 1-of-1 from three) and 10-of-10 from the foul line for 31 points.
That perfection has never been duplicated in the NCAA tournament until 2023.
In the Miami Hurricanes Elite 8 game vs. the Texas Longhorns, fifth-year senior Jordan Miller had a game that would make Christian Laettner proud.
During the 'Canes 88-81 win to get them to the school's first Final Four, Miller was perfect. He was 7-of-7 from the field and 13-of-13 for 27 points. The George Mason transfer led all scorers in the game and hit four free throws down the stretch to take the game from a four-point contest to a six-point affair.
The Miami win capped a weekend that truly put the Madness in March and created a Final Four with no top-three seeds.
The 2023 Final Four is the most unexpected of all time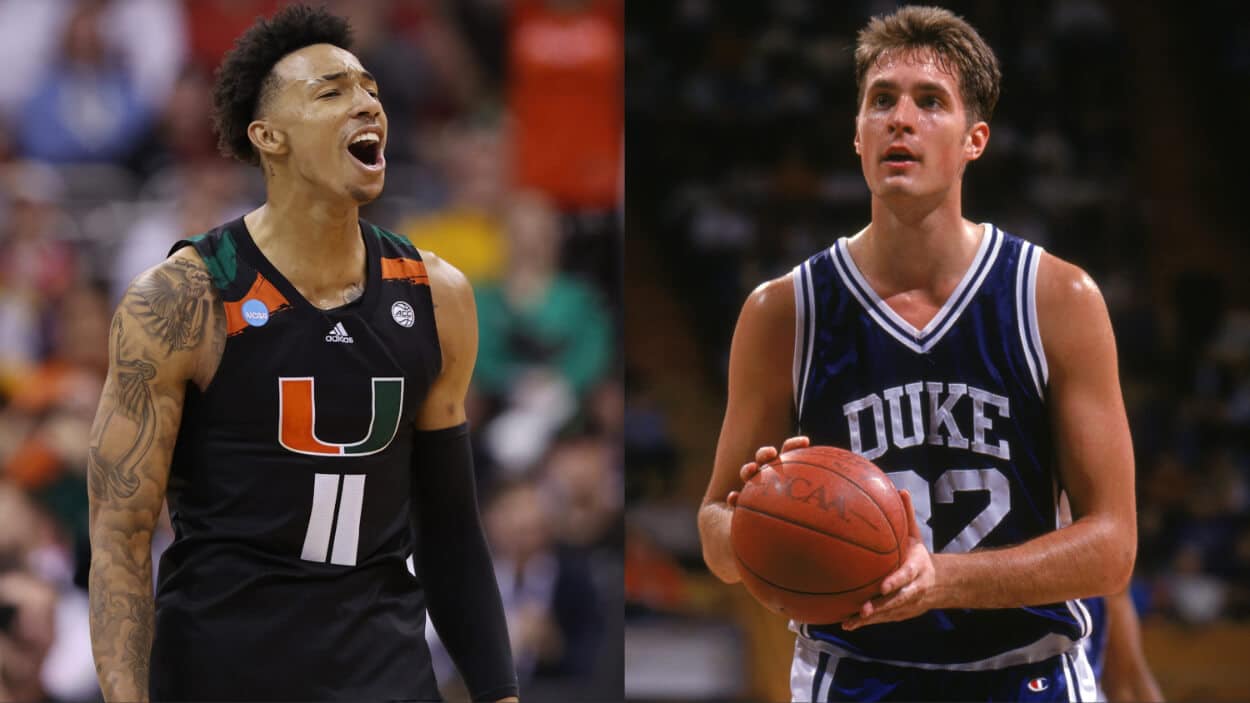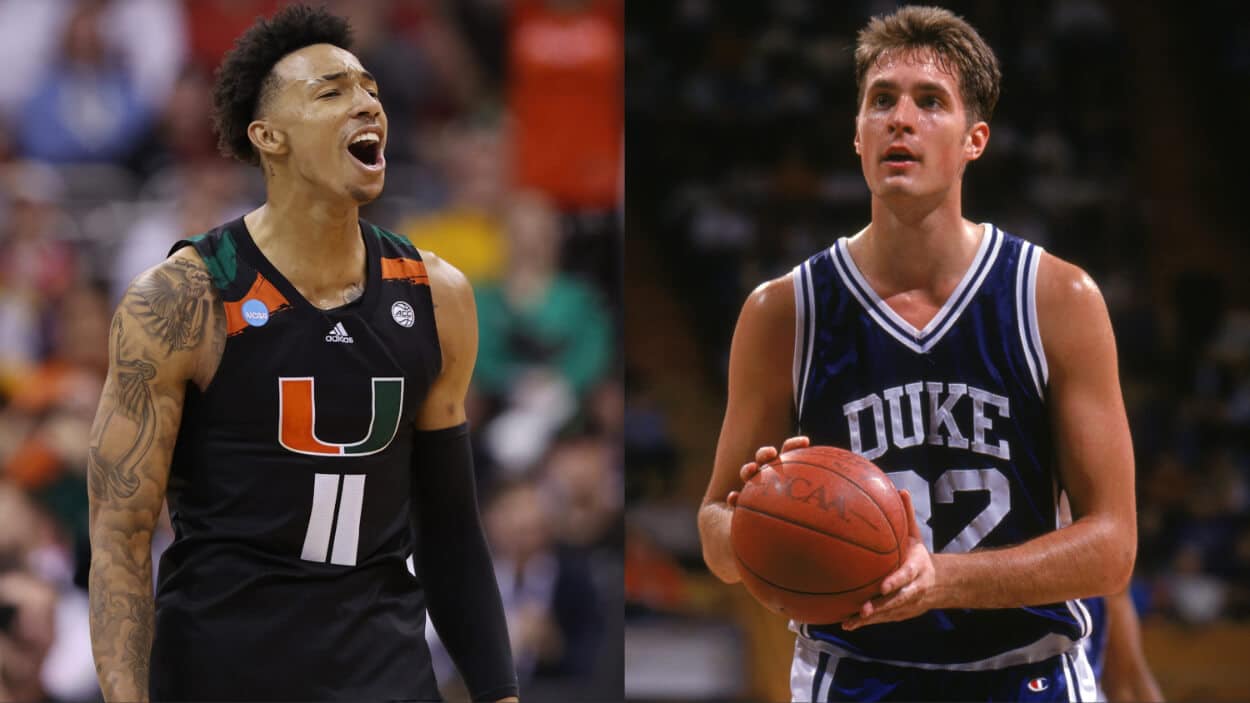 The Final Four of the 2023 NCAA Tournament is now set. It will be No. 9 seed Florida Atlantic University vs. No. 5 seed San Diego State in the first game in Houston and No. 5 seed Miami vs. No. 4 seed UConn in the second.
Lower-seeded teams have made the Final Four before. No. 11 seeds UCLA (2022), Loyola-Chicago (2018), VCU (2011), George Mason (2006, by Miami's current coach, Jim Larranaga), and LSU (1986) are the lowest seed to make the last site since the tournament expanded to 64 teams in 1985.
However, 2023 is now the first time in modern March Madness history that no teams higher than a No. 4 seed is in the Final Four. In fact, it is only the third time at least one No. 1 seed hasn't been in this vaunted last group.
In 2011, the Final Four was UConn (No. 3), Butler (No. 8), Kentucky No. 4), and VCU (No. 11), and in 2006 it was Florida (No. 2), UCLA (No. 3), George Mason (No. 11), and LSU (No. 4).
Now, all 12 1-, 2-, and 3-seeds are out of the Big Dance, and just the lower seeds remain.
UConn is playing in its sixth Final Four and vying for the school's fifth Men's basketball national championship. For FAU, SDSU, and Miami, this is the first trip, which means their first title if they can win two more games.