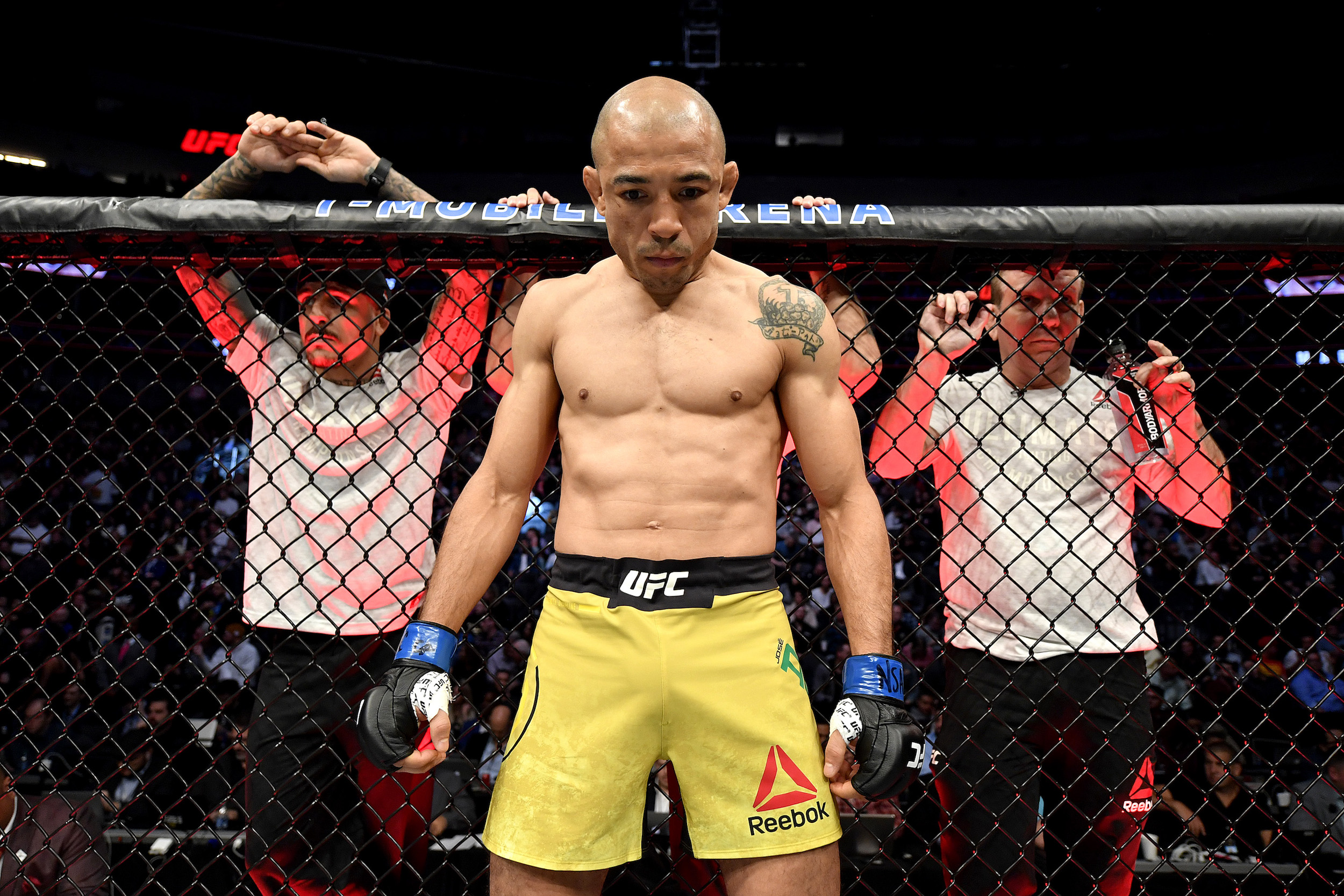 Jose Aldo Is Worth $9 Million Today but Almost Quit Fighting to Save $2
While most professional fighters don't make Patrick Mahomes money, you can still build up a nice fortune in the octagon. Jose Aldo is proof of that reality; thanks in large to his UFC success, the Brazilian bantamweight is worth an estimated $9 million. He wasn't always incredibly wealthy, though. While mixed martial arts have made …
While most professional fighters don't make Patrick Mahomes money, you can still build up a nice fortune in the octagon. Jose Aldo is proof of that reality; thanks in large to his UFC success, the Brazilian bantamweight is worth an estimated $9 million. He wasn't always incredibly wealthy, though.
While mixed martial arts have made Aldo rich, he almost stopped fighting because of one harsh reality: he was looking to save a few bucks.
Jose Aldo's dominant fighting career
These days, Jose Aldo is one of the top MMA fighters to ever step into the octagon. His success, however, isn't a recent phenomenon.
Aldo turned pro at age 17 and made a name for himself on the Brazilian MMA scene. He made his World Extreme Cagefighting debut in 2008; within a year, he claimed the featherweight title. After the UFC and WEC merged, he retained the belt and defended it seven times.
In December 2015, however, everything changed. Aldo faced Conor McGregor and was knocked out in 13 seconds; while he managed to reclaim the belt with a win over Frankie Edgar, the Brazilian hasn't been able to reclaim his lost form.
After defeating Edgar by unanimous decision in July 2016, Aldo lost two consecutive fights to Max Holloway. The Brazilian won his next two bouts before suffering another defeat at the hands of Alexander Volkanovski. A new weight class didn't change Aldo's fortunes, either, as he dropped his bantamweight debut to Marlon Moraes.
Quitting capoeira to save $2
While Jose Aldo has become rich and famous thanks to mixed martial arts, they weren't his first love. The Brazilian initially dreamed of being a soccer star.
During his youth, however, Aldo found a new sport. As Guilherme Cruz explained for MMAFighting.com, capoeira training proved to be a natural fit for the boy's talents. There was one problem, though: classes cost money, and Aldo's father wasn't making much as a bricklayer.
"Aldo had to leave capoeira because he had to pay a 10 reais [about $1.85] fee," Marcio Pontes, a local jiu-jitsu teacher explained. "That's really cheap, but he didn't have that money at the time. He stopped playing capoeira and saw this opportunity to train jiu-jitsu, but he had no money to buy a gi either."
Pontes gave Aldo and his cousin, Andre Luiz, two spare gis, and they began training. Before long, Jose started winning tournaments. Those victories would pave the way for his future career.
These days, Jose Aldo doesn't have to worry about money
Growing up in Brazil, $2 was enough to force Jose Aldo to leave capoeira training behind. These days, however, money isn't a concern.
According to CelebrityNetWorth, the Brazilian has an estimated fortune of $9 million. While that number may pale in comparison to some of the sport's biggest names—Conor McGregor, for example, is worth an estimated $120 million—that's nothing to sneeze at, especially given Aldo's past.
"If today I am who I am and I fight the way I fight, It's thanks to all the adversities I encountered in life," Aldo explained, according to Elias Cepeda of Yahoo Sports. "The way I lived my life is what made me strong. That's what makes me a rounded person, with a good mind-set, able to go in there and win."