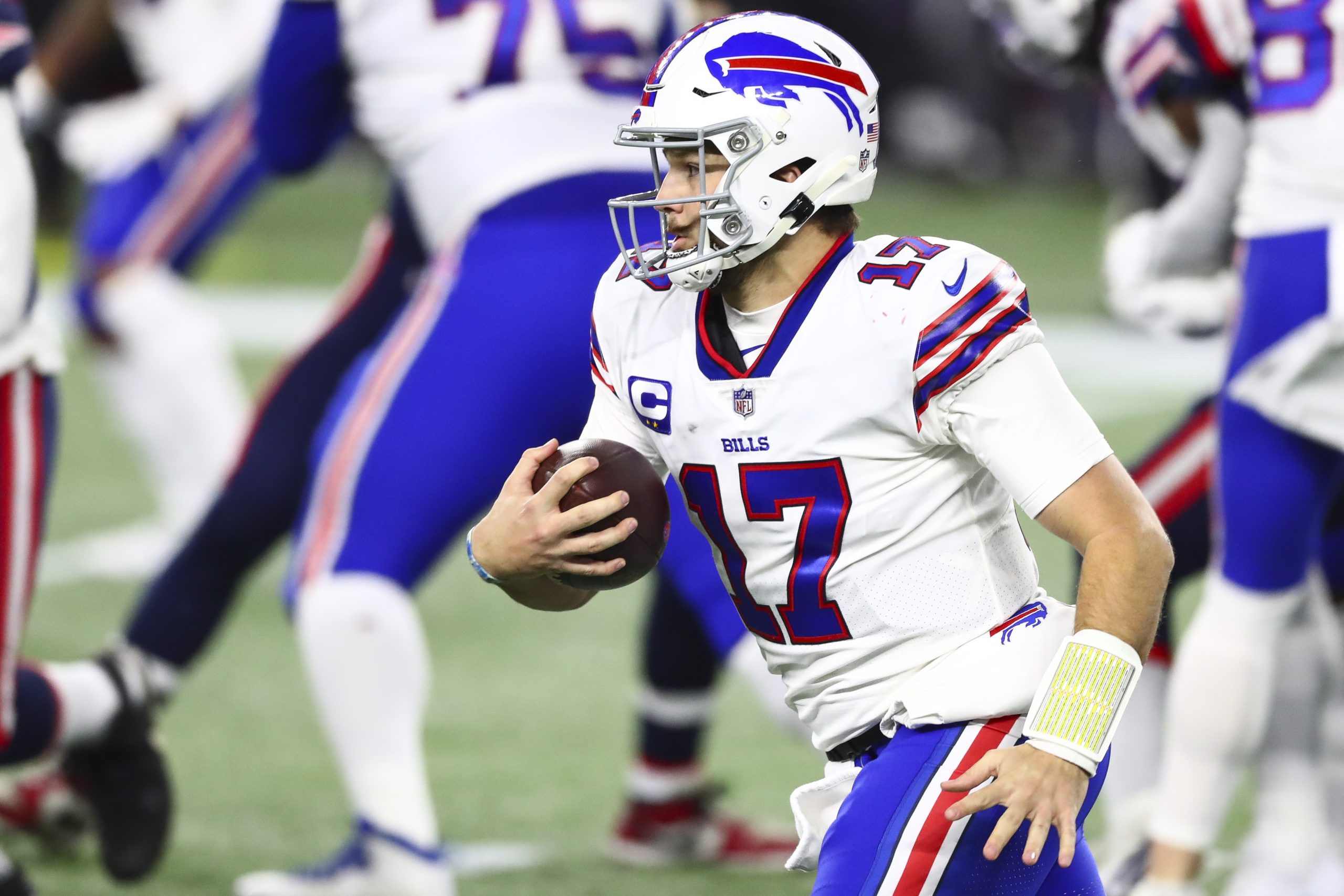 Josh Allen Fully Expects Bill Belichick's Defense Will Keep Him on His Poorly-Circulated Toes
Josh Allen knows he will be on his poorly-circulated toes when he faces Bill Belichick and the New England Patriots for the third time.
Quarterback Josh Allen has a lot to be concerned about heading into Saturday's playoff game with the New England Patriots. It will mark the third time in five weeks he'll face a Bill Belichick defense. It will also be the second time where the weather is expected to play a significant role. The Buffalo Bills quarterback recently admitted he has poor circulation in his feet and his toes go numb in sub-freezing conditions. Allen expects Belichick and the Patriots defense will have him on those numb toes throughout the course of the game.
Josh Allen and the Buffalo Bills bracing for some brutal weather
The temperature for Saturday night's game is expected to be in the single digits at game time with a wind chill that will make it feel like it's below zero. According to USA TODAY, it could be one of the top three coldest games ever played in Buffalo. The teams got a dose of poor weather in their first meeting this year back on Dec. 6 in a Monday Night Football game at Highmark Stadium.
That game was played in heavy winds and cold rain that affected normal game preparation. Rookie quarterback Mac Jones threw three passes in the game and pulled out a 14-10 victory for the Patriots. Those toes are just another thing to worry about when New England comes to town this weekend.
"I think the most important thing for me is, I don't know why, I got bad circulation in my feet," Allen told reporters this week, according to WBZ Channel 4 in Boston. "My toes get really cold and they go numb a little bit, So just keeping those suckers warm and as dry as possible, as well as the hands — obviously that's a big emphasis for quarterbacks, you need your hands to throw. So keeping those extremities as warm as possible."
Allen said the problem is worse when he's on the sideline while his defense is on the field.
"I'm a one-layer sock guy," he said. "We've got the heated benches and they've got the little foot warmers there. But sometimes when it's super cold, it doesn't feel like much. So I gotta get by the heaters."
Josh Allen expects Bill Belichick's defense to keep him on those poorly-circulated toes
This will be the third meeting between the two clubs since Dec. 6, 2021. After that weather-dominated first game in Buffalo, when Belichick put together a strong game plan, Allen got revenge in Foxboro. The Bills quarterback put up 33 points, throwing for three touchdowns in a 33-21 victory.
Allen knows Belichick will have something special planned for this third meeting.
"You always gotta adjust for him," Allen told reporters on a call Tuesday, per NESN. "The second you start thinking it's a sure thing, that's when it gets the rug swept (out from) under your feet and you're thinking the wrong coverage and throwing the ball to a backside corner you didn't think was there.
"You gotta make sure you see everything before the snap and just reassure it after the snap. If it's something that you thought was different, it's getting out of it and trying to find the right person to throw the ball to and not forcing a bad decision to make it worse."
Allen expects '12-roud slugfest' with the Patriots
One thing is for sure in Allen's mind — nothing will come easy against Belichick and the Patriots. Usually, they say it's tough to beat a team three times, but in the NFL that number is chopped down to two, according to Allen.
"It's hard to beat a team twice in a season," he said, according to Patriots.com. "That speaks for both sides because we are 1-1 on the season. They beat us at home, and that's where we are playing this game. So, we have to be ready for whatever they can throw at us. It's going to be a 12-round slugfest, in my opinion, and it is going to take all four quarters to win the game."
Yes, the weather will be a factor. Belichick will be a factor. Allen knows the biggest key to the game is taking care of the football.
"Ball security is the number one priority going into this game," he said. "Trying to end every drive with a kick. Playing a team three times in the season, we know each other extremely well. They know us, we know them, so it's whoever can adjust quicker. Whoever can show a different look than we saw maybe the first go-around or the second go-around and throw a different wrinkle in again.
"That's why coach Belichick is one of the, if not the, greatest coach of all time, just his ability to switch things up for a quarterback and make you see two different things."