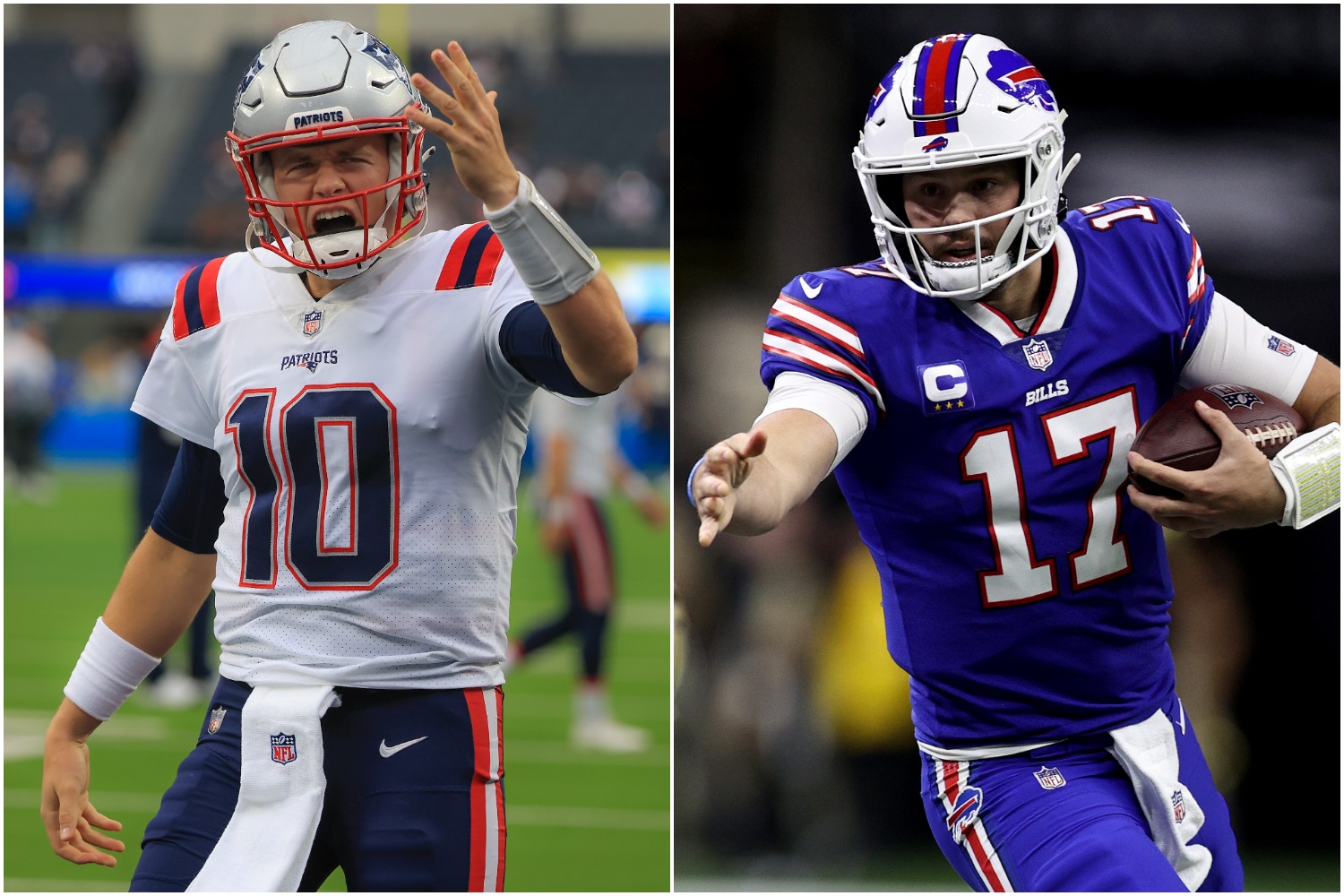 Patriots vs. Bills: Ranking the 10 Best Players in the Battle for AFC East Supremacy
Who are the best players in the matchup between the Patriots and the Bills? Talented quarterback Josh Allen isn't No. 1 on this list.
Unfortunately for the loyal members of Bills Mafia, it only took Bill Belichick two offseasons to figure out how to consistently win without Tom Brady. Coming off their first losing season since 2002, the New England Patriots have put themselves firmly in the conversation to represent the AFC in Super Bowl 56.
In fact, it would be fair to say their six-game winning streak makes them the favorites over a crowded mix of contenders that includes the Buffalo Bills, the Kansas City Chiefs, the Baltimore Ravens, and the Tennessee Titans.
Of course, the Patriots have soared up power rankings and generated ample attention over the last month and a half thanks to not only the level of preparation and planning put in by Belichick and his coaching staff, but also the improved technique, increased attention to detail, and better execution by his players. Plus, it certainly helps to have a significantly more talented roster that includes key free-agent additions like Matthew Judon and Kendrick Bourne and three instant contributors from a franchise-altering 2021 NFL Draft class.
However, just because the Patriots boast a better starting lineup on both sides of the ball doesn't mean they'll silence what should be a hostile crowd in Buffalo. After all, Sean McDermott's squad features several established stars, a solid collection of reliable starters, and a few young players on the rise.
While both head coaches will do everything in their power to secure a victory, they can only do so much from the sidelines. Ultimately, the battle for the AFC East title will come down to how the players perform under the pressure of playing a Monday Night Football game with major postseason implications.
So, who's the best of the bunch? Based on the schematic matchup, their individual production and physical skills, and their value to their respective team, here are the 10 best players to watch as the Patriots and Bills kick off their annual two-game series.
10. Christian Barmore, DT, Patriots
One of only two rookies on this list (you should be able to guess the other), Christian Barmore has quickly become a force for the stingiest scoring defense in the NFL. After slipping to the second round of the draft due to work ethic and character concerns, he's already made the other 31 teams look completely foolish for letting him fall into Bill Belichick's lap.
A powerful, explosive defensive lineman who's shown the ability to defeat double-teams and wreck havoc on passing downs, Barmore has brought a different dimension to the Patriots' rugged front seven. The 6-foot-4, 310-pound Alabama product has a chance to inflict major damage against a Bills offensive line that let Josh Allen get sacked nine times in four November games.
The arrow is pointing up for Barmore, who has a prime opportunity to display his Pro Bowl-caliber skills in front of a national audience. Considering he won defensive MVP honors in the 2021 College Football Playoff National Championship, it's safe to say he has a history of stepping up in big moments. And with an advantageous matchup against an average-at-best offensive line, don't be surprised to see the promising rookie in the backfield on at least a few occasions.
9. Kendrick Bourne, WR, Patriots
A few weeks ago, Kendrick Bourne probably wouldn't have made the cut. But after leaning heavily on third-year running back Damien Harris earlier this season (he just missed making this list), the Patriots have racked up big point totals during their six-game winning streak thanks in large part to the first-year wideout.
Bourne's top-notch athleticism and strong leadership skills have made him a perfect fit in Foxborough. Not only has he added value as a positive presence in the locker room, but he's added an explosive element to a passing attack that looked lifeless in 2020.
Although the former San Francisco 49ers receiver doesn't have any Pro Bowls on his resume, he's undoubtedly one of the most physically talented players on the field every week. With Josh McDaniels featuring him more prominently, expect Bourne to make at least a few splash plays against a secondary that recently lost star corner Tre'Davious White to a torn ACL.
8. Micah Hyde, FS, Bills
Safety play will be critical in a game that features two top-10 offenses. Luckily for both coaches, they have excellent players who patrol the back end and make sure things run as smoothly as possible. And that's exactly why Micah Hyde ranks eighth on this list.
The 30-year-old has been a key starter for the Bills since he arrived in 2017 as a free agent. The one-time Pro Bowler doesn't put up prolific stats, but he deserves this spot because of his intelligence, reliability, and ability to make a rookie quarterback like Mac Jones pay for any ill-fated decisions.
How good has Hyde been in his fifth year in Buffalo? The 6-foot, 197-pound veteran ranks third among the 91 safeties graded by Pro Football Focus. His sticky coverage skills and smarts make him a threat to intercept a pass at any time, which makes it critical for Jones to know where Hyde is both before and after the snap.
7. Devin McCourty, FS, Patriots
While the Bills have an excellent free safety, the Patriots have their own, too. In fact, when you dig deeper into the numbers, it's possible that the 2021 season might be the best of Devin McCourty's lengthy NFL career.
The longtime leader of Belichick's defense has made quarterbacks regret throwing in his direction by allowing only seven completions on 19 targets for 142 yards and zero touchdowns, giving him a ridiculously good passer rating allowed of 24.3. McCourty, the Patriots' top draft pick in 2010, has intercepted two passes, broken up eight, and also helped force turnovers against the New York Jets and Tennessee Titans with his instincts and ability to read the quarterback's eyes.
At 34 years old, the three-time Super Bowl champion brings more than a decade of experience to the table. Given Josh Allen's penchant for making mistakes in critical moments, McCourty could come up with another game-changing play in what could be his final road trip to Buffalo as a Patriot.
6. Jordan Poyer, SS, Bills
Three straight safeties may seem like overkill, but it simply speaks to the sheer amount of talent at the position in this matchup. While McCourty's resume and terrific 2021 coverage numbers put him ahead of Hyde, he's a notch behind Buffalo's other Pro Bowl-caliber safety: Jordan Poyer.
Sixth in PFF's positional rankings, the 30-year-old has vastly outplayed his seventh-round pedigree. Drafted by the Philadelphia Eagles back in 2013, Poyer has been one of the Bills' best players since he signed as a free agent in 2017. A versatile defensive back who's topped 100 tackles in each of the last three seasons, he also has a knack for making impact plays, as evidenced by his 18 interceptions, eight sacks, 35 passes defended, six forced fumbles, and six fumble recoveries in 73 starts for Buffalo.
Poyer and Hyde form a fantastic tandem, and both have the experience and skills to ruin Mac Jones' first road game against the Bills. While the latter certainly deserves credit for his strong play, the former deserves All-Pro recognition for his efforts.
5. Mac Jones, QB, Patriots
It certainly hasn't taken long for Mac Jones to quiet the narrative that his head coach can't win without the greatest quarterback of all time.
Has he been perfect?
Of course not.
Has he played a pivotal role in transforming the Patriots from pretenders to contenders?
Absolutely.
After all, no NFL quarterback posted a higher passing rate in November than Jones' 117.2. Considering he's less than a year removed from playing in college, it's only reasonable to assume this is just the beginning for the highly intelligent, highly accurate, and highly competitive first-year signal-caller.
The Bills' veteran-laden defense presents a significant challenge for the Patriots' entire offense. Obviously, Jones has to answer several questions over the coming weeks, including whether he can beat a championship contender that's not missing big-name stars. But between the way he's performed during New England's winning streak and the strong play of his offensive line and weapons, it would be foolish to underestimate Jones heading into Monday Night Football.
4. Stefon Diggs, WR, Bills
After leading the league in receptions (127) and receiving yards (1,535) in his debut season with the Bills, Stefon Diggs has come back down to Earth a bit. However, even though he's "only" averaging 77 yards per game compared to 95.9 a year ago, that doesn't mean he still isn't one of the most dangerous players on the field.
An elite route runner with excellent hands and great athleticism, the 2020 first-team All-Pro ranks ninth among the 127 wide receivers in PFF's system. With 101 targets in 11 games, Diggs clearly has Josh Allen's full trust and confidence. And despite averaging just 12.6 yards per catch, the seventh-year pro's seven touchdowns reflect his status as a scoring threat.
Still, the reason Trevon Diggs' older brother didn't earn the No. 3 spot has to do with the person he should expect to see plenty of in Monday's star-studded matchup.
3. J.C. Jackson, CB, Patriots
Like Mac Jones (and the Patriots as a whole), J.C. Jackson had a November to remember. The soon-to-be free agent strengthened his case for a top-five cornerback contract by winning AFC Defensive Player of the Month honors. A ball-hawking presence who has the physicality and size to handle bigger, stronger receivers, the undrafted free agent-turned-superstar will likely face Diggs on most snaps.
Jackson has essentially made everyone forget about the Stephon Gilmore trade by developing into a top-flight corner in his own right. Plus, he benefits from playing alongside battle-tested veterans like McCourty, Dont'a Hightower, Kyle Van Noy, and Lawrence Guy. Ultimately, though, the All-Pro candidate and Pro Bowl shoo-in should land a lucrative raise in the coming months via the franchise tag or a long-term deal.
And if the Bills' best player makes a mistake, Jackson could very well add career interception No. 25 in his 58th regular-season game.
2. Josh Allen, QB, Bills
Sorry, Bills fans. Josh Allen may rank No. 1 in your hearts, but he's not the best player in the battle of two top AFC contenders.
Does he have immense physical talent?
No doubt about it.
Has he been as good as he was in 2020?
The numbers say no.
Allen's statistics have taken a dip (he's already matched last year's interception total through 11 games), but he's still tough to stop. With arguably the strongest arm in the league and the wheels and frame to make an impact as a runner, he can carve up defenses via the air or on the ground. With 25 passing touchdowns and three rushing touchdowns, the fourth-year quarterback clearly has a knack for finding the end zone.
Of course, Allen faces an uphill battle to move the ball against a defense that ranks No. 1 in the NFL in points allowed at a paltry 15.8 per game. And with a suspect offensive line and a group of weapons that isn't necessarily elite, he will have to deliver his best performance of the season.
But if the best player on this list does his job, Bill Belichick will hand yet another big-name passer another loss.
1. Matthew Judon, OLB, Patriots
Josh Allen has fallen behind in the MVP race because of an up-and-down November that includes rough outings against the lowly Jacksonville Jaguars and the 6-6 Indianapolis Colts. Meanwhile, Matthew Judon has a much stronger case to win the NFL Defensive Player of the Year Award thanks to his magnificent month of production.
New England's top pass rusher recorded 3.5 sacks, eight quarterback hits, and three tackles for loss in four November victories. And by totaling a career-high 11.5 sacks in only 12 games, Judon undoubtedly found the perfect fit for his services by signing a four-year, $56 million contract on the first day of free agency.
His ability to defeat offensive tackles on a routine basis has totally transformed a Patriots defense that allowed 26 points last month. In addition, Judon has earned the respect of coaches and teammates by leading by example on the field while maintaining a professional, humble approach.
Dion Dawkins and Daryl Williams will have their hands full when the 6-foot-3, 275-pound outside linebacker comes flying off the edge. And if Bill Belichick's red-sleeved, long-haired, and uber-productive defensive star continues doing what he's done since Week 1, the Patriots should separate themselves from Josh Allen and the Bills in the AFC East standings.
All statistics courtesy of Pro Football Reference.