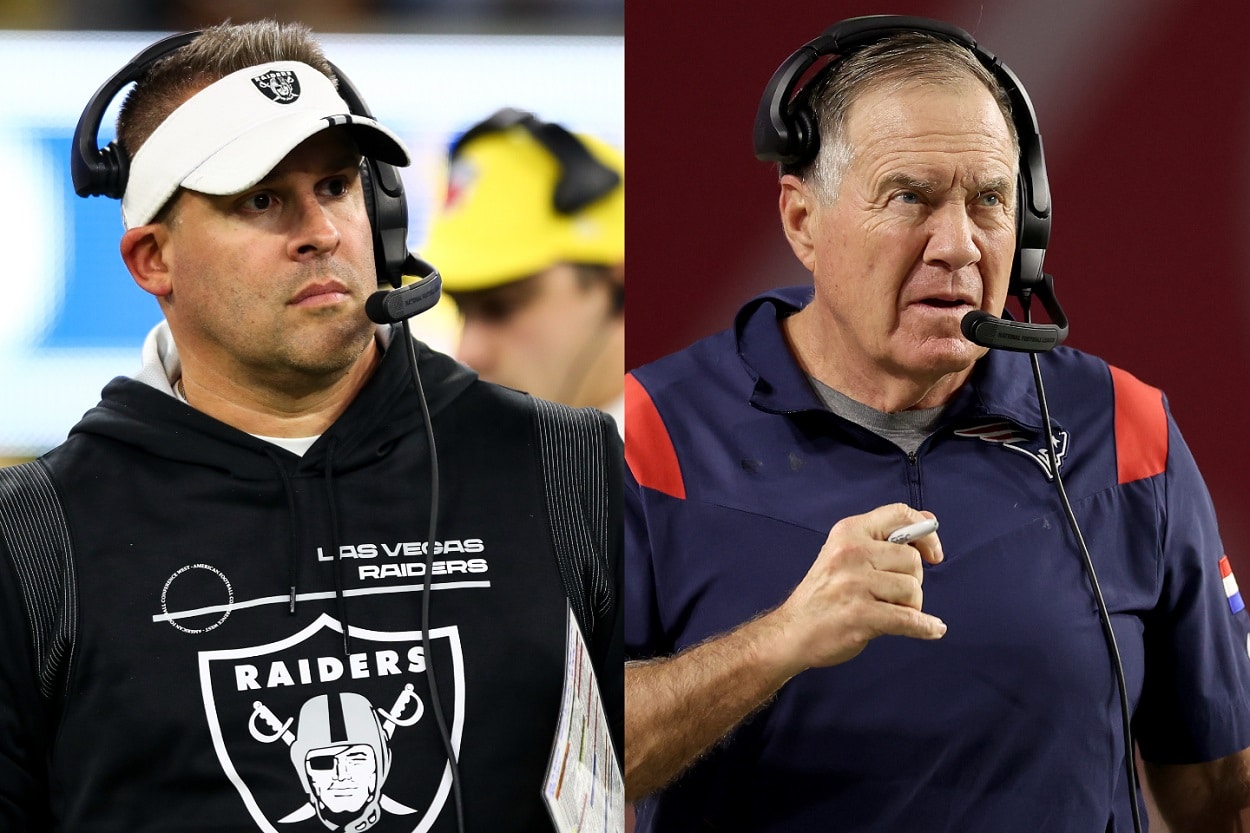 Josh McDaniels Can Become the Ultimate Villain or a Hero in New England by Exposing Bill Belichick
Josh McDaniels takes on former boss Bill Belichick in Week 15.
If Josh McDaniels can figure out a way to take down his former boss, things could change drastically for the New England Patriots in the coming months. 
With Bill Belichick's team fighting to stay relevant in the crowded AFC, his ex-offensive coordinator has an opportunity to not only secure a much-needed win to keep his own team's slim playoff hopes alive but also cement his case as Patriot Nation's ultimate friend — or foe. 
After all, those who've lost faith in the #InBillWeTrust motto might not be upset to see Belichick stumble down the stretch and have to face the consequences of his bizarre decision to entrust Matt Patricia and Joe Judge with Mac Jones' future.
In fact, if the Las Vegas Raiders emerge victorious over a 7-6 Patriots team that's taken a massive step back on offense this season, McDaniels may just find a few more supporters on his side who call New England home.
The 2022 season hasn't gone as planned for Josh McDaniels or Bill Belichick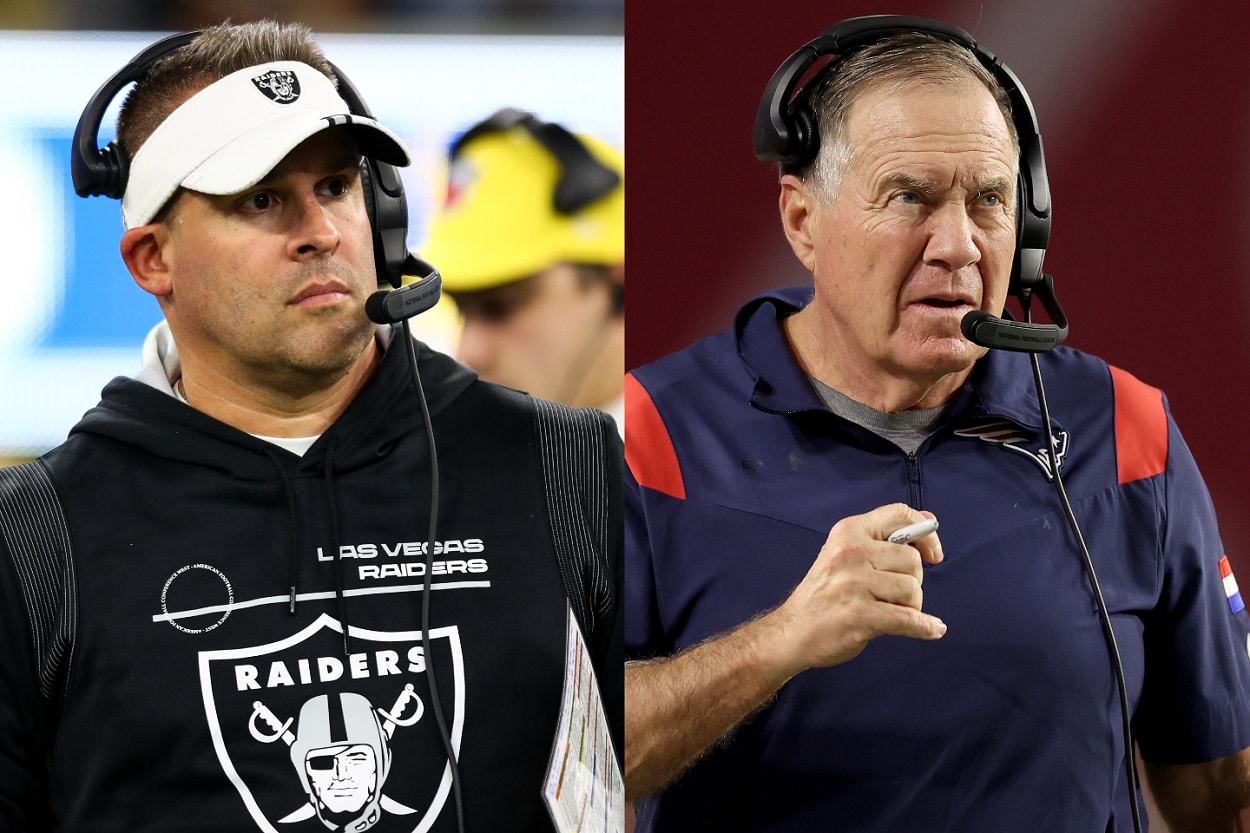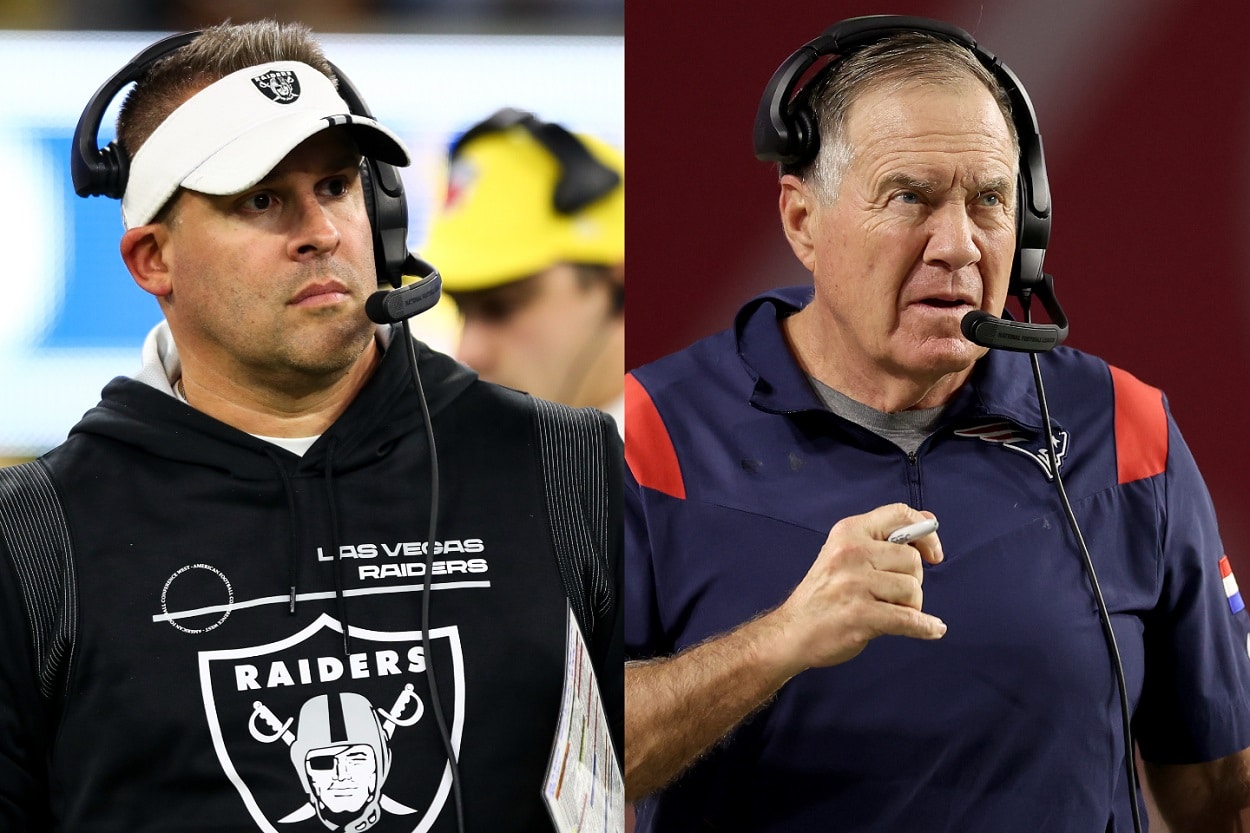 Although few expected the Raiders or Patriots to compete for the No. 1 seed in the AFC, both teams entered the season with expectations of at least earning a Wild Card berth. However, it's fair to say neither Bill Belichick nor Josh McDaniels have lived up to their reputations. 
In Foxborough, a dominant defense led by the dynamic pass-rushing duo of Matthew Judon and Josh Uche has been forced to make up for one of the least exciting and efficient offenses in the league. Despite ranking fifth in points allowed (18.4 per game), the Patriots enter Week 15 just one game above .500 due largely to the ineptitude of Belichick's hand-picked replacement for McDaniels: ex-defensive coordinator Matt Patricia. 
To no surprise, the bold move to put the Detroit Lions flameout in charge of both the offensive line and calling plays has backfired on the second-winningest coach in NFL history. Mac Jones and Kendrick Bourne–two of the team's best performers in 2021–have publicly questioned the direction of the offense dating back to the offseason.
And with a brutal slate ahead that includes matchups against the surging Cincinnati Bengals and the explosive Miami Dolphins and Buffalo Bills, there's little reason for optimism about the Patriots' chances of making the playoffs. 
Ironically, as Belichick attempts to avoid a second late-season collapse in three seasons, his longtime assistant is trying to overcome a sluggish start to his second stint as an NFL head coach. 
After a nightmarish first half that featured several double-digit blown leads, the Raiders have rebounded with three wins in their last four games. Yet after squandering a winnable game against the Los Angeles Rams (another team that's been a huge disappointment), McDaniels' squad looks primed to finish with a losing record considering their final two opponents are the San Francisco 49ers and the Kansas City Chiefs.
Could McDaniels be the one to drive a nail in Belichick's coffin?
If beauty is in the eye of the beholder, then you can bet at least some Patriots fans will view McDaniels in a rosy light if he defeats Belichick on Sunday Night Football. 
That may seem blasphemous, but if you're not a believer in Belichick's ability to build a championship-caliber roster or coaching staff anymore, this matchup carries significant meaning. 
How bad would it look for the 70-year-old head coach to suffer a loss to a franchise run by the ex-New England tandem of McDaniels and Dave Ziegler? Unlike New England, Las Vegas has assembled an incredibly talented offense with more than enough weapons to expose a Patriots defense that has feasted chiefly on below-average quarterbacks.
If Davante Adams, Darren Waller, Josh Jacobs, and the rest of the Raiders' skill players expose the likes of Jalen Mills, Jahlani Tavai, and Davon Godchaux, why should Robert Kraft or Patriots fans have faith in Belichick's master plan? 
Moreover, coming off a 27-13 win over the Arizona Cardinals that did nothing to quiet criticism about Patricia's historically conservative play calling, what if New England struggles to score against a Las Vegas defense that only ranks 24th in points allowed? Superstar edge rusher Maxx Crosby and future Pro Football Hall of Famer Chandler Jones have a chance to further expose a Patriots offensive line that has gotten abysmal play out of the tackle position. 
If McDaniels' game plan proves successful, how much more evidence will Kraft need before he seriously considers making changes? A Raiders win may be the straw that breaks the camel's back, and for those who've grown frustrated with how poorly the post-Tom Brady era has gone, watching Belichick get schooled by a coach he let leave could be a sight for sore eyes. 
Of course, there are still plenty of Patriots fans who remain loyal to a man who many regard as the best ever to pace the sidelines. With their team still vying for a Wild Card spot, fans could just as easily see McDaniels as a villain if the Raiders handle business at home and hand the Patriots their seventh loss of the season. 
In the end, perception matters. 
But no matter which side of the fence you're on, there's no doubt this is a much different Patriots team than the one that won six Super Bowl titles with Bill Belichick, Josh McDaniels, and Tom Brady. 
And if history unfolded differently, perhaps those three men would still be working together.
Have thoughts on this topic? Keep the conversation rolling in our comments section below.