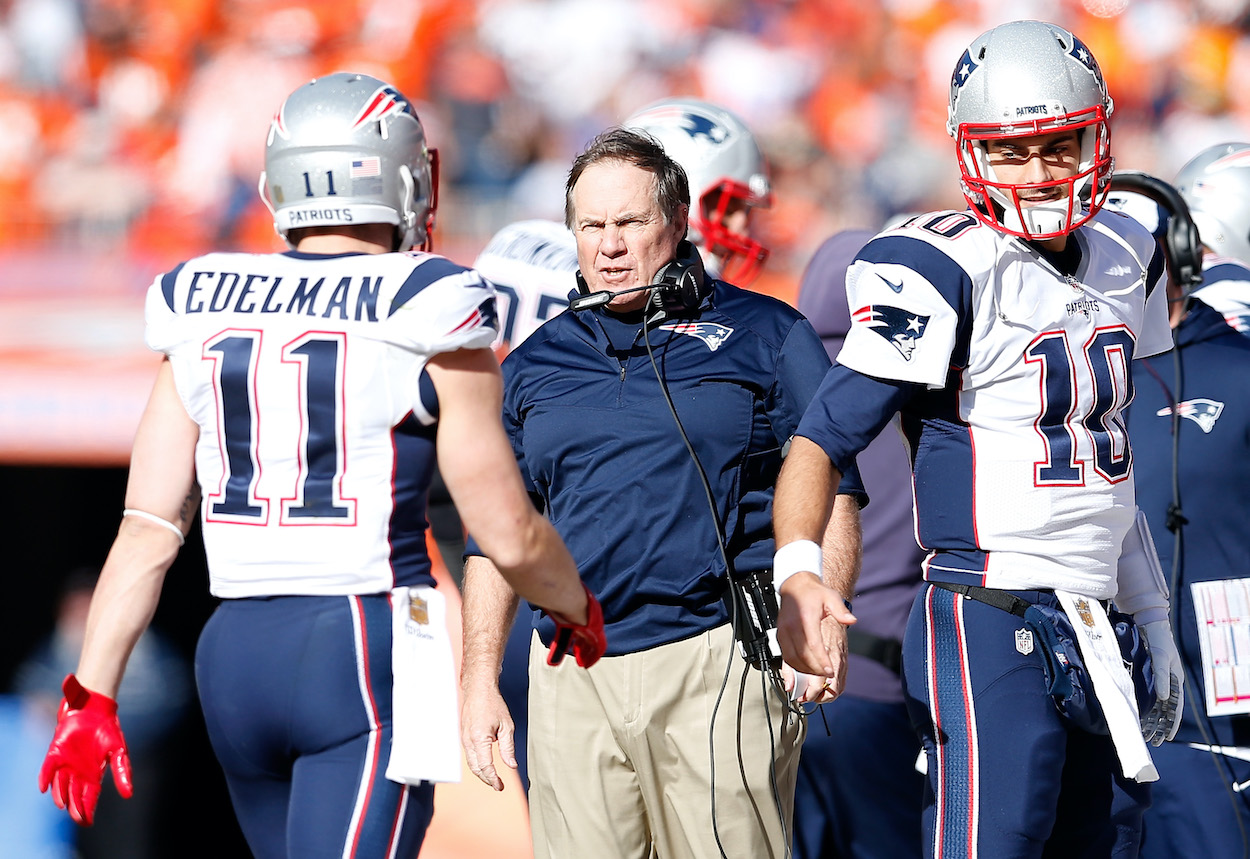 Julian Edelman Details What It's Like to Feel the Wrath of an Angry Bill Belichick
Julian Edelman recently told the story of Bill Belichick embarrassing him during a Patriots film session, and it's pure gold.
Not many people know exactly what longtime New England Patriots head coach Bill Belichick is like behind closed doors. Julian Edelman is one of the few who does.
Edelman spent over a decade playing for Belichick in New England, and he won over the legendary coach's respect during his time there. But that didn't make him immune from criticism. In a recent podcast interview with former Patriot Chris Long, Edelman detailed the time he felt Belichick's explosive wrath during a film session, and it wasn't pretty.
Bill Belichick coached Julian Edelman for 11 seasons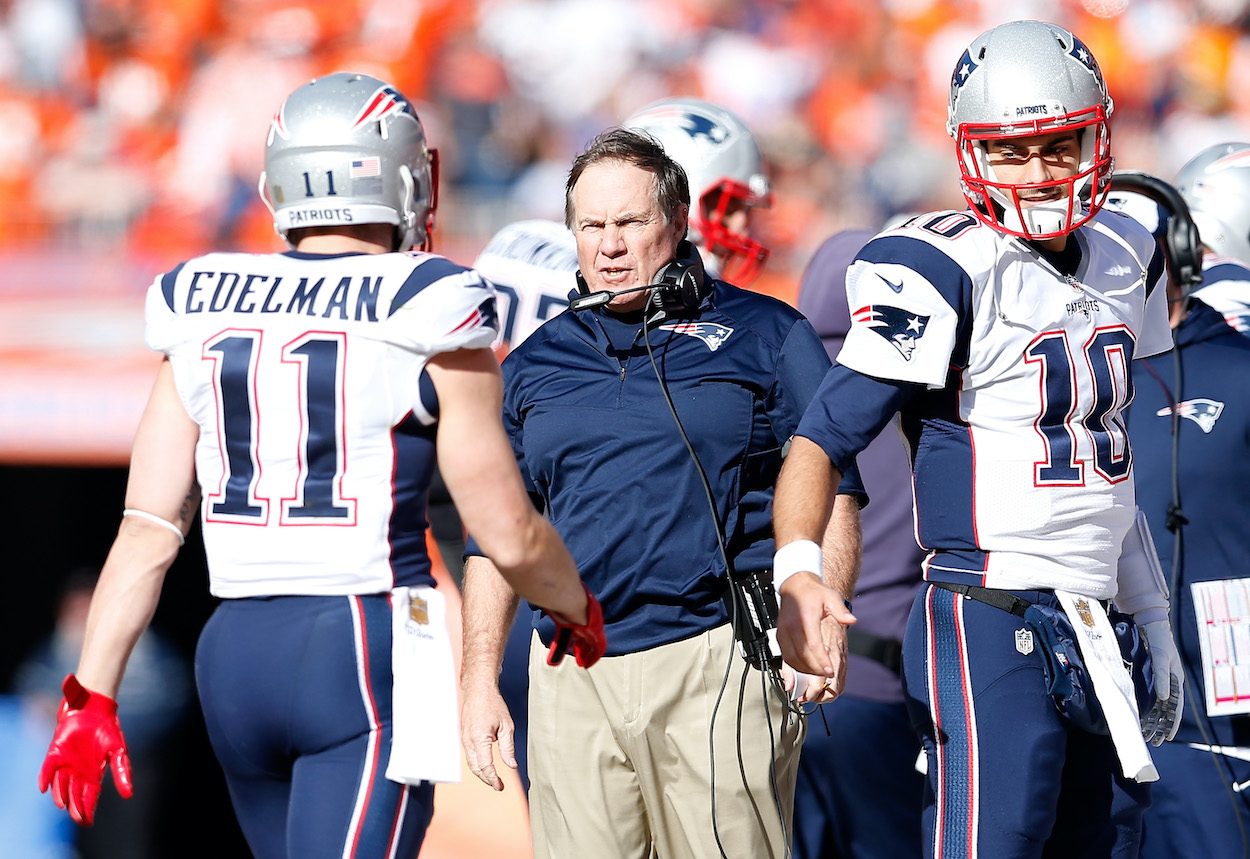 Not many NFL players are able to spend a lengthy amount of time with Belichick in New England. The Patriots believe everyone on the roster is expendable, so if you screw up, they'll just replace you with someone else who can do your job just as well.
Edelman is one of the rare cases who spent his entire career playing under Belichick. The reliable slot receiver played all 11 of his NFL seasons with the Patriots before announcing his retirement earlier this year. He finished his career with the fourth-most receiving yards in franchise history, and he also has three Super Bowl rings to show for his time in New England.
Belichick had a soft spot for Edelman because of his tireless work ethic and commitment to the "Patriot Way." But that didn't stop him from embarrassing the WR during a heated film session after a grave mistake on the practice field.
Edelman reveals what it's like to feel the wrath of Belichick
For the most part, what happens in the Patriots facility stays in the Patriots facility. We don't know much about Belichick's day-to-day actions because… well, no one talks about them. And you'll surely never get a detailed explanation from Belichick himself.
But during a recent appearance on Chris Long's "Green Light" podcast, Edelman revealed what Belichick would do when a player pissed him off at practice or during a game. Edelman said the head coach would publicly shame players during film sessions to make sure they never made that specific mistake again. Those sessions are known inside the building as "BillTube" or "Lowlights."
During the interview, Edelman detailed the worst "BillTube" session he was ever involved in.
"When I used to like fight in practice," Edelman said. "I got into a fight with (Stephon) Gilmore. [Belichick] puts it on and he'll just sit and rewind it like 45 times. With silence! So he sits and rewinds it like 45 times and he stands up and says like, 'What the f*ck are we doing? We can't have this!' Just going on and just ringing me like, 'You know what Edelman? You're over here thinking you're a tough guy.' Just getting on me in front of the team.
"But I think low-key he loved it."
Chris Long was always afraid of making a mistake around Belichick
Long also spent a brief period of time playing under Belichick in New England. He played one season for the Patriots in 2016 in between stints with the Rams and Eagles, and he just happened to win a Super Bowl that year.
The former defensive end said he was so scared of Belichick's wrath that he bought a house right next to Gillette Stadium so he would never be late. He also drank five cups of coffee a day to ensure he wouldn't fall asleep during team meetings.
Long was present for many embarrassing "BillTube" film sessions, and he made it a point not to ever be the subject of one of them.
"I don't think anybody was trying to screw up, ever," Long said. "But when you screw up, you're going to get fried in the big room. It made me feel better to realize that, probably, when I screwed up everybody felt just glad it wasn't them. That was the prevailing emotion in the room. It wasn't like, 'F*ck you Chris.' I was never watching you like, after that Pittsburgh game, I guess you dropped a punt. I was like 'Oh my God he's yelling at Julian… Oh my God he's yelling at one of the best players.'"
Long might remember the time Belichick ripped into Jules in 2016, but Edelman couldn't even pinpoint that incident because there were so many of them over the course of his Patriots career.
"It happened so many times that I don't even remember that," he said.