Justin Fields Says Exactly What Chicago Bears Fans Need to Hear
Justin Fields knows he'll be under a microscope. Like any other NFL rookie, he knows this is his job now. Fields, however, is no ordinary rookie. The Chicago Bears traded up to snag the former Ohio State quarterback to help bring stability to a position that's haunted the team the last few decades. He knows he'll be in the spotlight, and he has no problem with that.
Justin Fields has all the tools to be a star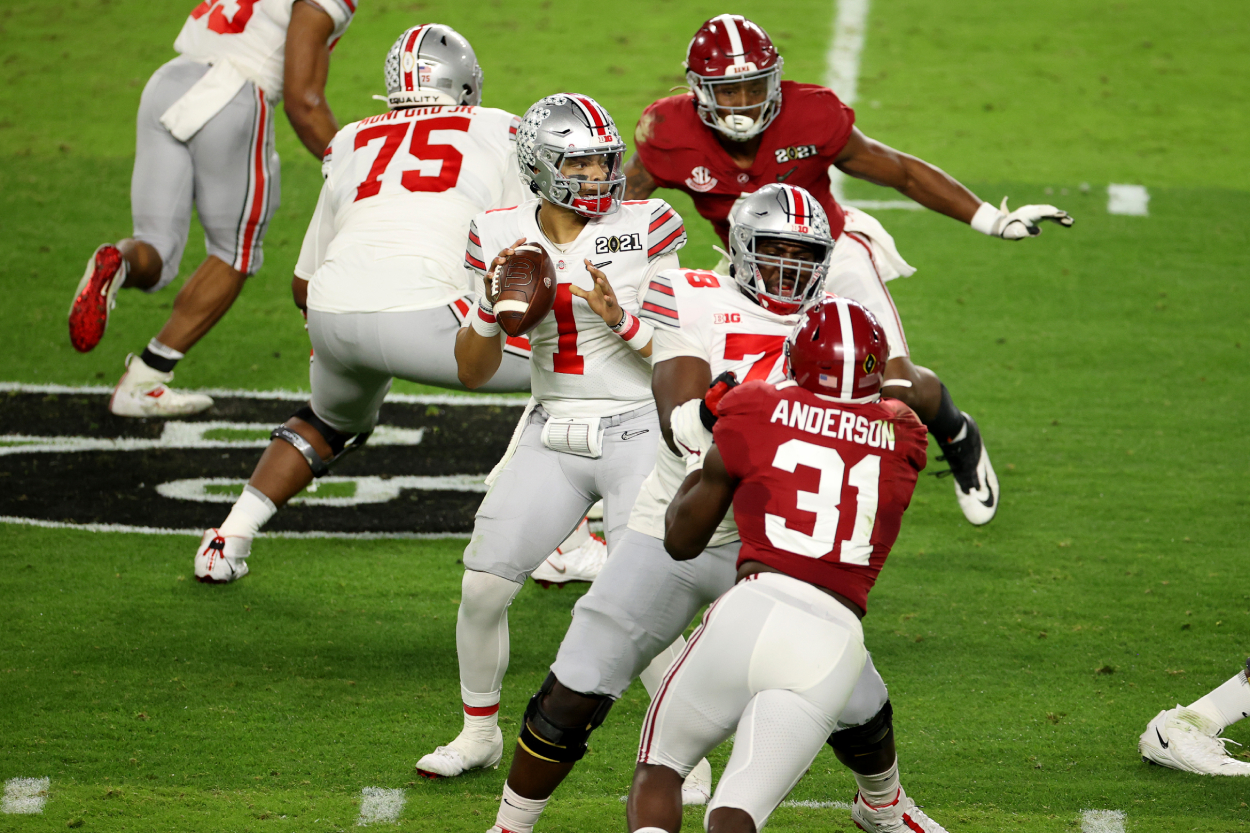 Fields showed what he can do at the highest level of college football, guiding Ohio State to the NCAA title game in a wild and wacky 2020 season. The 6-foot-3, 227-pound quarterback can do it with his arms, legs, and raw athleticism. He adds leadership and toughness to his resume, and it was all on display during his pandemic-shortened junior year with the Buckeyes.
Fields guided Ohio State to an upset victory over Trevor Lawrence and the Clemson Tigers to earn that berth in the championship game. If his toughness and leadership skills were ever in question, they were quickly answered in that game. He overcame a blatant and painful shot to the ribs and threw six touchdown passes in a 49-28 rout of the Tigers.
It was Fields' sophomore year that opened the eyes of many. He had just transferred from Georgia, and in his first year with the Buckeyes, he threw 41 touchdown passes against three interceptions. He also rushed for 484 yards and added 10 more scores.
Fields on the spotlight: 'I'm built for this'
Fields is no stranger to the bright lights. Highly recruited out of high school, he made his way to Georgia to play for the Bulldogs. He didn't get a whole lot of playing time, throwing just 39 passes and four touchdowns in his freshman year. When he realized Jake Fromm would continue to be the starting quarterback, Fields made the move to Ohio State. There, he was back in the spotlight again.
After two strong seasons with the Buckeyes, the Bears made a move in the 2021 NFL draft to get their man. They moved up nine spots in the first round while surrendering next year's first-and fourth-round picks. The Bears have been as unstable as any NFL team at the quarterback position for years, and they hope Fields can put an end to that.
Fields is confident he can be their guy, and he's already endearing himself to Bears fans. "I've been kind of in the spotlight since high school," he said during minicamp. "So I kind of feel like I'm made for this. I'm built for this. It's nothing new to me. I'm just going to continue to work hard and get better every day."
So far, the Bears like what they see in Fields
It's very early in rookie camp, but the Bears appear to love what they see in their top pick. Fields has veterans Nick Foles and Andy Dalton in camp, and he knows the Bears have a plan to bring him along slowly. "Coach Nagy, he has a set plan on my development and stuff like that," Fields said, according to a video posted by CBS Sports. "I'm just going to work hard and keep my head down and keep grinding out there every day."
As Fields practices as if he's planning to be the starter, head coach Matt Nagy watches impressively. Nagy, however, has been forced to watch from afar. He is being quarantined after being a close contact with someone with COVID-19. Even from a distance, Nagy loves what he sees.
"He's always got that competitive drive ingrained in him — that's where he's at all the time," Nagy said. "He also has that other side to him as well. The more that we have these meetings, the more that we work with him, the more that we realize and get to see his commitment to being focused on the details of this offense and see how fast he can grow, it gives us a chance to be able to work off of that. But he's got a really great, professional personality, which I love. He's all about business right now."