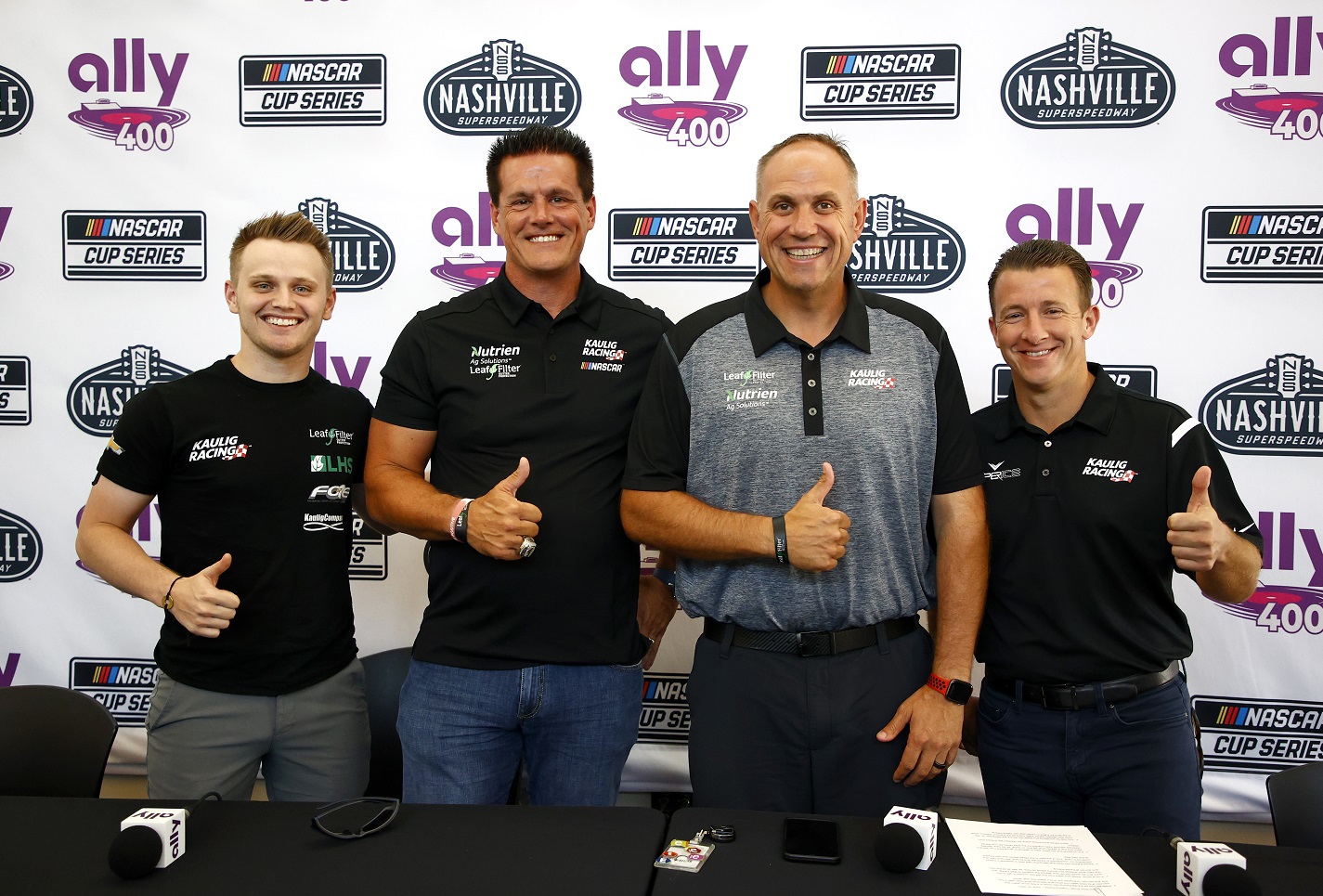 Justin Haley and Kaulig Racing Are Already Ahead of Schedule Even if the NASCAR Cup Series Hasn't Started Keeping Score Yet
Justin Haley was contending in the Busch Light Clash. He and AJ Allmendinger are leading the Kaulig Racing charge into the NASCAR Cup Series.
For the moment, Justin Haley is still just the guy that Kyle Larson wrecked on Lap 116 of the Busch Light Clash. Give him a few races to get acclimated, however, and Haley could emerge as the breakout driver of the NASCAR Cup Series season.
Haley has yet to finish higher than third in the season standings of a series, but he's 22 years old and definitely a man on the move. A measly concrete infield barrier isn't going to be enough to stop him.
Justin Haley was on his way to a great showing in the Busch Light Clash
The official standings show his No. 31 Chevy finishing in 19th place, with his status at the checkered flag listed as "accident." Forget that. Justin Haley was not the 19th-best driver at the Los Angeles Coliseum. And that didn't appear to be an "accident."
Haley was fast all weekend, beginning with practice and qualifying. He won his heat over established NASCAR names including Chase Elliott, Kevin Harvick, and William Byron, and then drove consistently well through 115 laps of the main.
He ran third for the opening 43 laps and was still running fifth with 35 laps remaining until crossing paths with defending Cup Series champion Kyle Larson. Following a restart, Byron got in behind Haley and gave him a tap that was just enough to launch the Kaulig Racing driver into the left rear of Larson's Chevy.
Larson responded coming out of Turn 3 by turning hard to the inside, driving Haley into the concrete barrier protecting the improvised infield/pit area.
"Not really impressed with the move," Haley said afterward. "It's hard to be a rookie and gain respect. The 18 just passed him cleanly and he didn't turn down on Kyle (Busch). I don't know. It's kind of BS." 
Thankfully, the drivers resolved the matter shortly afterward.
"I was on the brakes as hard as I could, and then Larson said he just lost his cool and cut down on me," Haley told Frontstretch.com. "So, it's all good. I talked to him. We're all good and will move on, it doesn't really matter here. It was already a win coming in how we showed so much speed, so we'll be OK."
Kaulig Racing made Justin Haley a priority in its inaugural season
Kaulig Racing entered NASCAR at the Xfinity Series level in 2016 and took some lumps the first two seasons while building out its organization. The tide turned in 2018, and then Ross Chastain and AJ Allmendinger won races in 2019. Kaulig Racing still hasn't produced a series champion, but the team has collected 14 Xfinity victories.
A year ago, owner Matt Kaulig entered cars in nine Cup Series races in preparation for the move up to the big circuit this month, and Allmendinger pulled off a victory on the Indianapolis road course. During the season, Kaulig also secured a pair of charters from Spire Motorsports. Justin Haley was already driving Xfinity cars for Kaulig and in the Cup Series for Spire, so it was a natural for him to remain in place.
Haley will drive the No. 31 car all season, and Allmendinger will share the other Chevy with Noah Gragson and defending Xfinity champ Daniel Hemric, who was at Joe Gibbs Racing in 2021. Aside from forming a credible Cup Series lineup, Allmendinger, Hemric, and Gragson should contend for the Xfinity Championship 4.
Justin Haley and AJ Allmendinger are off and running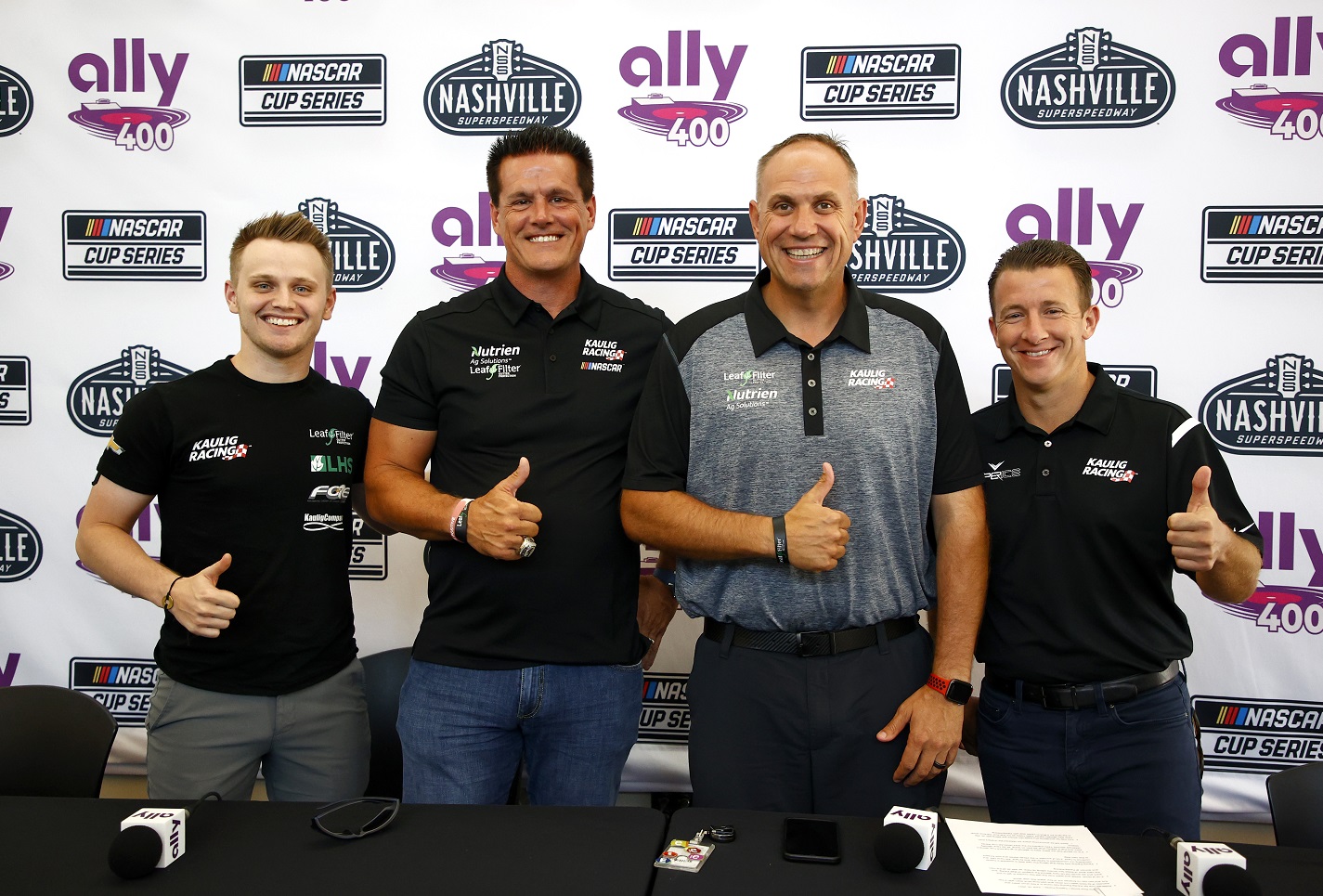 Justin Haley was heading for a top-10 showing at the Busch Light Clash before the skirmish with Kyle Larson, and AJ Allmendinger fought his way from 21st to ninth, where he ran the day's last 28 laps.
The Clash was an exhibition being run on a quarter-mile track in Next Gen cars that hadn't been in a competitive environment yet, so no one should get too excited about one-off results.
However, it's hard to ignore the fact that Haley, who won a rain-shortened Cup Series race at Daytona in July 2019, ran strong all weekend. Add to that Allmendinger's prowess on road courses and overall experience, and there's no reason to believe that Kaulig Racing will behave like a first-year team this season.
They're already out of the gate in strong fashion and bear watching once points racing begins.
Like Sportscasting on Facebook. Follow us on Twitter @sportscasting19.