3 Driver Changes That Will Pay Dividends for NASCAR Cup Series Teams in 2022
Kurt Busch, Brad Keselowski, and Justin Haley all changed teams in the offseason and could be impact drivers in their new roles beginning at the Daytona 500.
The odds are slim that any of the NASCAR Cup Series teams with new drivers this season will experience the success that Hendrick Motorsports scored last season with Kyle Larson, who won 10 points races and the season championship.
Larson landed in the team's lap via a perfect storm of circumstances. He was returning from a NASCAR-imposed suspension at the same time HMS needed to replace seven-time champion Jimmie Johnson following his retirement.
The three driver moves for the 2022 season with the most potential to pan out for their teams are all the result of drastic developments, though not on the scale of the Larson transaction. Kurt Busch, Brad Keselowski, and Justin Haley all have something to offer.
2004 NASCAR Cup Series champ Kurt Busch teams up with Bubba Wallace
Kurt Busch gets around, and we're not talking about the more than 200,000 laps he's completed on NASCAR Cup Series tracks. He has competed for Roush Racing, Penske Racing, Phoenix Racing, Furniture Row, Stewart-Haas, and Chip Ganassi, and he's won races with four of them. The odds are good that he'll win in the No. 45 Toyota, too.
Busch, the 2004 champion, scored three of his 33 victories with the Ganassi team from 2019-21 before Chip Ganassi opted to sell his NASCAR operation to Trackhouse Racing, effectively making Busch a free agent.
The combination of solid sponsorship and Toyota's interest in seeing 23XI Racing succeed should make Year 2 of the team competitive. Bubba Wallace won a Cup Series race last year for the first time, and he'll benefit by having such an experienced and accomplished teammate. That makes signing Busch a two-for-one for owners Michael Jordan and Denny Hamlin.
Brad Keselowski has taken an ownership stake at Roush Fenway Racing
Although the Busch Light Clash weekend went poorly for Roush Fenway Keselowski Racing, don't expect the misery to persist. Brad Keselowski came over from Team Penske to replace Ryan Newman in the No. 6 Ford and take an ownership stake in the team.
As is the case with Kurt Busch, Keselowski is a former Cup Series champion (2012). The combination of 35 career victories in the top series and his former ownership of a Camping World Truck Series team should give Keselowski a leg up on improving the fortune of RFK Racing, which has slipped into the second tier of multi-car teams.
Keselowski has won races in 11 consecutive seasons, a streak that might be in danger. However, don't read too much into Keselowski and Chris Buescher being unable to emerge from last-chance qualifiers at the Busch Light Clash. A quarter-mile track and the debut of the Next Gen car made for a tough combination to master on the opening weekend at the Los Angeles Coliseum.
Justin Haley turned heads in Kaulig Racing's official debut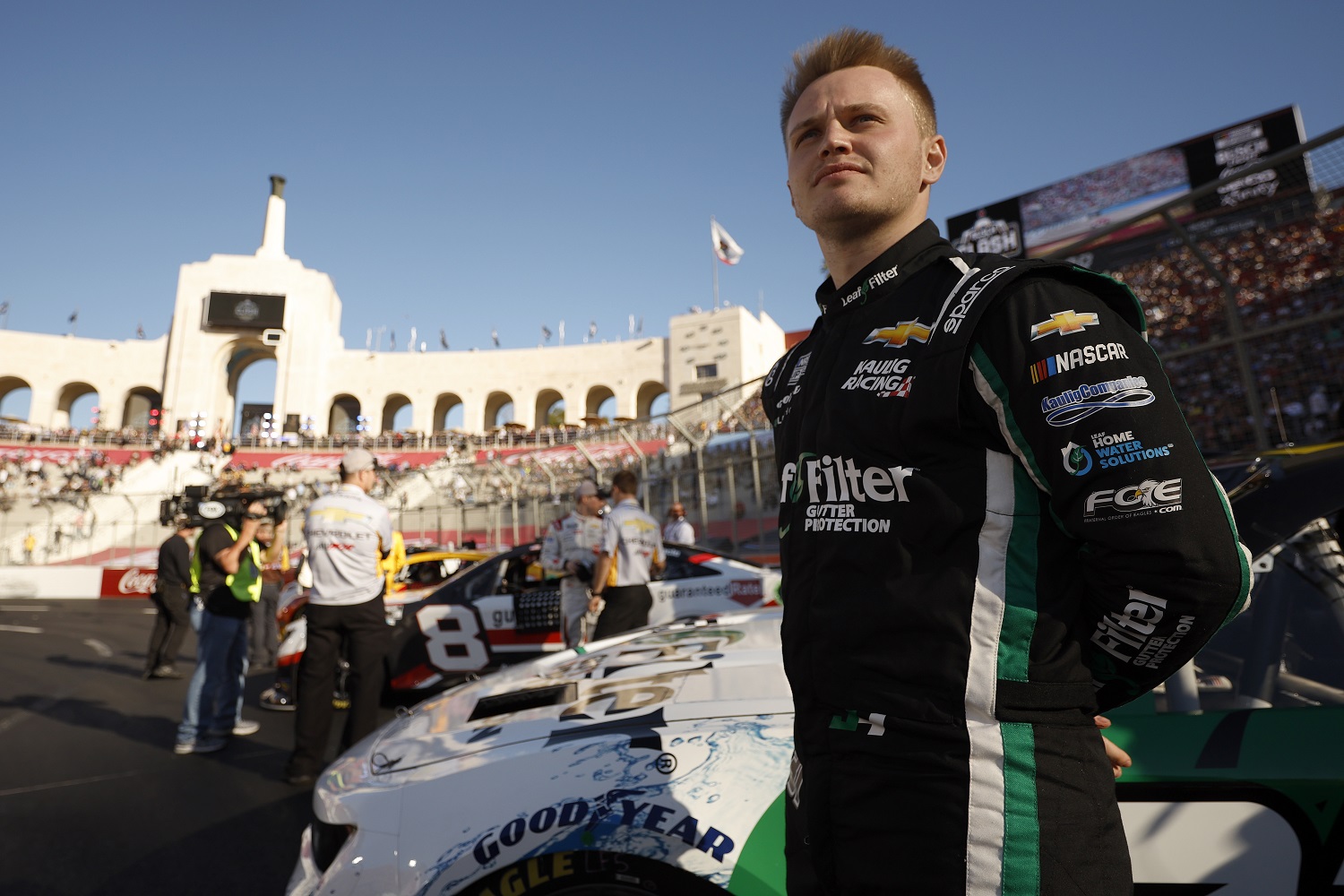 Kaulig Racing is running two cars in the Cup Series in its first season after expanding beyond its Xfinity Series program, and Haley is the full-time driver of the No. 31 Chevy.
Haley drove for Spire Motorsports in the Cup Series and for Kaulig in the Xfinity Series last season.  He possesses victories in all three of the national NASCAR series, including a rain-shorted Cup Series victory at Daytona in 2019.
The reason to be bullish about Haley is that Kaulig Racing has built its organization strategically since 2016. There were no Xfinity victories those first two seasons, but 14 over the next four years. Running two cars from the start in the team's move into the Cup Series speeds up the learning curve.
Haley was running strong in the Busch Light Clash when an angry Kyle Larson put him into the inside wall on Lap 116, ending his day. Race fans can expect to see him running in the top 10 as much as any other first- or second-year driver this season.
All stats courtesy of Racing Reference.