Justin Thomas Reflects on His Huge Mistake 1 Year Later: 'I Like to Think I've Grown a Lot as a Person'
The best that can be said for Justin Thomas regarding 2021 is that he survived. It was a year in which he could manage no better than a tie for 19th in the four majors that golfers live to play, a failure that paled in comparison to a horrendous blunder at the Sentry Tournament of Champions.
A year later, Thomas is back at that tournament in Maui and well-positioned to move on from a mistake that could have been a career-killer.
Justin Thomas' homophobic slur cost him dearly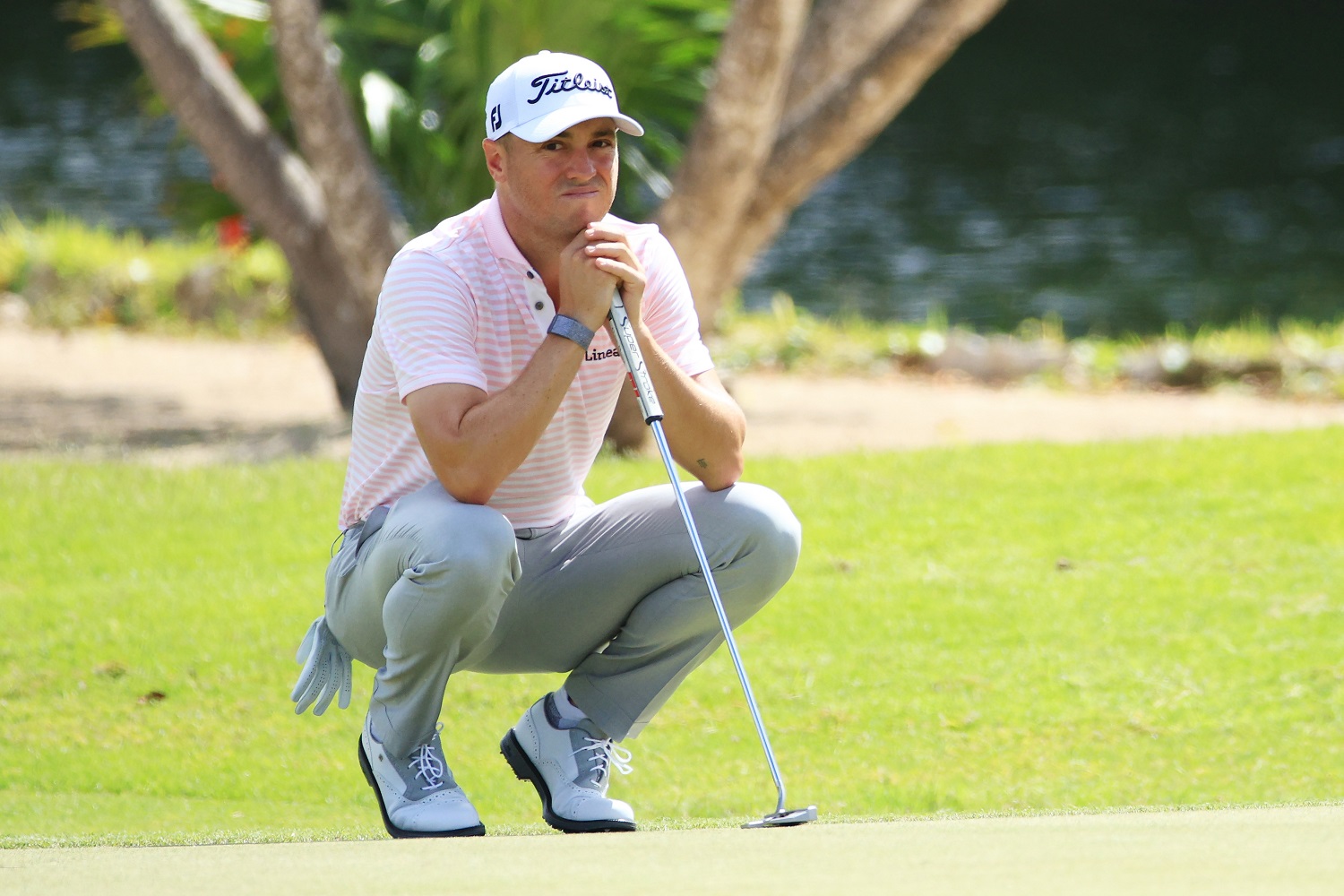 The Sentry Tournament of Champions held a special place in Justin Thomas' heart. In 2017, he made it the site of his first PGA Tour title on American soil. Three years later, he won it again. He was also third there in 2019.
Twelve months ago, Thomas finished third again, one stroke short of joining the playoff between Harris English and Joaquin Niemann. The result was a mere footnote to his week. That's because early in the third round, Thomas missed a short par putt on the fourth hole. As he tapped in for a bogey, Thomas uttered a homophobic slur that a TV microphone picked up.
Thomas learned his comment made it onto the live telecast and quickly apologized.
"There's no excuse. I'm an adult. I'm a grown man," Thomas said. "There's absolutely no reason for me to say anything like that. It's terrible. I'm extremely embarrassed. … I deeply apologize to everybody and anybody who I offended, and I'll be better because of it." 
Within days, Ralph Lauren ended its long-standing apparel endorsement deal with the veteran golfer, a decision that cost Thomas hundreds of thousands of dollars, according to Golf.com.
Justin Thomas: 'I like to think I've grown a lot as a person'
Justin Thomas is in his eighth year as a full-time PGA Tour professional and is back in Maui for his 2022 debut at the Sentry Tournament of Champions. He found himself answering difficult questions for much of last year after his gaffe. That was compounded by the death of his grandfather and at-times inconsistent play that saw him drop out of the top five in the season-ending world rankings for the first time since 2016.
"I like to think I've grown a lot as a person and had a lot of awkward and uncomfortable conversations and more so opened up my eyes and honestly made me realize some things about myself," Thomas said on the No Laying Up podcast.
Thomas experienced a moment of clarity regarding how easily people judge others. He recognized he was guilty of hypocrisy.
"It's so easy nowadays for people to attack the person or think, 'He's an idiot, what is he doing? He's got no idea what's going on.' But then I flip it around and that happened to me, or I should say I made that mistake, and then I'm expecting people to not do the same thing to me."

Justin Thomas
The golfer recognizes the different degrees of failure
Justin Thomas credits friends for helping him work his way through the self-inflicted damage from that Saturday in Hawaii, a challenge more difficult to overcome than dealing with missed cuts.
"It was insanely different than a failure in golf or a sport, but it is still a failure in my life," Thomas said. "Just as I treat my failures in golf, I try to learn from it. Although it took me a while because of the state of mind I was in, once I was able to sit down with my team and friends around me, 'All right, let's try to take this time to learn and get better from it.'"
Thomas came back two months later to win The Players Championship, but he finished outside the top 10 in his next 11 appearances.
Thomas righted himself with a couple of fourth-place finishes beginning in mid-August. That was just in time to be in top form and help the United States to a surprising rout of Europe in the Ryder Cup to end the season on an up note.
Like Sportscasting on Facebook. Follow us on Twitter @sportscasting19.